In 1984 the HAMPTON THEATRE COMPANY began life on a shoestring and a dream at the Westhampton Beach Middle School with its first production, THE DIARY OF ANNE FRANK. The company has come a long way since its founding by James Ewing, James Irving and June Ewing, when the company had no theater, no audience, no board of directors and no capital and performed in such dramatic venues as a tent pitched behind the Masonic Temple on Montauk Highway in the midst of an August hurricane.
Thanks to the generosity of the Village of Quogue, in 1987 the company found a permanent home at the beautiful Community Hall. There and at other venues, the company has produced more than 100 plays by a wide variety of major playwrights. Information about the productions can be found in the PAST PRODUCTIONS tab below, or on our PAST PRODUCTIONS page.
The Hampton Theatre Company today fills a unique niche in the Long Island performing arts landscape. From its start as a small community group bound together by a love of live theater, it has grown into a successful professional company: one that is still dedicated to the original dream of the founders and still proud to draw its talented performers and technical expertise primarily from the surrounding area in order to present the very best in live theater in the fall, winter and spring on Long Island's East End.

Andrew Botsford, President
Edward Brennan, Vice President
Lucinda Morrisey, Treasurer
Terrance Fiore, Secretary
Andrew Botsford
Edward Brennan
Rosemary Cline
Lynne Jones
Diana Marbury
Betsy Webb Rowe
Diana Marbury, Artistic Director • Diana@hamptontheatre.org

STAFF
Terry Brennan, General Manager • Terry@hamptontheatre.org
Julie Stark, Administrative Associate & Assistant to the Treasurer • Julie@hamptontheatre.org
Julia Morgan Abrams, House Manager
Lisa Carr, Box Office Manager
Hampton Theatre Company is a nonprofit organization, dedicated to presenting outstanding classic and contemporary plays. Hampton Theatre Company strives to create a vibrant local theater community, while reaching out to the broader theatrical world as well, to bring audiences the best productions possible. Hampton Theatre Company aims to foster a love of theater and help keep this vital art form alive for generations to come.

2014 – 2015 Season
---
2013 – 2014 Season
---
2012 – 2013 Season
---
2011 – 2012 Season
---
2010 – 2011 Season
---
2009 – 2010 Season
---
2008 – 2009 Season
---
2007 – 2008 Season
---
2006 – 2007 Season
---
2005 – 2006 Season – (detail pages coming soon)
---
2004 – 2005 Season – (detail pages coming soon)
---
2002 – 2003 Season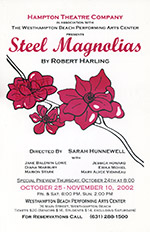 STEEL MAGNOLIAS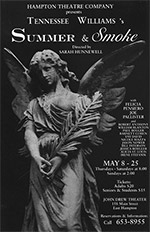 SUMMER AND SMOKE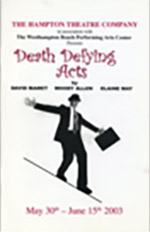 DEATH DEFYING ACTS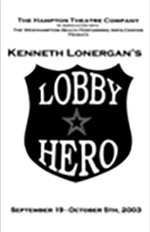 LOBBY HERO
---
2001 – 2002 Season
ALL MY SONS | OF MICE AND MEN | RUMORS
---
2000 – 2001 Season
THE DINING ROOM | IT'S ONLY A PLAY | I OUGHT TO BE IN PICTURES
---
1999 – 2000 Season
AH, WILDERNESS! | ABSURD PERSON SINGULAR
---
1998 – 1999 Season
LADY WINDERMERE'S FAN | SOCIAL SECURITY | THE YOUNG MAN FROM ATLANTA | THE LAST NIGHT OF BALLYHOO
---
1997 – 1998 Season
A DELICATE BALANCE | THE RAINMAKER | SYLVIA | A STREETCAR NAMED DESIRE
---
1996 – 1997 Season
THE LITTLE FOXES | WHAT THE BUTLER SAW | A VIEW FROM THE BRIDGE | BLITHE SPIRIT
---
1995-1996 SEASON
THE SISTERS ROSENSWEIG | ORPHANS | LATER LIFE | ISN'T IT ROMANTIC
---
1994-1995 SEASON
THE CRUCIBLE | THE LAST YANKEE | THE REAL THING | NOISES OFF
---
1993-1994 SEASON
MARVIN'S ROOM | LOVE LETTERS | THE HEIRESS | INVITATION TO A MARCH
---
1992-1993 SEASON
THE NIGHT OF THE IGUANA | PACK OF LIES | LEND ME A TENOR
---
1991-1992 SEASON
MURDER AT THE HOLLOW | HOW THE OTHER HALF LOVES | RUMORS
---
1990-1991 SEASON
THE HO– USE OF BLUE LEAVES | THE FOREIGNER | COASTAL DISTURBANCES
---
1989-1990 SEASON
THE SKIN OF OUR TEETH | THE DINING ROOM
---
1988-1989 SEASON
ONE ACT PLAYS | CRIMES OF THE HEART
---
1987-1988 SEASON
ANASTASIA | DRACULA
---
1986-1987 SEASON
HOT L BALTIMORE | THE MO– USETRAP | GOD'S FAVORITE
---
1985-1986 SEASON
THE DIARY OF ANNE FRANK | THE LONG CHRISTMAS DINNER | A CHRISTMAS CAROL | BEDROOM FARCE