A Doll's House, Part 2
Using a theatre classic as a springboard, Hnath's inspired writing balances ingrained and conflicting ideas about freedom, love and responsibility. In the final scene of Ibsen's 1879 groundbreaking masterwork, Nora Helmer makes the shocking decision to leave her husband and children, and begin a life on her own. In "A Doll's House, Part 2," many years have passed since Nora's exit and now she has returned. But why? What does she want and what will it mean for those she left behind?
"Delivers explosive laughs while also posing thoughtful questions about marriage, gender inequality and human rights … as much an ingenious elaboration as a sequel, it stands perfectly well on its own." —Hollywood Reporter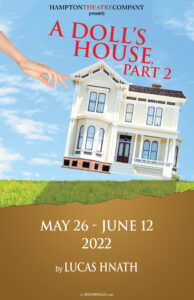 May 26 – June 12, 2022
by Lucas Hnath
---
✓ COVID Protocol
All patrons (ages 12 and over) must be fully vaccinated with an FDA-authorized vaccine
to attend performances or have tested negative within 72 hours. Therefore, all patrons entering the theater must show a vaccination card, Excelsior pass or proof of a negative test within 72 hours of the performance, along with ID.
---
Secure proof of  COVID-19 vaccination record and negative test results on the NY Excelsior Pass.
Click here
Appropriate face coverings are required for everyone at all times. Face coverings must be secured and cover the entire mouth and nose.
FROM SUNRISE HIGHWAY (ROUTE-27):
Sunrise Highway (Route 27) to exit 64S (Rte. 104 to Quogue). Rte. 104 South (approx. 3 miles) to Montauk Highway (Rte. 80). Right onto Montauk Highway to light at Otis Ford (1 mile). Left onto Jessup Avenue. 1/2 mile to theater (on right). FROM MONTAUK HIGHWAY (ROUTE-80):
Montauk Highway to light at Otis Ford in Quogue. South onto Jessup Avenue. 1/2 mile to theater (on right).

PARKING: There is limited street parking around the theater as well as a parking lot that can be entered just north of the Quogue Community Hall. WHEELCHAIR ACCESS: A handicapped accessible entrance is located on the right (north) side of the building. Please use the driveway on the north side of the theater and ring the bell marked HTC Handicapped at the ramp entrance to the building and a volunteer will assist you; or have a member of your party notify us on arrival at the box office if you'd like to use this entrance. If a member of your party requires a wheelchair in the theater, please reserve one seat at the end of a row. ASSISTED LISTENING DEVICES: The theater does not have assisted listening devices at this time.