A sassy stray dog brought home from Central Park becomes a major bone of contention for empty-nesters Greg and Kate in this romantic comedy about a marriage and a dog. "Sylvia," a street-smart mixture of Lab and poodle, offers Greg an escape from the frustrations of his job and the unknowns of middle age. Kate considers Sylvia a rival for Greg's affection; Sylvia thinks Kate is clueless about the bond between man and dog. After a series of hilarious and touching complications, all three learn lessons about the importance of compromise and the power of love. 

"I can only call it one of the most involving, beautiful, funny, touching and profound plays I have ever seen." – NY Daily News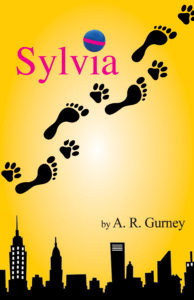 May 27 – June 13, 2021
by A. R. Gurney
or purchase tickets at OvationTix: 866.811.4111
GENERAL INFORMATION
Tickets for this production will only be sold in advance over the phone or online up to 24 hours prior to the performance. No sales in person at the Box Office. All tickets are sold as general admission and will be assigned a specific seat just prior to each performance to ensure physical distancing. Seats are subject to change without notice. Appropriate face coverings are required for everyone at all times. Performances have limited capacity to ensure physical distancing and avoid crowding.
Click here for all Safety Protocols.
AMANDA GRIEMSMANN (Sylvia) Amanda is honored to return to the HTC stage following her appearance as Mimi in A Comedy of Tenors and Suzette in Don't Dress for Dinner. She also was seen as Nina in Vanya & Sonia & Masha & Spike and Sheila Birling in An Inspector Calls. She has performed for several seasons in Manhattan with The Inwood Shakespeare Festival. She has also performed with The Lafayette Salon Series, a monthly reading series that meets at The Players Club. A special thanks to Diana for this opportunity! Lots of love to friends, family and Ryan. This one is for you Houston!

TO BE ANNOUNCED (Greg)

GEORGE A. LOIZIDES (Tom, Phyllis, Leslie) has appeared on the HTC stage several times, most recently in On Golden Pond and Alarms and Excursions. He has directed several times for HTC, most recently Private Lives. Before that he directed Don't Dress For Dinner and Lost In Yonkers, among others. As an actor/director for more than 50 years he has also acted and directed for Playcrafters Theatre Company in Bellport. For 27 years he was Director of Theatre Arts for Ward Melville High School where he taught acting and directing, as well as directing 81 productions. He studied acting and directing at HB Studio in NYC. He is most thankful to Diana for having faith in him and for the opportunity to be onstage with three of his favorite humans. Love to Kathy.

CATHERINE MALONEY (Kate) is delighted to be back on HTC's stage performing in this heartwarming play. She was last seen here playing the role of Maria in A Comedy of Tenors. Previous HTC credits: Mrs. Fremus, Mrs. Warren, Clara in The Boys Next Door, Gert in Lost in Yonkers, Betty Chumley in Harvey, and Emilie Ducatel in My Three Angels. Other theatrical credits: SCC's Center Stage as Melissa in Love Letters, Mildred Murphy & Katie in Meet Me in St. Louis, Berthe in Boeing, Boeing, Veronica in God of Carnage, & diverse roles in Love, Loss and What I Wore, and Mom it's My Wedding!, Kate Keller in All My Sons with Playcrafters Theatre Co., Becky in Becky's New Car at NFCT, Truvy in Steel Magnolias and Masha in Three Sisters. Catherine is grateful for her insightful director Diana, and sends love to JP, Allegra, Gregory and to her supportive friends and family. A special thank you to Pierre, for his devoted companionship, unconditional love, and yes, snuggles on the couch!

DIANA MARBURY (Director, Set Decor) is back in the director's saddle after playing Roberta in this winter's production, Admissions. She opened HTC's 35th season last fall directing the ingeniously funny play, Ken Ludwig's Baskerville: A Sherlock Holmes Mystery. Once again, she would like to thank her tremendously gifted creative team for making the magic of theatre so available. Without the efforts of many, there would be no show. She would also like to give a high five to our Producers Circle for their tremendous support, and of course to you, our audience, for your continued encouragement and support.

A.R. (ALBERT RAMSDELL) GURNEY JR. (Playwright) (1930 – 2017) Occasionally credited as Pete Gurney, he was the author of nearly 50 plays for the American theatre. Also a novelist and academic, he is known for plays including The Dining Room (1982), Sweet Sue (1986/7), and The Cocktail Hour (1988), and for his Pulitzer Prize nominated play Love Letters. His series of plays about upper-class WASP life in contemporary America have been called "penetratingly witty studies of the WASP ascendancy in retreat." Gurney plays previously produced by the HTC include: The Dining Room (twice); Love Letters; Later Life; Sylvia; and Black Tie.

SEAN MARBURY (Set Designer) has worked in textile design, built sets for TV series, commercials, and films and worked with the design, engineering and fabrication of race car components. He currently works on high end residential construction. His set designs for HTC include Deathtrap, Other People's Money, Other Desert Cities, The Foreigner, Harvey, Time Stands Still, November, An Act of the Imagination, Alarms and Excursions, Clever Little Lies, On Golden Pond and A Comedy of Tenors.

TERESA LEBRUN (Costume Designer) is the resident costumer for Hampton Theatre Company. She started helping with costumes in 1986 and has designed the costumes for all the company's productions since 2005. Teresa also costumes for Center Moriches and Westhampton Beach High Schools. Much love to her boys, Josh and Noah, family and great friends.

NICK FITZGERALD (Production Stage Manager) has worked as a set builder and backstage crew for the past three seasons. He is excited to be taking on the job of production stage manager for a second timewith this show. Nick is a carpenter and father of four.

JOHN ZALESKI (Rehearsal Stage Manager) In 1998, John's first show with HTC was Sylvia. In the ensuing 22 years, he has done 36 HTC productions, primarily as Stage Manager. He would like to thank Diana for her vision and friendship, and his love, Catherine, for a lifetime of wonderful, memorable moments and experiences.

AARON LEVINE (Lighting/Sound Tech) is happy to work for the Hampton Theatre Company, helping with set construction and working backstage. This is his second season working for the HTC and sixth production he has been a part of. He thanks Sean Marbury and Diana Marbury for the involvement and looks forward to the last two shows of another great season.

JULIA MORGAN ABRAMS (House Manager). After retiring from the legal department of Bristol Myers Squibb, Julia began a second career as a volunteer, initially for Literacy Suffolk, HTC and the Southampton Animal Shelter, where she wrote grants and worked in fundraising. She continues to write grants and help with marketing for several local nonprofits. Julia would like to thank all of her dedicated House Assistants for their continued support.


Director – DIANA MARBURY
Set Design – SEAN MARBURY
Lighting Design – SEBASTIAN PACZYNSKI
Set Decor – DIANA MARBURY
Costume Design – TERESA LEBRUN
Rehearsal Stage Manager – JOHN ZALESKI
Production Stage Manager – NICK FITZGERALD
Set Construction – NICK FITZGERALD, ANDRE KLISHIN, AARON LEVINE, SEAN MARBURY, SEAMUS NAUGHTON, JABIER RAMIREZ, IVAN TACUR

Sound Design – SEAMUS NAUGHTON
Lighting/Sound Tech – AARON LEVINE
Music Consultant – AMY FEDERICO McGRATH
Backstage Crew – IVAN TACUR
Box Office – LISA CARR/SONYA HUBBARD
Production Graphics –
JOE PALLISTER – DESIGNINGJOE
House Manager – JULIA MORGAN ABRAMS
Production Photographer – TOM KOCHIE
There are four packages available for SYLVIA.
The Rogers Memorial and the Westhampton Free Libraries
 are offering a dinner package on 
Friday, March 27.
Dinner is at 
Stone Creek Inn
 in East Quogue at 5 pm, followed by the show at 7 pm. The cost for dinner (including tax and tip) and show is $70. To purchase click 
HERE
 or call 866-811-4111. 
Deadline March 20, 2020.
The Hampton Bays Public Library
 is offering a dinner package on 
Thursday, March 26.
Dinner is at 
Stone Creek Inn
 in East Quogue at 5 pm, followed by the show at 7 pm. The cost for the dinner (including tax and tip) and show is $70. To purchase click 
HERE
 or call 866-811-4111. 
Deadline March 19, 2020.
The Quogue Library 
is offering a dinner package on 
Thursday, April 2.
Dinner is at 
The Quogue Club at Hallock House
 at 5 pm, followed by the show at 7 pm. The cost for dinner (including tax and tip) and show is $75. To purchase click 
HERE
 or call 866-811-4111. 
Deadline March 26, 2020.
The Hampton Theatre Company
 is offering a
lunch and theater package on Saturday, April 4.
Lunch is at 
The Quogue Club at Hallock House 
in Quogue at 12:30 pm, followed by the show at 2:30 pm. The cost for lunch (including tax and tip) and show is $75. To purchase click 
HERE
 or call 866-811-4111. 
Deadline March 28, 2020.
FROM SUNRISE HIGHWAY (ROUTE-27):
Sunrise Highway (Route 27) to exit 64S (Rte. 104 to Quogue). Rte. 104 South (approx. 3 miles) to Montauk Highway (Rte. 80). Right onto Montauk Highway to light at Otis Ford (1 mile). Left onto Jessup Avenue. 1/2 mile to theater (on right). FROM MONTAUK HIGHWAY (ROUTE-80):
Montauk Highway to light at Otis Ford in Quogue. South onto Jessup Avenue. 1/2 mile to theater (on right).

PARKING: There is limited street parking around the theater as well as a parking lot that can be entered just north of the Quogue Community Hall. WHEELCHAIR ACCESS: A handicapped accessible entrance is located on the right (north) side of the building. Please use the driveway on the north side of the theater and ring the bell marked HTC Handicapped at the ramp entrance to the building and a volunteer will assist you; or have a member of your party notify us on arrival at the box office if you'd like to use this entrance. If a member of your party requires a wheelchair in the theater, please reserve one seat at the end of a row. ASSISTED LISTENING DEVICES: The theater does not have assisted listening devices at this time.