Happenings
Polar Bear Plunge
to help raise funds for the
Southampton Food Pantry
and assistive services for the needy on the East End. I know that some of you have sponsored him or his daughter Veronica in the past.
This year, he put together a Hampton Theatre Company team to take the plunge, which was shifted to a virtual, DIY format by the Heart of the Hamptons organizers. The plunge took place on Saturday, December 5, in Quogue.
The team raised $2825.00.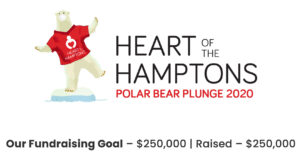 Polar Plunge