Happenings
The Moby-Dick Marathon event is a reading of Melville's masterwork shared at historic places throughout the village. Our very own Terry Fiore, Matt Conlon and Andrew Botsford were readers at the Whalers Museum in Sag Harbor.
---
As many of you know, for the last 17 years Andrew Botsford has jumped in the ocean in the middle of December as part of the
Polar Bear Plunge
to help raise funds for the
Southampton Food Pantry
and assistive services for the needy on the East End. I know that some of you have sponsored him or his daughter Veronica in the past.
This year, he put together a Hampton Theatre Company team to take the plunge, which was shifted to a virtual, DIY format by the Heart of the Hamptons organizers. The plunge took place on Saturday, December 5, in Quogue.
The team raised $2825.00.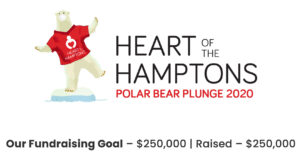 Polar Plunge