The Lifespan of a Fact
A determined, fresh-out-of-Harvard fact checker is about to stir up trouble. His demanding editor has given him a big assignment: apply his skill to a groundbreaking piece by a celebrated but unorthodox magazine writer. All three take on the high-stakes world of publishing in this dazzling comedy of conflict, an ultimate showdown between fact and fiction that yields undeniably provocative consequences.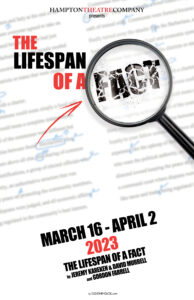 March 16 –
April 2, 2023
by Jeremy Kareken & David Murrell and Gordon Farrell
---
✓ COVID Protocol
The Hampton Theatre Company, consistent with Broadway theaters in New York City, is adopting a "mask optional" policy at this time. While we no longer require proof of vaccination at performances, we strongly encourage (but do not require) masks for audience members and theatre staff. Please note: These protocols are subject to change. For more information: 631-653-8955
For more information: 631.653.8955.
Subject to change.
FROM SUNRISE HIGHWAY (ROUTE-27):
Sunrise Highway (Route 27) to exit 64S (Rte. 104 to Quogue). Rte. 104 South (approx. 3 miles) to Montauk Highway (Rte. 80). Right onto Montauk Highway to light at Otis Ford (1 mile). Left onto Jessup Avenue. 1/2 mile to theater (on right). FROM MONTAUK HIGHWAY (ROUTE-80):
Montauk Highway to light at Otis Ford in Quogue. South onto Jessup Avenue. 1/2 mile to theater (on right).

PARKING: There is limited street parking around the theater as well as a parking lot that can be entered just north of the Quogue Community Hall. WHEELCHAIR ACCESS: A handicapped accessible entrance is located on the right (north) side of the building. Please use the driveway on the north side of the theater and ring the bell marked HTC Handicapped at the ramp entrance to the building and a volunteer will assist you; or have a member of your party notify us on arrival at the box office if you'd like to use this entrance. If a member of your party requires a wheelchair in the theater, please reserve one seat at the end of a row. ASSISTED LISTENING DEVICES: The theater does not have assisted listening devices at this time.