Audition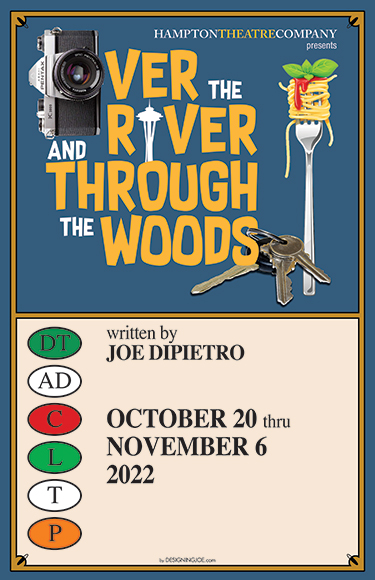 We will be holding AUDITIONS for on female in "Over the River and Through the Woods" by Joe DiPietro.
Auditions will be by appointment only for non-union performers at the Quogue Community Hall, 125 Jessup Avenue, Quogue, NY 11959. The production runs October 20 through November 6, 2022 in Quogue. George Loizides directs. Rehearsals will begin on or about September 19.
All non-union actors planning to audition should bring proof of vaccination or proof of a negative Covid test within 72 hours of coming to the audition.
Available roles are:
Caitlin O'Hare:
Attractive and charming, in her late 20s.
Auditions will be from the script. If you wish to schedule an audition contact director George Loizides at
stagecoach46@gmail.com
to set up an appointment. For more information, email
stagecoach46@gmail.com
or call
631-653-8955
.
Ever since his parents retired and moved to Florida, Nick Cristano—a single, Italian-American marketing executive from New Jersey—routinely visits his four grandparents every Sunday for family dinner. As he is their only close relative, Nick's grandparents inundate him with family tradition and lots of food. So when Nick announces he is being promoted and moving to Seattle, his devastated grandparents quickly concoct a series of hilarious schemes to keep him from leaving, including introducing him to Caitlin O'Hare, the woman of his dreams.
"A hilarious family comedy that is even funnier than his long-running musical revue "I Love You, You're Perfect, Now Change." —BackStage.
"Loaded with laughs every step of the way." —Star-Ledger.
---
The Hampton Theatre Company presents shows using local and "imported" actors, gifted amateurs and professionals. If you are an actor who would like to audition for us, please email your head shot and résumé to
info@hamptontheatre.org
or upload it using the form below:
Comments or questions are welcome. * indicates required field