The Portuguese Kid
Oscar and Tony winner John Patrick Shanley returns to the romantic-comedy orbit of Moonstruck with The Portuguese Kid: 50-somethings Atalanta and Barry, who grew up together in Providence, are mismatched with 20-somethings Freddie and Patty, who once had a disastrous affair. Barry's overprotective mother, Fausta, looks on as the four would-be lovers bay at the moon, write terrible poetry, and shout the wrong names during intimate moments in their efforts to unravel this hilarious romantic tangle.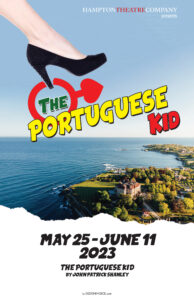 May 25 –
June 11, 2023
by John Patrick Shanley
---
✓ COVID Protocol
The Hampton Theatre Company, consistent with Broadway theaters in New York City, is adopting a "mask optional" policy at this time. While we no longer require proof of vaccination at performances, we strongly encourage (but do not require) masks for audience members and theatre staff. Please note: These protocols are subject to change.
For more information: 631.653.8955.
Subject to change.
FROM SUNRISE HIGHWAY (ROUTE-27):
Sunrise Highway (Route 27) to exit 64S (Rte. 104 to Quogue). Rte. 104 South (approx. 3 miles) to Montauk Highway (Rte. 80). Right onto Montauk Highway to light at Otis Ford (1 mile). Left onto Jessup Avenue. 1/2 mile to theater (on right). FROM MONTAUK HIGHWAY (ROUTE-80):
Montauk Highway to light at Otis Ford in Quogue. South onto Jessup Avenue. 1/2 mile to theater (on right).

PARKING: There is limited street parking around the theater as well as a parking lot that can be entered just north of the Quogue Community Hall. WHEELCHAIR ACCESS: A handicapped accessible entrance is located on the right (north) side of the building. Please use the driveway on the north side of the theater and ring the bell marked HTC Handicapped at the ramp entrance to the building and a volunteer will assist you; or have a member of your party notify us on arrival at the box office if you'd like to use this entrance. If a member of your party requires a wheelchair in the theater, please reserve one seat at the end of a row. ASSISTED LISTENING DEVICES: The theater does not have assisted listening devices at this time.