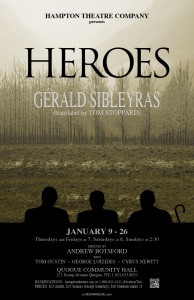 by Gérald Sibleyras                 translated by Tom Stoppard directed by Andrew Botsford
January 9 – 26, 2014
Tom Stoppard's hilarious and poignant translation of the Gerald Sibleyras play about three World War I veterans who reminisce about their past and fantasize about their ultimate escape from a veterans home.

CAST: Gustave – TOM GUSTIN Phillipe – GEORGE A. LOIZIDES Henri – CYRUS NEWITT
TOM GUSTIN (Gustave) made his East End debut several years back as the ever regal Queen Elizabeth I in Bruce Jay Friedman's comedy Sardines with Peter Boyle. Since then he has played various roles at several Hamptons venues, including Mr. Henderson in You Can't Take It With You at the Bay Street Theatre, George Aaronow in Glengarry Glen Ross, Doctor McSharry in The Cripple of Inishmaan at the John Drew Theater, and Coleman in the rollicking Irish black comedy The Lonesome West at the Stephen Talkhouse. Tom is very pleased to be back again with HTC, where he appeared in the role of Serge in 'Art', Paul Stewart in Isn't It Romantic, and Billy Starbuck in The Rainmaker. Tom has taught and directed at Stony Brook Southampton's Young Artists and Writers Program, which encourages and facilitates young people's quests to discover their own unique voices and talents through the art of playwriting and the creative collaboration of theater. Tom has been a certified Rolfer for 25 years with practices in NYC and the Hamptons. GEORGE A. LOIZIDES (Phillipe) appeared most recently with HTC as Ernest in Bedroom Farce. Other roles with the company include Charles Cheswick in One Flew Over the Cuckoo's Nest and George Aaronow in Glengarry Glen Ross. He directed Bus Stop, The Odd Couple (Female Version), and Picnic for the company. George has been an actor and director for over 45 years. For 27 years he was Director of Theater Arts at Ward Melville High School where he directed 81 productions. Other acting credits include Axel in The Nerd, The Stage Manager in Our Town, Dr. Lyman in Bus Stop, and Willie in The Sunshine Boys, all with Playcrafters of Bellport. Other directing credits include Private Lives, Our Town, The Night of the Iguana, and several of Shakespeare's plays. Thanks to HTC for the opportunity to, again, work with such a fine company. Thanks to Andrew for thinking of me. Thanks to Tom and Cyrus. It is a privilege to be on stage with both of you. Thanks to the great HTC crew for the fun and the fine work. As always, thanks to Kathy. CYRUS NEWITT (Henri) is very happy indeed to return to the stage of the Hampton Theatre Company in a terrific production of a great play with a highly talented cast and crew after making his debut with the company as Father in A.R. Gurney's Black Tie. Cyrus has been an actor, director and designer for over 30 years. Currently, he is the Resident Lighting Designer at Cape May Stage, Cape May, NJ. Most recently he has appeared in another production of Black Tie, this time playing the role of Curtis, at the ACC in New York City. He has appeared with the Metropolitan Playhouse in NYC, as well as in Passchendaele, a world premiere at the NYC International Fringe Festival. Cyrus can be seen and heard regularly on TV and radio commercials, and will soon be seen as Diane Keaton's deceased husband in And So It Goes, an upcoming movie directed by Rob Reiner. His next stage role will be in Quartet for the Small Town Theater Company, performing at the end of this month in Katonah and Rye, NY. GÉRALD SYBLEYRAS (Playwright) is best known in the English-speaking world for Heroes, Tom Stoppard's translation of the French play Le Vent des Peupliers which won the Laurence Olivier Award for Best New Comedy in 2006. Other plays include On A Très Peu d'Amis, Un Petit Jeu Sans Conséquence, Vive Bouchon! and La Danse de L'Albatros. TOM STOPPARD (Translator) is the author of numerous plays including Rosencrantz and Guildenstern Are Dead, The Real Inspector Hound, The Real Thing (presented by the Hampton Theatre Company in 1995), Jumpers, Travesties, Hapgood, Arcadia, The Invention of Love and The Coast of Utopia. ANDREW BOTSFORD (Director) has appeared on stage in 40 Hampton Theatre Company productions since 1985, most recently as Frank Foster in How The Other Half Loves. Other stage work includes multiple roles in the Round Table Theatre Company's debut production of Shakespeare's Scottish Play last winter and in Tonight at 8:30 last summer at Guild Hall's John Drew Theater. Also the co-host of the Hamptons Take 2 Documentary Film Festival and the host of a summer film commentary program at the Westhampton Beach Performing Arts Center, Andrew teaches in the MFA in Creative Writing and Literature program at Stony Brook Southampton. During the summer conferences at the Southampton Arts campus, he has continued his study of acting with Joanna Merlin and has studied directing with Austin Pendleton, Tony Walton, Kathleen Marshall, Mark Wing-Davey, and Nick Mangano. He is delighted to be on the other side of the footlights for this production of such a beautifully written play, with such an exceptionally talented cast of heroic players, all of whom he has had the pleasure of working with before "up there." JAMES EWING (Set Designer) co-founded the HTC in 1984 and has since appeared in over 20 productions and designed and built numerous sets. Special gratitude to his reliable and skilled production team all listed in the program. And, of course, to Sarah for her wise guidance and fortitude as we stumble along in these efforts. DIANA MARBURY (Set Decor) has decorated the sets of numerous HTC productions while also acting and directing. She appeared most recently as Polly Wyeth in Other Desert Cities and directed How the Other Half Loves last spring. She would like to thank all the "behind the scenes" people who make these productions possible. SEBASTIAN PACZYNSKI (Lighting Designer) first worked with the Hampton Theatre Company when he designed the company's 2003 production of Summer and Smoke at Guild Hall and has designed all the company's productions since Proof in 2004 as well as the theater's new lighting system. He has designed lighting for theater, dance and special events in a number of Broadway, Off Broadway, Off Off Broadway and regional venues. He has also worked in film and television as the director of photography. He has designed numerous productions for Guild Hall and for the Hamptons Shakespeare Festival. TERESA LEBRUN (Costume Designer) is the resident costumer for the Hampton Theatre Company and has designed costumes for all the company's recent productions. Teresa has also costumed for Spindletop Productions at Guild Hall. Much love to her boys Josh and Noah. JOHN ZALESKI (Stage Manager). It's a wonderful joy to again work with my friends Andrew, George, Tom and Cyrus, and my new friend, Rocky. Thank you to our amazing production team for sharing their expertise and absolute top quality talent and dedication here at HTC. (And welcome aboard, Chrissie!) CHRISSIE DEPIERRO (Assistant Stage Manager) began with the Hampton Theatre Company this season. I'm thrilled to be a part of such a wonderful and talented group of people that make the production come alive. Many thanks to Mickey Moroney and James Ewing for the opportunity to have the time of my life. ROB DOWLING (Lighting & Sound Technician) has done lighting and sound for 22 years at the North Fork Community Theater, Vail-Leavitt Music Hall, Producer's Club (NYC), the Loft Theater at Dowling College and the Southampton Cultural Center. He has also helped Sebastian with lighting set up at Guild Hall, the Ross School, and other local venues. This is Rob's seventh season with the Hampton Theatre Company. He is very happy to be part of the show and the company.
Director – ANDREW BOTSFORD Set Design – JAMES EWING Set Decor – DIANA MARBURY Lighting Design – SEBASTIAN PACZYNSKI Costume Design – TERESA LEBRUN Stage Manager – JOHN ZALESKI Assistant Stage Manager – CHRISSIE DEPIERRO
Set Construction – JAMES EWING, SEAN MARBURY, TONY CINQUE, MICK MORONEY, SEAMUS NAUGHTON, VINCENT RASULO Lighting/Sound Tech – ROB DOWLING, SEAMUS NAUGHTON Sound Design – ANDREW BOTSFORD Production Assistant – LUCINDA MORRISEY Production Graphics –
DESIGNINGJOE
(JOE PALLISTER) Program – SARAH HUNNEWELL House Manager – JULIA MORGAN ABRAMS Advertising Sales – SARAH HUNNEWELL, LUCINDA MORRISEY, PIA TAGUE Production Photographer – TOM KOCHIE Opening Night Party – MARGARITA GRILLE
'HEROES' IS AS STRONG AS THE ROOTS OF POPLAR TREES
by Beth Young East End Beacon When Tom Stoppard adapted the French playwright Gérard Sibleyras's 2003 comedy "Le Vent des Peupliers" into English, he was faced with one big problem. The title, "The Wind in the Poplars," was too close to the title of the English children's book series "The Wind in the Willows." So, the name of the English adaptation, first produced in 2005, became "Heroes," but Stoppard said at the time that he didn't really care for that title either. Without the poplars, see, the tale of three World War I veterans attempting to escape a French home for old veterans didn't have the roots it was born with. Hampton Theatre Company's production of "Heroes," which opened Thursday night, takes those poplars seriously. They are there, in a note in the program's frontispiece, which reminds the audience that "the wonderful spirit of this tree has the ability to teach the average person how to make dreams and projects manifest quickly. The spirit of the poplar reminds people of the possibilities of life." The poplars are there in the Quixotic gleam in the eye of the adventurous but mad Gustave, played by Tom Gustin, in the opening scene that has his character gazing at the poplars he can see on a distant hill from a small terrace at the old veterans home. Gustave dreams of Indochina and he dreams of girls (all the old veterans dream of girls) and he dreams of reaching the poplars on the hill. "Heroes" marks longtime HTC actor Andrew Botsford's full-length directorial debut with the company, and the play seems well-suited to his sensibility. The three actors all turn in superb performances in roles that seem, well, downright Botsfordian: Intelligent, romantic men of a certain age who long to be taken seriously. Each of these well-cast men is fully drawn by Stoppard and played fully by the actors, with delightful nuances that charmed Friday's audience. George Loizides plays Philippe, a 10-year veteran of the home who suffers from frequent fainting spells, and whose paranoid belief that the head nun is trying to kill patients with the same birthdays gets the best of him. Henri, a 25-year-veteran of the home played by Cyrus Newitt, is the straight man to his two nutty cohorts. Philippe describes Henri early on as a dangerous "enthusiast," and Henri is a near Boy Scout, who folds the blankets and plots the course for their escape to the poplar hill. Gustave, who has only been in the home for six months, provides the fuel for his company's desire for escape. Henri suggests they go on a picnic. Gustave scoffs and tells tales of Indochina. Philippe cowers and begs to not be put in the middle. And they compromise on a trip to the poplar trees, 60 kilometers away by road, but a far shorter distance if they take their tactical overland route. If this play was "One Flew Over The Cuckoo's Nest," Gustave would be McMurphy and the head nun, Sister Madeline, would be Nurse Ratched. But this play is not "One Flew Over the Cukoo's Nest" and that's just fine. If this play were written by Hemingway, well, these Lost Generation veterans would have the same difficulty they have in discussing 1. Gustave's failed marriage. 2. Philippe's lack of a decent erection in six months. 3. Henri's answer to the question of why he never married: he dreamed of becoming a picture framer (he never lived out the dream of being a picture framer either). But this play wasn't written by Hemingway, and that's just fine too. "Heroes" is, in truth, a fast-paced, sometimes slapstick, laugh-a-minute comedy, and that's where its beauty lies. The characters are on death's door, but they're played by men who are decades younger, both chronologically and in spirit. Their mental lives are as full and rich as their physical lives had been one time, generations earlier, when they were young men. At one point in their preparations for escape, Gustave demands that Philippe get on his back to see if he can be carried when he has one of his fainting spells. The audience gasped as Philippe climbed on Gustav's back and mock-fainted. Someone sitting behind me said "Wow, he's strong." As strong as a poplar tree.
'HEROES,' 'SEINFELD,' AND GODOT
by Bridget LeRoy Easthampton Star Gérald Sibleyras's "Le Vent des Peupliers" ("The Wind in the Poplars"), adapted for the English stage by Tom Stoppard as "Heroes," is the second offering this year at the Hampton Theatre Company in Quogue, and quite an offering it is, too. The three-man show, featuring Tom Gustin, George Loizides, and Cyrus Newitt, revolves around the conversations of three World War I French veterans at a home for old soldiers in 1959. Over the course of the 90-minute, no-intermission production, the three ruminate on whether the head nun is killing off other veterans, as well as on protecting "their" terrace, the female orgasm, planning an escape, whether the stone dog on the balcony is actually alive, and the far-off poplar trees "subtly swaying in the wind." The play takes place over a two-week period in late summer. The men establish their characters within the first five minutes. Henri, played by Mr. Newitt, has lived at the home for a quarter-century and is quite happy with the way things are. Mr. Loizides's Philippe dozes off frequently due to a piece of shrapnel in his head and doesn't enjoy confrontation. Mr. Gustin's Gustave is a brash and bitter recent arrival. It is true that shortly after experiencing the horrors of the Great War, many who saw battle retired into nursing homes, regardless of age, unable to face the rigors of civilian life due to deep and incurable wounds, both physical and emotional. This sounds like the setting for a tragedy, full of long monologues and slow reveals. Instead, the evening vacillates between an episode of "Seinfeld" and "Waiting for Godot." Characters talk a little about a lot of things, and, to paraphrase the author John Hollander, "Nothing much happens and nobody screws." But it doesn't matter — the audience often finds itself dissolved in laughter. It's a little like the Mad Hatter's tea party: once you understand that everyone is "tolerably deranged," as one character puts it, it's a smooth ride. Unlike the usual blindingly quick repartee of a play written by Sir Tom, the jokes in "Heroes" take time to rise, like a soufflé. The three actors play their parts with ease and grace and poignancy, especially when moments of post-traumatic stress come to the forefront. But these are gentlemen who wear suits and ties even in an old soldiers' home, and those moments are few, hidden under chivalry and humor. Instead, the play focuses on freedom, and the final moment, though small, leaves an indelible image. "Heroes" won the Laurence Olivier Award for Best New Comedy in 2006 from the Society of London Theatre. Andrew Botsford ably directs the production, and as always James Ewing's set design and Sebastian Paczynski's lighting are subtle, believable, and beautiful. One can almost smell the breeze rustling the trees. A soundtrack that includes the vibrato tones of Edith Piaf adds to the ambiance.
'HEROES' REVIEW: OLD SOLDIERS NEVER DIE
By STEVE PARKS Newsday There's not a lot going on — at least not on the surface — in "Heroes," making its Long Island premiere in Quogue. The action, such as it is, remains confined to the terrace of an old soldiers' retirement home. But the subtext, giving voice to imaginations fueled by too much time on the geezers' hands, runs wild while physicality loiters in sedentary poses. It's late summer, 1959, and the three soldiers we meet are veterans of World War I. Each is dressed in a three-piece suit (costumes by Teresa Lebrun), reflecting a sartorial remnant of military discipline. Henri, played by Cyrus Newitt with an affable ennui, wields a cane more as accessory than crutch. He speaks wistfully of a young woman he's spotted from afar during his "constitutional" walks. Philippe, a paranoid would-be womanizer, played with endearing innocence by George Loizides, passes out periodically due to shrapnel in his brain. Gustave, a world-weary realist as played by Tom Gustin, speaks with know-it-all authority that appropriately fails to mask his terror in facing the outside world ever again. The only change that actually occurs in "Heroes" — a comedy that some may find elusive — is the location of an English bulldog statue standing guard over the verdant terrace's bench (set by James Ewing). When the lights go up after each scene (variable lighting by Sebastian Paczynski), we notice the dog has assumed a new position. Meanwhile, Philippe is convinced that the nun who, in his mind, runs the place with Machiavellian cunning will murder him because a favored new resident has the same birthday as his. Philippe's evidence? "Have we ever had two birthday parties on the same day?" Henri proposes a vacation to Indochina but will settle for a picnic beneath the poplars on the not-too-distant hill overlooking the terrace. Philippe would go along with any plan, but Gustave growls, "Nothing revolts me more than a picnic!" Originating in Paris in 2003, Gérald Sibleyras' play was titled "Le Vent des Peupliers" (The Wind in the Poplars). Tom Stoppard's 2006 English translation, "Heroes," won the Olivier Award, perhaps for its dramatic inertia that brings to mind Samuel Beckett's "Waiting forGodot." Andrew Botsford, making his directorial debut for the Hampton Theatre Company, keeps the low-key pace moving at a clip that gives the inert the illusion of moving — in both a physical and emotional sense.
'HEROES' AT HTC IS FUNNY, POIGNANT
by Lee Meyer Dan's Papers The Hampton Theatre Company's latest production, "Heroes" by Gérald Sibleyras and translated by Tom Stoppard, is a funny, poignant look at aging, mortality and the passage of time. Directed by Andrew Botsford and starring Tom Gustin, George A. Loizides and Cyrus Newitt as three French World War I veterans who pass the time at their veterans home by reminiscing about the past and plotting elaborate, implausible escape plans, "Heroes"'s leisurely pace and lack of intermission may make some audiences a little antsy at first, but the compelling performances and Botsford's strong, assured direction ensure things never get dull. Taking place in the summer of 1959 on the quiet terrace of a French veterans home, "Heroes" tells the story of Gustave (Gustin), Philippe (Loizides) and Henri (Newitt), three decorated veterans who have forged a comfortable, familiar friendship despite different backgrounds and (wildly) different personalities. Henri, who has been at the veterans home for 25 years, loves to discuss the daily goings-on of the home, gossiping about Sister Madeleine, the veterans' very own (off-stage) "Nurse Ratched." Philippe, often confused due to a piece of shrapnel in his head that causes him to pass out at a moment's notice and call out mysterious commands he must have had from the war, has been there 10 years and is convinced that Sister Madeleine kills veterans based on their birthday so she doesn't have to give two birthday parties a day. Gustave, constantly rolling his eyes and complaining, has only been at the home for six months and appears to be the most "together" of the group — until he begins to bond with the dog statue that sits on the terrace with them. Sister Madeleine's presence drives much of the action of the play; Philippe is convinced that she's going to kill him when a younger, more distinguished veteran moves in and shares his birthday. Gustave, who has been looking for an excuse to escape the home, uses this as an opportunity to coax Philippe and Henri into a complicated, silly scheme to run. Watching the the daily lives of three sad, dependent older men who have had their freedom taken from them runs the risk of being depressing and downbeat, but Botsford and the actors keep things light. Early on, when the three get word that a fellow veteran has committed suicide, sighs and sad "oohs" could be heard from the audience; after a brief pause, though, Philippe scowls and accuses Sister Madeleine of murder, prompting the audience into relieved laughter. Loizides, Newitt and Gustin have great chemistry with each other and clearly understand their characters and the world they inhabit. Gustin is particularly strong as the amusingly unhinged Gustave, whose hilarious friendship with the stone dog is contrasted by his apprehension to socialize with anyone other than Philippe and Henri. One of his strongest moments comes late in the play when Henri accuses Gustave of being afraid of the outside world, prompting him to show his vulnerable side. Newitt makes a great impression as the optimistic Henri, his increasing exasperation at his two comrades providing many laugh-out-loud moments. And Loizides shows a talent for physical comedy as Philippe passes out at the most inopportune times. The set, a simple stone terrace laced with ivy, is nicely realized by set designer James Ewing and set decorator Diana Marbury. Musical interludes between scenes nicely represent the passage of time, and Botsford nails the time period of the piece. By the end of the evening, audiences will feel very much connected to the world and characters that have come to life onstage, and the touching conclusion is a real crowd-pleaser.
'HEROES,' EXISTENTIALLY ENTERTAINING
by Dawn Watson Southampton Press and Easthampton Press If I was going to pitch "Heroes" as a television show, I'd say that it was "Seinfeld," set in an old soldiers' home. The play—written originally in French as "Le Vent des Peupliers," or "The Wind in the Poplars," by Gérald Sibleyras and translated into English by Tom Stoppard—is a funny, quirky sketch about nothing. Well, not nothing, as the three characters—Gustave, Philippe and Henri—have goals to achieve. But, like Jerry, George and Kramer (let's exclude Elaine here, as she's not only female but she always struck me as the most driven of the quartet of friends), these three men are hopelessly caught up in the minutiae of their lives, with entertaining results. Set in August 1959, on the terrace of an old soldiers' home, the 100-minute play (no intermission, which this reviewer absolutely loves!) tells the story of a trio of veterans who seek to rise above their limitations. Mr. Stoppard's 2005 adaptation was the winner of London's prestigious Olivier Award for Best New Comedy. The play earned four Molière nominations when the original opened in Paris in 2003. Crabby Gustave, played by Tom Gustin in this Hampton Theatre Company production, has little to enjoy and much to complain about. He's sick and tired of celebrating the birthdays of his fellow "prisoners" and feeling as if he's being held captive in a retirement home for First World War veterans. Though he's a relative newcomer (less than a year in residence), he's already plotting his escape. Philippe, played by George Loizides, is randy, paranoid and a smidge neurotic—to comic result. Due to a piece of shrapnel lodged in his brain, he's experiencing a physical state akin to narcolepsy—passing out every five or 10 minutes and waking up confused and mumbling about what one would assume to be military maneuvers. Though he's been ensconced in his comfortable confinement the longest—more than two decades—Henri, played by Cyrus Newitt, is an eternal optimist. He's fairly content to sit on the patio and take his daily constitutional around the grounds of the property. "He's happy here, that's the only thing I've got against him," Gustave says of Henri. The three get into a snit when they learn that construction will be taking place on a nearby terrace, which will force them to share what they have claimed as their own private domain. Gustave, the most physically capable (as he likes to point out often) of the three, takes charge. He enlists his fellow veterans to revolt with him and take a voyage to French Indochina. Henri, who needs a cane to walk, thinks the idea is absurd. Though optimistic, he's also the pragmatist of the bunch. He suggests a picnic instead of a continent-hopping journey, which is met with derision by Gustave. Philippe, who has been encamped at the old soldiers' home for 10 years after choosing to leave his sister's house (her husband was a boor) is skeptical but he eventually rises to the challenge. Well, that is, in between increasingly frequent bouts of consciousness loss and delusions that a statue of a dog is out to get him. As is true with many French dramas, the plot is dark and existential, yet brightly amusing. Director Andrew Botsford does a fine job keeping the levity on the front burner as these moribund gentleman natter on about their glory days, ennui-filled present and futile future. On Sunday afternoon, "Heroes" played to a packed house, which is always nice to see. The audience seemed to appreciate the physical humor—absurdly and charmingly played to great effect–and the bawdy bits the most. Though this was the most stripped-down set I have ever seen at the Quogue Community Hall, it was just perfect, par usual. Great job on set and lighting design James Ewing and Sebastian Paczynski. Well done also on costumes and stage management to Teresa Lebrun and John Zaleski. Bottom line: No matter the obstacles, "Heroes" lives to fight another day.