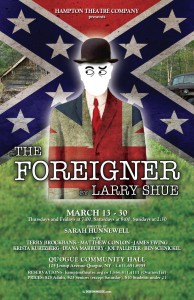 by Larry Shue directed by Sarah Hunnewell
March 13 – 30, 2014
A hilarious comedy about a shy and awkward foreigner's unexpected adventure in the wilds of rural Georgia.
CAST:
Charlie – MATTHEW CONLON
Froggy – TERRY BROCKBANK
Betty – DIANA MARBURY
David –
JOE PALLISTER
Catherine –
KRISTA KURTZBERG
Owen – JAMES EWING
Ellard – BEN SCHNICKEL
TERRY BROCKBANK
("Froggy" LeSeuer) is delighted to return to the HTC stage where he made his debut as Henri Trochard in the company's production of
My Three Angels
. Other appearances include the title role in
Bottoms Up–The Private Lives of Noel Coward
and the dual roles of King Duncan and the Scottish Doctor in
Macbeth
at Northeast Stage and, at the NFCT, Colonel Pickering in
My Fair Lady
and Frank Doel in
84 Charing Cross Road
. Terry has also performed in community theater and dinner theater in Wales, Virginia, and NYC, where roles include Cliff in
Look Back in Anger
, Horatio in
Hamlet
, Mr. Mulleady in
The Hostage
, and The Judge in
Volpone
. He is also a director with a long string of credits. Recently retired, Terry now shares his time between homes in New York City and Shelter Island.
MATTHEW CONLON
(Charlie Baker) is grateful to return to the HTC, where he appeared in
The Heiress
,
The Real Thing
and
The Crucible
some time back. NYC: HB Playwrights:
The Game of Love and Death
(with Herbert Berghof),
Lady With a Lapdog
,
Freud's Last Session
(with Fritz Weaver),
The Play's the Thing
and
The Chase
; Beckett:
Judgemen
t; Sonnet Rep:
The Tempest
; EST:
The Traveling Lady
; La Mama:
A Human Equatio
n; Tribeca Lab:
The Swan
; Lark:
Bromius Beaujolais
and
God, Sex and Blue Water
. Regional: Penobscot:
To Kill a Mockingbi
rd; Bay Street:
Men's Lives
; Cleveland Play House:
The Importance of Being Earnest
; O'Neill:
Fuddy Meers
. Stage West:
Suddenly Last Summer
(with Kim Hunter); Ivoryton:
Prelude to a Kiss
,
Bell, Book and Cand
le and
On Golden Po
nd; Mendelssohn:
Oedipus Rex
,
The Daughter-in-Law
; Power Center:
Waiting for Godo
t; Bearsville:
The Lisbon Traviata
. Recent Film:
Sweet Lorraine
;
The Crimson Mask
. TV:
Law and Order
(s). During the final year of ABC's
One Life to Live
, Matthew played M. Claude Calmar.
JAMES EWING
(Owen Musser) co-founded the HTC in 1984 and has since appeared in over 20 productions and designed and built numerous sets. Favorite roles, besides this one which he is thrilled to reprise, include Colonel J.C. Kincaid in
The Oldest Living Graduate
, Artie Shaughnessy in
The House of Blue Leaves
, Horace in
The Little Foxe
s and the many characters of
The Dining Room
. Special gratitude to his reliable and skilled production team all listed in the program. And, of course, to Sarah for her wise guidance and fortitude as we stumble along in these efforts.
KRISTA KURTZBERG
(Catherine Simms) is thrilled to be making her debut at the Hampton Theatre Company! Originally from Atlanta, she received her BFA in theater from Wright State in Ohio. Favorite credits include: Penny in
Hairspray
in Northport, Cat in the Hat in
Seussical
at the Lucille Lortel, originating the role of Jenny for Theaterworks'
Click, Clack, Moo
, 1st national tour of
How the Grinch Stole Christmas
, Kate in
Kiss Me, Kate!
at Westchester Broadway Theatre,
Li'l Abner
at Goodspeed, Ruby in
Dames at Sea
, Kathy in
Singin' in the Rai
n, and
42nd Street
in Russia. Special thanks to Sarah for this opportunity to work on the Island! Love to God, Jonathan, family, and friends. Krista is a proud member of Actors' Equity.
kristakurtzberg.com
DIANA MARBURY
(Betty Meeks, Set Decor) has appeared in over 40 HTC productions, most recently as Polly Wyeth in
Other Desert Cities
. She directed
How the Other Half Loves
last spring and will put back on her director's hat for the company's upcoming production of
God of Carnage
. She would like to thank all the "behind the scenes" people who make these productions possible.
JOE PALLISTER
(Rev. David Marshall Lee,
Graphic Design
) has appeared with the Hampton Theatre Company in
The Drawer Boy
(Morgan),
Other People's Money
(Coles),
Good People
(Mike Dillon),
One Flew Over the Cuckoo's Nest
(McMurphy),
Doubt
(Father Flynn),
A Streetcar Named Desire
(Stanley),
Summer and Smok
e (John Buchanan Jr.) and
Lobby Hero
(Bill). Other local work includes Bay Street's productions of
To Kill a Mockingbird
(Bob Ewell) and
The Diary of Anne Frank
(Mr. Kraler),
The Cripple of Inishmaan
(Babby Bobby) at Guild Hall and
Of Mice and Men
(George),
True West
(Lee) and
Twleve Angry Men
with Southampton's Center Stage. Film roles include Steve in
Refuge
and Hunter in
Dark Was The Night
and the feature film
Sebastien
starring Cathy Moriarty. Other credits include recurring roles on both
One Life to Live
and
Guiding Light
. He has also appeared in several mildly humiliating skits on
Late Night With Conan O'Brien
.
joepallister.com
BEN SCHNICKEL
(Ellard Simms) played Miles in HTC's production of
The Drawer Boy
last spring as well as Chris Foster in
Becky's New Car
and Jason in
Rabbit Hole
. He is a New York-based actor whose credits there include
When You Comin' Back, Red Ryder?
,
Rabbit Hole
,
Six Degrees of Separation
,
Billy Witch
,
The Dreamer Examines His Pillow
,
Rent
, A.R. Gurney's
What I Did Last Summer
and Bekah Brunstetter's
Spac
e. A native of Minneapolis, he has also performed there at the Guthrie Theater and the Children's Theatre Company. He received his B.F.A. in Acting from Ithaca College.
LARRY SHUE
(Playwright) was an actor and playwright at the height of his career when he was killed in a commuter plane crash at the age of 39 in 1985. Early plays include the one-act
Grandma Duck is Dead
, which was performed on National Public Radio,
My Emperor's New Clothes
, and
Wenceslas Squar
e, but his great successes were
The Nerd
and
The Foreigner
, both still running in New York and London at the time of his death, when he was also about to make his Broadway acting debut in
The Mystery of Edwin Drood
and was working on the screenplay of
The Foreigner
for Disney. HTC Executive Director Sarah Hunnewell still remembers with a smile seeing Mr. Shue play
The Foreigner
's title role during the play's NYC debut at the Astor Place Theatre in 1984, which won two Obie Awards and the Outer Circle Award for Best Off Broadway Play. The HTC is happy to revive one of the funniest plays in its history.
SARAH HUNNEWELL
(Director) has directed many shows for the Hampton Theatre Company, favorites among which include
The Drawer Boy
,
Rabbit Hole
,
The Enchanted April
,
One Flew Over The Cuckoo's Nest
,
The Oldest Living Graduate
,
Fuddy Meers
,
Summer and Smoke
, and
The Rainmake
r. She is also the Jill-of-all-trades otherwise known as the Executive Director of the HTC. Many thanks to her excellent cast and crew for their hard work on this production and to our audience members, patrons and all the people who make help make our work possibl
SEAN MARBURY
(Set Designer) has designed the sets for the HTC's productions of
Other Desert Cities
,
How the Other Half Loves
,
Other People's Money
, and
Deathtrap
and worked in collaboration with James Ewing on
The Drawer Boy
. He has worked for many years building HTC sets alongside his father Peter and friend James Ewing. He is thrilled to once again don the esteemed mantle of set designer with this production.
SEBASTIAN PACZYNSKI
(Lighting Designer) first worked with the Hampton Theatre Company when he designed the company's 2003 production of
Summer and Smoke
at Guild Hall and has designed all the company's productions since
Proof
in 2004 as well as the theater's new lighting system. He has designed lighting for theater, dance and special events in a number of Broadway, Off Broadway, Off Off Broadway and regional venues. He has also worked in film and television as the director of photography. He has designed numerous productions for Guild Hall and for the Hamptons Shakespeare Festival.
TERESA LEBRUN
(Costume Designer) is the resident costumer for the Hampton Theatre Company and has designed costumes for all the company's recent productions. Teresa has also costumed for Spindletop Productions at Guild Hall. Much love to her boys Josh and Noah.
JOHN ZALESKI
(Stage Manager). It's a wonderful joy to again work with my friends Andrew, George, Tom and Cyrus, and my new friend, Rocky. Thank you to our amazing production team for sharing their expertise and absolute top quality talent and dedication here at HTC.
CHRISSIE DEPIERRO
(Assistant Stage Manager) began with the Hampton Theatre Company this season. I'm thrilled to be a part of such a wonderful and talented group of people that make the production come alive. Many thanks to Mickey Moroney and James Ewing for the opportunity to have the time of my life.
ROB DOWLING
(Lighting & Sound Technician) has done lighting and sound for 22 years at the North Fork Community Theater, Vail-Leavitt Music Hall, Producer's Club (NYC), the Loft Theater at Dowling College and the Southampton Cultural Center. He has also helped Sebastian with lighting set up at Guild Hall, the Ross School, and other local venues. This is Rob's seventh season with the Hampton Theatre Company. He is very happy to be part of the show and the company.
Director – SARAH HUNNEWELL
Set Design & Decor – SEAN MARBURY
Set Decor & Properties – DIANA MARBURY
Lighting Design – SEBASTIAN PACZYNSKI
Costume Design – TERESA LEBRUN
Stage Manager & Properties – JOHN ZALESKI
Assistant Stage Manager – CHRISSIE DEPIERRO
Backstage Crew – BOB ARCHER
Set Construction – SEAN MARBURY, TONY CINQUE, JAMES EWING, FREDDIE GUZMAN, MICK MORONEY, SEAMUS NAUGHTON, VINCENT RASULO
Lighting/Sound Tech – ROB DOWLING, SEAMUS NAUGHTON
Sound Design – SARAH HUNNEWELL, SEAMUS NAUGHTON
Production Graphics –
JOE PALLISTER
Program, Publicity & Box Office – SARAH HUNNEWELL
House Manager – JULIA MORGAN ABRAMS
Advertising Sales – SARAH HUNNEWELL, LUCINDA MORRISEY, PIA TAGUE
Production Photographer – TOM KOCHIE
'THE FOREIGNER' HITS THE MARK
By Steve Parks (Newsday)

The Foreigner" is a play that critics tend to dismiss while audiences howl at its comic improbability. But this edgy farce has acquired more heft in the 30 years since its Off-Broadway debut.

For those who are aware that its creator, Larry Shue, died in a plane crash at age 39 less than a year after opening night, "The Foreigner" survives as bittersweet elegy. One of the early complaints of critics concerns the characterization of the Southern country folk who populate the setting — a Georgia fishing lodge — as rubes. But Charlie, the shy Englishman who utters no English, earnestly makes as big a fool of himself as anyone in the room. So much for snobbery.

Its popularity and one-room set make "The Foreigner" a favorite among regional theaters across the country. The most recent local resurrection before the current Hampton Theatre Company staging was by Northport's John W. Engeman Theater in 2009.

Director Sarah Hunnewell meets the challenge of pitting clowning against criminal hate on Sean Marbury's expansive log-cabin set. Hate, sadly, remains obstinately robust today.

Matthew Conlon convinces us of Charlie's metamorphosis from self-defeating introvert to generous friend who brightens the lives of everyone around him. Everyone except those who would do his friends harm.

"Froggy" prescribes the backwoods resort as an antidote to Charlie's depression over his wife's poor health and chronic infidelity. Because Charlie says he's too distraught to speak to strangers, Froggy (avuncular Terry Brockbank) tells the lady of the lodge, Betty, that his friend speaks only in a foreign tongue. When he unintentionally eavesdrops on an intimate conversation between David, a circumspect man of the cloth, and his fiancee, Charlie is forgiven when it's explained that he understood not a word. In work shoes and aproned dress (costumes by Teresa Lebrun), Diana Marbury has us believing she's a lifelong country girl. Krista Kurtzberg as Catherine, a former debutante, makes us wonder what she sees in David — except that he's a hunk — deviously played by Joe Pallister. Catherine's brother Ellard is portrayed by Ben Schnickel with admirable restraint as a dimwit who's smarter than he sounds, while James Ewing's snarling Klansman turns comedy into crisis. Still mangling his English, Charlie describes his white-robed-and-hooded antagonist as "sheet-head."

But it's the physical comedy — Charlie's gibberish storytelling and mirrored breakfast-table pantomime with Ellard — that makes "The Foreigner" a dichotomous delight.
THE FOREIGNER': A FROTHY ROMP OF A REVIVAL
By Lorraine Dusky (The East Hampton Press & The Southampton Press)

Silly frothy fun is what "The Foreigner" delivers, as it points a broadsword at stereotypical Southerners, racists and avaricious preachers more interested in property deeds than good deeds.

A nimble troupe of actors under the apt direction of Sarah Hunnewell is reviving this lively jig of theater at the Hampton Theatre Company in Quogue. Larry Shue's play is dense and complicated, but never loses sight of the farce at its heart.

The play won two Obies and Outer Critics Circle Awards, and has been a staple of local theater and amateur productions since it opened in 1984. In fact, this is the second time HTC has brought "The Foreigner" to life, for it had a highly successful run here in 1991.

As a first-time viewer, it is easy to see why. And the audience Sunday afternoon quickly got into the spirit of this fanciful, far-fetched comedy. It's a hoot!

The play opens when Charlie, a repressed Englishman, is brought by his friend, Froggy LeSueur, for a few days of quiet recuperation to a country lodge in Georgia while his wife is supposedly dying in a hospital. We immediately learn that Charlie's wife finds him boring—still, she may be dying—and he insists he is too distraught even to speak to anyone.

Froggy, who comes and goes throughout the action, announces he will tell everyone at the inn that Charlie is from some unknown foreign country and doesn't understand English. Thus the merriment ensues as the other guests assume they can speak the absolute truth in front of Charlie—the pregnant Catherine, engaged to the conniving minister, Rev. David, who plots to have the lodge "condemned" and trick the owner, the good-hearted Betty, out of a rightful sale.

Throw in Catherine's dim-witted brother, Ellard; a Southern good ole boy, Owen, who aims to rid the area of blacks, Jews, Catholics and foreigners; a few locals; and stir vigorously.

Revealing more plot than that is going to ruin half the fun.

The overall excellence of this production rests on the wily shoulders and gangly frame of lead actor Matthew Conlon, whose list of credits includes the New York off-Broadway stage, as well as Sag Harbor's Bay Street, where he acted in Joe Pintauro's "Men's Lives."

As Charlie, Mr. Conlon is at first a shy sad sack who barely speaks. Then, he turns into a stomping, playful madcap as he allows his true personality to emerge, having shed the persona of a stodgy copy editor of science fiction.

He briskly glides through an intricate act of imitative ritual with his language teacher, Ellard—portrayed by Ben Schnickel—that is straight out of screwball comedy before he breaks out into an increasingly ridiculous series of slapstick poses as he acts out a children's fairy tale, complete with ogre.

Krista Kurtzberg portrays the Southern belle Catherine, who fondly remembers being a deb a few years earlier "sipping drinks in revolving restaurants." Actor Joe Pallister is the scheming minister she's set to marry, until in comes Charlie.

Along the way, the devious plot—and a subplot involving Ellard—is foiled, and Charlie may or may not win Catherine's banged-up heart. Mr. Conlon has been away from theater in the Hamptons for more than two decades—far too long—and his return augurs well for us.

The rest of the cast is up for the challenge, as well, especially Terry Brockbank as Froggy LeSueur, the back-slapping Brit who knows the truth about Charlie, and Mr. Schnickel as Ellard, Catherine's doofus brother who ain't so stupid after all. James Ewing's performance as the good ole boy racist could be muted a tad, as some of the dialogue get lost in his velocity and volume. Mr. Ewing, incidentally, co-founded HTC in 1984, and has been in more than 20 productions since then.

Rounding out the cast is Diana Marbury, who portrays Betty, the inn's proprietor with heart and verve. The set design by Sean Marbury has the down-home look of many a country lodge.

Following an initial run in Milwaukee, "The Foreigner" opened off-Broadway in 1984, with the playwright taking the role of Froggy. He never knew what a success the play would become, as he died one year later in a plane. It might be possible for southerners to find the play mildly offensive, but comedy often sits squarely on the shoulders of stereotypes that are stereotypes because they ring true.

Critics usually get their creds by picking apart and finding fault in what they are reviewing, but the Sunday afternoon performance of "The Foreigner" was such a romp that clever-but-nasty words cannot be summoned.



In short, it's fun, it's smart, it's a good time.
"THE FOREIGNER" IS INNOCENT, MAGICAL FUN
by Beth Young (East End Beacon)

The first thing you'll probably hear about Hampton Theatre Company's new production of "The Foreigner" is that it's pretty darn funny.

That's quite true, but what you might not hear about this gem of a play, which will continue for two weekends at the Quogue Community Hall, is that, while on the surface it is a farce, it's also a sweet testament to the genuine, magical bedrock of human nature.

"The Foreigner," written by Larry Shue and first performed in 1984, is the story of Charlie Baker (Matthew Conlon), a British proofreader for a science fiction magazine who is convinced by an old military buddy, "Froggy" LeSueur (Terry Brockbank), to embark on a trip to a fishing lodge in the Georgia woods to take his mind off his wife's impending death.

Shy Charlie, terrified at the idea of meeting new people in his distressed state, convinces Froggy to concoct an elaborate ruse to keep Charlie from having to interact with anyone, setting off a series of more and more ridiculous events that culminate in a showdown with the Ku Klux Klan and an evil building inspector.

The characters in "The Foreigner" are broadly drawn, and that's intentional. There's the wealthy Georgia belle Catherine (Krista Kurtzberg) and her dull-witted brother Ellard (Ben Schnickel). There's the evil redneck Owen Musser (James Ewing) and backwoods matron innkeeper Betty Meeks (Diana Marbury). There's David Marshall Lee (Joe Pallister), a preacher with none-so-holy intentions and a faint family connection to Robert E. Lee, who plans to marry the Georgia belle.

Any one of these characters could have been played to type, with little imagination, but Shue gives them a little more to work with, and each of the actors brings a boisterous, innocent enthusiasm to their roles, rescuing them from resorting to stereotype.

Ms. Marbury and Mr. Schnickel turn in particularly solid performances, but their characters are given the most room for growth. Betty Meeks desperately wants to meet foreigners, to learn their ways, to escape from her backwoods existence. Ellard knows people think he's dumb, but darn it, he'd really like to recite Shakespeare.

Catherine, well, she knows there's more to life than a Georgia fishing lodge, and David Marshall Lee, with the help of Owen Musser, may just prove that the evilest of hearts can lie behind a veneer of holiness.

Matthew Conlon plays Charlie, with a perfect wry smile teasing his lips as the other characters, unaware that he can understand them, unveil the plot. He simply nods, smiles and drinks his tea. It isn't until the second act that Charlie's pent-up penchant for physical comedy and speaking in tongues takes flight, and that's where Mr. Conlon really shines.

It takes a great deal of the first act to introduce the characters and set up the storyline. That's a fault in the writing, not in this production, adeptly directed by HTC Executive Director Sarah Hunnewell.

The hilarity springs up, suddenly, when Charlie is left alone midway through the performance with the dullard Ellard, who decides he's going to teach this strange, mute foreigner to speak English.

Charlie proves a star pupil, learning English at breakneck speed as the other denizens of the lodge look on in amazement, and telling elaborate, sidesplitting stories in his fake native language, which sounds like a cross between Russian and Klingon.

Charlie and Ellard's delightfully madcap friendship was made possible by Charlie's initial deception, but the honesty of their emotional abandon rings a bell of a greater truth.

When Froggy grabs a moment alone with Charlie and asks if he wants to call off the deception, Charlie refuses, with perhaps the most vocal certitude of his entire life. By becoming a new person, he realized, he has found his true self, hidden for years behind the proofreader's desk. He's not only helped Ellard feel competent, but, by the end of the show, he hatches a plan to save his new friends from an awful, evil plot. And he has the audience with him, rooting for him all the way.

To find out more, you'll need to go see "The Foreigner" for yourself.




FOREIGN FUN IN QUOGUE
Larry Shue's hilarious hit, which is all laughs from start to finish by Bridget LeRoy (East Hampton Star)

All Charlie Baker wants is some peace and quiet — from his humdrum London desk job, his dying wife, and his own demons. But when Froggy LeSueur, an English military type still with the barest whiff of colonialism about him, brings the staid British bore on a three-day job 100 miles south of Atlanta, a mishmash of mushmouth and cultural clashes ensues, with jaw-hurting hilarity.

Froggy, played with gusto by Terry Brockbank, only wants his friend Charlie to restiffen his upper lip on an annual work-related sojourn Froggy makes across the pond. But Charlie (Matthew Conlon) only wants to be left alone, so Froggy tells the others in the backwoods bed-and-breakfast that Charlie cannot speak a word of English – he's a "foreigner."

Then Froggy leaves for his military lectures and "to blow up a mountain," and Charlie is left with the Widow Meeks, a scheming reverend, the reverend's ex-debutante fiancée and possibly idiot brother, and an evil local official who wants to take over the widow's home and make it ground zero for the white-sheet crowd.

This isn't even giving away the best plot lines in the late Larry Shue's hilarious hit, which is all laughs from start to finish.

What greets the audience first is another stellar set by Sean Marbury. There is no doubt that this is a well-loved and well-used lodge, complete with stuffed animal heads and plaid living room set. Sebastian Paczynski's lighting conjures the Spanish moss hanging from the trees outside and the mist on the lake.

Sarah Hunnewell directs deftly, with some moments that are picture-perfect. Diane Marbury as the widow and owner of the cabin rules her roost, Joe Pallister vacillates between unctuous and nefarious as the soon-to-be-wed cleric, Krista Kurtzberg and Ben Schnickel are wonderful additions to the play as the sister and brother who stand to inherit a meaty fortune, and James Ewing is suitably hateful as the crazy cracker.

But Mr. Conlon, who has trod the East End boards and beyond for many a year, gives a performance of such magnitude that this should forever be considered his role. From a panic-stricken and self-absorbed clerk to the exotic "foreigner" who amuses and entertains the cabin-dwellers, often in pantomime, Mr. Conlon offers a transformation of character that is as broad as it is believable.

There are many short-and-sweet messages contained within this topsy-turvy world, where idiots are teachers, blonde ingenues are more than they appear, crazy seems sane, and sane is boring. The Hampton Theatre Company continues its steady season by hitting one out of the park. With a PG-13 rating for mild swearing, this is a family-friendly show, and teens and young adults alike should be gently encouraged to see a live production every bit as amusing as a sitcom episode.