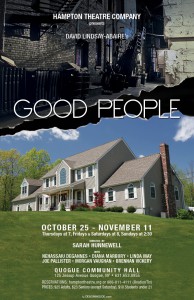 by David Lindsay-Abaire directed by Sarah Hunnewell
October 25 – November 18, 2012
Pulitzer Prize-winning playwright David Lindsay-Abaire's tough and tender new piece about the insurmountable divide between those who make it and those who don't, and the moral dilemmas both sides face.
NEHASSAIU deGANNES
(Kate) makes her Hampton Theatre debut with this production. She played The Nurse in EQUUS opposite Alec Baldwin at Guild Hall, and was recently seen in NYC reading Carmen to Amy Irving's Madame Irma in THE BALCONY at Red Bull Theatre and performing the title role in DIANA SANDS: A CERTAIN TOUGHNESS OF SPIRIT. Other NY and regional theater credits include: Catherine in PROOF, Rose Rose in CIDER HO– USE RULES, Gladys in THE SKIN OF OUR TEETH at Trinity Rep; COCo Dance Theatre's RIGIDIGIDIM DE BAMBA DE; KING LEAR (Cordelia) and THE TALLEST BUILDING IN THE WORLD at Luna Stage, as well as roles at LaMAMA, Shakespeare & Company, Oldcastle Theatre and The GAMM. She has performed her one-woman show DOOR OF NO RETURN at The Seaport Salon and throughout New England as well as real-world testimonials for The UN Trust Fund To End Violence Against Women.
www.nehassaiu.com
DIANA MARBURY
(Dottie, Producer, Set Decor) is pleased to tread the boards with such a talented cast. Diana directed BLACK TIE last spring and was seen most recently as Helga Ten Dorp in DEATHTRAP, Mme. Parole in MY THREE ANGELS, Mrs. Fisher in THE ENCHANTED APRIL, Lillian Troy in I HATE HAMLET and Nat in good people. She is the Artistic Director of the HTC and has worn many hats over the years. She would like to thank all the "behind the scenes" people who make these productions possible.
LINDA MAY
(Jean) is thrilled to be making her Hampton Theatre Company debut with this production. Linda caught the theater bug when she was eight years old and has never looked back! Some of her favorite roles include Diana in NEXT TO NORMAL, Sister Aloysius in DOUBT, Terry in SIDEMAN, Louise in ALWAYS, PATSY CLINE, and Reggie Fluty in THE LARAMIE PROJECT. Thank you for supporting live theatre!
JOE PALLISTER
(Mike) appeared most recently with the Hampton Theatre Company as Randle P. McMurphy in ONE FLEW OVER THE CUCKOO'S NEST. Other roles with the company include Father Flynn in DOUBT, Stanley in A STREETCAR NAMED DESIRE, John Buchanan Jr. in SUMMER AND SMOKE and Bill in LOBBY HERO. He played Bob Ewell in Bay Street's production of TO KILL A MOCKINGBIRD last winter and has appeared in three productions at Center Stage at the Southampton Cultural Center–as George in OF MICE AND MEN, as Juror #8 in TWELVE ANGRY MEN and as Lee in TRUE WEST. Other credits include recurring roles on both One Life to Live and Guiding Light. He has also appeared in several mildly humiliating skits on Late Night With Conan O'Brien.
www.joepallister.com
MORGAN VAUGHAN
(Margaret) holds an M.F.A. in Acting from The Shakespeare Theatre Company's Academy for Classical Acting at The George Washington University in D.C. and a Certificate in Acting Shakespeare from RADA. Regional credits include Patsy in ALWAYS, PATSY CLINE; Catherine in PROOF; Helen in THE CRIPPLE OF INISHMAAN; Nancy in OLIVER; and Brooke/Vicki in NOISES OFF. Locally, she is lead singer in an eclectic rock and jazz standards duo and she and her husband Tristan offer an adult acting class called "Speaking Shakespeare" at Guild Hall. She will play Lady Macbeth in MACBETH this January at LTV Studios just off Montauk Highway in Wainscott. Visit:
roundtabletheatrecompany.org
BRENNAN VICKERY
(Stevie) is a New York-based actor who has had the pleasure of working with wonderful companies such as TSS (with Terry Schreiber), The Gallery Players, Punchdrunk, The Seven Collective, and Shakesperience. Television spots: The Good Wife and Biography Channel's Celebrity Ghost Stories. He is currently interning with Elevator Repair Service theater company.
DAVID LINDSAY-ABAIRE
(Playwright) won a Pulitzer Prize for his play good people (produced by the HTC in 2010) and the Horton Foote Prize for Outstanding New American Play for GOOD PEOPLE (2012). Other works for the stage include FUDDY MEERS (HTC 2006), KIMBERLY AKIMBO, WONDER OF THE WORLD, DOTTING AND DASHING, A DEVIL INSIDE, SNOW ANGEL, THE LI'L PLAYS and THE KITCHEN SINK DRAMA, as well as the book and lyrics to SHREK THE MUSICAL. He wrote screenplays for the films good people, Rise of the Guardians and Oz, The Great and Powerful. Born in South Boston, he now lives in Brooklyn.
SARAH HUNNEWELL
(Director, Producer) is thrilled and honored to be opening the HTC's 28th season with this wonderful play and excellent cast. This the third play the HTC has presented (and Sarah has directed) by David Lindsay-Abaire, following FUDDY MEERS and good people. Other directorial favorites include THE ENCHANTED APRIL, ONE FLEW OVER THE CUCKOO'S NEST, THE OLDEST LIVING GRADUATE, EVERYTHING IN THE GARDEN, PROOF, SUMMER AND SMOKE, THE RAINMAKER, and A VIEW FROM THE BRIDGE. Many thanks to our cast and crew for bringing this play to life and to our wonderful angels and audience members for making our work possible. Thanks to Jimmy, Sean, Diana and all the team for our beautiful set.
JAMES EWING
(Set Design and Construction) founded the HTC in 1984 and has since appeared in over 20 productions and built numerous sets. Special gratitude has to be expressed to his reliable and skilled production team all listed in the program. And of course to Sarah for her wise guidance and fortitude as we stumble along in these efforts.
SEBASTIAN PACZYNSKI
(Lighting Designer) first worked with the Hampton Theatre Company when he designed the company's 2003 production of SUMMER AND SMOKE at Guild Hall and has designed all the company's productions since PROOF in 2004 as well as the theater's new lighting system. He has designed lighting for theater, dance and special events in a number of Broadway, Off Broadway, Off Off Broadway and regional venues. He has also worked in film and television as the director of photography. He has designed numerous productions for Guild Hall and for the Hamptons Shakespeare Festival.
TERESA LEBRUN
(Costume Designer) is the resident costumer for the Hampton Theatre Company and has designed costumes for all the company's recent productions. Teresa has also costumed for Spindletop Productions at Guild Hall. Much love to her boys Josh and Noah.
JEAN PLITT
(Rehearsal Stage Manager). It is a pleasure to work with the talented people who perform or are involved in the production of each show presented by the Hampton Theatre Company. From auditions to opening night, the process of bringing the "page to the stage" requires the creative energies of all involved, and I am very happy to be part of it. Congratulations to the cast and crew of GOOD PEOPLE!
JOHN ZALESKI
(Production Stage Manager, Voice of the Priest). This is John's 25th production with HTC. After a personal hiatus, he is thrilled to be back with the best theater company on the East End. Special thanks to the Board of Directors for their patience, and to Catherine for her "Moonstruck moment" with me.
ROB DOWLING
(Lighting & Sound Technician) has done lighting and sound for 21 years at the North Fork Community Theater, Vail-Leavitt Music Hall, Producer's Club (NYC), the Loft Theater at Dowling College and the Southampton Cultural Center. He has also helped Sebastian with lighting set up at Guild Hall, the Ross School, and other local venues. "Many thanks, Sebastian!" This is Rob's sixth season with the Hampton Theatre Company. He is very happy to be part of the show and the company.
Director – SARAH HUNNEWELL
Producers – SARAH HUNNEWELL, DIANA MARBURY
Set Design – JAMES EWING
Set Decor – DIANA MARBURY
Lighting Design – SEBASTIAN PACZYNSKI
Costume Design – TERESA LEBRUN
Production Stage Manager – JOHN ZALESKI
Rehearsal/Assistant Stage Manager – JEAN PLITT

Set Construction – JAMES EWING, SEAN MARBURY, TONY CINQUE, JAMES FINK, FREDY GUZMAN, MARYANN KNOKE, MICK MORONEY, SEAMUS NAUGHTON, VINCENT RASULO
Set Painting – PAT TONER, TONER PAINTING
Floral Arrangements – PAMELA ORNSTEIN
Kitchen Curtains & Rabbits – SUSAN ZACCARIA
Lighting/Sound Tech – ROB DOWLING, SEAMUS NAUGHTON
Sound Design – SARAH HUNNEWELL
Backstage Crew – BOB ARCHER, COLBY HERBST
Production Graphics –
JOE PALLISTER
Program, Publicity & Box Office – SARAH HUNNEWELL
House Manager – JULIA MORGAN ABRAMS
Advertising Sales – SARAH HUNNEWELL, RAFE WORTHINGTON
Production Photographer – TOM KOCHIE
Opening Night Party – JONESEY'S
'GOOD PEOPLE'
by Dawn Watson The East Hampton Press & The Southampton Press

Are the powers that be at the Hampton Theatre Company prescient? They must be, otherwise how could they know that a season filled with morality plays such as "Good People" by David Lindsay-Abaire, would be so synchronistic right now.

"Good People," directed by Sarah Hunnewell, is the first undertaking of the HTC's 2012-2013 season. Other productions slated to stage include "Other People's Money" "The Drawer Boy" and "How the Other Half Lives." This season-opening drama—an on-the-money portrayal of the class differences between the haves and the have-nots in the Boston area—is an incredibly strong production, thanks to some of the best acting this reviewer has seen on the Quogue stage.

To be clear, whenever I compliment good acting, what I mean is that the actor portraying a character on stage has convinced both him or herself, and me (as the audience), that they are in fact not themselves at all but the person whose life the audience is watching. That seamless believability, to me, is the mark of a fine and talented actor working at the height of his or her craft.

Morgan Vaughan—starring as Margaret, or "Margie," as she is called throughout the play, a down-on-her luck recently fired dollar store cashier in South Boston—is well deserving of the highest praise for the best acting. This woman, whom I know to be a beautiful, young ingenue type in real life is so utterly convincing on stage as a worn-out, middle-aged, destitute single mother at the end of her rope that I was actually shocked. Everything about Ms. Vaughn became Margie—from her posture, to the way she made her body appear larger, her face harder, her appearance a decade or more older (without any theatrical makeup that I could see), and turning her normally modulated and melodious voice into a harsh Southie accent. The transformation was complete and incredible.

If there was an East End version of the Tony Awards, I would put Ms. Vaughan (who appeared in this production courtesy Actors' Equity) up against the venerable Tony Award-winning actor Lillias White—who played the title role in "Big Maybelle" at Bay Street Theatre in Sag Harbor earlier this year—for best performance by a female lead. Heck, I would put Ms. Vaughan up against Frances McDormand, who won Best Leading Actress in a Play for the same role at the 2011 Tony Awards. Brava, brava, brava Ms. Vaughan!

Tackling an accent can prove to be difficult task for even the most skilled actor (unless it's Meryl Streep and then it seems to be a walk in the park), and one that more often than not should not be advised (hello Madonna). But for the cast of "Good People" the gamble to tackle the wicked Southie dialect paid off, particularly for Linda May, as Jean, Margie's best friend who could double as her coarser, less refined, sister.

Not only was Ms. May's accent spot-on, but her character's relationship with Ms. Vaughan's character was immediate, absolutely believable and subtilely perfect. Good work here from an HTC newcomer whom I hope to see again and again. Well done.

I also enjoyed Nehassaiu deGannes's work as Kate immensely. As a privileged Chestnut Hill transplant from Georgetown, Ms. deGannes (also appearing courtesy of Actors' Equity and also in her first HTC production) didn't have to put on any form of a Boston accent like the rest of the cast but she did have to carry the burden of being both the most relatable and probably the most likeable character in this story. She was excellent every moment she was on stage.

Diana Marbury, as the rascally and conniving landlord Dottie, was the vehicle of quite a few of the show's laughs. This Hampton Theatre Company regular, who also has a hand in putting together some of the finest sets on the East End theater scene time and time again, has an uncanny ability to pick the perfect role and she always goes for it with gusto. Her work in "Good People" might just be my favorite of her many portrayals on the Quogue stage.

Sorry to give short shrift to the men this time around but "Good People" is really a piece of staged work crafted for the ladies to shine. That said, Joe Pallister (always happy to see him on stage) as Mike, a man born and bred in South Boston who makes good as a doctor and conveniently forgets his roots when he moves up in society, and Brennan Vickery (another new face on the HTC stage) as Stevie, a person who is torn between doing the right thing and what is expected of him as the boss man, both put in solid performances. Nice job guys.

Bottom line: Don't miss this opportunity to see some truly great acting in "Good People."


'GOOD PEOPLE' REVIEW: CLASS DIVIDE WITH A BOSTON ACCENT
by Steve Parks Newsday

Mikey is one of the "Good People" Margaret is counting on to help get her through this latest rough patch. They grew up together in Southie, a part of Boston that few born into it escape. But Mikey, a reproductive endocrinologist — "fertility doctor," he translates for Margaret — is among the lucky ones. He's made it all the way from Southie to posh Chestnut Hill.

David Lindsay-Abaire's Tony-nominated 2011 drama, which won the Horton Foote Award for new American play, makes its Long Island premiere with a Hampton Theatre Company production directed with a keen sense of class destiny by Sarah Hunnewell. There are those who've made it and those who never will.

Margaret, played with a passive-aggressive chip on her shoulder by Morgan Vaughan, never catches a break. Pregnancy caused her to drop out of high school decades ago. Now, late for work again, she's about to get fired. Her upstairs landlady, who baby-sits Margaret's now-adult daughter — another rough-patch story — has overslept. Margaret reminds her boss, Stevie (Brennan Vickery) — she's old enough to be his mother — of the time his mom shoplifted a turkey and was caught when it fell out of her coat onto the floor. "Who threw that bird at me!" Margaret quotes her. Stevie fires Margaret, anyway.

Her sister, more aggressive than passive as played by Linda May, says she saw Mikey in the neighborhood and, in a thick Southie accent, encourages Margaret to ask him for work. Dr. Mike (a defensive, far-less-accented Joe Pallister) agrees to meet her in his office. Margaret dismisses his success as "lace curtains." Taking the insult as a dare, he invites her to his birthday party. He calls later to cancel. Skeptical of his excuse, Margaret shows up, anyway. Dr. Mike's wife, Kate, mistakes her for the caterer. Nehassaiu deGannes as Mrs. Mike artfully treads the boundary between surface civility and sisterly disclosure of marital secrets. Together, Kate and Margaret gang up to push buttons Mikey thought he'd deactivated.

The set by Diana Marbury, who doubles as Margaret's irksome landlady, and James Ewingtransports us seamlessly from Southie to Chestnut Hill. But it's a tougher trip for the natives.




HAMPTON THEATRE COMPANY'S BEAUTIFULLY HEART-WRENCHING PRODUCTION OF GOOD PEOPLE
by Melissa Giordano Broadway World

If ever there was a more relatable tale for these times, David Lindsay-Abaire's Tony Award-winning play, Good People, is certainly among that list. This story hits home with the masses that are struggling with the current economy. You'll find yourself empathizing, in whole or in part, with the story and the characters we meet, now playing through November 18th at Quogue Community Hall on Long Island.

Leading the great cast is Morgan Vaughan as Margaret, a single mother who was just fired from her long-term cashier job. She also supports her 30-year-old handicapped daughter, so this job was important to both of them. Ms. Vaughan's portrayal of Margaret's determination and desperation is heart wrenchingly meritorious. As she is being fired, she gets into a heated argument with her manager, Stevie, portrayed by Brennan Vickery. She suggests several alternative ways to keep on staff (taking a pay cut among them), but Stevie, acting on the orders of his boss, must let her go.

Joe Pallister portrays Mike, the ex-boyfriend. He and Margaret grew up in South Boston and dated in high school. Mike went on to become a successful doctor and moved to Chestnut Hill while Margaret, and most of their class, stayed in the tough area. He married Kate, portrayed by Nehassaiu deGannes, and they have a daughter. Most of the second act of the play takes place in Mike and Kate's house. They were going to have a party, with Margaret wrangling for an invite to look for a job, but cancelled. Margaret's suspicious mind brings her to their house anyway after she was blatantly told of the cancellation, thinking Mike just didn't want her there.

The set, designed by James Ewing and decorated by Diana Marbury, is very resourceful as it is not a huge stage. In the beginning of the first act, when Margaret is getting fired, she and Stevie are speaking privately in an alleyway attached to the store. The background, or wall of the building, extends the entire length of the stage. Then for a kitchen scene, a portion of that wall is opened to reveal a table and chair set, a refrigerator, and a window with little curtains. Then when Margaret visits Mike at his office, another portion of that wall is opened to reveal a bookcase, cherry wood desk, and artwork on the wall. Then, for Mike and Kate's house for the 2nd act, the entire stage is opened up to reveal an upper-middle class living room with a large comfy couch, heavy window draperies, and flowers all around the room. It is definitely well thought out and everything moves swimmingly from scene to scene.

This beautifully heart tugging production of David Lindsay-Abaire's Tony Award-winning play, Good People, features a wonderful cast and a tale that is, unfortunately, all too familiar to too many people of late. Opening night was practically sold out, so check out this limited run while you can.