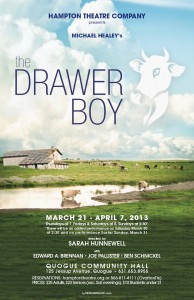 by Michael Healey directed by Sarah Hunnewell
January 10 – 27, 2013
The Long Island premiere of Canadian playwright Michael Healey's award-winning play about a pair of farmers whose tranquil lives are overturned when a young actor pays them a visit.
CAST:
Angus – EDWARD A. BRENNAN Morgan –
JOE PALLISTER
Miles – BEN SCHNICKEL
EDWARD A. BRENNAN
(Angus) has appeared with the Hampton Theatre Company as Joe Foster in BECKY'S NEW CAR, Arbuthnot/Arundel in THE ENCHANTED APRIL, Chief Bromden in ONE FLEW OVER THE CUCKOO'S NEST and Ralph in FROZEN. His favorite professional acting credits include the title roles in PHANTOM and JEKYLL & HYDE, Owen in VOICES IN THE DARK, Ross in VISITING MR. GREEN, Beast in BEAUTY AND THE BEAST, Albin (ZaZa) in LA CAGE AUX FOLLES, Professor Callahan in LEGALLY BLONDE, and Archibald in THE SECRET GARDEN. Ed also directed the HTC's productions of DEATHTRAP and I HATE HAMLET. He Ed holds a Masters degree in Theater and has directed over 40 productions on Long Island.
JOE PALLISTER
(Morgan, Graphic Design) has appeared with the Hampton Theatre Company in OTHER PEOPLE'S MONEY (Coles), GOOD PEOPLE (Mike Dillon), ONE FLEW OVER THE CUCKOO'S NEST (McMurphy), DOUBT (Father Flynn), A STREETCAR NAMED DESIRE (Stanley), SUMMER AND SMOKE (John Buchanan Jr.) and LOBBY HERO (Bill). He played Bob Ewell in Bay Street's production of TO KILL A MOCKINGBIRD and appeared at Southampton's Center Stage in OF MICE AND MEN (George), TRUE WEST (Lee) and TWELVE ANGRY MEN. Film roles include Steve in
REFUGE
and Hunter in
DARK WAS THE NIGHT
. Upcoming work includes the feature film
A CRY FROM WITHIN
starring Cathy Moriarty and Eric Roberts. Other credits include recurring roles on both One Life to Live and Guiding Light. He has also appeared in several mildly humiliating skits on Late Night With Conan O'Brien.
www.joepallister.com
BEN SCHNICKEL
(Miles) played Chris Foster in HTC's production last season of BECKY'S NEW CAR, as well as Jason in RABBIT HOLE. He is a New York-based actor whose credits there include WHEN YOU COMIN' BACK, RED RYDER?, RABBIT HOLE, SIX DEGREES OF SEPARATION, BILLY WITCH, THE DREAMER EXAMINES HIS PILLOW, RENT, A.R. Gurney's WHAT I DID LAST SUMMER, and Bekah Brunstetter's SPACE. A native of Minneapolis, he has also performed there at the Guthrie Theater and the Children's Theatre Company. He received his B.F.A. in Acting from Ithaca College.
MICHAEL HEALEY
(Playwright) is a Canadian playwright and actor whose plays include KICKED, THE ROAD TO HELL, PLAN B and RUNE ARLIDGE. THE DRAWER BOY brought Healey international fame when it premiered in 1999, winning the Dora, Chalmers and Governor General's Awards. According to the Wall Street Journal, it was the fourth most produced play in the United States during the first decade of the 21st century, though it is little known in the New York area – until now!
SARAH HUNNEWELL
(Director, Producer) is thrilled to be directing this wonderful play. Many thanks to her excellent cast for bringing the play to life, to Jimmy for his assistance and to all the talented crew. Sarah has directed many shows for the HTC, favorites including GOOD PEOPLE, THE ENCHANTED APRIL, ONE FLEW OVER THE CUCKOO'S NEST, FUDDY MEERS, SUMMER AND SMOKE and the RAINMAKER. Many thanks to our audience members, patrons and all the behind the scenes people who make our work possible.
JAMES EWING
(Assistant Director) founded the HTC in 1984 and has since appeared in over 20 productions and built numerous sets. After much coaxing, he as re-donned his director's cap for this production. Special gratitude to his reliable and skilled production team all listed in the program. And, of course, to Sarah for her wise guidance and fortitude as we stumble along in these efforts.
SEAN MARBURY
(Set Design) designed the set for the HTC's recent production of OTHER PEOPLE'S MONEY as well as last season's DEATHTRAP. He has worked for many years building HTC sets alongside his father Peter and friend James Ewing. He is thrilled to don the esteemed mantle of set designer once again with this production.
DIANA MARBURY
(Producer, Set Decor) was seen most recently on stage as Bea Sullivan in OTHER PEOPLE'S MONEY, Dottie in GOOD PEOPLE, and Helga Ten Dorp in DEATHTRAP. She directed BLACK TIE last spring and looks forward to her next directorial adventure, HOW THE OTHER HALF LOVES, opening in May.She is the Artistic Director of the HTC and has worn many hats over the years. She would like to thank all the "behind the scenes" people who make these productions possible.
SEBASTIAN PACZYNSKI
(Lighting Designer) first worked with the Hampton Theatre Company when he designed the company's 2003 production of SUMMER AND SMOKE at Guild Hall and has designed all the company's productions since PROOF in 2004 as well as the theater's new lighting system. He has designed lighting for theater, dance and special events in a number of Broadway, Off Broadway, Off Off Broadway and regional venues. He has also worked in film and television as the director of photography. He has designed numerous productions for Guild Hall and for the Hamptons Shakespeare Festival.
TERESA LEBRUN
(Costume Designer) is the resident costumer for the Hampton Theatre Company and has designed costumes for all the company's recent productions. Teresa has also costumed for Spindletop Productions at Guild Hall. Much love to her boys Josh and Noah.
JEAN PLITT
(Stage Manager). It is a pleasure to work with the talented people who perform or are involved in the production of each show presented by the Hampton Theatre Company. From auditions to opening night, the process of bringing the "page to the stage" requires the creative energies of all involved, and I am very happy to be part of it. Congratulations to the cast and crew of THE DRAWER BOY!
ROB DOWLING
(Lighting & Sound Technician) has done lighting and sound for 21 years at the North Fork Community Theater, Vail-Leavitt Music Hall, Producer's Club (NYC), the Loft Theater at Dowling College and the Southampton Cultural Center. He has also helped Sebastian with lighting set up at Guild Hall, the Ross School, and other local venues. "Many thanks, Sebastian!" This is Rob's sixth season with the Hampton Theatre Company. He is very happy to be part of the show and the company.
Director – SARAH HUNNEWELL Assistant Director – JAMES EWING Producers – SARAH HUNNEWELL, DIANA MARBURY Set Design – JAMES EWING, SEAN MARBURY Set Decor – DIANA MARBURY Lighting Design – SEBASTIAN PACZYNSKI Costume Design – TERESA LEBRUN Stage Manager – JEAN PLITT Assistant Stage Manager – ROBERT ARCHER
Set Construction – JAMES EWING, SEAN MARBURY, TONY CINQUE, JAMES FINK, FREDY GUZMAN, MICK MORONEY, SEAMUS NAUGHTON, VINCENT RASULO Lighting/Sound Tech – ROB DOWLING, SEAMUS NAUGHTON Sound Design – SARAH HUNNEWELL Production Graphics –
JOE PALLISTER
Program, Publicity & Box Office – SARAH HUNNEWELL House Manager – JULIA MORGAN ABRAMS Advertising Sales – SARAH HUNNEWELL, RAFE WORTHINGTON Production Photographer – TOM KOCHIE
'THE DRAWER BOY' IS A MASTERFUL DRAMA
by Steve Parks (Newsday) Unfamiliar with "The Drawer Boy" until its recent Abingdon Theatre debut in Manhattan and Long Island premiere last Thursday by the Hampton Theatre Company, I took the title to mean, perhaps, an infant sleeping in a snug open drawer substituting for a crib.

In a way, that might still bear relevance to this masterful drama by Canadian playwright Michael Healey.

When we meet Angus, who shares an Ontario farmhouse with lifelong friend Morgan, we assume he's a mental cripple. We soon learn he's quite bright. He just can't remember what happens from one minute to the next. The friends are visited by Miles, a playwright-actor wannabe who asks if he can hang around, absorbing verité for his troupe's project on farm life. Morgan has fun at Miles's expense, assigning him nonsensical chores such as washing rocks and mucking out the barn with a fork. During his stay, he overhears a story about how Angus and Morgan became loner bachelors.

We also learn that Angus has an excuse for his short memory. There's a chunk of war shrapnel in his head from the friends' service together in Europe. When they attend a rehearsal of the farm play, memories — especially Angus's — become unmoored. The reality of their past enters a jarring "Twilight Zone" interregnum between what is real and what is the record as they've shared it all these years.

The title refers to Angus's love of drawing and cordoning off sections of the sky into countable clusters of stars. He's a math savant, it turns out.

Sarah Hunnewell directs three astutely cast actors of perfect range for these disparate male roles. Ben Schnickel as Miles teeters between interloper and confidant. He wants to use the farmers, but finds their humanity too disarming. Joe Pallister as Morgan is Big Brother, always protective of his friend but also of himself and his farm enterprise. He doesn't want to go there, wherever there may be. Edward Brennan as Angus invites us into his world with a childlike openness that strains against his manly strength. "Of Mice and Men" comes to mind.

Their superb performances are directed with vision for the words on the page so tenderly arranged by the playwright. Add James Ewing and Sean Marbury's ethereal yet earthy set and Sebastian Paczynski's sunrise-to-moonrise lighting and you have a polished gem. Don't miss "The Drawer Boy."

WHAT "The Drawer Boy" by Michael Healey WHEN | WHERE 7 p.m. March 28 & April 4, 8 p.m. March 29 and April 5, 2:30 March 30, and 8 p.m. March 30 and April 6, 2:30 p.m. April 7, Quogue Community Hall, 125 Jessup Ave. TICKETS $25 Adults, $23 Seniors (exc. Sat. eve.), $10 students; hamptontheatre.org or 866-811-4111 (OvationTix)


ART BECOMES LIFE IN 'THE DRAWER BOY" HAMPTON THEATRE COMPANY DEMONSTRATES THE POWER OF STORYTELLING
Review by Toni Munna (Art & Architecture Quarterly/East End) The transformative capacity of the arts is a powerful thing. Music soothes the savage breast. A painting can bring one to tears. And theatre can show us ourselves in unexpected ways. Nowhere is this more effectively demonstrated than in Michael Healey's The Drawer Boy, as currently presented by the Hampton Theatre Company.

In the early 1970s, a troupe of actors from Theatre Passe Muraille spent three months living in rural Clinton, Ontario, interviewing farmers and their families. Combining these interviews with their own observations and improvisation, they told these stories through a collection of monologues, songs, and sketches called The Farm Show, which became a classic in Canadian theatre.

In the 1990s, actor Michael Healey met many of the farmers and others who had inspired the stories in The Farm Show. He was inspired as well, and he wrote The Drawer Boy to reflect the impact the earlier show had on the Clinton community. This, too, is considered a Canadian classic, winning every major theatrical award.

The play begins with Miles, a young actor, arriving at the farm of Morgan and Angus, two middle-aged bachelor friends. Miles asks for the opportunity to stay with them and observe their lives for a theatrical project he's working on with his company. Morgan agrees, but only if Miles pitches in with the farm work.

It immediately becomes clear Angus is mentally compromised. His memory is short-term, to put it lightly. He can barely remember one minute to the next, but he's friendly and generally happy.

We learn along with Miles that Morgan and Angus have been friends since childhood and served in the war together, where Angus was injured. With metal plates in his head, Angus also experiences severe headaches. Morgan is kind and patient as he helps Angus stay on track.

Morgan shares with Miles the story of their journey from wartime London to the farm. A story of the two English girls they loved and who followed them home to Canada, and Morgan calms Angus when he is agitated by repeating this story.

As Miles picks away, he uncovers a truth that has been buried since the war. Through his theatrical presentation of their story, and later telling the story again, Miles inadvertently helps Angus remember this truth.

I cannot imagine a better cast. Ben Schnickel portrays Miles as an actor eager to observe, create and touch his audience…much as the actors who created The Farm Show must have. He brings to life Miles' ambition, but also his empathy for the two men.

As the stoic and wry Morgan, Joe Pallister superbly conveys the weariness of a self-imposed life of sacrifice and loss, but he also expresses the gentle love he has for Angus and a dry sense of humor that comes in some unexpected moments. This is a performance you do not want to miss.

Edward A. Brennan is remarkable as the simple Angus, known as the "drawer boy" because he had a talent for designing structures. Brennan inhabits his character as though he'd lived with him his entire life. His every movement and word is as real as it gets. Brennan and Pallister are indeed one dynamic duo.

I must confess…I kind of forgot to review this play. I became so involved in these characters and their stories, I was lost…but in a good way. When a play is directed poorly, I notice. When I don't notice, I know it's been directed well, and Sarah Hunnewell has done incredible, seamless work here. For nearly the entire play, I felt like I was eavesdropping on real people. Every movement, every conversation, was natural and organic. That's probably one of the best compliments I can give any actor or director. The truth of the characters, the direction and the story was intensely profound and moving.

The gorgeous set design by James Ewing and Sean Marbury, along with Diana Marbury's attention to detail in her set decoration and Sebastian Paczynski's lovely lighting design, managed to present both the realistic and the abstract, enhancing the reality of the present with the haziness of memory. Teresa LeBrun's costumes fit the bill perfectly.

With agriculture and tourism the two largest industries on Long Island, it is more than fitting The Drawer Boy is finally making its premiere here on the rural East End. Co-producers Marbury and Hunnewell have hit this one out of the park. This is a thoughtful and absolutely beautiful production, finely directed and acted. And one not to be missed.


'THE DRAWER BOY"
Dawn Watson (The East Hampton Press & The Southampton Press) The Drawer Boy," an award-winning drama by Canadian playwright Michael Healey, is the staged version of a cross between the novels "Of Mice and Men" and "Flowers for Algernon," but with a twist.

Much like the title, which refers to a boy who draws and not a boy in a drawer, the meaning of this play could easily be misconstrued. It isn't so much misleading as it is complex.

The action focuses on simpleton Angus, portrayed in this Hampton Theatre Company production in Quogue by Edward A. Brennan, and his gruff friend, Morgan, portrayed by Joe Pallister. The way of life for these two elderly Canadian farmers is disrupted by the appearance of a young actor, Miles, portrayed by Ben Schnickel, who is intent on studying their agrarian ways for use in a local theatrical production.

But what happens in this play, directed for HTC by Sarah Hunnewell, is a whole lot less about life on the farm as it is about a fairy tale that has been carefully crafted.

Angus, a likeable fellow played affably and endearingly by Mr. Brennan, suffers from a debilitating mental disorder that has seemingly eradicated his short-term memory and dealt significant damage to much of his long-term memory as well. He's a big, sweet, childlike guy who means well but needs a lot of supervision.

The first few moments that Morgan is on stage sets up him up to be a bad guy, a bully. What he does—nonchalantly taking a sandwich painstakingly made by Angus for himself—is the equivalent of stealing candy from a baby. The audience soon learns that Morgan, played with brooding depth and intensity by Mr. Pallister, isn't actually mean but he does have a tough hide, which is necessary for his, as well as for his friend's, survival.

Mr. Schnickel's Miles is in turns naive, perceptive, silly, boundary pushing and empathetic. He is the unwitting catalyst for all that is to come.

"The Drawer Boy" is definitely a drama but there are funny parts as well. There's a running gag where Morgan tasks the farm-incompetent Miles with ridiculous busy work, such as when he assigns the actor to study how the cows feel about getting milked twice a day, as well as being killed for food. Miles does his best to put himself into the cow's heads, getting down on his hands and knees and mooing while contemplating the milk-feed-death life cycle.

"It's an emotional roller coaster," Morgan says drily in response to Miles's dramatic take on the situation.

The inspiration for Mr. Healey's writing about these two elderly farmers and their surprise guest comes from personal experience. The playwright based the plot of "The Drawer Boy" on an earlier work, "The Farm Show," created by the theatrical collective Theatre Passe Muraille, which included Jim Garrard, Paul Thompson, Miles Potter and David Fox.

In 1972, members of the collective visited the farming country of southwestern Ontario, learned the stories of the men and women who worked there, and then created "The Farm Show." The play, which premiered in the same barn where the show had been rehearsed, was an instant success, and became a travelling show throughout Canada. Nearly two and a half decades later, Mr. Healey came into contact with many of the farmers upon which "The Farm Show" was based, as well as Mr. Potter (who was the inspiration for the character of Miles) and reworked the Canadian classic into the three-man play "The Drawer Boy."

Without giving too much away, this complicated work takes the audience down a distinctly different path from the one they might expect. The unravelling of the story is the best part.

As always, the sets of this HTC production are outstanding. Bravo to the set design team of James Ewing and Sean Marbury, to lighting designer Sebastian Paczynski, the costume designer Teresa LeBrun and stage manager Jean Plitt.

Bottom line: A gripping and intriguing play, served well by the talents of the Hampton Theatre Company.