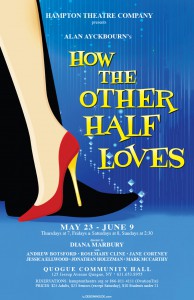 by Alan Ayckbourn directed by Diana Marbury
May 23 – June 9, 2013
One of the most hilarious plays, adapted specially for the American stage, by the U.K.'s prolific Sir Alan Ayckbourn, about an extra-marital dalliance that leads to a cascade of confusion.
CAST:
Fiona Foster – ROSEMARY CLINE Teresa Phillips – JESSICA ELLWOOD Frank Foster – ANDREW BOTSFORD Bob Phillips – JONATHAN HOLTZMAN William Detweiler – MARK McCARTHY Mary Detweiler –
JANE CORTNEY
ANDREW BOTSFORD
(Frank Foster) is a veteran of more than 30 Hampton Theatre Company productions since 1985. He appeared most recently as Curtis in BLACK TIE and Sidney Bruhl in DEATHTRAP. Favorite shows include 'ART', ONE FLEW OVER THE CUCKOO'S NEST, GLENGARRY GLEN ROSS, EVERYTHING IN THE GARDEN, THE FOREIGNER, ORPHANS, NOISES OFF, THE DINING ROOM, SYLVIA, SOCIAL SECURITY and RUMORS. The host of "Tuesday Night at the Movies with Andrew and Friends" at the Westhampton Beach Performing Arts Center during the summer, Andrew, a resident of Quogue, currently teaches and serves as a communications consultant at the newly expanded Graduate Arts Campus at Stony Brook Southampton.
ROSEMARY CLINE
(Fiona Foster) played Mimi in BLACK TIE, Myra Bruhl in DEATHTRAP, Mrs. Lotty Wilkins in THE ENCHANTED APRIL, Candy Starr in ONE FLEW OVER THE CUCKOO'S NEST, Charlotte Hay in MOON OVER BUFFALO and many other roles dating back to the beginnings of the HTC. After many years performing in the city she is delighted to be back where her career began. Thanks to Diana, Jean, John, Sean, Jimmy, Sarah, our cast, our delightful backstage crew and always to Jane Stanton. My love to Christopher, Cashew and Carter… with a wink to Mom, Dad and June.
JANE CORTNEY
(Mary Detweiler) is pleased to be making her HTC debut. Most recently she played Sulla in R.U.R. with Resonance Ensemble at Theatre Row. NYC roles include Curley's Wife in OF MICE AND MEN, Irina in THREE SISTERS and Alma in SUMMER AND SMOKE. Regional work includes Beth in LITTLE WOMEN at Northern Stage and Franzl in THE COMFORT OF DARKNESS at Caldwell Theatre. She is a member of Oberon Theatre Ensemble and a co-founder of the Lafayette Series Salon, a monthly reading series that meets at the Players Club. Jane received her MFA from the Actors Studio Drama School/New School for Drama. AEA member.
www.janecortney.com
.
JESSICA ELLWOOD
(Teresa Phillips) is thrilled to be back on stage, and to be part of this outstanding cast, after a three year hiatus. Favorite roles here include Susy in WAIT UNTIL DARK, Maureen Kinkaid in THE OLDEST LIVING GRADUATE, Jenny in EVERYTHING IN THE GARDEN, Elaine Wheeler in NIGHT WATCH, Claire in PROOF and Nellie in SUMMER AND SMOKE. Past productions with the NFCT include THE DINING ROOM, ELEEMOSYNARY, and her first LI production, WAIT UNTIL DARK. Jessica teaches 8th and 11th grade English, is co-director of the Southold Drama Club, and is the proud mother of her daughters Jamie and Abbey.
JONATHAN HOLTZMAN
(Bob Phillips) is delighted to make his debut with the Hampton Theatre Company. Other credits include: Stage: MACBETH, MEASURE FOR MEASURE and AS YOU LIKE IT (American Shakespeare Center); TWELFTH NIGHT (Schoolhouse Theater); ROMEO AND JULIET and THE PASSION OF DRACULA (Tri-State Actors Theater); ROMEO AND JULIET(Connecticut Free Shakespeare); MURDER IN GREEN MEADOWS and CROSSING DELANCEY (Bickford Theater); KING LEAR (Shakespeare NYC). TV/Web: One Life To Live; As The World Turns; I Married A Mobster; Mona Wonderstein. Film: Fuse; Dreamland; Adelaide. Jonathan is proud to have trained at LAMDA.
MARK MCCARTHY
(William Detweiler) is making his Hampton Theatre Company debut. Shadowland Theatre Company: DANGERS OF ELECTRIC LIGHTING, THE SEAFARER. Illinois Theatre Center: MOONLIGHT AND MAGNOLIAS. Mercury Theatre (Chicago): KING O' THE MOON. Denver Center Theatre Company: THE RIVALS. Portland Center Stage: THE RIVALS, MACBETH, AS YOU LIKE IT. Notre Dame Shakespeare: TAMING OF THE SHREW, MUCH ADO ABOUT NOTHING. Heart of America Shakespeare: A MIDSUMMER NIGHT'S DREAM. Kansas City Rep: PICASSO AT THE LAPIN AGILE, THE TEMPEST, THE DEPUTY, JULIUS CAESAR, THE IMAGINARY INVALID. Mark has played hapless people in several cheesy TV movies and independent films. He voices over a hundred characters in the audio book version of Alan Brennert's new novel Palisades Park. He's also a stage combat choreographer and published playwright. He lives just outside New York City with his wife, the brilliant and talented Hollis McCarthy. Coming up: MRS. MANNERLY and MAKING GOD LAUGH at Nebraska Repertory Theatre. www.McCactors.com.
ALAN AYCKBOURN
(Playwright) has written and produced over 70 plays, most originating at the Stephen Joseph Theatre in Scarborough, England, where he is Artistic Director. The Hampton Theatre Company has produced three of his most popular, BEDROOM FARCE, ABSURD PERSON SINGULAR and HOW THE OTHER HALF LOVES, the latter first presented by the HTC in 1972. Other most successful plays include THE NORMAN CONQUESTS trilogy, A SMALL FAMILY BUSINESS and WOMAN IN MIND. He is the recipient of numerous awards. HOW THE OTHER HALF LOVES is his only play to be adapted specially for American actors and an American audience.
DIANA MARBURY
(Director, Set Decor) is delighted to be closing the HTC's 28th season with this wonderful play by Britain's Sir Alan Ayckbourn. Diana directed last spring's production of BLACK TIE as well as 'ART'. She was seen most recently on stage as Bea Sullivan in OTHER PEOPLE'S MONEY, Dottie in GOOD PEOPLE, and Helga Ten Dorp in DEATHTRAP. Diana wears many hats with the HTC and that of the director is one of her favorites. She would like to thank her dedicated cast and crew as well as all the people and businesses that provide the furniture, decorations, and props for each show. Also, a big hand to our wonderful patrons, who continue to give their support, in spite of these tough financial times. Have a lovely summer, and we'll see you in the fall with another exciting season!
SEAN MARBURY
(Set Design) designed the set for the HTC's recent production of OTHER PEOPLE'S MONEY as well as last season's DEATHTRAP and worked in collaboration with James Ewing on THE DRAWER BOY. He has worked for many years building HTC sets alongside his father Peter and friend James Ewing. He is thrilled to once again don the esteemed mantle of set designer with this production.
SEBASTIAN PACZYNSKI
(Lighting Designer) first worked with the Hampton Theatre Company when he designed the company's 2003 production of SUMMER AND SMOKE at Guild Hall and has designed all the company's productions since PROOF in 2004 as well as the theater's new lighting system. He has designed lighting for theater, dance and special events in a number of Broadway, Off Broadway, Off Off Broadway and regional venues. He has also worked in film and television as the director of photography. He has designed numerous productions for Guild Hall and for the Hamptons Shakespeare Festival.
TERESA LEBRUN
(Costume Designer) is the resident costumer for the Hampton Theatre Company and has designed costumes for all the company's recent productions. Teresa has also costumed for Spindletop Productions at Guild Hall. Much love to her boys Josh and Noah.
JOHN ZALESKI
(Production Stage Manager). This is John's 26th production with HTC. After a personal hiatus, he is thrilled to be back with the best theater company on the East End. Special thanks to the Board of Directors for their patience, and to Catherine for her "Moonstruck moment" with me.
JEAN PLITT
(Rehearsal Stage Manager). It is a pleasure to work with the talented people who perform or are involved in the production of each show presented by the Hampton Theatre Company. From auditions to opening night, the process of bringing the "page to the stage" requires the creative energies of all involved, and I am very happy to be part of it. Congratulations to the cast and crew of HOW THE OTHER HALF LOVES! ROBERT ARCHER (Assistant Stage Manager). "I enjoy not only the theater, but also the community spirit!"
ROB DOWLING
(Lighting & Sound Technician) has done lighting and sound for 21 years at the North Fork Community Theater, Vail-Leavitt Music Hall, Producer's Club (NYC), the Loft Theater at Dowling College and the Southampton Cultural Center. He has also helped Sebastian with lighting set up at Guild Hall, the Ross School, and other local venues. "Many thanks, Sebastian!" This is Rob's sixth season with the Hampton Theatre Company. He is very happy to be part of the show and the company.
Director – DIANA MARBURY Producers – SARAH HUNNEWELL, DIANA MARBURY Set Design – SEAN MARBURY Set Decor – DIANA MARBURY Lighting Design – SEBASTIAN PACZYNSKI Costume Design – TERESA LEBRUN Fight Choreography – MARK McCARTHY Production Stage Manager – JOHN ZALESKI Rehearsal Stage Manager – JEAN PLITT Assistant Stage Manager – ROBERT ARCHER
Set Construction – JAMES EWING, SEAN MARBURY, TONY CINQUE, JAMES FINK, FREDY GUZMAN, MICK MORONEY, SEAMUS NAUGHTON, VINCENT RASULO Lighting/Sound Tech – ROB DOWLING, SEAMUS NAUGHTON Backstage Crew – JAMES ALLEN, EMILY BROSNAN Sound Design – SARAH HUNNEWELL Production Graphics –
JOE PALLISTER
Program, Publicity & Box Office – SARAH HUNNEWELL House Manager – JULIA MORGAN ABRAMS Advertising Sales – SARAH HUNNEWELL, RAFE WORTHINGTON Production Photographer – TOM KOCHIE Opening Night Party – STATION
"HOW THE OTHER HALF LOVES": SEX FARCE
by Steve Parks (Newsday) Ordinarily, a cultured woman like Fiona Foster would have nothing to do with a beer-guzzling bloke like Bob Phillips, a subordinate to her husband, who evidently earns a good living. Bob, not so much. We can see this for ourselves, once we adjust to the duality of Sean Marbury's upscale/downscale set in "How the Other Half Loves" on Hampton Theatre Company's stage. The 1969 Alan Ayckbourn sex farce — he's written 70 other plays — would amount to little more than standard British-style titillation (think Benny Hill without cross-dressing) — except for the two intertwined households occupying the same time and space. As Bob's bad-housekeeping wife, Terry, exits in her frumpy robe and mop-like hair, Frank Foster's stylish wife enters in a flowing gown through posh double doors. Fiona delivers Frank's breakfast on a tray. Terry hands Bob a peanut-butter sandwich, which he hurls against the wall. There's good reason for friction in each household. Bob and Fiona were out very late the previous night — with each other. When confronted, Bob lies that he was consoling another work acquaintance, dorky William Detweiler, about his wife Mary's infidelity. To keep their stories straight, Fiona, after a phone consultation with Bob, tells Frank she was consoling Mary over William's adultery. To clear the air, first Frank invites the Detweilers to dinner and then Terry invites them the next night. In Scene 2, dinners are served simultaneously at a shared table — Fiona's set with china, Terry's with folded paper towels for napkins. Fiona, played with exasperated snobbery by Rosemary Cline, and Bob, a puckish brute — just short of a wife-beater — as played by Jonathan Holtzman, could hardly make a more unlikely match. But their spouses' behavior explains what could drive these two together. Frank's childlike attention span, brilliantly projected by Andrew Botsford, and Terry's, slovenly habits as housewife/ mother, convincingly owned by Jessica Ellwood, drive their spouses up the wall. Mark McCarthy and Jane Cortney as the Detweilers make easy foils — one a hopeless square, the other a timid introvert. Under Diana Marbury's direction, Ayckbourn's gimmicky stagecraft gathers momentum after a somnolent start. Soon we're caught up in the absurd futility of marital deception. In the end, even an idiot can figure it out. And it takes an idiot — we're not saying who — to prove the point.
AN UPSCALE/DOWNSCALE "ACCORDION" PLAYS IN QUOGUE by Anita Boyer (Southampton Press and East Hampton Press) My favorite art project growing up was a two-way photo that my art teacher called an "accordion picture." The accordion base was a sheet of paper folded like a fan. We took two different pictures, cut them into neat vertical strips and then pasted them to the base in an alternating design. The result was magic: when you looked from the left you saw one image, and the other when you looked to the right. From the front you saw only a confusing jumble. Upon walking into the Quogue Community Hall to see Alan Ayckbourn's "How The Other Half Loves," this memory of my childhood art project struck me. The set was my accordion picture. It looked like someone took two houses, sawed them in two, and went to town. Teresa Phillips, a disheveled housewife played by the perfectly sarcastic Jessica Ellwood, and Fiona Foster, a prim and proper woman played by the elegant Rosemary Cline, start the show with their morning routine. The audience quickly realizes that while they appear to be in the same room they are in fact in their own homes, passing closely by but not noticing one another as though they exist in parallel dimensions. The set, brilliantly designed by Sean Marbury, showed the juxtaposition of their two worlds. Half of the bookcase overflowed with toys, clutter and dust while the other was neatly lined with leather-bound novels, brass bookends and not a speck of dirt. Green sections of wall and frumpy furniture filled the Phillips's humble abode, while blue walls and a Victorian love seat fit Ms. Foster's definition of taste. The two women's husbands enter in similar fashion. Bob Phillips, played by Jonathan Holtzman, stumbles in with an icepack pressed to his forehead to aid in overcoming a wicked hangover. Frank Foster, a successful businessman played with charming naiveté by Andrew Botsford, jogs into the room wearing his Harvard sweatshirt. The two glide gracefully around each other; their worlds separate yet visually intertwined. That is until Fiona gives Bob a call, revealing their secret love affair. In an effort to hide their infidelities, they use a third couple, the Detweilers, to cover their tracks. Bob names his officemate William, played by Mark McCarthy, as his alibi, and Fiona claims she has been spending time with Mary, William's mousy and socially inept wife, played by Jane Cortney. Act I culminates in a hilarious stop-motion dinner sequence, my favorite scene of the show. The Detweilers have been invited to dine with the Foster family on Thursday evening, and with the Phillipses on Friday. Instead of showing each dinner separately, we see the actors cut back and forth with a fluidity that film editors would envy. Sitting at the dinner table, we see the Fosters in the front chairs, the Detweilers in the middle and Teresa Phillips anchoring the troupe at the head of the table. During Friday's dinner Teresa freezes with a wide, wine-induced grin. And on Thursday's dinner, Fiona and Frank stop mid-bite and mid-glare. When Bob finally shows up to his dinner an hour late (though all he missed was the air-freshener infused soup) the freeze-frame fight scene between him and Teresa sets the room into hysterics. Summing up the debacle that was dinner, Teresa says, "Please don't mind me, I'll just get drunk." Director Diana Marbury took what could have been a very confusing show and made it easy to understand and the comedy was not lost in the mix. Though a bit slow at first, once the cast found its rhythm, it flowed nicely through the end. I thoroughly enjoyed the chemistry between William and Mary, particularly as he struggled to properly socialize and train his wife. But it was Mr. Botsford's portrayal of Frank that exemplified how important it is to know how your other half is loving. And, oh the dinner scene. See this show for that scene alone if nothing else. It contained all the best things: comedic timing, body control with all of the freezing, and my favorite meal—wine.