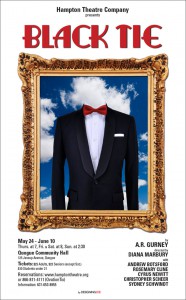 by A.R. Gurney directed by Diana Marbury
May 24 – June 10, 2012
A.R. Gurney's latest comedy which takes place on the eve of a wedding that is nearly derailed as different generations and values collide.

CAST: Curtis – ANDREW BOTSFORD Mimi – ROSEMARY CLINE Father – CYRUS NEWITT Teddy – CHRISTOPHER SCHEER Elsie – SYDNEY SCHWINDT
ANDREW BOTSFORD (Curtis) is a veteran of more than 30 Hampton Theatre Company productions since 1985. He appeared most recently as Sidney Bruhl in DEATHTRAP. In addition to DEATHTRAP, favorite shows include 'ART', ONE FLEW OVER THE CUCKOO'S NEST, GLENGARRY GLEN ROSS, EVERYTHING IN THE GARDEN, THE FOREIGNER, ORPHANS, NOISES OFF, THE DINING ROOM, SYLVIA, SOCIAL SECURITY and RUMORS. The host of "Tuesday Night at the Movies with Andrew and Friends" at the Westhampton Beach Performing Arts Center during the summer, Andrew, a resident of Quogue, currently teaches and serves as a communications consultant at the newly expanded Graduate Arts Campus at Stony Brook Southampton. ROSEMARY CLINE (Mimi) played Myra Bruhl in the HTC's recent production of DEATHTRAP, Mrs. Lotty Wilkins in THE ENCHANTED APRIL, Candy Starr in ONE FLEW OVER THE CUCKOO'S NEST, Charlotte Hay in MOON OVER BUFFALO and many other roles dating back to the beginnings of the HTC. After many years performing in the city she is delighted to be back where her career began. Thanks to Diana, Jean, Sarah, Jimmy, our cast, our delightful backstage crew and always to Jane Stanton. My love to Christopher, Cashew and Carter… with a wink to Mom, Dad and June. CYRUS NEWITT (Father) is very happy indeed to make his debut with the Hampton Theatre Company in a terrific production of a great play with a highly talented cast and crew, and hopes that his appearance will be the first of many. Cyrus has been an actor, director and designer for over 30 years. Most recently, he played the role of George Hay in MOON OVER BUFFALO at the ACC in New York City. He has appeared with the Metropolitan Playhouse in New York City, as well as in PASSCHENDAELE, a world premiere at the NYC International Fringe Festival. Cyrus can be seen and heard regularly on TV and radio commercials, and appears in the James L. Brooks movie, How Do You Know. He completed a short film about the World Trade Center called 8:46, now headed for the Cannes Film Festival, and stars in several pilot episodes for a new Web series entitled Celebrities. CHRISTOPHER SCHEER (Teddy) has performed at Dixon Place, New York Theatre Workshop, The Cell, the PIT, New York Circus Arts, Extant Arts, Centenary Stage Company, Lost Nation Theater, International Mystery Writers Festival, Theatre of the American South, Actors Theatre of Louisville and Peterborough Players. Favorite shows include A MIDSUMMER NIGHT'S DREAM, RICHARD III, THE COMPLETE WORKS OF WILLIAM SHAKESPEARE [ABRIDGED], BIRD ON A WIRE, LEBENSRAUM, THE SHAPE OF THINGS and AN EXISTENTIAL SING-ALONG. He holds a BA in theatre from Muhlenberg College and grew up on the North Fork, where he played constantly at the NFCT. He is thrilled to be at HTC. For upcoming projects, visit www.scheerbrilliance.com. SYDNEY SCHWINDT (Elsie) is thrilled to return to the Hampton Theatre Company stage so soon after making her company debut as Kenni in BECKY'S NEW CAR. Other recent roles include A MIDSUMMER NIGHT'S DREAM (Titania), MACBETH (Lady Macduff/Fight Choreographer), ARMS AND THE MAN (Raina), A DICKENS OF A CHRISTMAS, POE EVERMORE, and a plethora of shows with the Pennsylvania Renaissance Faire. She graduated in May 2011 with her BFA in Acting from The Hartt School, where she performed in shows including PRIDE AND PREJUDICE (Elizabeth Bennet), CORAM BOY (Mrs. Milcote), STAGE DOOR (Big Mary), and STREET OF CROCODILES (Maria). A.R. (PETE) GURNEY (Playwright) has written nearly 50 plays for the American theater, of which the Hampton Theatre Company has presented six: THE DINING ROOM, LOVE LETTERS, LATER LIFE, SYLVIA, ANOTHER ANTIGONE (reading), and now BLACK TIE. Other plays include WHAT I DID LAST SUMMER, THE COCKTAIL HOUR, THE PERFECT PARTY, CHILDREN, A CHEEVER EVENING, THE FAR EAST, THE MIDDLE AGES and MRS. FARNSWORTH. DIANA MARBURY (Director, Producer, Set Decor) is pleased to be closing the HTC's 27th season with this delightful new Gurney play. She is particularly pleased to be working with such a talented and dedicated cast. Diana wears many hats with the HTC and that of the director is one of her favorites. She would like to thank all the people and businesses that provide the furniture, decorations, and props for each show. Without their ongoing generosity, the sets would not receive the acclaim they have. Also, a big hand to our wonderful patrons, who continue to give their support, in spite of these tough financial times. Without them, there would be no theater. Have a lovely summer, and we'll see you in the fall with another exciting season! JAMES EWING (Set Design) founded the HTC in 1984 and has since appeared in over 20 productions and built numerous sets. Special gratitude has to be expressed to his reliable and skilled production team all listed in the program. And of course to Sarah for her wise guidance and fortitude as we stumble along in these efforts. SEBASTIAN PACZYNSKI (Lighting Designer) first worked with the Hampton Theatre Company when he designed the company's 2003 production of SUMMER AND SMOKE at Guild Hall and has designed all the company's productions since PROOF in 2004 as well as the theater's new lighting system. He has designed lighting for theater, dance and special events in a number of Broadway, Off Broadway, Off Off Broadway and regional venues. He has also worked in film and television as the director of photography. He has designed numerous productions for Guild Hall and for the Hamptons Shakespeare Festival. TERESA LEBRUN (Costume Designer) is the resident costumer for the Hampton Theatre Company and has designed costumes for all the company's recent productions. Teresa has also costumed for Spindletop Productions at Guild Hall. Much love to her boys Josh and Noah. JEAN PLITT (Rehearsal Stage Manager). It is a pleasure to work with the talented people who perform or are involved in the production of each show presented by the Hampton Theatre Company. From auditions to opening night, the process of bringing the "page to the stage" requires the creative energies of all involved, and I am very happy to be part of it. Congratulations to the cast and crew of BLACK TIE! JOHN ZALESKI (Production Stage Manager). This is John's 24th production with HTC. After a personal hiatus, he is thrilled to be back with the best theater company on the East End. Special thanks to the Board of Directors for their patience, and to Catherine for her "Moonstruck moment" with me. ROB DOWLING (Lighting & Sound Technician) has done lighting and sound for 20 years at the North Fork Community Theater, Vail-Leavitt Music Hall, Producer's Club (NYC), the Loft Theater at Dowling College and the Southampton Cultural Center. He has also helped Sebastian with lighting set up at Guild Hall, the Ross School, and other local venues. "Many thanks, Sebastian!" This is Rob's sixth season with the Hampton Theatre Company. He is very happy to be part of the show and the company.
Director – DIANA MARBURY Producers – SARAH HUNNEWELL, DIANA MARBURY Set Design – JAMES EWING Set Decor – DIANA MARBURY Lighting Design – SEBASTIAN PACZYNSKI Costume Design – TERESA LEBRUN Rehearsal Stage Manager – JEAN PLITT Production Stage Manager – JOHN ZALESKI
Set Construction – JAMES EWING, SEAN MARBURY, TONY CINQUE, JAMES FINK, NICK MORONEY, SEAMUS NAUGHTON, VINCENT RASULO, JOHN ZALESKI Set Painting – PAT TONER, TONER PAINTING Lighting/Sound Tech – ROB DOWLING, SEAMUS NAUGHTON Sound Design – SARAH HUNNEWELL, DIANA MARBURY Backstage Crew – EMILY BROSNAN Production Graphics –
JOE PALLISTER
Program, Publicity & Box Office – SARAH HUNNEWELL House Manager – JULIA MORGAN ABRAMS Advertising Sales – SARAH HUNNEWELL Production Photographer – TOM KOCHIE Opening Night Party – JONESEY'S
MURPHY COMES TO A "BLACK TIE" PARTY
by Michelle Trauring Southampton and East Hampton Press "At the age of 80, I feel personally fortunate to have come up with what one might call a hit play, even if it is only playing in a smallish theatre for a relatively short time. I'm not at all sure I have many more plays under my belt, but even if I don't, I can hardly complain after having written 'Black Tie.'" – A.R. Gurney Playwright A.R. Gurney's newest comedy, "Black Tie," which opened on Thursday, May 24 at the Quogue Community Hall, deftly follows Murphy's Law: what can go wrong will go wrong, and weddings are no exception. But the same cannot be said of the Hampton Theatre Company's staging of the play, which tackles the foibles, often humorous, of upper-class WASPs on the eve of the nuptials of Teddy and Maya. It all takes place in the wood-paneled, quaint suite of a hotel near Lake George, New York, in the lower Adirondack Mountains. Curtis, the father of the groom, who is portrayed by Andrew Botsford, is dressing for the rehearsal dinner. He is wearing his father's old tuxedo when its previous owner, Curtis's father—played by Cyrus Newitt (an Equity actor)—appears face-to-face with his son in the mirror. The smiling man, named Father, then enters the room, startling his son. "How do you rehearse a dinner?" Father scoffs, after learning of the wedding and remarking that the hotel is "thoroughly undistinguished." Father—a suave gentleman with an aura of superiority and entitlement who can't help but quote poetry and drop, oftentimes, useless tidbits of information—is dressed to the nines in a tuxedo, which he insists on calling "evening wear." And though he died some time ago, he is very concerned with the present, keeping up appearances and making sure all is proper. Curtis has no choice but to turn to Father for help. "My son's getting married," Curtis said. "My only son." "So you're returning to the well?" Father asked, referring to himself. "The master," Curtis acknowledged, leaning forward with a bow. With ease, Mr. Botsford reverts to a childish version of himself around Father, and flawlessly bounces back into his adult character around his family members, who are actually present. As the men are busy reviewing proper hosting techniques and speech writing, they are periodically interrupted with news that the rehearsal dinner is unraveling: a guest is rearranging the seating chart, another can't eat anything on the menu, a New York Times reporter and photographer are there to cover the "destination wedding" and a stand-up comedian—a friend of the bride—arrives, threatening to steal the thunder from Curtis's speech. "Everyone talks about shooting the messenger. Are there any cases of the messengers shooting themselves?" asks Curtis's daughter, Elsie, played by Sydney Schwindt, who offers a breath of fresh air when she arrives on the stage—albeit it is usually accompanied by bad news—and represents a younger crowd. The comedic clash of cultures and generations really picks up during the second half. Rosemary Cline, who portrays Mimi, the mother of the groom, plays opposite Mr. Botsford, just as she did in HTC's recent production of "Deathtrap." The chemistry shows. While she is no exception to her WASPy family, Mimi is a strong foil to her husband's character and deceased father-in-law. She spends much of the play disparaging Father, which provides some of the most humorous segments of the play. With an ear for comedic timing, Ms. Cline coolly delivers her lines—the most hysterical of which contain four-letter words not fit for print. The last crisis of the day is when the groom, Teddy, played by Christopher Scheer, experiences a case of cold feet and has a breakdown after a fight with his bride-to-be, Maya (who is never seen in the play). He handles the emotional side of his character with a sense of honesty and rawness that made it slightly uncomfortable to watch, as if it were an intrusion on the audience's part. But as the drama, directed by Diana Marbury, unfolds, the character of Father, and Mr. Newitt's deep, velvety voice are missed, though he does pop in and out of the mirror for bolts of comic relief. Though many of his assertions are bigoted and hard to swallow, he somehow finds a way to make himself likeable. And even when the actor pauses, silent with unspoken protest or even bewilderment, he steals the show.
A.R. GURNEY'S ANACHRONISTIC "BLACK TIE"
by Steve Parks Newsday Playwright A.R. Gurney has mined the terrain of upper-crust WASPs for so long you'd think there'd be no ore left in the shaft. In "Black Tie" — delivered by an apt Hampton Theatre ensemble — the discourse is so superficial you might suppose Gurney, indeed, has exhausted his source material. But his craftsmanship remains so attuned — at least in terms of his target generation — that he tricks us into believing he may still have Something Important left to say. Still, for most of the first half of this 90-minute, intermissionless exposition on manners — good and bad — the chatter is mostly about whether a "rehearsal dinner" should be called a "bridal dinner" and that the word "tuxedo" cheapens the dignity of the "dinner jacket." Curtis, father of the groom, is dressing for whatever you call the dinner that follows a wedding rehearsal. Festivities are taking place at a tacky Lake George resort hotel — fish-and-fowl-accented set by James Ewing and director Diana Marbury. As Curtis tries on his late father's dinner jacket, the old man — a standard-bearer of the elite in his day — appears in the mirror. Curtis, played by Andrew Botsford with the resignation of a patriarch who recalls a time when fathers knew best, wants Dad's advice on the post-dinner speech he intends to deliver. Dad, amusingly played by Cyrus Newitt with a gentleman's bearing that's both snooty and tender, unhelpfully quotes Lord Byron. The family constantly interrupts Curtis' colloquy with Dad, who's unseen to them. Still, Rosemary Cline as Curtis' wife, Mimi, notices that he sounds like his father as he defends old-school traditions. She pushes back with the vigor of a woman who struck the word "obey" from her wedding vows. As you might expect, Sydney Schwindt as daughter Elsie and Christopher Scheer as son Teddy, the beleaguered groom, roll their eyes at anything their parents say. But Elsie's part in the brouhaha erupting downstairs amplifies a glaring "Black Tie" anachronism. Why is Elsie performing shuttle diplomacy between her parents and the bride? The play is set in the present — Obama is president — and surely cellphones have penetrated Curtis and Mimi's generation, not to mention the wedding-party Gen-Xers. Maybe Gurney's WASPs are dinosaurs, but they can afford smartphones.