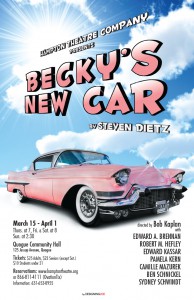 by Steven Dietz directed by Bob Kaplan
March 15 – April 1, 2012
A quirky and inventive comedy about a woman's attempt to escape her own life.

CAST: Becky Foster – CAMILLE MAZUREK Chris Foster – BEN SCHNICKEL Joe Foster – EDWARD A. BRENNAN Steve – EDWARD KASSAR Walter Flood – ROBERT M. HEFLEY Kenni Flood – SYDNEY SCHWINDT Ginger – PAM KERN
EDWARD A. BRENNAN (Joe Foster) has appeared with the Hampton Theatre Company as Arbuthnot/Arundel in THE ENCHANTED APRIL, Chief Bromden in ONE FLEW OVER THE CUCKOO'S NEST and as Ralph in FROZEN. His favorite professional acting credits include the title roles in PHANTOM and JEKYLL & HYDE, Owen in VOICES IN THE DARK, Ross in VISITING MR. GREEN, Beast in BEAUTY AND THE BEAST, Albin (ZaZa) in LA CAGE AUX FOLLES, Jamie in THE LAST FIVE YEARS, and Archibald in THE SECRET GARDEN. Ed also directed the HTC's recent production of DEATHTRAP as well as last season's I HATE HAMLET. He Ed holds a Masters degree in Theater and has directed over 30 productions on Long Island. ROBERT M. HEFLEY (Walter Flood) is making his Hampton Theatre Company debut. He has appeared with the Pearl Theatre Company in NYC in the title role of NATHAN THE WISE. He has performed at the Alley Theatre, Houston; Tennessee Rep, Nashville; TheatreVirginia, Richmond; New Harmony Theatre, Indiana; Florida Shakespeare Festival, Miami; California Repertory Company, Los Angeles; Banyan Theater Company, Sarasota, and Classic Theatre International in Germany, Austria and Switzerland. He received the DETROIT FREE PRESS Best Supporting Actor Award for playing Ralph Nickleby in NICHOLAS NICKLEBY. Television credits include Unsolved Mysteries, the title role in Speaking of Shakespeare, and voice overs for ABC Sports. EDWARD KASSAR (Steve) played Joseph in HTC's production of MY THREE ANGELS as well as Gary in I HATE HAMLET, Richard in DESPERATE AFFECTION, Mike Talman in WAIT UNTIL DARK, Ricky Roma in GLENGARRY GLEN ROSS, Mike in BREAKING LEGS, Lennie in OF MICE AND MEN, and Limping Man in FUDDY MEERS. Other theatrical credits include THE ZOO STORY, ART, MISERY, HURLYBURLY, GOOSE AND TOMTOM, A STREETCAR NAMED DESIRE, SAME TIME NEXT YEAR, BURIED CHILD, NOT ABOUT NIGHTINGALES, THE NERD, JOE TURNER'S COME AND GONE, THE BALCONY and LA RONDE. Film credits include Unlikely Prophets, Dying for Dollars, Overdrive, Mook, Sushi Bar, Mulligan Farm, Down Clown, Nine Out of Ten, If I Only Knew and Scallop Pond. Thanks to Mom, Dad, Cara, family and friends for their support. PAMELA KERN (Ginger) is delighted to make her fourth appearance with the Hampton Theatre Company (she played Kitty in SIX DEGREES OF SEPARATION, and Flo in both PICNIC and THE ODD COUPLE). She received her B.A. in Theatre Arts and English & American Literature from Brown University and an M.F.A. in Acting from the University of Virginia. Pam recently received her M.S.W. from Stony Brook University and is now a practicing Licensed Social Worker. Favorite roles include Amalia in SHE LOVES ME, Lenny in CRIMES OF THE HEART, Rizzo in GREASE and the Nanny and the Principal in BABY WITH THE BATHWATER. Pam's favorite productions are her two sons Richard and Matthew. She would like to thank her husband and best friend, John, for his understanding, encouragement, patience and sense of humor. CAMILLE MAZUREK (Becky Foster) is thrilled to be making her Hampton Theatre Company debut. Theater credits include the lead in LADIES IN RETIREMENT, Titania in A MIDSUMMER NIGHT'S DREAM, the Nurse in ROMEO AND JULIET, Dottie Otley in NOISES OFF, Miranda in THERE SHALL BE NO NIGHT, Jean Cocteau's THE HUMAN VOICE, and the title roles in LYSISTRATA, JULIUS CAESAR and THE TOTALLY TRUE, COMPLETELY FICTIONAL STORY OF THE MOTHER OF JESSE JAMES. Film/TV/Web: Ghost Stories on UPN, Latin Boys Go to Hell, Reflex, Jane Street and two appearances on The Onion News Network. BEN SCHNICKEL (Chris Foster) played Jason in the HTC's production of RABBIT HOLE. He is a New York-based actor whose credits there include WHEN YOU COMIN' BACK, RED RYDER?, RABBIT HOLE, SIX DEGREES OF SEPARATION, RENT, A.R. Gurney's WHAT I DID LAST SUMMER, Bekah Brunstetter's SPACE, and JUNIPER; JUBILEE, winner of the 33rd Annual Samuel French Festival. A native of Minneapolis, he has also performed there at the Guthrie Theater and the Children's Theatre Company. He received his B.F.A. in Acting from Ithaca College. SYDNEY SCHWINDT (Kenni Flood) is thrilled to make her debut with The Hampton Theatre Company! Recent roles include A DICKENS OF A CHRISTMAS, POE EVERMORE, A MIDSUMMER NIGHT'S DREAM, MACBETH, ARMS AND THE MAN, and a plethora of shows with the Pennsylvania Renaissance Faire. She graduated The Hartt School this past May with her B.F.A. in Acting where she performed in shows including PRIDE AND PREJUDICE, CORAM BOY, STAGE DOOR, and STREET OF CROCODILES. STEVEN DIETZ (Playwright) is one of America's most produced playwrights, though the majority of productions have been regional, making him little known in the New York area. Among his over 30 plays are HALCYON DAYS, LONELY PLANET, PRIVATE EYES and FICTION. The HTC is pleased to present the Long Island premiere of BECKY'S NEW CAR, a play that was commissioned by Charles Staadecker as a birthday present for his wife. BOB KAPLAN (Director) enjoys acting and directing. Each presents different challenges; both are invigorating and humbling. He has directed MAURITIUS, GLENGARRY GLEN ROSS, DESPERATE AFFECTION and WAIT UNTIL DARK for the HTC, as well as SYLVIA, FOREVER PLAID, PLAZA SUITE, SOCIAL SECURITY and MAN OF LA MANCHA. He has acted in THE PRICE and SIX DEGREES OF SEPARATION (here at HTC), THE NIGHT OF THE IGUANA, EARLY ONE EVENING AT THE RAINBOW BAR AND GRILL, I HATE HAMLET, LAUGHTER ON THE 23RD FLOOR and THE HEIDI CHRONICLES. He also works with the Teeny Awards, a program that supports high school theater by presenting awards each year to deserving students. Thanks to his son Seth and his wife Betsy for being his most insightful critics and for continuing to understand his need to be involved in theater. JAMES EWING (Set Design) founded the HTC in 1984 and has since appeared in over 20 productions and built numerous sets. Special gratitude has to be expressed to his reliable and skilled production team all listed in the program. And of course to Sarah for her wise guidance and fortitude as we stumble along in these efforts. SEBASTIAN PACZYNSKI (Lighting Designer) first worked with the Hampton Theatre Company when he designed the company's 2003 production of SUMMER AND SMOKE at Guild Hall and has designed all the company's productions since PROOF in 2004 as well as the theater's new lighting system. He has designed lighting for theater, dance and special events in a number of Broadway, Off Broadway, Off Off Broadway and regional venues. He has also worked in film and television as the director of photography. He has designed numerous productions for Guild Hall and for the Hamptons Shakespeare Festival. TERESA LEBRUN (Costume Designer) is the resident costumer for the Hampton Theatre Company and has designed costumes for all the company's recent productions. Teresa has also costumed for Spindletop Productions at Guild Hall. Much love to her boys Josh and Noah. JEAN PLITT (Stage Manager). It is a pleasure to work with the talented people who perform or are involved in the production of each show presented by the Hampton Theatre Company. From auditions to opening night, the process of bringing the "page to the stage" requires the creative energies of all involved, and I am very happy to be part of it. Congratulations to the cast and crew of BECKY'S NEW CAR! ROB DOWLING (Lighting & Sound Technician) has done lighting and sound for 20 years at the North Fork Community Theater, Vail-Leavitt Music Hall, Producer's Club (NYC), the Loft Theater at Dowling College and the Southampton Cultural Center. He has also helped Sebastian with lighting set up at Guild Hall, the Ross School, and other local venues. "Many thanks, Sebastian!" This is Rob's sixth season with the Hampton Theatre Company. He is very happy to be part of the show and the company.
Director – BOB KAPLAN Producers – SARAH HUNNEWELL, DIANA MARBURY Set Design – JAMES EWING Set Decor – DIANA MARBURY Lighting Design – SEBASTIAN PACZYNSKI Costume Design – TERESA LEBRUN Stage Manager – JEAN PLITT
Set Construction – JAMES EWING, SEAN MARBURY, TONY CINQUE, JAMES FINK, BOB KAPLAN, SEAMUS NAUGHTON, VINCENT RASULO, DOMINIC SARACENO Lighting/Sound Tech – ROB DOWLING, SEAMUS NAUGHTON Sound Design – BOB KAPLAN Backstage Crew – JESSICA HOWARD Production Graphics –
JOE PALLISTER
Program, Publicity & Box Office – SARAH HUNNEWELL House Manager – JULIA MORGAN ABRAMS Advertising Sales – SARAH HUNNEWELL, CATHY SCHWARTZ Production Photographer – TOM KOCHIE Opening Night Party – JONESEY'S
'BECKY'S NEW CAR': "GO SEE IT AND … HAVE FUN"
by Dawn Watson Southampton and East Hampton Press Breaking the fourth wall in theater can be quite risky but it pays off in "Becky's New Car," on stage at the Quogue Community Hall through April 1. For those not familiar with the term, the fourth wall is the imaginary boundary between the actors on a stage and the theatergoers in the audience. In "Becky," directed by Bob Kaplan, the play starts out immediately breaking the rules and totally demolishing the fourth wall, as the title character—played by Camille Mazurek in the Hampton Theatre Company production—enters the theater up the center aisle, dusting with a handheld battery-operated mini-vacuum and carrying a cleaning bucket. "Could you put this in the bathroom when you go?" Becky asks an audience member, thrusting the bucket into the hands of someone who most likely came to just sit passively and watch some theater. Becky continues to ignore the invisible barrier throughout the play, handing out the sports section of a newspaper (I wish I could say it was the Southampton Press but my theater companion on Saturday evening was handed the New York Times); a can of Sprite; and papers to collate, which she retrieves later in the play. A little while into the action, in a surprising and absolutely gutsy move, Becky pulls two random female audience members up on the stage and goads them into holding up a sheet while she undresses behind it, and emerges seconds later clad in a party dress. One of the "volunteers" on Saturday night, who appeared to be quite surprised to be up on stage with a semi-nude stranger, had this reviewer on the edge of her seat as it looked as if she was going to let the sheet drop from between her two fingertips at any moment. This scene, in particular, perfectly sums up the play—fearless, fun and a perfect selection for followers of Hampton Theatre Company productions, who absolutely ate up the antics on (and sometimes spilling off) the stage. Another thing that is somewhat unusual about this play, which was written by the prolific Steven Dietz, is that it was commissioned by a Seattle businessman/arts supporter for his wife's 60th birthday. This fact about the origination of the material could be viewed as ironic since the action is all about a middle-aged woman's discontent with her role as wife, mother and overworked office drone at a car dealership. To paraphrase from the script: When a woman wants new shoes, what she's really saying is that she wants a new job, says Becky. A new house means a new husband and a new car means she wants a new life. I don't want to spoil all the fun but let's just say that Becky does get that new car and it's more than she ever bargained for. Another thing that's unusual about this script is that the audience finds itself rooting for all of the characters. There is no bad guy, a lack of construct which could derail a lesser work, but somehow it adds to the charm of this comedic drama. This delightful show is perfectly cast, with a nice mix of newcomers to the Quogue stage and a few Hampton Theatre company regulars. Aside from the winningly watchable Ms. Mazurek, who is in nearly every scene in the show, this reviewer's favorite was Robert Hefley as Walter Flood—a multimillionaire widower who is sweet on Becky. Well, I was sweet on Mr. Hefley. What a cutie! Edward Brennan's portrayal of Joe, Becky's beleaguered blue-collar husband, was also solidly watchable. Ben Schnickel managed to make Becky's pedantic slacker-cum-intellectual son, Chris, into someone to watch and root for. Sydney Schwindt was a breath of fresh spring air as Kenni Flood. Edward Kassar made the mostly comedic most of his unfortunate character, Steve. And Pamela Kern played Ginger, a hot-to-trot socialite who has lost most of her money, with compassion and wit. Though the final character on the stage had no speaking lines, it was indeed a powerful presence, as is always the case with Hampton Theatre Company productions. The stage itself, which was three sets in one, was perhaps the sparsest I have seen in Quogue but it was brilliant in its simplicity. The clever setup worked quite well in driving the audience along to each particular location, without being distracting. Well done. Bottom line: One of the most brisk, frisky, fearless and fast-paced plays this reviewer has seen on the stage in Quogue. Go see it and prepare to have fun.
'BECKY'S NEW CAR' IS A SMOOTH RIDE
by Steve Parks Newsday There's a lot to like about "Becky's New Car," making its New York premiere with the Hampton Theatre Company. "When a woman says she wants a new car," Becky quotes her deceased best friend, "she wants a new life." You might say Becky started looking for her new life when she took the job that keeps her out of the house — away from her husband, whose roofing work slacked off with the economy, and her son, a 26-year-old full-time slacker who spouts psychobabble derived from psychology courses he takes for no apparent purpose. Becky works as the manager of a car dealership. She needs all the help she can get. That's where you come in. In the opening scene, Becky asks someone near the aisle to tote her scrub bucket. Later, she gets a volunteer to collate papers. She even recruits two women to hold up a blanket while she changes onstage. Becky slips into a cocktail dress — red — for an assignation. She may or may not be about to commit adultery. Becky, played with whirlwind efficiency by Camille Mazurek while flashing peeks into her inner turmoil, finds herself commiserating involuntarily with single men. Steve, a colleague/salesman whose wife was her buddy, is a social train wreck as played by Edward Kassar. Steve misses a big sale by leaving work early. Walter shows up late to buy nine identical cars — one for each of his employees. Becky remarks that her husband always "wanted" a car like that — innocently deploying the past tense. Walter, played by Robert Hefley with the helplessness of a man who's never had to fend for himself, assumes Becky is a widow. He's a widower who still wears his wedding band and longs to spoil another good woman. Who could resist? It's just that hubby, Joe, played with near-obsequious attentiveness by Edward Brennan, doesn't deserve cuckolding. Becky meets Walter's once-rich, always-jealous neighbor, Ginger (Pamela Kern), and his daughter, elegantly played by Sydney Schwindt, at the very time her son (Ben Schnickel) is falling for the love of his life. With several hairpin twists, it's a seriocomic road well worth traveling. Director Bob Kaplan and cast take us along for an emotionally scenic ride. The play, by Steven Dietz, comes with an endearing back story. It was commissioned by Charles Staadecker as a 60th birthday gift for his wife, Benita, first performed in Seattle in 2008. The Staadeckers attended the Quogue opening. Welcome to New York.