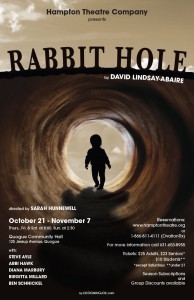 by David Lindsay-Abaire directed by Sarah Hunnewell
October 21 – November 7, 2010
David Lindsay-Abaire's 2007 Pulitzer Prize-winning drama depicting a life-altering event with compassion, honesty, wit and, ultimately, hope.

CAST: Howie – STEVE AYLE Izzy – ABBI HAWK Nat – DIANA MARBURY Becca – BIRGITTA MILLARD Jason – BEN SCHNICKEL
STEVE AYLE (Howie) is happy to be making his Hampton Theatre Company debut. He has worked extensively in the New York area. Favorite roles include: LIPS TOGETHER, TEETH APART (John), CABARET (Cliff), THE HEIDI CHRONICLES (Scoop), GREETINGS (Andy), THE ARRANGEMENT (Tom), BEAU JEST (Bob), THE LARAMIE PROJECT (Greg, Hing, Doug, Rulon), CRIMES OF THE HEART (Doc), and ON GOLDEN POND (Bill). Numerous One-Act Play Festival favorites include — USELESS INFORMATION (Grady), NORMAN (Norman/Gerald), and THE MAN WITH HIS MOTHER ON HIS ARM (Ed). Television appearances include As The World Turns, One Life To Live, and numerous commercials, voice overs and industrial films. Steve is an avid photographer and licensed private pilot, though he never shoots and flies at the same time. ABBI HAWK (Izzy) is thrilled to be making her debut with the Hampton Theatre Company. Recent favorites include Sophy in UNTIL WE FIND EACH OTHER (Midtown International Theater Festival), Violente in THE WONDER (The Queen's Company) and Elizabeth in RICHARD III (Extant Arts Company). Many thanks to cast and crew, her lovely hosts, and of course, Mom and Dad. www.abbihawk.com is in the works… DIANA MARBURY (Nat, Producer, Set Decor) is excited to begin the Hampton Theatre Company's 26th season with this powerful play and talented cast. Diana has appeared in over 40 productions with the HTC and has worked in many capacities over the years. Favorite roles are too numerous to mention. Diana would like to acknowledge the many talented people who have made the work a pleasure. There are, of course, our hard-working board and all our volunteer ushers led by our tremendously capable House Manager, Julia Morgan Abrams. There are also all the gifted builders and painters who share their talents with us to create our beautiful sets. We are also fortunate to have such a warm, receptive audience, who make producing live theater so rewarding. As we begin our second quarter century, Diana looks forward to being a part of the company as it continues to grow. BIRGITTA MILLARD (Becca) has appeared with the Hampton Theatre Company as Angie in BREAKING LEGS, Agnetha in FROZEN and, last spring, as Nurse Ratched in ONE FLEW OVER THE CUCKOO'S NEST. She feels deeply honored to be here again with this talented cast and such a beautiful piece of theater. Favorite theater credits include THE UNDERSTUDY (Roxanne), ALMOST MAINE, THE LOVE LIST (Justine), A STREETCAR NAMED DESIRE (Blanche), THE VAGINA MONOLOGUES, BURN THIS (Anna), CAT ON A HOT TIN ROOF (Maggie), NOISES OFF (Belinda), BAREFOOT IN THE PARK (Corey), and TWELFTH NIGHT (Olivia). Thank you for supporting Long Island theater. And have a great day. Unless you have other plans. BEN SCHNICKEL (Jason) is a New York-based actor whose credits there include WHEN YOU COMIN' BACK, RED RYDER?, RABBIT HOLE, SIX DEGREES OF SEPARATION, RENT, A.R. Gurney's WHAT I DID LAST SUMMER, Bekah Brunstetter's SPACE AND JUPITER; and JUBILEE, winner of the 33rd Annual Samuel French Festival. A native of Minneapolis, he has also performed there at the Guthrie Theater and the Children's Theatre Company. He received his B.F.A. in Acting from Ithaca College. DAVID LINDSAY-ABAIRE (Playwright)describes his plays as "peopled with outsiders in search of clarity." Many of his plays, like FUDDY MEERS, produced by the HTC in 2006, embrace a joyous lunacy, the world that is often dark, funny, blithe, enigmatic, hopeful, ironic, and somewhat cock-eyed. With RABBIT HOLE, he strikes a more serious tone, but that, once again, of a woman seeking meaning in a world that, for her, has turned suddenly upside down. Lindsay-Abaire has received numerous awards including the 2007 Pulitzer Prize and a Tony Award nomination for RABBIT HOLE. Other plays include KIMBERLY AKIMBO, WONDER OF THE WORLD, DOTTING AND DASHING, A DEVIL INSIDE, SNOW ANGEL THE LI'L PLAYS and THE KITCHEN SINK DRAMA. He has written several screenplays including an adaptation of RABBIT HOLE. SARAH HUNNEWELL (Director/Producer) wears many hats for the company, but is happiest in her directorial one. Favorites include ONE FLEW OVER THE CUCKOO'S NEST, THE OLDEST LIVING GRADUATE, EVERYTHING IN THE GARDEN, FUDDY MEERS, PROOF, SUMMER AND SMOKE, THE RAINMAKER, and A VIEW FROM THE BRIDGE. Many thanks to her talented cast and crew for bringing this brilliant show to life and to our wonderful audience for making our work possible. Thanks, always, to Jimmy for everything. JAMES EWING (Set Design) founded the Hampton Theatre Company in 1984 and has since appeared in over 20 productions and built numerous sets. Special gratitude has to be expressed to Sean Marbury, who like his father before him, really brings these sets to artful and detailed life. I would be lost in these adventures without his reliability, strength and friendship. SEBASTIAN PACZYNSKI (Lighting Designer) first worked with the Hampton Theatre Company when he designed the company's 2003 production of SUMMER AND SMOKE at Guild Hall and has designed all the company's productions since PROOF in 2004 as well as the theater's new lighting system. He has designed lighting for theater, dance and special events in a number of Broadway, Off Broadway, Off Off Broadway and regional venues. He has also worked in film and television as the director of photography. He has designed numerous productions for Guild Hall and for the Hamptons Shakespeare Festival. JEAN PLITT (Stage Manager) It is a pleasure to work with the talented people who perform or are involved in the production of each show presented by the Hampton Theatre Company. From auditions to opening night, the process of bringing the "page to the stage" requires the creative energies of all involved, and I am very happy to be part of it. Congratulations to the cast and crew of RABBIT HOLE! ROB DOWLING (Lighting & Sound Technician) has done lighting and sound for 19 years at the North Fork Community Theater, Vail-Leavitt Music Hall, Producer's Club (NYC), the Loft Theater at Dowling College and the Southampton Cultural Center. He has also helped Sebastian with lighting set up at Guild Hall, the Ross School, and other local venues. "Many thanks, Sebastian!" This is Rob's fifth season with the Hampton Theatre Company. He is very happy to be part of the show and the company.
Director – SARAH HUNNEWELL Producers – SARAH HUNNEWELL, DIANA MARBURY Set Design – JAMES EWING Set Decor and Properties – DIANA MARBURY Lighting Design – SEBASTIAN PACZYNSKI Costume Design – TERESA LEBRUN Stage Manager – JEAN PLITT
Set Construction – JAMES EWING, SEAN MARBURY, RUSSELL BABIS, KARL CUTTER, SEAN KAPLAN, MARY ANN KNOKE, SEAMUS NAUGHTON, VINCENT RASULO, DOMENIC SARACENO Set Painting – PAT TONER, TONER PAINTING Assistant Stage Manager – JOHN ZALESKI Lighting & Sound Tech – ROB DOWLING Original Music – JOHN GROMADA Sound Design – JOE BRONDO Production Chef – BIRGITTA MILLARD Production Graphics –
JOE PALLISTER
Program, Publicity & Box Office – SARAH HUNNEWELL House Manager – JULIA MORGAN ABRAMS Advertising Sales – SARAH HUNNEWELL Production Photographer – TOM KOCHIE Opening Night Party – MICOLE'S
RISING TO A DRAMATIC CHALLENGE
by Lee Davis Southampton Press The Hampton Theatre Company is sustaining its reputation for presenting quality plays in quality productions with its current sensitively performed and sensitively directed mounting of David Lindsay-Abaire's Pulitzer Prize-winning, multilayered drama, "Rabbit Hole." The play is given a production with winning integrity and gripping devotion to the careful balance of comedy and tragedy, of cover-up and revelation of the true emotions that more often than not underlie the face we humans show the world. "Rabbit Hole" begins as a comedy of family manners. But the façade soon peels away to reveal a family struggling to deal with the recent death by accident of their 4-year-old son. The playwright has knit a plot that contains a plenitude of triggers, some of which the characters use, more of which they ignore. But what makes this a masterful examination of human nature is the natural progression of emotions couched in what seems to be the most natural and identifiable of dialogue. It's what's underneath matters that matters, as it does in life itself, and the play deserves its honors for exploring this with astonishing accuracy and constant subtlety. Quite a challenge for players, particularly community players. The North Fork Community Theatre met the challenge last year and emerged with honor. And now, the Hampton Theatre Company has also met the challenge and emerged with its own set of honors, with one startling advantage: James Ewing's solid, astounding, multilevel, multipurpose set. As is customary, and sometimes annoying, in contemporary playwriting from the minds of the television generation, the structure of the play is a trifle more cinematic than theatrical, though, to be fair and honest, Mr. Lindsay-Abaire manages to stay with each of his multiple scenes long enough to allow the audience to become comfortably acquainted with the characters, their problems, and the plot. Mr. Ewing's set, lit with a controlled and tasteful palette by Sebastian Paczynski, is a masterpiece of containment and enhancement that proceeds seamlessly from scene to scene. There's not a level nor a corner of this set that doesn't contribute to the mood and the movement of the play. Director Sarah Hunnewell has locked into the varying rhythms and revelations of "Rabbit Hole" with unerring skill, and has moved her cast members through its thickets smoothly and involvingly. Overall, it makes for a gripping and moving evening of theater as it should be. The cast contains no weaknesses. Steve Ayle, particularly in the scenes in which his surface cracks visibly in returning to a videotape of his son, and later, in demanding the return of his son's dog, is rewardingly effective as the family member most obviously torn apart by the tragedy that's threatening the very fabric of his life. Abby Hawk delivers a pungent and peppy performance as Izzy, the sister of Becca, the boy's mother. For all her wisecracks and volume, she's a woman who needs the limelight, and her efforts to achieve it are, through Ms. Hawk's sensibility, both funny and touching. As Nat, Becca's mother, who can hardly ever keep from saying precisely the wrong thing, Diana Marbury is likewise convincingly multidimensional. She manages to decimate a birthday party scene with a long and dismissive and unfeeling monologue about the Kennedy family, but in the most shattering and heartrending scene of the play, in which she and Becca gather the boy's toys and belongings in his bedroom, her true feelings break through the veneer of her dialogue. It's a gem of a scene, played by both actors with great tenderness and awareness. Ben Schnickel, as Jason, the teenage driver of the car that killed Danny, is outstandingly impressive in his first-act monologue of semi-articulate feelings about the tragedy, and, in a climactic scene with Becca in the second act, he manages a fine balance of attempting to assuage Becca's feelings and adolescent inability to deal with a terribly charged situation. In the early moments on opening night, Birgitta Millard, as Becca, the mother of the dead boy and the most challenging, complex and agonized character in the play, might have hidden the maelstrom within her a little too completely, and stayed on the thin skin of the obvious perhaps a bit too long. But the sensitivity to what is unsaid seeped through with rewarding skill and delicate balance as the performance evolved. In her later scenes with her husband, and particularly in both the bedroom scene with her mother and the penultimate scene with the boy who was responsible for her son's death, Ms. Millard proves herself a caring, skillful actress who will without doubt move forward in consistency during the run of the production. This mounting of "Rabbit Hole" is a poignant and stunning example of the consistently elevated level of performance and production for which the Hampton Theatre Company has achieved its well deserved reputation.
'RABBIT HOLE' A SEARING DRAMA AT HAMPTON THEATRE
by Steve Parks January 18, 2007 When the lights go up on the fractured domesticity of David Lindsay-Abaire's Pulitzer Prize-winning play "Rabbit Hole," you don't need dialogue to spell it out. A loved one has died. As directed by Sarah Hunnewell for the Hampton Theatre Company, Birgitta Millard emanates a mother's grief. Hollow eyes and voice. Resigned body language. Becca is folding tiny clothes. Danny, her 4-year-old son, was hit by a car as he chased his dog. Becca's wild sister, Izzy (Abbi Hawk), struggles with her news: She's pregnant. Becca methodically erases reminders of Danny from the house she shares with husband Howie, who handles grief very differently. He watches family video of Danny. Steve Ayle plays Howie as if he were tiptoeing around his wife's hurt for fear of tearing its scab. Becca and Izzy's mom, bravely played by Diana Marbury, doesn't believe in hiding feelings. She puts death on the table with talk of the "Kennedy curse" and her adult son's suicide. As Danny's room is stripped of toddler things, Becca asks her mom, "Does it ever go away?" The hurt? We know the answer even before Becca meets Jason, the young driver who swerved to miss the dog. Jason's story about a "rabbit hole" that connects parallel universes is dedicated to Danny. Ben Schnickel conveys the teen's guilt over driving 32 in a 30 zone. James Ewing and Marbury's set, with gloomy lighting by Sebastian Paczynski, creates a sixth character – a home that doesn't look lived in. Because it isn't, really.