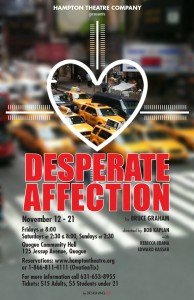 by Bruce Graham directed by Bob Kaplan
November 12 – November 21, 2010
A black comedy about a young actress who may or may not have chosen the correct "Mr. Right."

CAST: Maddie – REBECCA EDANA Richard – EDWARD KASSAR
REBECCA EDANA (Maddie) made her Hampton Theatre Com-pany debut as Jan in last spring's production of BEDROOM FARCE and appeared most recently on the East End as Fraulein Kost in Center Stage's CABARET. She has been in numerous independent films including, most recently, Greetings From Bushwick, as well as theater productions and improv troupes. Her favorite shows include TALK RADIO, HAPPY HOUR and SWEET CHARITY. Rebecca is a graduate of UC Irvine's acting program and currently studies at T. Schreiber Studio in NYC. She would like to thank her family for their tireless support and endless encouragement. EDWARD KASSAR (Richard) played Mike Talman in the HTC's production of WAIT UNTIL DARK as well as Ricky Roma in GLENGARRY GLEN ROSS, Mike in BREAKING LEGS, Lennie in OF MICE AND MEN, and Limping Man in FUDDY MEERS. Other theatrical credits include THE ZOO STORY, ART, MISERY, HURLYBURLY, GOOSE AND TOMTOM, A STREETCAR NAMED DESIRE, SAME TIME NEXT YEAR, I HATE HAMLET, BURIED CHILD, NOT ABOUT NIGHTINGALES, THE NERD, JOE TURNER'S COME AND GONE, THE BALCONY and LA RONDE. Film credits include Unlikely Prophets, Dying for Dollars, Overdrive, Mook, Sushi Bar, Mulligan Farm, Down Clown, Nine Out of Ten, If I Only Knew and Scallop Pond. Thanks to Mom, Dad, Cara, family and friends for their support. BRUCE GRAHAM (Playwright)'s plays include ACCORDING TO GOLDMAN, BELMONT AVENUE SOCIAL CLUB, BURKIE, THE CHAMPAGNE CHARLIE STAKES, COYOTE ON A FENCE, MINOR DEMONS, EARLY ONE EVENING AT THE RAINBOW BAR AND GRILL and MOON OVER THE BREWERY. His TV and film credits include Dunston Checks In, Anastasia, and the Abbie Hoffman biopic Steal This Movie, as well as the Ira Einhorn mini-series Hunt for the Unicorn. Graham has won several awards from the Pew Foundation, the Theater Association of Pennsylvania, the Rockefeller Foundation and the Princess Grace Foundation. BOB KAPLAN (Director) enjoys acting and directing. Each presents different challenges; both are invigorating and humbling. He has directed MAURITIUS, GLENGARRY GLEN ROSS and WAIT UNTIL DARK for the HTC, as well as SYLVIA, FOREVER PLAID, PLAZA SUITE, SOCIAL SECURITY and MAN OF LA MANCHA. He has acted in THE PRICE and SIX DEGREES OF SEPARATION (here at HTC), EARLY ONE EVENING AT THE RAINBOW BAR AND GRILL (another Bruce Graham play), I HATE HAMLET, LAUGHTER ON THE 23RD FLOOR and THE HEIDI CHRONICLES. He also works with the Teeny Awards, a program that supports high school theater by presenting awards each year to deserving students. Thanks to his son Seth and his wife Betsy for being his most insightful critics and for continuing to understand his need to be involved in theater. SEBASTIAN PACZYNSKI (Lighting Designer) first worked with the Hampton Theatre Company when he designed the company's 2003 production of SUMMER AND SMOKE at Guild Hall and has designed all the company's productions since PROOF in 2004 as well as the theater's new lighting system. He has designed lighting for theater, dance and special events in a number of Broadway, Off Broadway, Off Off Broadway and regional venues. He has also worked in film and television as the director of photography. He has designed numerous productions for Guild Hall and for the Hamptons Shakespeare Festival. KATHY ILACQUA (Set Design). It has been a joy and a privilege to have participated at HTC over the past few years. To be able to work with people who have such a high level of professionalism and talent is inspiring. As a self taught artist, I seek opportunity to grow and develop, and therefore look forward to contributing to the vision of HTC in the years to come. Thanks to Bob Kaplan who introduced me to the world of theater and always to my husband Tony whose support and belief in my talent gives me courage. TERESA LEBRUN (Costume Designer) is the resident costumer for the Hampton Theatre Company and has designed costumes for all the company's recent productions. Teresa has also costumed for Spindletop Productions at Guild Hall. Much love to her boys Josh and Noah. JEAN PLITT (Stage Manager). It is a pleasure to work with the talented people who perform or are involved in the production of each show presented by the Hampton Theatre Company. From auditions to opening night, the process of bringing the "page to the stage" requires the creative energies of all involved, and I am very happy to be part of it. Congratulations to the cast and crew of DESPERATE AFFECTION! ROB DOWLING (Lighting & Sound Technician) has done lighting and sound for 19 years at the North Fork Community Theater, Vail-Leavitt Music Hall, Producer's Club (NYC), the Loft Theater at Dowling College and the Southampton Cultural Center. He has also helped Sebastian with lighting set up at Guild Hall, the Ross School, and other local venues. "Many thanks, Sebastian!" This is Rob's fifth season with the Hampton Theatre Company. He is very happy to be part of the show and the company.
Director – BOB KAPLAN Set Design – KATHLEEN ILACQUA Lighting Design – SEBASTIAN PACZYNSKI Costume Design – TERESA LEBRUN Stage Manager – JEAN PLITT
Set Construction – JAMES EWING, SEAN MARBURY, JIM ILACQUA, TONY ILACQUA, BOB KAPLAN, SEAN KAPLAN, VINCENT RASULO, DOMENIC SARACENO Set Painting – PAT TONER, TONER PAINTING Lighting & Sound Tech – ROB DOWLING Sound Design – BOB KAPLAN Production Graphics –
JOE PALLISTER
Program, Publicity & Box Office – SARAH HUNNEWELL House Manager – JULIA MORGAN ABRAMS Advertising Sales – SARAH HUNNEWELL Production Photographer – TOM KOCHIE Opening Night Party – NEW MOON CAFÉ
'DESPERATE AFFECTION' IS FROTHY FUN
by Lee Davis Southampton Press Bruce Graham's "Desperate Affection," the current production of the Hampton Theatre Company in Quogue, has the texture of a paperback adventure novel customarily picked up in an airline terminal, read on the flight, then left behind to be instantly forgotten. This doesn't mean that this very, very black comedy doesn't hold an audience's interest or contain some absorbing, even touching moments between its two barely believable characters. Nor does it mean that the play is not being given an excellent production, with strong acting, directing and production qualities. The bottom line is that if you like trashy stories well done, get over to the Quogue Community Hall and wrap yourself in its undeniable blandishments. Since surprise is an important element in "Desperate Affection," I'll not be the spoiler to reveal the plot, except to say that it has an abundant sprinkling of moments of suspense, cruelty, romance and fun. It's about two lovers: Maddie, a likeably wacky young actress who specializes in home appliance commercials, and Richard, a man she's recently met and fallen in love with. He's the opposite of her in neatness and organization, doesn't talk much about himself and has a few odd ways of doing things, so she has some reservations. But good sex has a habit of erasing her suspicions. As Maddie, Rebecca Edana manages to transition from goofiness to adorableness with a naturalness that's both warming and winning. It's impossible not to side with her in her wild swings of zaniness, sweetness and ultimate vulnerability. Altogether, it's a nicely controlled, always human and thoroughly credible portrayal. And Edward Kassar, dimming down and neatly controlling his sometime tendency toward bone-rattling bluster, creates a curious yet appealing character as Richard, the man of mystery who has taken over Maddie's heart and apartment. Always thoughtful, understanding of her sometimes screwy behavior, and obviously in love with her, he sustains this veneer even when, as the play progresses and revelations occur, it cracks like the local macadam during an earthquake. The relationship between the two is real and reasonable and naturally expressed, thanks to the skill of the actors and the forward and inward movement of Bob Kaplan's concise, unobtrusive, mood-sustaining and intelligent direction. Kathleen Ilacqua's set, poised somewhere between a black box and cluttered reality, is useful and effective. As usual, Sebastian Paczynski's lighting design and Teresa LeBrun's costume design are stories all in themselves, and constantly enhance the on-stage proceedings. In the end, "Desperate Affection" will do nothing to feed your mind, soul or your memory. But it's good, suspenseful, happy and sometimes dark and guilty fun. The Hampton Theatre Company production of "Desperate Affection" continues at the Quogue Community Hall on Friday and Saturday, November 19 and 20, at 8 p.m. and on Saturday and Sunday, November 20 and November 21, at 2:30 p.m. Tickets range from $5 to $15. The box office number is 653-8955.
DESPERATE TO KEEP MR. RIGHT IN 'DESPERATE AFFECTION'
by Steve Parks 'To be honest, I wish you were in another line of work." Bruce Graham's romantic-comedy-thriller "Desperate Affection" brims with such understatement. But as directed by Bob Kaplan for the Hampton Theatre Company, each one crackles farcically. Of course, you had to be there to get the joke. Here's what we can say without triggering spoiler alerts. Maddie is a single, not terribly successful actress. She'd love to do Shakespeare. Instead she plays a housewife in bathroom-cleanser commercials, dancing around a toilet. It pays the rent. Her apartment, rendered in all its messy Manhattan glory by set designer Kathleen Ilacqua, becomes a running sight gag. The other character is Richard, the boyfriend – a strong, silent type. Maddie, with her checkered romantic past, isn't anxious to rock the boat. Still, she'd like to show him off to her friends. Maybe he'd be her date to the gay wedding of her ex-boyfriend. Maddie explains to Richard that her love life always crashes once she sleeps with a guy. She and Richard recently crossed that threshold. So she's waiting for the "other" Richard to show his face. She says the men in her life all revealed a "post-orgasm" side to their character. Something "big" – such as sexual preference for men – disqualifies them once they feel comfortable with Maddie – that is, once they've been intimate. Maddie, played with self-deprecating wit and outgoing vulnerability by Rebecca Edana, resorts to tricks to keep Richard happy. She tarts up with fire-engine-red lingerie and stiletto heels that kill her feet (costume design, Teresa Lebrun). She buys bakery cookies and heats them in the oven to make him think she bakes. Edward Kassar cuts a tall, brooding, not-so-cuddly figure as Richard. It's typical that a manly type doesn't talk much about himself. We learn, along with Maddie, why he's chosen her, and more particularly, her apartment. Suddenly he's Mr. Clean, scrubbing everything in sight. But that's not his line of work. And tying her up? It may or may not be a fetish. All we can say is that teddy bears unnerve him.