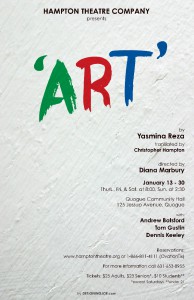 by Yasmina Reza directed by Diana Marbury
January 13 – 30, 2011
Yasmina Reza's Tony Award-winning comedy about three friends whose bonds are tested to the limit as they debate the value of a large white painting.

CAST: Marc – ANDREW BOTSFORD Serge – TOM GUSTIN Yvan – DENNIS KEELEY
ANDREW BOTSFORD (Marc) is a veteran of more than 30 Hampton Theatre Company productions since 1985. He appeared most recently as Harding in ONE FLEW OVER THE CUCKOO'S NEST and as George Spelvin in THE ACTOR'S NIGHTMARE at the HTC's 25th Anniversary benefit. In addition to CUCKOO'S NEST, favorite shows include GLENGARRY GLEN ROSS, EVERYTHING IN THE GARDEN, THE FOREIGNER, ORPHANS, NOISES OFF, THE DINING ROOM, SYLVIA, SOCIAL SECURITY and RUMORS. Andrew is a resident of Quogue. TOM GUSTIN (Serge) made his East End debut several years back as the regal Queen Elizabeth I in Bruce Jay Friedman's comedy SARDINES with Peter Boyle. Since then he has played various roles at several Hamptons venues, including Mr. Henderson in YOU CAN'T TAKE IT WITH YOU at the Bay Street Theatre, George Aaronow in GLENGARRY GLEN ROSS at the John Drew Theater, and Coleman in the rollicking Irish black comedy THE LONESOME WEST at the Stephen Talkhouse. Tom is very pleased to be back again with HTC, where he first appeared in the role of Paul Stewart in ISN'T IT ROMANTIC and as Billy Starbuck in THE RAINMAKER. Tom has taught and directed at Southampton College's Young American Writers Program, which encourages and facilitates young people's quests to discover their own unique voices and talents through the art of play writing and the creative collaboration of theater. Tom has been a certified Rolfer for 25 years with practices in NYC and the Hamptons. DENNIS KEELEY (Yvan). I've never felt comfortable boasting about my acting credentials, no matter how proud of them I am. So rather than make this one of those typical and boring actor bios where I go on and on about what films, TV shows, comedy/improv groups and countless NYC stage productions I've been in, or where I've trained and what I've been trained in (blah, blah, blah), I just want to use this opportunity to say that I'm very thankful to Diana, Sarah and everyone at the Hampton Theatre Company for making the new kid feel welcome. After a 10 year hiatus from the stage to venture into other endeavors, it feels great to be jumping back in again, with both feet, playing such an amazing part in such a wonderfully received play. As always, as a way of showing my deep love and appreciation for them, I dedicate this performance to my family in San Diego. Namaste. YASMINA REZA (Playwright) grew up in Paris and began her career as an actress before turning to playwriting. Early plays include CONVERSATIONS AFTER A BURIAL (1987), which won the Molière Award (the French equivalent of the Tony) for Best Play, a translation of Kafka's METAMORPHOSIS for Roman Polanski, WINTER CROSSING, which won the 1990 Molière Award for Best Fringe Production, and THE UNEXPECTED MAN. In 1995, 'ART' premiered in Paris, and moved on to be produced worldwide and translated and performed in over 30 languages, winning the Molière, Olivier and Tony Awards for Best Play. LIFE X 3 followed along with various screenplays, several works of fiction, Hammerklavier and Une Désolation and her recently published work L'Aube le Soir ou la Nuit (Dawn Evening or Night) documenting her year following the campaign of Nicolas Sarkozy. Her most recent play, GOD OF CARNAGE, won the 2009 Tony Award for Best Play. DIANA MARBURY (Director, Producer, Set Decor) has directed many shows for the HTC over the years, but several shows, which are not mentioned in our playbill, were her favorites. They were a series of theater for young audiences. The shows, one hour musicals based on children's fairy tales, were written by our longtime and beloved director, Jane Stanton—CINDERELLA, SLEEPING BEAUTY and PETER AND THE WOLF. There is something very rewarding in introducing young children to living theater. If we can capture a small amount of that fascination and excitement in our adult theater, we have accomplished our task. Diana extends her thanks to all the many collaborators on this production, and especially to her wonderful cast. This one is for you, Peter, and your "Art." JAMES EWING (Set Design) founded the HTC in 1984 and has since appeared in over 20 productions and built numerous sets. Special gratitude has to be expressed to his reliable and skilled production team all listed in the program. And of course to Sarah for her wise guidance and fortitude as we stumble along in these efforts. SEBASTIAN PACZYNSKI (Lighting Designer) first worked with the Hampton Theatre Company when he designed the company's 2003 production of SUMMER AND SMOKE at Guild Hall and has designed all the company's productions since PROOF in 2004 as well as the theater's new lighting system. He has designed lighting for theater, dance and special events in a number of Broadway, Off Broadway, Off Off Broadway and regional venues. He has also worked in film and television as the director of photography. He has designed numerous productions for Guild Hall and for the Hamptons Shakespeare Festival. TERESA LEBRUN (Costume Designer) is the resident costumer for the Hampton Theatre Company and has designed costumes for all the company's recent productions. Teresa has also costumed for Spindletop Productions at Guild Hall. Much love to her boys Josh and Noah. JOHN ZALESKI (Stage Manager). This is John's 23rd production with HTC. He would like to thank Jimmy Ewing for unsticking the dime lodged in his seat belt last July. John would like to dedicate his efforts on 'ART' to his mom Dorothy who passed at Christmas time last month. ROB DOWLING (Lighting & Sound Technician) has done lighting and sound for 19 years at the North Fork Community Theater, Vail-Leavitt Music Hall, Producer's Club (NYC), the Loft Theater at Dowling College and the Southampton Cultural Center. He has also helped Sebastian with lighting set up at Guild Hall, the Ross School, and other local venues. "Many thanks, Sebastian!" This is Rob's fifth season with the Hampton Theatre Company. He is very happy to be part of the show and the company.
Director – DIANA MARBURY Producers – SARAH HUNNEWELL, DIANA MARBURY Set Design – JAMES EWING Set Decor – DIANA MARBURY Lighting Design – SEBASTIAN PACZYNSKI Costume Design – TERESA LEBRUN Stage Manager – JOHN ZALESKI Assistant Stage Manager – JEAN PLITT
Set Construction – JAMES EWING, SEAN MARBURY, TONY CINQUE, SEAMUS NAUGHTON, VINCENT RASULO, DOMINIC SARACENO White Painting – SEBASTIAN MARBURY Lighting & Sound Tech – ROB DOWLING Backstage Crew – CHLOE ROTH Fight Choreography – BILL BURFORD Sound Design – JAMES EWING, SARAH HUNNEWELL, JOE BRONDO Production Graphics –
JOE PALLISTER
Program, Publicity & Box Office – SARAH HUNNEWELL House Manager – JULIA MORGAN ABRAMS Advertising Sales – SARAH HUNNEWELL Production Photographer – TOM KOCHIE Opening Night Party – MICOLE'S
'ART' SIZZLES AND ENTERTAINS IN QUOGUE
by F. Cord Volkmer Southampton Press Run, don't walk, to the next performance of 'ART' at the Quogue Community Hall, presented by the Hampton Theatre Company. Be prepared for a sizzling and thought-provoking experience. The play by the French dramatist, novelist, and actress Yasmina Reza has been translated into more than 30 languages and has won the Molière Award for Best Author, the Olivier Award, and the Tony for Best Play. The English translation is by Christopher Hampton. The two themes of the play, in embryo, are announced by the character Marc in the opening soliloquy: "My friend Serge has bought a painting." And: "Serge is one of my oldest friends." The painting in question is a 4-foot-by-5-foot white painting. If you look carefully, you can see some white diagonal lines over the white background. Marc is scandalized by Serge's purchase, which he refers to as a "piece of white shit." The painting cost Serge 200,000 francs, the equivalent in 1995, when the play was written, of $40,000. Even today that's a lot of money. The two friends have diametrically opposing views. Marc, an aeronautical engineer, played by Andrew Botsford, is a classicist in art and doesn't hesitate to point out that the emperor has no clothes. Serge, played by Tom Gustin, is a successful dermatologist who is eager to be au courant with the latest trends in art, yet who still requires his opinions to be validated by his friends. The less financially successful third member of the cast is Yvan, played by Dennis Keeley, an essentially spineless fellow, who is about to be married and who has no opinion on the matter, but will agree with each friend in turn. The dialogue crackles with electricity and is very witty and very funny (they are not the same things). It has been called a comedy, but Ms. Reza said she prefers to think of it as a "funny tragedy." "To me," she has said, "'ART' is heartbreaking." Tension mounts during the performance, and each player's amour propre suffers deep, almost fatal, wounds. The play might just as easily be called "Friendship." It asks the Big Questions: What is art? What constitutes friendship? Is beauty really in the eye of the beholder? Is it true that there is no arguing about tastes? Must friends have a community of interest, a shared perspective? Can friends be completely honest with each other? Of course, like most Big Questions, these don't necessarily have answers. The dialogue is quite brilliant, but there are elements of slapstick, as well. And there is a choreography of gesture that is delightful to watch. Case in point: such as when Marc and Serge almost come to blows but Ivan, attempting to break up the struggle, receives the only blow that is struck. And there are moments of silence that are as funny and as pregnant with meaning as the dialogue itself, just as rests in music often provide additional thrills in the unfolding of musical texture. At one point, the three men, exhausted and hungry, are silently eating olives. There is a miniature ballet of the hands and arms as they three move from the olive dish to the receptacle for the pits. Mr. Botsford was born for many things. One of them, surely, is to play the part of Marc, the acerbic classicist. He brings to the role a zany intelligence and, finally, a profound thoughtfulness. Mr. Gustin as Serge is the embodiment of wounded pride. He is a master of the sidelong glance and the pregnant pause. And Mr. Keeley's comic meltdown after discussing wedding plans with his mother, stepmother, fiancée, and fiancée's stepmother was a hilarious aria of woe, brilliantly carried off. It elicited spontaneous applause from the audience at its conclusion. I refrain from saying what happened to the "fourth cast member," the white painting. Diana Marbury directs this seamless production. The minimalist set design was by James Ewing and the lighting design, singling out each actor in soliloquy, is by Sebastian Paczynski. Though apartments change, the set remains the same throughout, except for the picture on the wall.
'ART' SIZZLES AND ENTERTAINS IN QUOGUE
by Steve Parks Newsday Some critics questioned whether "Art," the 1998 Tony winner for best play, would stand the test of time. A baker's dozen years later, it's safe to say – after seeing Hampton Theatre Company's crisp new staging – that French playwright Yasmina Reza's first international success ranks as more than an erudite sitcom. "Art" has been much in demand since word got around that Roman Polanski is directing the film version of "God of Carnage," Reza's 2009 best play Tony winner and box-office smash. Stage rights for "Carnage" were withdrawn – Arena Players was forced to cancel last fall – when the cast for the movie was announced: Jodie Foster, Kate Winslet, Matt Dillon and Christoph Waltz. Each of Reza's Tony-winning plays appears to be about specific points of contention – a piece of modern art, a fight at school – but each is driven by underlying hostilities. The three-sided confrontation in "Art" begins with a visual joke. Monochromatic paintings have long sparked debates about whether such Modernist works qualify as art. But an all-white canvas strikes Marc, a classical snob, as absurd. Serge's admission that he paid 200,000 francs ($40,000) for the painting offends his friend. Reluctantly drawn into their snarky exchange is Yvan, who first takes Marc's side, then Serge's. The discussion unravels in childish fits disguised as academic argument. As Serge, the Modernist, Tom Gustin lacerates with his tongue while remaining smugly civil on the surface. As eager-to-please Yvan, Dennis Keeley breaks out of meek character only in his showstopping monologue about run-amok marriage plans. But Serge and Marc are too consumed by vicious verbal attacks to sympathize. Andrew Botsford as Marc, who thought of himself as Serge's mentor in matters of taste, keeps us listening to his rants by virtue of an underlying glimmer of likableness. It's a delicate balance he manages to strike under the keen-eyed direction of Diana Marbury. The minimalist set by Marbury and James Ewing deftly transports us from one friend's apartment to another's through Sebastian Paczynski's lighting schemes and the positioning of a single identifying painting – or an all-but-blank canvas. Is friendship richer than art? We won't give it away, but it's fun to watch the struggle.