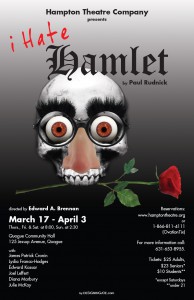 by Paul Rudnick directed by Edward A. Brennan
March 17 – April 3, 2011
An unapologetically silly and often hilarious comedy about a young Hollywood actor dueling with Hamlet, his life and the ghost of John Barrymore.

CAST: Andrew Rally – JAMES PATRICK CRONIN Felicia Dantine – LYDIA FRANCO-HODGES Gary Peter Lefkowitz – EDWARD KASSAR John Barrymore – JOEL LEFFERT Lillian Troy – DIANA MARBURY Deirdre McDavey – JULIE McKAY
JAMES PATRICK CRONIN (Andrew Rally) is thrilled to be back on stage with the HTC. Since playing Malcolm in last season's BEDROOM FARCE, James finished a run with the Pennsylvania Shakespeare Festival playing Claudius and the Ghost in a touring production of HAMLET. He also became a company member with the National Comedy Theatre and has continued to perform with his improv and sketch comedy troupe, The Indicators. His regional stage credits include: THE WINTER'S TALE, BLITHE SPIRIT, ALCESTIS, OEDIPUS THE KING and OUR TOWN. LYDIA FRANCO-HODGES (Felicia Dantine) is delighted to be rejoining the Hampton Theater Company this season. Previous performances with HTC include Heidi in FUDDY MEERS and Annie Dankworth in THE HO– USEKEEPER. Recent stage work includes the last three seasons of Mulford Repertory Theater as Daniel in THE COMPLETE WORKS OF WILLIAM SHAKESPEARE (ABRIDGED) and Kate in SYLVIA. Past stage roles also include Paulina in THE WINTER'S TALE, Lady Macduff in MACBETH, Angela in CHANNELING ANGELA EVERYBODY and the woman in her one woman play HABITAT. Ms. Franco-Hodges holds a MFA from SUNY at Stony Brook where she has taught Acting and Movement for the last seven years. She has been an avid member of the improv troupe Just Say Yes and of The Naked Stage. EDWARD KASSAR (Gary Peter Lefkowitz) played Richard in HTC's production of DESPERATE AFFECTION as well as Mike Talman in WAIT UNTIL DARK, Ricky Roma in GLENGARRY GLEN ROSS, Mike in BREAKING LEGS, Lennie in OF MICE AND MEN, and Limping Man in FUDDY MEERS. Other theatrical credits include THE ZOO STORY, ART, MISERY, HURLYBURLY, GOOSE AND TOMTOM, A STREETCAR NAMED DESIRE, SAME TIME NEXT YEAR, BURIED CHILD, NOT ABOUT NIGHTINGALES, THE NERD, JOE TURNER'S COME AND GONE, THE BALCONY and LA RONDE. Film credits include Unlikely Prophets, Dying for Dollars, Overdrive, Mook, Sushi Bar, Mulligan Farm, Down Clown, Nine Out of Ten, If I Only Knew and Scallop Pond. Thanks to Mom, Dad, Cara, family and friends for their support. JULIE MCKAY (Deirdre McDavey) is thrilled to be playing Deirdre. A graduate of Baldwin-Wallace College Conservatory of Music, Julie has worked regionally with Great Lakes Theatre Festival, The Idaho Shakespeare Festival, and The Cleveland Playhouse. Her most notable acting credits include Viola in TWELFTH NIGHT, Alcestis in ALCESTIS, Candy Starr in ONE FLEW OVER THE CUCKOO'S NEST, Cordelia in FALSETTOLAND, and Rummy Mitchens in MAJOR BARBARA. JOEL LEFFERT (John Barrymore) grew up in Plainview, Long Island but has worked with many wonderful theaters across the country including Yale Rep, Trinity Rep, the Wilma, the Alley and the Shakespeare Theatre in Stratford, CT—as well as here at the HTC as George Hay in MOON OVER BUFFALO. Recent credits include Adolph Freitag in THE LAST NIGHT OF BALLYHOO for the Brown County Playhouse in Indiana, Otto Frank in THE DIARY OF ANNE FRANK at Syracuse Stage and Johnnypatteenmike in THE CRIPPLE OF INISHMAAN at Shadowland Theatre in the Catskills. On tour in Europe he played Salieri in AMADEUS and Scrooge in A CHRISTMAS CAROL. On Broadway, and at the National Theatre in London, he was in the world premiere of Tennessee Williams' NOT ABOUT NIGHTINGALES directed by Trevor Nunn. Off-Broadway, he was in HARD TIMES at The Pearl, THE GARDENS OF FRAU HESS for the Jewish Rep, played the title role in RICHARD III for Salamander Rep and, this season, was Mark Lear, the seriously funny teacher of the synthetic language Ptydepe, in TACT's Theatre Row production of Vaclav Havel's THE MEMORANDUM. TV and Film: Law & Order, Six Degrees, Woody Allen's Deconstructing Harry and the Indie films Green Lights, The Killing Floor and Falling Star. DIANA MARBURY (Lillian Troy, Producer, Set Decor) is pleased to tread the boards with such a talented cast. Her only regret was having to leave Florida before the cold left the northeast. Diana recently directed 'ART', and was last seen in the fall production of RABBIT HOLE as Nat. She is the Artistic Director of the HTC and has worn many hats over the years. She would like to thank all the "behind the scenes" people who make these productions possible. She would particularly like to thank her son Sean for bringing his gifts to the company table. PAUL RUDNICK (Playwright)'s plays include THE NEW CENTURY, REGRETS ONLY, VALHALLA, THE MOST FABULOUS STORY EVER TOLD, I HATE HAMLET and JEFFREY, for which he won an Obie, an Outer Critics Circle Award and the John Gassner Playwrighting Award. His novels are Social Disease and I'll Take It. His screenplays include Addams Family Values, the screen adaptation of JEFFREY and In & Out. EDWARD A. BRENNAN (Director) is happy to make his Hampton Theatre Company directing debut with this great production staff and cast. He has appeared onstage with HTC as Chief Bromden in ONE FLEW OVER THE CUCKOO'S NEST and as Ralph in FROZEN. His favorite professional acting credits include the title roles in PHANTOM and JEKYLL & HYDE, Owen in VOICES IN THE DARK, Ross in VISITING MR. GREEN, Beast in BEAUTY AND THE BEAST, Albin (ZaZa) in LA CAGE AUX FOLLES, Jamie in THE LAST FIVE YEARS, and Archibald in THE SECRET GARDEN. Ed holds a Masters degree in Theater and has directed over 30 productions on Long Island. JAMES EWING (Set Design) founded the HTC in 1984 and has since appeared in over 20 productions and built numerous sets. Special gratitude has to be expressed to his reliable and skilled production team all listed in the program. And of course to Sarah for her wise guidance and fortitude as we stumble along in these efforts. SEBASTIAN PACZYNSKI (Lighting Designer) first worked with the Hampton Theatre Company when he designed the company's 2003 production of SUMMER AND SMOKE at Guild Hall and has designed all the company's productions since PROOF in 2004 as well as the theater's new lighting system. He has designed lighting for theater, dance and special events in a number of Broadway, Off Broadway, Off Off Broadway and regional venues. He has also worked in film and television as the director of photography. He has designed numerous productions for Guild Hall and for the Hamptons Shakespeare Festival. TERESA LEBRUN (Costume Designer) is the resident costumer for the Hampton Theatre Company and has designed costumes for all the company's recent productions. Teresa has also costumed for Spindletop Productions at Guild Hall. Much love to her boys Josh and Noah. JEAN PLITT (Stage Manager). It is a pleasure to work with the talented people who perform or are involved in the production of each show presented by the Hampton Theatre Company. From auditions to opening night, the process of bringing the "page to the stage" requires the creative energies of all involved, and I am very happy to be part of it. Congratulations to the cast and crew of I HATE HAMLET! ROB DOWLING (Lighting & Sound Technician) has done lighting and sound for 19 years at the North Fork Community Theater, Vail-Leavitt Music Hall, Producer's Club (NYC), the Loft Theater at Dowling College and the Southampton Cultural Center. He has also helped Sebastian with lighting set up at Guild Hall, the Ross School, and other local venues. "Many thanks, Sebastian!" This is Rob's fifth season with the Hampton Theatre Company. He is very happy to be part of the show and the company.
Director – EDWARD A. BRENNAN Producers – SARAH HUNNEWELL, DIANA MARBURY Set Design – JAMES EWING Set Decor – DIANA MARBURY Lighting Design – SEBASTIAN PACZYNSKI Costume Design – TERESA LEBRUN Stage Manager – JEAN PLITT
Set Construction – JAMES EWING, SEAN MARBURY, RUSSELL BABIS, TONY CINQUE, ROB DUDLEY, KATHY ILACQUA, BOB KAPLAN, SEAMUS NAUGHTON, VINCENT RASULO, DOMINIC SARACENO Decorative Painting – PAT TONER, TONER PAINTING Lighting & Sound Tech – ROB DOWLING Backstage Crew – CHLOE ROTH Fight Choreography – JOEL LEFFERT Sound Design – KIM SHERMAN, JOE BRONDO Production Graphics –
JOE PALLISTER
Program, Publicity & Box Office – SARAH HUNNEWELL House Manager – JULIA MORGAN ABRAMS Advertising Sales – SARAH HUNNEWELL Production Photographer – TOM KOCHIE Opening Night Party – MICOLE'S
HTC COMES THROUGH ONCE AGAIN
by Lee Davis Southampton Press Once again, the Hampton Theatre Company in Quogue has fortified its reputation for staging meticulously-mounted plays into which its casts can, and do, sink their acting teeth with abandoned relish. Paul Rudnick's 1991 comedy, "I Hate Hamlet," though not exactly an example of a well-made play, has a trove of goofy characters and side-splitting situations to challenge the acting chops of three Equity and three nonprofessional cast members, which director Edward Brennan has spun into a tightly-knit ensemble. All rise to the occasion nobly, with spirited and well-placed comic timing. Mr. Rudnick's plot concerns Andrew Rally, the super-successful star of a television series who, much to his own surprise, has landed the plum role of Hamlet in a Central Park summer production. An excitable real estate agent sells him a loft in Manhattan once inhabited by the great John Barrymore, who has left dramatic, Gothic evidence of his former presence behind (James Ewing's set is a flashy, story-telling evocation). In this apartment, the real estate agent, who just happens to be a medium, conjures up the ghost of Mr. Barrymore. Director Brennan has kept his cast inventively moving at high speed and has drawn sparkling performances from each. Obviously, the star turn is the property of Joel Leffert, who dashingly does Mr. Barrymore with abandon, royalty and style. He strides the stage with the assurance of the master and personifies Barrymore the boor as well as the idol. Required in the first act to be little more than straight man to the antics of Mr. Leffert, James Patrick Cronin is endearing as Mr. Rally, who is frustrated by not only his own tender talent, but the determined chastity of his girlfriend, Deidre McDavey, played with winsome charm by Julie McKay. Mr. Cronin rises to his own in the spectacular, exciting and balletic fencing match between himself and Mr. Leffert, which gleefully climaxes the first act. Lydia Franco-Hodges, as the wacky real estate agent/medium Felicia Dantine, presents an entire encyclopedia of comic muggings and body attitudes. In a side-splittingly hilarious performance, Ms. Franco-Hodges, in the craziest séance imaginable, easily erases from the memory Noel Coward's Madame Arcati, and goes on to cast her comedic skills in her every onstage moment afterward. Edward Kassar raises the volume and goofiness level as the pinhead West Coast producer Gary Peter Lefkowitz, who neither understands Hamlet, nor the stage, nor Mr. Rally's seeming desire to inhabit it. It's a nice comic turn that skewers television values with deadly accuracy. The second act of "I Hate Hamlet" becomes a tender love letter to the stage. One of the loveliest moments is the reminiscence scene between Diana Marbury as Lillian Troy, Mr. Rally's present agent and a former lover of Mr. Barrymore, and the famed actor. It's a gem of touching tenderness in the midst of some very funny fantasy. The production values of this HTC production are outstanding. Teresa LeBrun's costumes are particularly vivid story-tellers, and Sebastian Paczynski's mood-making lighting design heightens the fun. In the end, you'll love this production of "I Hate Hamlet." Guaranteed.
HAMPTON THEATRE DELIVERS "I HATE HAMLET"
by Steve Parks Newsday There was a time not long ago when lightweight TV actors turned to Shakespeare for validation. That was before HBO and even basic cable produced original shows that John Barrymore might kill for. With that bit of dated snobbery in mind, we can see where Andy Rally, star of "L.A. Medical," is coming from in Paul Rudnick's 1991 comedy "I Hate Hamlet." Astutely directed by Edward Brennan for the Hampton Theatre Company, the offstage theater farce becomes a richer experience than I remember. Broadway critics complained that Rudnick's glib humor rarely rose above its one-liners. Not so in this delightfully nuanced resurrection. The title is spoken by James Patrick Cronin's Andy, who's about to decline Joe Papp's invitation to play Hamlet for Shakespeare in the Park. Cronin conveys the insecurity of a star whose success owes more to a camera-friendly face than the method acting he studied. More disconcerting is the woman he's pursuing: She remains a virgin at 29. Deirdre — a flaky romantic as played by Julie McKay — had such a happy childhood, she refuses to spoil it. (Would Charlie Sheen put up with that?) Andy's real estate broker (Lydia Franco-Hodges) and agent (Diana Marbury) double-nag him about Hamlet. The broker shows Andy an apartment where John Barrymore once lived (Tudor haunt by James Ewing and Marbury, eerie lighting by Sebastian Paczynski); the agent confesses her long-ago fling with JB. They're countered by Andy's huckster-producer (sleazy-chic as played by Edward Kassar) who regards TV as superior to theater because "you don't have to pay attention." But it's Barrymore himself who convinces Andy. While the broker fancies herself a medium, her seance has nothing to do with Barrymore's ghost: His spirit is summoned anywhere, anytime an actor assumes the role of the Danish prince. Joel Leffert, who grew up in Plainview, owns the role of Barrymore from the moment he asks, "Am I dead or just incredibly drunk?" His flourishing movements in tights (Teresa Lebrun's costumes) call attention to himself, as we imagine Barrymore would, like a second-nature ham. Though he indulges Barrymore's lush reputation for wine and women, Leffert reserves enough dignity that we're moved by his soliloquy of regret. That, plus Andy's glimmer of brilliance by Cronin, offers moving testimonial to art's connection to life. We suspect Barrymore would approve.