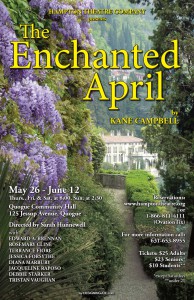 by Kane Campbell directed by Sarah Hunnewell
May 26 – June 12, 2011
A delightful romantic comedy about four very different women who rediscover romance on the Italian Riviera.

CAST: Mrs. Lotty Wilkins – ROSEMARY CLINE Mrs. Rose Arbuthnot – JACQUELINE RAPOSO Clerk – JAZZY SINKOFF Lady Caroline Dester – JESSICA FORSYTHE Thomas Watley Briggs – TRISTAN VAUGHAN Mrs. William Fisher – DIANA MARBURY Francesca – DEBBIE STARKER Mellersh Wilkins – TERRANCE FIORE Frederick Arbuthnot – EDWARD A. BRENNAN
EDWARD A. BRENNAN (Frederick Arbuthnot) played Chief Bromden in last season's production of ONE FLEW OVER THE CUCKOO'S NEST after making his Hampton Theatre Company debut as Ralph in FROZEN. His favorite professional credits include the title roles in PHANTOM and JEKYLL & HYDE, Owen in VOICES IN THE DARK, Ross in VISITING MR. GREEN, Beast in BEAUTY AND THE BEAST, Albin (ZaZa) in LA CAGE AUX FOLLES, Jamie in THE LAST FIVE YEARS, and Archibald in THE SECRET GARDEN. Ed holds a Masters degree in Theater and has directed over 30 productions on Long Island, including the HTC's recent production of I HATE HAMLET. ROSEMARY CLINE (Mrs. Lotty Wilkins) played Candy Starr in last season's production of ONE FLEW OVER THE CUCKOO'S NEST, Charlotte Hay in MOON OVER BUFFALO and many other roles dating back to the beginnings of the HTC. After several years in NYC with various successes on the stage and small screen it is good to be home again where I began. Thanks to Sarah, Jean, our delightful backstage crew and my fellow cast members. My love to Christopher, Cashew and Carter… with a wink to Mom and Dad. TERRANCE FIORE (Mellersh Wilkins) appeared with the HTC as Dr. Spivey in last season's ONE FLEW OVER THE CUCKOO'S NEST and as Larkin in SIX DEGREES OF SEPARATION. Most recently, he played Andrew Jorgenson in OTHER PEOPLE'S MONEY at Center Stage in Southampton. Other appearances include 110 IN THE SHADE with the North Fork Community Theatre, and THE FOREIGNER, MOONLIGHT AND MAGNOLIAS, ALARMS AND EXCURSIONS, SHADOWLANDS, and SHAKESPEARE ON WAR with the Heavenly Rest Players in Manhattan. Thanks to his wife Blair for her love and encouragement. JESSICA FORSYTHE (Lady Caroline Dester) Credits include: Soupy Sue in URINETOWN, Ziegfeld's Favorite in THE WILL ROGERS FOLLIES, Liz in CHICAGO, Scheherazade in BALLERINAS, Hedy La Rue in HOW TO SUCCEED IN BUSINESS WITHOUT REALLY TRYING, Zaneeta in THE MUSIC MAN and Liesl in THE SOUND OF MUSIC. Jessica graduated from NYU's Tisch School of the Arts in 2003. She is a member of Cherub Improv and Albertine Theatre Company. DIANA MARBURY (Mrs. William Fisher, Producer, Set Decor) is pleased to tread the boards with such a talented cast. Diana directed 'ART' this winter, and was seen most recently as Lillian Troy in I HATE HAMLET and as Nat in the fall production of RABBIT HOLE. She is the Artistic Director of the HTC and has worn many hats over the years. She would like to thank all the "behind the scenes" people who make these productions possible. She would particularly like to thank her son Sean for bringing his gifts to the company table. JACQUELINE RAPOSO (Mrs. Rose Arbuthnot) is so pleased to be making her HTC debut! Favorite credits include THE HISTORY OF INVULNERABILITY (Cincinnati Playhouse), Miranda in THE TEMPEST: A MUSICAL (Cherry Lane Theatre), Hermia/Peasblossom in FOOLS IN LOVE (Manhattan Ensemble Theatre), Bird in THIN AIR (StageWorks Hudson & NYC's Women at Work Festival) and Adela in THE HO– USE OF BERNARDA ALBA (Connecticut Repertory Theatre). She has a BFA in Acting from the University of Connecticut and, when she isn't pounding the pavement in NYC, is the Dusty Baker of www.thedustybaker.com. Proud AEA member. Thanks for coming – please say hi! DEBBIE STARKER (Francesca), a newcomer to HTC, has directed and/or appeared in more than 100 stage productions, as well as indie films and commercials. Her favorite acting credits include: Fraulein Schneider in CABARET, Bloody Mary in SOUTH PACIFIC, Mother Superior in NUNSENSE and Mother Miriam Ruth in AGNES OF GOD. Look for Debbie as The Ghost of Christmas Present in Theatre Three's annual production of Charles Dickens' A CHRISTMAS CAROL. In 2000, she founded Deb's Web, a web site/newsletter (www.debsliweb.homestead.com) where one can find out virtually anything about local theater. In 2005, Debbie was honored for "Outstanding Contribution to the LI Theater Community" and was featured in a 4-page article and picture spread in Newsday. TRISTAN VAUGHAN (Thomas Briggs) is thrilled to make his HTC debut! Tristan has relocated to New York from Los Angeles, where he recently starred in the short films Yield and Deadline. Favorite stage roles are Leantio in WOMEN BEWARE WOMEN, (where he met his beautiful wife), Victor in Bernie Weinraub's ABOVE THE FOLD at The Road Theatre Company in LA, and Jed Brown in CHICKAMAUGA by Kieth Szarabajka at Ensemble Studio Theatre Los Angeles. Training: George Washington University's Academy for Classical Acting (MFA); Circle in the Square; RADA. He wishes to thank God, his family, and the wonderful cast and crew of THE ENCHANTED APRIL! SARAH HUNNEWELL (Director/Producer) wears many hats for the company, but is happiest in her directorial one. Favorites include RABBIT HOLE, ONE FLEW OVER THE CUCKOO'S NEST, THE OLDEST LIVING GRADUATE, EVERYTHING IN THE GARDEN, FUDDY MEERS, PROOF, SUMMER AND SMOKE, THE RAINMAKER, and A VIEW FROM THE BRIDGE. Many thanks to her talented cast and crew for bringing this lovely show to life and to our wonderful audience for making our work possible. Thanks, always, to Jimmy for everything. JAMES EWING (Set Design) founded the HTC in 1984 and has since appeared in over 20 productions and built numerous sets. Special gratitude has to be expressed to his reliable and skilled production team all listed in the program. And of course to Sarah for her wise guidance and fortitude as we stumble along in these efforts. SEBASTIAN PACZYNSKI (Lighting Designer) first worked with the Hampton Theatre Company when he designed the company's 2003 production of SUMMER AND SMOKE at Guild Hall and has designed all the company's productions since PROOF in 2004 as well as the theater's new lighting system. He has designed lighting for theater, dance and special events in a number of Broadway, Off Broadway, Off Off Broadway and regional venues. He has also worked in film and television as the director of photography. He has designed numerous productions for Guild Hall and for the Hamptons Shakespeare Festival. TERESA LEBRUN (Costume Designer) is the resident costumer for the Hampton Theatre Company and has designed costumes for all the company's recent productions. Teresa has also costumed for Spindletop Productions at Guild Hall. Much love to her boys Josh and Noah. JEAN PLITT (Stage Manager). It is a pleasure to work with the talented people who perform or are involved in the production of each show presented by the Hampton Theatre Company. From auditions to opening night, the process of bringing the "page to the stage" requires the creative energies of all involved, and I am very happy to be part of it. Congratulations to the cast and crew of THE ENCHANTED APRIL! ROB DOWLING (Lighting & Sound Technician) has done lighting and sound for 19 years at the North Fork Community Theater, Vail-Leavitt Music Hall, Producer's Club (NYC), the Loft Theater at Dowling College and the Southampton Cultural Center. He has also helped Sebastian with lighting set up at Guild Hall, the Ross School, and other local venues. "Many thanks, Sebastian!" This is Rob's fifth season with the Hampton Theatre Company. He is very happy to be part of the show and the company.
Director – SARAH HUNNEWELL Producers – SARAH HUNNEWELL, DIANA MARBURY Set Design – JAMES EWING Set Decor – DIANA MARBURY Lighting Design – SEBASTIAN PACZYNSKI Costume Design – TERESA LEBRUN Stage Managers – JEAN PLITT, EMILY BROSNAN
Set Construction – JAMES EWING, SEAN MARBURY, RUSSELL BABIS, TONY CINQUE, SEAMUS NAUGHTON, VINCENT RASULO, DOMINIC SARACENO Painting – PAT TONER, TONER PAINTING Lighting & Sound Tech – ROB DOWLING Backstage Crew – CHLOE ROTH, JAZZY SINKOFF Sound Design – JOE BRONDO & SARAH HUNNEWELL Production Graphics –
JOE PALLISTER
Program, Publicity & Box Office – SARAH HUNNEWELL House Manager – JULIA MORGAN ABRAMS Advertising Sales – SARAH HUNNEWELL Production Photographer – TOM KOCHIE Opening Night Party – JONESEY'S
"THE ENCHANTED APRIL" GLOWS WITH WARM AUTHENTICITY
by Lee Davis Southampton and East Hampton Press Sarah Hunnewell, the director of the Hampton Theatre Company in Quogue, has done some rewarding searching and come up with the original 1925 script of Kane Campbell's "The Enchanted April." This production, which Ms. Hunnewell brought to the company's stage, fairly glows in its warm authenticity as a gentle and genteel British romantic comedy—the sort that permeated the London and New York stages of the early decades of the 20th century. Nothing surprising occurs to ruffle the surface of this fascinating comedy. What happens, happens because it naturally happens. "The Enchanted April" might be described as the triumph of the inevitable. And yet this unfolding of the tale of four British ladies, who determine to escape the dull predictability of a London winter by renting a small castle on the Italian Riviera for the month of April, is an enchanting realization. These women are fascinating in and of themselves, particularly the oppressive Mrs. William Fisher who, before Italy and April muddle her fixed nature, seems cast in bronze. Diana Marbury carries the role into satisfying, gentle humor. And Jessica Forsythe's compellingly lovely and engrossing portrait of Lady Caroline Dester, an exquisite beauty dusted by sadness and therefore unendingly desirable to any man who enters her orbit, speaks volumes by the mere lift of an eyebrow. Lady Caroline floats through her Italian spring, and, though the entire cast sports the portrait-perfect period costumes of Teresa LeBrun, none are inhabited with more rightness than those of Ms. Forsythe. This is not to say that every single member of the virtually faultless ensemble crafted by Ms. Hunnewell is not deserving of special mention. There's not a single merely adequate performance in the entire evening, from Rosemary Cline's adventurous one to Edward Brennan's stuffy Brit and especially and memorably, the dazzling performance of Debbie Starker, entirely in Italian, whether she's singing or leading her British tourists on a merry chase through the bewildering byways of her native tongue and customs. In fact, "The Enchanted April" is one of the HTC's most meticulously and creatively realized productions within memory. James Ewing and Ms. Marbury's set—which undergoes a magical and applause-arousing transformation from the dreary monochrome of the ladies' lives in London to the riot of color and life in Italy—brought to elegant life by Sebastian Paczynski's lighting design, is heart stopping.
"APRIL" ENCHANTS
by Steve Parks Newsday Director Sarah Hunnewell reached back to 1925 for the original "Enchanted April," revised and revived on Broadway a decade after the 1992 movie version, and now playing at Hampton Theatre Company's stage in Quogue. An unlikely feminist advertises for ladies to share in an Italian villa holiday. Unhappily married Rose (Jacqueline Raposo) and Lotty (Rosemary Cline) are joined by an imperious widow (Diana Marbury), and a beautiful but cold aristocrat (Jessica Forsythe). Lotty needs timeout from her pompous husband (Terrance Fiore) and Rose from her plilandering spouse (Edward Brennan). The irony of this quaintly formal comedy is that the younger women leave the men in their lives behind, including the hot landlord (Tristan Vaughan), only to make them the center of attention. Debbie Starker broadens the humor as the no-English housekeeper. At times pedantic, "April" is worth waiting for the enchantment, which begins with the unfolding of the Riviera villa rendered by set designers James Ewing and Marbury.