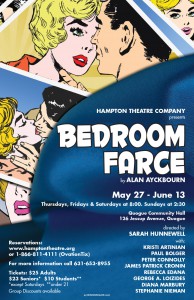 by Alan Ayckbourn directed by Sarah Hunnewell
May 27 – June 13, 2010
Four couples, three bedrooms and a hilarious romp by "Britain's Neil Simon."

CAST: Kate – KRISTI ARTINIAN Nick – PAUL BOLGER Trevor – PETER CONNOLLY Malcolm – JAMES PATRICK CRONIN Jan – REBECCA EDANA Ernest – GEORGE A. LOIZIDES Delia – DIANA MARBURY Susannah – STEPHANIE NIEMAN
KRISTI ARTINIAN
(Kate) made her debut with the Hampton Theatre Company as Sandra in the company's recent production of ONE FLEW OVER THE CUCKOO'S NEST and is excited to back again (with a little more stage time!). NY Credits include: LYSISTRATA, THE BEAUTY QUEEN OF LEENANE, TONGUE OF A BIRD, TOP GIRLS, ROMEO AND JULIET, CLOUD 9. Shakespeare Theater of New Jersey: HENRY VI PART III. London Credits: MACBETH, MUCH ADO ABOUT NOTHING, KING JOHN. Film: Cold Sweat (with William Sadler.) Training: BFA from NYU's Tisch School-Stella Adler Studio, Royal Academy of Dramatic Art. Visit
www.kristiartinian.com
PAUL BOLGER
(Nick) is thrilled to be working with the Hampton Theatre Company again. He was last seen with the company as Howard Bevans in last fall's production of PICNIC and, before that, as Roger in SUMMER AND SMOKE. Paul was a member of The Manhattan Ensemble in NYC, founded and directed by Raymond Marciniak. Favorite roles were the Lady in LA RONDE and the Senator in TIMON OF ATHENS. Other highlights have been working with his brother John in the Willow Cabin Theatre's production of Eugene O'Neill's Sea Plays and being directed by his acting teacher Zina Jasper in 27 WAGONS FULL OF COTTON (Jake) by Tennessee Williams. Paul would like to thank his mom, family and friends for their love and support.
PETER CONNOLLY
(Trevor). Theatre credits include A TASTE OF HONEY (Cherry Lane Theater), SUICIDE, THE MUSICAL (P.S. 122/Joe's Pub), A CHRISTMAS CAROL (Gateway Playhouse), THE SHAPE OF THINGS (Broadhollow Theater), PRIVATE WARS/LONE STAR and A HO– USE DIVIDED (Arena Players), and NOT ABOUT NIGHTINGALES (Southampton Players). Peter would like to send a special thanks to Alexandra Neil for her guidance and inspiration, and to his family for their loving support. Also a special thanks to James Ewing and Sarah Hunnewell, for allowing me the opportunity to work on this fun production.
JAMES PATRICK
CRONIN (Malcolm) recently moved to New York after earning his MFA in Acting from the University of Louisville and his BS in Philosophy and Theatre from East Tennessee State University. James is proud to be the founder and artistic director of a talented, successful comedy troupe called The Indicators. James' most notable acting credits include the roles of Leontes in THE WINTER'S TALE, Charles Condomine in BLITHE SPIRIT and the title role in OEDIPUS THE KING. He has also written several plays and directed productions of Sartre's NO EXIT and Havel's LARGO DESOLATO. James would like to dedicate this performance to his grandma, Anne Kaufman, for her continued love and support.
REBECCA EDANA
(Jan) is thrilled to make her Hampton Theatre debut. She has been in numerous independent films, theater productions, and improv troupes during her career and is proud to have just finished filming Greetings From Bushwick. Her favorite shows include TALK RADIO, HAPPY HOUR and SWEET CHARITY. Rebecca is a graduate of UC Irvine's acting program and currently studies at T. Schreiber Studio in NYC. In her free time Rebecca enjoys playing on her computer and updating her website (www.rebeccaedana.com). She would like to thank her family for their tireless support and endless encouragement.
GEORGE A. LOIZIDES
(Ernest) appeared most recently as Charles Cheswick in ONE FLEW OVER THE CUCKOO'S NEST. He also played George Aaronow in GLENGARRY GLEN ROSS and has directed BUS STOP, THE ODD COUPLE (Female Version), and PICNIC for the company. George has been an actor and director for over 40 years. For 27 years he was Director of Theatre Arts for Ward Melville High School where he directed 81 productions. Other acting credits include Axel in THE NERD, The Stage Manager in OUR TOWN, Dr. Lyman in BUS STOP, and Doc in WEST SIDE STORY. Other directing credits include PRIVATE LIVES, OUR TOWN, THE LARAMIE PROJECT, and several of Shakespeare's plays. Thanks to HTC for the opportunity to work with such a fine company. Thanks to this cast and crew for the fun and the fine work. Thanks to Kathy.
DIANA MARBURY
(Delia, Set Decor, Producer) is pleased to share the stage with this enthusiastic and talented young cast (and George!). She is also happy to bring the Hampton Theatre Company's 25th season to a close. It has been a challenging and rewarding journey to be a part of the growth of this company through so many shows. Thanks to all the gifted people who have shared their many talents, and especially, thanks to our audience for supporting live theater in their community. Enjoy the show!
STEPHANIE NIEMAN
(Susannah) is a recent graduate of Stephens College in Missouri with an BFA in Theatre. She moved to NYC in February all the way from Texas! Yeehaw! Stephanie appeared in the Off Off Broadway production of SEX, RELATIONSHIPS, AND SOMETIMES…LOVE at the 45th Street Theatre and just filmed a commercial for Choice Insurance Agency through Killer Spirit Productions. Some of her favorite college roles were Catherine in PROOF and Alice in CLOSER. Stephanie is delighted to be working with the Hampton Theatre Company for the first time! She thanks Sarah and Jimmy for making this beautiful experience possible.
ALAN AYCKBOURN
(Playwright) has written and produced 72 plays, most originating at the Stephen Joseph Theatre in Scarbo-rough, England, where he is Artistic Director. Among his most successful are ABSURD PERSON SINGULAR (presented by the HTC in 2000), THE NORMAN CONQUESTS trilogy, A SMALL FAMILY BUSINESS, BEDROOM FARCE and WOMAN IN MIND. He is the recipient of numerous awards.
SARAH HUNNEWELL
(Director/Producer) wears many hats for the company, but is happiest in her directorial one. Favorites include ONE FLEW OVER THE CUCKOO'S NEST, THE OLDEST LIVING GRADUATE, EVERYTHING IN THE GARDEN, FUDDY MEERS, PROOF, SUMMER AND SMOKE, THE RAINMAKER, and A VIEW FROM THE BRIDGE. Many thanks to her talented cast and crew for bringing this show to life and to our wonderful audience for making our work possible. As our 25th season draws to a close, Sarah would like to express gratitude for all the wonderful young actors who have joined our ranks over the last several seasons, breathing new life into the company and pointing the way to the next quarter century. Thanks, always, to Jimmy for everything.
JAMES EWING
(Co-Director, Set Design) founded the Hampton Theatre Company in 1984 and has since appeared in over 20 productions and built numerous sets. Special gratitude has to be expressed to Sean Marbury, who like his father before him, really brings these sets to artful and detailed life. I would be lost in these adventures without his reliability, strength and friendship.
SEBASTIAN PACZYNSKI
(Lighting Designer) first worked with the Hampton Theatre Company when he designed the company's 2003 production of SUMMER AND SMOKE at Guild Hall and has designed all the company's productions since PROOF in 2004 as well as the theater's new lighting system. He has designed lighting for theater, dance and special events in a number of Broadway, Off Broadway, Off Off Broadway and regional venues. He has also worked in film and television as the director of photography. He has designed numerous productions for Guild Hall and for the Hamptons Shakespeare Festival.
TERESA LEBRUN
(Costume Designer) is the resident costumer for the Hampton Theatre Company and has designed costumes for all the company's recent productions. Teresa has also costumed for Spindletop Productions at Guild Hall. Much love to her boys Josh and Noah.
JEAN PLITT
(Stage Manager) returned to Westhampton in 1980 and joined this fledgling theater company for its first production, THE DIARY OF ANNE FRANK, in 1985. She was asked to be the stage manager and said, "Okay, I'll do that… but what does the stage manager do?" She's "come a long way, Baby," as they say, and has never looked back. Following an eight year hiatus, she has been backstage again for the past two years and looks forward to many more shows. "Every production creates a new 'family' of actors, crew and volunteers which come together to create vibrant, living theater. There is nothing like it!" Congratulations to the Hampton Theatre Company and to our wonderfully supportive audiences for 25 years of success!
ROB DOWLING
(Lighting & Sound Technician) has done lighting and sound effects for 18 years at the North Fork Community Theater, Vail-Leavitt Music Hall, Producer's Club (NYC), the Loft Theater at Dowling College and the Southampton Cultural Center. He has also helped Sebastian with lighting set up at Guild Hall, the Ross School, and other local venues. "Many thanks, Sebastian!" This is Rob's fourth season with the Hampton Theatre Company. He is very happy to be part of the show and the company.
Director – SARAH HUNNEWELL Co-Director, Set Design – JAMES EWING Producers – SARAH HUNNEWELL, DIANA MARBURY Set Decor and Properties – DIANA MARBURY Lighting Design – SEBASTIAN PACZYNSKI Costume Design – TERESA LEBRUN Stage Manager – JEAN PLITT
Set Construction – JAMES EWING, SEAN MARBURY, RUSSELL BABIS, ROBERT DUDLEY, BOB KAPLAN, GEORGE LOIZIDES, SEAMUS NAUGHTON, CHLOE ROTH Set Painting – PAT TONER, TONER PAINTING Sound Design – SARAH HUNNEWELL Backstage Crew – CHLOE ROTH Lighting & Sound Tech – ROB DOWLING Production Graphics –
JOE PALLISTER
Program, Publicity & Box Office – SARAH HUNNEWELL House Manager – JULIA MORGAN ABRAMS Advertising Sales – SARAH HUNNEWELL, CATHY SCHWARTZ Production Photographer – TOM KOCHIE Opening Night Party MICOLE'S
THREE BEDROOMS FILLED WITH HAPPY HILARITY
by Lee Davis Southampton Press Farce is a devilishly difficult theatrical form to pull off the right way. It demands of its actors and director a fine sense of delicate comic timing, shape and dramatic form, character delineation and relation, and fast forward motion. In control, it becomes a delightful couple of hours of nonstop nonsense. Out of control, it tips over into burlesque, which is amusing, too, but is to farce what a hot dog is to a gourmet meal. Alan Ayckbourn's 1975 "Bedroom Farce," currently being given a smart, mostly wise, partially in control and very funny production by the Hampton Theatre Company, is a strange, delicious animal. Not a true bedroom farce (there's no sex) but, with three bedrooms on stage, it's still a farce in form, and one that demands much of its presenters. First, there is the wild ricocheting from moment to moment and bedroom to bedroom, and directors Sarah Hunnewell and James Ewing, aided and abetted by lighting designer Sebastian Paczynski, set designer James Ewing (wearing another hat), and set decorator Diana Marbury, have delivered a terrific looking production that moves forward at slightly more than the speed of lightning. And its spiffy look is enormously enhanced by Teresa LeBrun's 70s-specific, story-telling costumes. Second, Mr. Ayckbourn throws a curve at his directors and actors by inserting some social comment and some characters that are realized and some that are merely paper tigers and tigresses. Only three of the eight characters have any dimension, and that makes the others, thanks to the playwright, more prone to playing burlesque figures doing shtick than farcical ones inhabiting the plot. The plot, such as it is, involves a trio of couples whose lives are intertwined and made miserable by the marital bomb-throwing of another couple—Trevor and Susannah—who wind up in each of the three bedrooms to extend their self-involvement. Most of the real mayhem occurs in a tiny bedroom owned by the underwritten characters of Kate and Malcolm, played by Kristi Artinian and James Patrick Cronin. Both of these experienced actors begin with excellent control and some very funny byplay. But as the action of the play increases, the two—particularly Mr. Cronin—are forced into over-the-top, high volume burlesque turns. Too bad, because as their opening moments prove, they're both obviously capable of controlled comic delivery. The bedridden and pain-wracked Nick is played most of the time with maximum loudness and minimum sympathy by Paul Bolger, who also shows, in his few moments of relative sanity, an ability to line out a character. When it comes to maximum insanity, Stephanie Nieman, as the supercharged Susannah, half of the battling couple, makes of her role a charming, if elevated exercise. She's so pretty and fragile, you have to sympathize with the wild antics that drive her into more stratospheric heights than believability will allow. Again, when she's allowed to quiet down a bit, she's entirely, goofily beguiling. Trevor, her husband, is played with fenced-in hysteria by Peter Connolly, who had made room for variations in his comic performance, and handles this well. Rebecca Edena, Nick's long suffering wife, Jan, is an island of some sanity, and as such has time to develop a believable character in the process. She plays off Nick's self pity with her own rewarding real pity. The one couple that emerges with impressive comic agility is Ernest and Delia, played with dynamic precision and faultless comic timing by George Loizides and Diana Marbury. He's a put-upon man who actually conveys his diminishment without tipping over into burlesque. Ms. Marbury does likewise, handling her multiple responses and demands with a trim balance. There's great grace in their comedy and real character portrayal, and their times in the light are the best times of the evening. Still, for all of the noise, the HTC production is in sum a merry, slapstick summer trifle, filled with enough happy hilarity to keep audiences airily entertained.
AN AYCKBOURN EXERCISE IN LIBIDO TORMENT WEARS OUT THREE BEDS IN QUOGUE
by Steve Parks Newsday In "Bedroom Farce" (1975), director Sarah Hunnewell, with illuminating assists from lighting designer Sebastian Paczynski, switches among calamities in three parallel boudoir universes: Parental couple Ernest (George Loizides) and Delia (Diana Marbury) are going out to dinner; hysterical Malcolm (James Patrick Cronin) and solicitous Kate (Kristi Artinian) are throwing a party, while self-assured Jan (Rebecca Edana) prepares to attend the party without whining hubby Nick (Paul Bolger), who's nursing a bad back. Jan's solo appearance at the party sets off her ex, Trevor (Ernest and Delia's son, skittishly played by Peter Connolly), and his insecure wife, Susannah (a loopy Stephanie Nieman), whose row ends in Trevor kissing Jan. If it all sounds very junior high school, well, it is. The only adult factor is that everyone seems capable of navigating between bedrooms without a chaperone. Whether it's Neil Simon funny or not may depend on whether you get the Britishisms. Since I find sardines funnier than herring, I think I got it. In any case, eating fish in bed can be surprisingly amusing – if not Chekhovian.