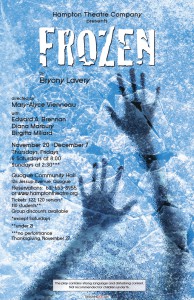 by Bryony Lavery directed by Mary-Alyce Vienneau
November 20 – December 7, 2008
The gripping portrait of a mother frozen by the disappearance and murder of her young daughter, the serial killer responsible for the killing, and the psychiatrist who brings them together.

CAST: Agnetha – BIRGITTA MILLARD Nancy – DIANA MARBURY Ralph – EDWARD A. BRENNAN Guard – ROLAND HOFFMAN
EDWARD A. BRENNAN (Ralph) is pleased to make his Hampton Theatre Company debut in this powerful play, surrounded by a terrific cast and production team. His favorite professional credits include the title roles in PHANTOM and JEKYLL & HYDE, Owen in VOICES IN THE DARK, Ross in VISITING MR. GREEN, Beast in BEAUTY AND THE BEAST, Albin (ZaZa) in LA CAGE AUX FOLLES, Jamie in THE LAST FIVE YEARS, and Archibald in THE SECRET GARDEN. Ed holds a Masters Degree in Theatre and has directed over 30 productions on Long Island. Proud member of Actors' Equity Association. DIANA MARBURY (Nancy, Producer) began her stage life as Emily in OUR TOWN and was bitten by the theater bug. She studied under Sandy Meisner and Stella Adler in Hollywood while pursuing a television and film career. She left that behind when she came to New York to study with Uta Hagen. After many summers of stock productions and living out of suitcases, she found her home with the HTC and has had a wonderful run. Currently the company's Artistic Director, this is her 41st stage roll here, but she has worked in many capacities with the company over the last 24 years. She has been producer, director, set dresser, prop mistress, refreshment provider and all around whatever person. Favorite roles include Anastasia in ANASTASIA, Lenny in CRIMES OF THE HEART, Bunny in HO– USE OF BLUE LEAVES, Sara in THE SISTERS ROSENSWEIG, Regina in THE LITTLE FOXES, Agnes in A DELICATE BALANCE, and the Duchess in LÉOCADIA. Diana remembers our beloved founder, June Ewing, with gratitude as we approach our 25th year. BIRGITTA MILLARD (Agnetha) made her Hampton Theatre Company debut as Angie in BREAKING LEGS and is thrilled to be back for this brilliant and challenging play. Theater credits include ALMOST MAINE, THE LOVE LIST (Justine), JERRY FINNEGAN'S SISTER (Beth), FIRST NIGHT (Meredith), ACCOMPLICE (Janet/Erika), A STREETCAR NAMED DESIRE (Blanche), THE VAGINA MONOLOGUES, BURN THIS (Anna), LAST OF THE RED HOT LOVERS (Elaine), CAT ON A HOT TIN ROOF (Maggie), NOISES OFF (Belinda), LEND ME A TENOR (Diana), DEATHTRAP (Myra), BAREFOOT IN THE PARK (Corey), THERE GOES THE BRIDE (Polly), THE MURDER GAME (June), BEDROOMS, THE GOD OF ISAAC (Shelly), THE ODD COUPLE (Female Version) (Florence), DON'T DRINK THE WATER (Susan), IMAGINARY INVALID (Angelique), TWELFTH NIGHT (Olivia) and SEE HOW THEY RUN (Ida). Thank you for supporting Long Island theater. And deepest thanks to GUS and Bill. ROLAND HOFFMAN (Guard) makes his stage debut with this production and is thrilled to be a part of it. BRYONY LAVERY (Playwright)'s plays include BAG, ORIGIN OF THE SPECIES, WITCHCRAZE, WICKED, KITCHEN MATTERS, NOTHING COMPARES TO YOU, OPHELIA, A WEDDING STORY and the award-winning HER ACHING HEART. Her extensive work for BBC Radio includes "No Joan of Arc," "Velma and Therese," "The Smell of Him," "Requiem," and a number of adaptations. She is also the author of the biography "Tallulah Bankhead" and "The Woman Writer's Handbook." FROZEN won Britain's TMA Best Play Award in 1998 and was nominated for the Tony Award for Best Play. MARY-ALYCE VIENNEAU (Director) appeared last season as Sister Aloysius Beauvier in the HTC's fall production of DOUBT and as Claudine Hampton in THE OLDEST LIVING GRADUATE. A graduate of The American Academy of Dramatic Arts, she struggled with an acting career in NY for 13 years and then decided to pursue her other love—gardening. She has been running her business—Mary's Garden—on the East End for 20 years but has found plenty of time to continue honing her acting skills with most of the companies out here. Mary's additional HTC appearances include THE PRICE, THE HEIRESS, THE RAINMAKER, STEEL MAGNOLIAS, A VIEW FROM THE BRIDGE, ABSURD PERSON SINGULAR and SOCIAL SECURITY. PETER MARBURY (Set Design) is the resident set designer of the Hampton Theatre Company, working closely with James Ewing to provide the many varied environments that have crossed our stage over more than twenty years. Peter is a sculptor by trade. In his down time, he fashions himself a yogi, African drummer and gardener, not necessarily in that order. SEBASTIAN PACZYNSKI (Lighting Designer) first worked with the Hampton Theatre Company when he designed the company's 2003 production of SUMMER AND SMOKE at Guild Hall and has designed all the company's productions since PROOF in 2004 as well as the new theater's lighting system. He has designed lighting for theater, dance and special events in a number of Broadway, Off Broadway, Off Off Broadway and regional venues. He has also worked in film and television as the director of photography. He designed the 75th Anniversary Season for Guild Hall where he has also designed RED HERRING, THE CHERRY ORCHARD, DRACULA, JULIUS CAESAR, MACBETH, HAMLET and MOBY DICK. Other local credits include THE COMEDY OF ERRORS, THE TAMING OF THE SHREW, A WINTER'S TALE and TWELFTH NIGHT for the Hamptons Shakespeare Festival. TERESA LEBRUN (Costume Designer) has been with the Hampton Theatre Company on and off for over twenty years. She designed costumes for the company's recent productions of MOON OVER BUFFALO, THE OLDEST LIVING GRADUATE, GLENGARRY GLEN ROSS, DOUBT, LÉOCADIA, BREAKING LEG and EVERYTHING IN THE GARDEN. Teresa has also costumed for Spindletop Productions at Guild Hall. Much love to her boys Josh and Noah. LEONARDO LIGUORI (Stage Manager) made his debut with HTC as Stage Manager of LÉOCADIA, moved on to work with Broadhollow Theater and looks forward to returning "home" with this production. In addition to stage managing, Leonardo has produced, written, directed and acted in films and traveled North America as a professional fireworks supervisor and photographer. JEAN PLITT (Assistant Stage Manager). After a protracted absence, it is a great pleasure to be backstage with the Hampton Theatre Company again. Theater is a collaborative, creative effort. I have always enjoyed experiencing the growth of any production from the time a play is chosen, through auditions, rehearsals, opening night and, yes, that final performance when we strike the set amidst feelings of loss and wondering what we'll all do with our new-found free time! Thank you, Mary-Alyce and the cast of FROZEN for a wonderful experience. ROB DOWLING (Lighting Technician) has done lighting and sound effects for 17 years at the North Fork Community Theater, Vail-Leavitt Music Hall, Producer's Club (NYC), the Loft Theater at Dowling College and the Southampton Cultural Center. This is Rob's third season with the Hampton Theatre Company. He is very happy to be part of the show and the company. RACHEL LUCAS (Sound Technician). This is Rachel's fifth production with the Hampton Theatre Company. She was the Assistant Stage Manager for LÉOCADIA and Stage Manager for DOUBT as well as crew for several other productions in Quogue. She is a student at Westhampton Beach High School and hopes to study theater after she graduates. Rachel is very happy to work on this show. SARAH HUNNEWELL (Producer) wears many hats for the HTC under the all-purpose umbrella of Executive Director. She is happy to welcome two new directors to the HTC roster this season, Mary-Alyce Vienneau with this production and George Loizides who directed our recent production of BUS STOP. She is also happy to welcome Jean Plitt back into the fold after too long an absence. She is looking forward to donning her directorial hat once again in the spring with SIX DEGREES OF SEPARATION.
Director – MARY-ALYCE VIENNEAU Producers – SARAH HUNNEWELL & DIANA MARBURY Set Designer – PETER MARBURY Lighting Designer – SEBASTIAN PACZYNSKI Technical Director – JAMES EWING Costume Designer – TERESA LEBRUN Stage Manager – LEONARDO LIGUORI Assistant Stage Manager – JEAN PLITT
Set Construction – JAMES EWING, PETER MARBURY, RUSSELL BABIS, BOB KAPLAN, GEORGE LOIZIDES, SEAMUS NAUGHTON Lighting Tech – ROB DOWLING Sound Design – BOB KAPLAN Sound Tech – RACHEL LUCAS Backstage Crew – BRET TUCKER Production Graphics –
JOE PALLISTER
Program, Publicity & Box Office – SARAH HUNNEWELL House Manager – JULIA MORGAN ABRAMS Advertising Sales – SARAH HUNNEWELL, CATHY SCHWARTZ, DIANA MARBURY, BART RAFFAELE, PEGGY THORNE Production Photographer – TOM KOCHIE
BEAUTIFULLY CONCEIVED, PURE THEATER IN 'FROZEN'
by Lee Davis Southampton Press, November 24 It is not difficult to divine the reasons for the gap of six years, from its London premiere in 1998 to its New York opening in 2004, for Bryony Lavery's magnificently written but almost unrelievedly grim play, "Frozen," with its oceans-deep treatment of the persistence of rage and grief and the need for forgiveness. Nor is it difficult to imagine that the Hampton Theatre Company would choose two plays in two seasons that deal with the subject of forgiveness—"Doubt" last year, and the current, riveting production of "Frozen." There's a flood of forgiveness necessary for all of us to give and receive in today's world, considering the rage that has beset it in the last couple of decades. "Frozen" is not exactly light entertainment fare, but it is, above all, beautifully conceived, pure theater. Small wonder again that when it made the trip uptown from the 13th Street Theatre to Circle in the Square that it was nominated for four Tonys and won one for Brian F. O'Byrne for his multifaceted portrayal of Ralph, the serial killer-pedophile. A spare and bleak but ultimately provocative play, "Frozen" considers the melting process that each of its three principal characters must undergo to reach toward the warming heat of forgiveness, after the assault and murder of the 10-year-old daughter of one of them. There is furniture but no scenery per se on stage (though in the HTC production, projected shadows by Peter and Diana Marbury frame the action effectively). This spareness allows for a smooth transition between locales and times, managed in Quogue with sleek yet evocative forward motion by director Mary-Alyce Vienneau. These transitions and isolations are further created, underlined and enhanced by Sebastian Paczynski's dramatic, moody and arresting lighting design—actually a fifth character on stage—and served well by the as always right-on costumes of Teresa Lebrun. What is left after the removal of tangible scenery is the essence of true theater—"A platform and a passion or two," in Chekhov's words. And so, any production of this play demands virtuoso, profound acting. This it overwhelmingly gets in the current HTC production. Though the acting is not of a uniform level, it's never less than beautifully realized—a tribute to the work of the actors and their director. Mary-Alyce Vienneau makes an auspicious debut as a director. Moving her actors with ease through their telling moments on stage and leading them in the exploration of the many interiors of these characters is no mean feat. And though her decision to soften the closing moments of the work is at variance with the New York production, it is understandable in the context of a revival in Quogue. The wordless and very necessary fourth character of the play, the mute shadow of a prison guard, is handled with aplomb and precision in Quogue by Roland Hoffman. The subsidiary, less than completely written character of Agnetha, the psychiatrist who comes to London 25 years after a series of crimes to complete her thesis is rendered with understanding and skill by Birgitta Millard. The subject of the thesis: An argument that even murderous pedophilia has at its roots a mental illness rather than a personality defect dedicated toward horrible and grisly ends. Ms. Millard is an affecting presence, but her performance on opening night had not yet bridged the gap between her two personalities—one the cool, frozen in place but penetrating psychiatrist/interviewer and the other the emotional maelstrom of a rejected and confused woman. In an extension of the main metaphor of the play, the playwright even has her coming from Iceland. Director Mary-Alyce Vienneau and Ms. Millard have shaped this portion of her personality to a fine point. But the interplay and symbiosis with her more passionate, confused self has not yet been mixed, and thus she more often than not emerges as two separate people. Another week of living the role should eliminate this, and by this weekend, all will be well. Diana Marbury, as Nancy, the mother of the assaulted and murdered child, is giving the performance of her career so far. Her mid-country British accent is unerringly in place, and she has taken on the cloak of her character completely and seamlessly. The only thing missing from her portrayal—and this may be a production decision, and not the actress's—is the ice of the frozen-in-place affect that would be the predictable reaction to the horribly unspeakable act committed upon her child. She is, throughout the play, a chatty woman with a nice sense of humor. Through this interpretation, her advancing bitterness is softened, thus softening her character, and this makes the gradual melting of her frozen self less credible, particularly in the closing scenes. But, again, this might have been a production decision, to soften the play somewhat for popular audiences. All told, Ms. Marbury's performance is a constantly absorbing one. No such restraints have been placed upon the virtuoso, powerhouse of a performance of Edward A. Brennan, as Ralph, the murderer. Mr. Brennan plunges full-bodied into the character, coming up dripping with truth, and all of it done to a pounding effect. Every word, every body motion, every involuntary tic is absolutely in place to reveal the many levels present in the character as the playwright meant him horrible, animalistic, and yet in some part of him there is room for sympathy and the acceptance of forgiveness. Every cubit of this is conveyed in this extraordinary performance. It's the kind of acting job that theatergoers rarely get to experience and be touched by, and alone is worth more than the price of admission. Altogether, this is a first-rate production, with superior acting to deliver it. It goes beyond entertainment and into a moving theatrical experience—not always pleasant, but nevertheless important, and purely available only in theater with live actors performing to live audiences.
"FROZEN" AT HAMPTON THEATRE COMPANY
by Steve Parks Newsday, November 28, 2008 The Hampton Theatre Company set by Peter and Diana Marbury suggests a glacier. But Bryony Lavery's 2004 Tony- nominated drama "Frozen" has nothing to do with ice caps. Rather, it's the icy emotional lives of three characters linked by a horrific crime that gives the work its title. So it's appropriate that we're introduced to the characters through a series of monologues. Locked within their isolated selves, they rarely interact with each other in Act I. First, we meet the one with the least invested in the crime. Agnetha, tightly wound but quivering inside, as played by Birgitta Millard, is an American traveling to London to research her thesis: "Serial Killing: A Forgivable Act?" Agnetha is tormented by the death of a married colleague who also was her lover. Among Agnetha's research subjects is Ralph, a handyman so removed from his feelings that he treats his criminal history of raping and murdering little girls as a hobby. One victim, 10-year-old Rhona, never made it to her grandmother's house down the street. Her body was found years later. Rhona's mother, Nancy, portrayed by Diana Marbury with deep-in-denial detachment, hasn't allowed herself to feel anything since. By the second act, 20 years have elapsed. Nancy wants to meet the monster. Agnetha discourages her, but, determined to regain her life, Nancy persists. The prison meeting is arranged. Is Ralph's crime forgivable? Edward Brennan, artistic director of a rival company, Airport Playhouse, challenges whatever notions we may have about pedophile serial killers with a focused and unwavering statement of humanity, however deviant it may be. Ralph's only regret? That killing little girls is illegal. Brennan somehow makes Ralph real – not a monster at all. He could be anyone's damaged friend, brother, son. He might be any of us under unluckier circumstances. Making her directorial debut, Mary-Alyce Vienneau and her disciplined cast manage to thaw "Frozen"'s emotional landscape.