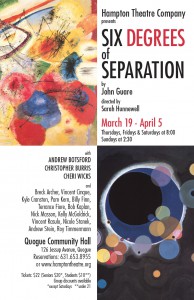 by John Guare directed by Sarah Hunnewell
March 19 – April 5, 2009
Bonfire of the Vanities
writ large, about the true story of a 1983 Park Avenue confidence scheme. A fast-paced, comic and moving piece about the thin threads of chance that connect us all.

CAST: Ouisa – CHERI WICKS Flan – ANDREW BOTSFORD Geoffrey – KYLE CRANSTON Paul – CHRISTOPHER BURRIS Hustler – VINCENT RASULO Kitty – PAM KERN Larkin – TERRANCE FIORE Detective/Cop/Doorman – BILLY PATERSON Tess – NICOLE STANEK Woody – LUKE NILSSON Ben – VINCENT CINQUE Trent – ANDREW STEIN Rick – NICHOLAS MASSON Elizabeth – KELLY McGOLDRICK Dr. Fine – BOB KAPLAN Doug – BILLY FINN
ANDREW BOTSFORD (Flan) is a veteran of more than 30 Hampton Theatre Company productions since 1985. He appeared most recently as Dr. Lyman in BUS STOP. Favorite shows include GLENGARRY GLEN ROSS, EVERYTHING IN THE GARDEN, THE FOREIGNER, ORPHANS, NOISES OFF, THE DINING ROOM, SYLVIA, SOCIAL SECURITY and RUMORS. A resident of Quogue, Andrew is a member of the Hampton Theatre Company board of directors and the associate editor of The Press Newspaper Group, which publishes The Southampton Press Eastern and Western editions, The East Hampton Press, and The Press of Manorville and The Moriches. "I would like to dedicate my performance in this production to the memory of our dearest friend, Peter Marbury, whose spirit as an artist, as a theater artist, and as a beautiful man is part of the molecular structure of everything that the Hampton Theatre Company has ever done and will ever do." CHRISTOPHER BURRIS (Paul). Regional theater: Oregon Shakespeare Festival (IDIOT'S DELIGHT, THE WINTER'S TALE, PLAYBOY OF THE WEST INDIES), North Shore Music Theatre (ROMEO AND JULIET), La Jolla Playhouse (BLOOD WEDDING, SHERIDAN). New York: New York Theatre Workshop (HELEN'S HEART, NEIGHBORS Workshops); Phare Play (ARCADIA); Women's Project (365 Days/365 Plays, THE FEIGN'D COURTESANS Workshop); 2006 Estrogenius Festival (CAVE KREWE); NYC Fringe Festival (BANG! BANG! BANG!, MANKYNDE, CARESSES); Resonance Ensemble (THE LOWER DEPTHS, TIME TO BURN); Shadowland Theatre (LOBBY HERO); First Look Theatre Company (FIVE WISHES, BROKE, DAUGHTERLESS DREAMS). TV: "Damage Control," "The Guiding Light," "As the World Turns." Film: "Indelible," "Say Hi to Bangkok," "Shook," "Bank it Like Lebron." www.christopherburris.com VINCENT CINQUE (Ben) is ecstatic to be a part of the cast. This is his first show with the Hampton Theatre Company and he loves every minute of it. Vincent has been in productions of LES MISÉRABLES, TITANIC and LOST IN YONKERS at Westhampton Beach High School and WEIRD HAM: A Series of One-Act Plays with Royal Productions. He would like to thank his family and the cast and crew of SIX DEGREES OF SEPARATION. KYLE CRANSTON (Geoffrey) returns to the HTC stage following his debut with company as Richard in FUDDY MEERS. A California native, he graduated from the UCLA School of Theater, Film and Television, and worked in feature films, commercials, and TV. Stage appearances include TWO GENTLEMEN OF VERONA, 70 GIRLS 70, DAMN YANKEES, HOPSCOTCH and THE NIGHT OF THE IGUANA. A spiritual pursuit brought Kyle to upstate New York where he lived on an Ashram for several years. He now lives in the Hamptons were he enjoys being active in local theater. Kyle thanks Divya, Nikolai and his family and friends on both coasts for their love. PEACE. BILLY FINN (Doug) made his Hampton Theatre Company debut as Roger in EVERYTHING IN THE GARDEN. A junior at Westhampton Beach High School, he has appeared as John Hale in THE CRUCIBLE, the bellhop in LEND ME A TENOR, Charles Clarke in TITANIC, and Paul in the NYU student film "Lucrecia." Billy adores every aspect of the theater and hopes to major in it in college. He wants to thank his family and friends for their constant support and Sarah Hunnewell for this opportunity. TERRANCE FIORE (Larkin) is delighted to be making his debut with HTC, and to be in such professional and distinguished company. An advertising industry veteran and currently a professor of marketing at the Fashion Institute of Technology, Terry has been performing in front of non-theatrical audiences for many years. Several years ago he joined Heavenly Rest Players in Manhattan, where he has appeared in THE FOREIGNER, MOONLIGHT AND MAGNOLIAS, ALARMS AND EXCURSIONS, SHADOWLANDS, SHAKESPEARE ON WAR, and dramatic readings of "A Child's Christmas in Wales" and "A Christmas Memory." Thanks to his wife Blair for first spotting HTC's audition announcement in Dan's Papers two years ago. BOB KAPLAN (Dr. Fine) last appeared on the HTC stage as Solomon in THE PRICE. Other shows include EARLY ONE EVENING AT THE RAINBOW BAR AND GRILL, I HATE HAMLET, LAUGHTER ON THE 23RD FLOOR and THE HEIDI CHRONICLES. He directed the company's recent production of WAIT UNTIL DARK and, last season, GLENGARRY GLEN ROSS. He also works with the Teeny Awards, a program that supports high school theater by presenting awards each year to deserving students. Thanks to his wife Betsy for being his most insightful critic and for continuing to understand his need to be involved in theater. PAM KERN (Kitty) is delighted to make her Hampton Theatre Company debut (after a ten year acting hiatus). She received her B.A. in Theatre Arts and English & American Literature from Brown University and an M.F.A. in Acting from the University of Virginia. Favorite roles include Amalia in SHE LOVES ME, Lenny in CRIMES OF THE HEART, Rizzo in GREASE and the Nanny and the Principal in BABY WITH THE BATHWATER. Pam's favorite productions are her two sons Richard (7) and Matthew (4). NICHOLAS MASSON (Rick) is thrilled to be making his HTC debut. Roles in regional and touring productions include: Bob Cratchit in A CHRISTMAS CAROL (NTC), Harold Nichols in THE FULL MONTY (Roxy Regional), the Baker in a concert staging of INTO THE WOODS (Alaska) and Mercutio in ROMEO AND JULIET (Hudson Valley Shakespeare). NYC roles include Mark Young and Man in OFFICE HOURS at the Beckmann and Laertes and Orlando with Queens Shakespeare. He received his BA from The College of Santa Fe, where he played Dr. Fine in this play. With love for the cows, Mom, Joe and the back row! KELLY MCGOLDRICK (Elizabeth) is thrilled to be making her debut with the Hampton Theatre Company and to be back on stage! She graduated from Rider University in Lawrenceville, NJ where she played Pearl in THE PRISONER OF SECOND AVENUE and served as stage manager for SPUNK, THE WILD PARTY, and, ironically, SIX DEGREES OF SEPARATION. Also, she served as assistant stage manager for Florida Studio Theatre's productions of GOLDA'S BALCONY, THE LIEUTENANT OF INISHMORE, THE FULA FROM AMERICA, and MEASURE FOR PLEASURE. She would like to thank Sarah, the wonderful cast and crew, and her family, friends, and Steve for all their love and support. LUKE NILSSON (Woody) is thrilled to be playing Woody in SIX DEGREES OF SEPARATION. He has appeared recently in TITANIC (Hitchens) and LOST IN YONKERS (Eddie) and is now in rehearsal for JANE EYRE, all at Westhampton Beach High School. Luke would like to thank his family for their constant support and Sarah for this great opportunity. BILLY PATERSON (Doorman, Detective, Policeman) has been an actor for more than 25 years and has been on stage in Los Angeles, New York City and most of the East End theaters. Billy last appeared with the HTC as Carl in BUS STOP and is happy to be back with this very professional and distinguished company. VINCENT RASULO (Hustler) is happy to make his stage debut with the Hampton Theatre Company in this production. NICOLE STANEK (Tess) is very excited to be in her first production with the Hampton Theatre Company with such an outstanding cast. She is a sophomore at Westhampton Beach High School. She has performed in THE CAVE: A ONE-ACT PLAY at the Gateway Playhouse, where she attends classes, and TITANIC: THE MUSICAL at the high school. Nicole has also been part of multiple productions in summer acting camps at the Westhampton Beach Performing Arts Center. Thanks to all her family for the love and encouragement. ANDREW STEIN (Trent) is a 20 year old musician and actor living in Southampton. Favorite shows he has appeared in include MERRILY WE ROLL ALONG, THE COMEDY OF ERRORS and THE FANTASTICKS, in which he learned to appreciate silence as The Mute. When not acting or singing, he can usually be found composing music in his home studio. Major thanks and kudos to Sophie, Amanda, Alesia, Dan, Brett and Joe. He may not be related to all of them, but they're all his family, and he couldn't do any of this without their help. CHERI WICKS (Ouisa), a native of Montana, is thrilled to be playing Ouisa and working with the Hampton Theatre Company once again! Favorite New York theater roles include: Claire in FUDDY MEERS, Mercy in GREYHOUNDS, Agnes in THE SHADOW BOX, Estelle in NO EXIT, Queen Catherine in HENRY VI, part III, and Olivia in TWELFTH NIGHT. Television credits include: "Sex and the City," "The Sopranos," "One Life To Live," "Guiding Light," "Law & Order," and a variety of commercials. Always immeasurable gratitude to her husband, John Shaw, her family, friends and teachers for their love and support. www.cheriwicks.com JOHN GUARE (Playwright) decided to become a playwright at age 11 after he and a friend presented a couple of garage plays during their summer vacation. His first produced play was THEATRE GIRL in 1959. In addition to SIX DEGREES OF SEPARATION, which received award-winning productions at Lincoln Center in 1990 and in London in 1993 and was made into a feature film, his best known works include HO– USE OF BLUE LEAVES (1971) (produced by the Hampton Theatre Company in 1990), FOUR BABOONS ADORING THE SUN (1992), LANDSCAPE OF THE BODY (1977), MARCO POLO SINGS A SOLO (1977) and BOSOMS AND NEGLECT (1979). Other plays include LYDIE BREEZE (1982), GARDENIA (1982), WOMEN AND WATER (1990), LAKE HOLLYWOOD (1999), CHAUCER IN ROME (2001), and A FEW STOUT INDIVIDUALS (2002). He has also created several musicals and adaptations and worked in both film and television. SARAH HUNNEWELL (Director/Producer) is the Hampton Theatre Company's Executive Director, loosely translated as Jill-of-all-trades. She is happy to be back practicing the trade she loves best and with this terrific play and cast. Previous favorite directorial forays include last season's THE OLDEST LIVING GRADUATE, EVERYTHING IN THE GARDEN, FUDDY MEERS, PROOF, SUMMER AND SMOKE, THE RAINMAKER and A VIEW FROM THE BRIDGE. Belated congratulations to John Zaleski on his 100 years in the theater oops, 100 shows! Many thanks to all the cast and crew for making this show such a pleasure and, particularly, to Jimmy, for being her greatest support. Sarah dedicates this show to the memory of our beloved and much missed friend, Peter Marbury. JAMES EWING (Set Design) founded the Hampton Theatre Company in 1984 and has since appeared in over twenty productions and built and, along with Peter Marbury, designed numerous sets. He will miss his dear friend Peter beyond measure. SEBASTIAN PACZYNSKI (Lighting Designer) first worked with the Hampton Theatre Company when he designed the company's 2003 production of SUMMER AND SMOKE at Guild Hall and has designed all the company's productions since PROOF in 2004 as well as the new theater's lighting system. He has designed lighting for theater, dance and special events in a number of Broadway, Off Broadway, Off Off Broadway and regional venues. He has also worked in film and television as the director of photography. He designed the 75th Anniversary Season for Guild Hall where he has also designed RED HERRING, THE CHERRY ORCHARD, DRACULA, JULIUS CAESAR, MACBETH, HAMLET and MOBY DICK. Other local credits include THE COMEDY OF ERRORS, THE TAMING OF THE SHREW, A WINTER'S TALE and TWELFTH NIGHT for the Hamptons Shakespeare Festival. TERESA LEBRUN (Costume Designer) is the resident costumer for the Hampton Theatre Company as designed costumes for all the company's recent productions. Teresa has also costumed for Spindletop Productions at Guild Hall. Much love to her boys Josh and Noah. JOHN ZALESKI (Stage Manager). "…And on the days that followed, I listened to his words. I strained to understand him, I chased his thoughts like birds…" ("Secret Journey" by The Police)—in memory of Peter Marbury. JEAN PLITT (Assistant Stage Manager). Theater is more than what you see from out front in the audience. Backstage there is a different kind of theater. Our colleague, Peter Marbury, was always there with a quiet word, a steady hand and the patience to take a difficult set design problem to a wonderful resolution. He was a friend and an inspiration. His creative talent helped the Hampton Theatre Company shine. From concept to opening night, Peter worked his magic behind the scenes and will be sorely missed by us all. ROB DOWLING (Lighting & Sound Technician) has done lighting and sound effects for 17 years at the North Fork Community Theater, Vail-Leavitt Music Hall, Producer's Club (NYC), the Loft Theater at Dowling College and the Southampton Cultural Center. This is Rob's third season with the Hampton Theatre Company. He is very happy to be part of the show and the company.
Director/Producer – SARAH HUNNEWELL Set Designer/Technical Director – JAMES EWING Lighting Designer – SEBASTIAN PACZYNSKI Costume Designer – TERESA LEBRUN Set Decor & Properties – SARAH HUNNEWELL Stage Manager – JOHN ZALESKI Assistant Stage Manager – JEAN PLITT
Set Construction – JAMES EWING, SEAN MARBURY, RUSSELL BABIS, BOB KAPLAN, GEORGE LOIZIDES, SEAMUS NAUGHTON Decorative Set Painting – KATHY ILACQUA Lighting & Sound Tech – ROB DOWLING Sound Design – SARAH HUNNEWELL, ANDREW STEIN Production Graphics –
JOE PALLISTER
Program, Publicity & Box Office – SARAH HUNNEWELL House Manager – JULIA MORGAN ABRAMS Advertising Sales – SARAH HUNNEWELL, CATHY SCHWARTZ Production Photographer – TOM KOCHIE Opening Night Party – STONE CREEK INN
SEEKING DEEPER CONNECTIONS TO SELVES AND OTHERS IN 'SIX DEGREES'
by Lee Davis Southampton – March 24, 2009 The continually courageous Hampton Theatre Company is at it again, focusing its fearlessness this time on John Guare's riveting and award-winning 1990 play, "Six Degrees of Separation," which became a film in 1993. The theory of six degrees of separation states that if a person is one step away from each person he or she knows and two steps away from each person who is known by each of the people that person knows, then everyone is, on average, six steps away from everyone else on earth—a theory made to order for, among others, advocates of a One World movement, and the writers of the television series "Lost." No one has managed to explore this idea better or more cogently and entertainingly than Mr. Guare, who creates a con game played on a wealthy Manhattan couple and their friends. His purpose: to examine some of the difficulties and consequences of living in the theory. Basing his play upon the actual, well reported 1983 case of a young black man who entered the lives of Upper East Side Manhattan couples by masquerading as Sydney Poitier's son and a friend of the couples' Ivy League children, he launches his play brightly as a brittle drawing room comedy played out at a small, dull gathering at which an art dealer and his wife try to convince a patron to spend $2 million on a deal to obtain a Cézanne painting and sell it to well-heeled Japanese buyers. And so it goes until the entrance of Paul, a friend of the couple's two children at Harvard (he says) and (he also says) the son of Sydney Poitier, whom he was in town to visit when he was mugged. Now the play turns wildly satirical, as Paul talks proudly of much, including his father's coming film version of "Cats," and offers the couple and their guest roles in the film. But then, satire softens and contradiction and duality take over, along with some 12 other characters who possess—to varying degrees—both, which are obstacles to human connectedness. The keys to ridding themselves of these obstacles and discovering their true selves and their kinship to others might be found, it seems, in the imaginations that none of them uses. For, what is, rather than what seems (such as being Sydney Poitier's son), is a true way of life. Mr. Guare takes off into the illuminated and illuminating sky of imagination, against which he plays the difficulty of finding the right six people in the world to relate to. From here forward, until Ouisa, Flan's wife, undergoes the beginnings of an epiphany, the brightness turns decidedly darker and more tragic, and becomes a journey that has earned the play, from some critics, the somewhat self-contradictory sobriquet "tragicomedy." Quite a challenge for professionals. For nonprofessionals, it can be nothing less than dangerously daunting. In Quogue, director Sarah Hunnewell and a stage full of game actors manage to maintain the spirit of the play without plunging very far into its subterranean and stratospheric abundance of human facets. Too often, other people we encounter are reduced to "mere anecdotes," as Ouisa observes, and in this production, at least on opening night, many of the characters remained mostly anecdotal. This may diminish but doesn't distract from the brilliant surface qualities of the play, which are abundant and dazzling and well handled by the HTC. And, admittedly, some of the characters are written satirically—especially the children, played by a quartet of local youngsters. The collegiate characters totally overshadow the adults as they take over the stage like a collective, substantive cyclone in their two hilarious and revealing scenes. Cheers to the life and energy and talent of Nicole Stanek, Luke Nilsson, Vincent Cinque, and Billy Finn. Ms. Hunnewell has graciously mined their talents, and they provide glowing moments that light and enlighten the evening. The rest of the cast is nothing less than skillful. But of the primary principals, only one emerges as a character rather than a symbol. In the no small parts department, Kyle Cranston is an apt and entertaining art financier who suffers some collateral damage from the con man's intrusion. Billy Paterson, who is becoming the HTC's all-purpose cop, detective and doorman, does all three with his usual rewarding definition. In three roles of fleeting reinforcement, Bob Kaplan is effective as an obstetrician who observes that "there are two sides to every story," which the playwright transforms into an understatement; and Pam Kern and Terrance Fiore put in a brief, believable appearance as parents and foils of one of the teenagers. Nicholas Masson as Rick, a would-be actor from Utah, uncovers the potential for despair in connecting, and delivers it touchingly and tragically. And Kelly McGoldrick adds a passionate urgency to the role of Elizabeth, Rick's girlfriend. In the role of Trent, the Harvard student who picks up Paul on the street in Boston and trains him to talk like a member of polite society, Andrew Stein is importantly effective. Christopher Burris, an Equity actor, seemed, on opening night, to be skating on the surface of the character of Paul. The delivery of this intriguing person was thus robbed of the disturbing depths that are there, waiting for exploration during the production's run. Andrew Botsford, as Flan, the walking and empty cliché of an art dealer, is handed a role that begins in satire and ends just about where it begins, and he does his usual job of maintaining focused believability. What was missing on opening night was the dimension of the sadness of self-destroying sameness. His scenes with his wife Oiusa, particularly in the opening drawing room comedy scenes, are fine, but hardly human. The same may be said for the playing of Cheri Wicks as Ouisa. The role is pivotal and vital, but for most of the play on opening night, Ms. Wicks was more skilled actress reading lines than a rounded human being. However, in the central scene at the end of the play, when, finally confronted with the agonized cries for love and comprehension of Paul, she begins to turn inward and discover her true identity and the way she can begin to live thoroughly, Ms. Wicks gains depth and the glow of a flesh and blood and spirited human being. It's a beautiful, treasurable moment and performance, which Ms. Wicks will undoubtedly, along with Mr. Botsford, expand during the production's run. Sarah Hunnewell's direction is firm and knowledgeable, but hampered by the twin problems of the limited space and dimension of the set in Quogue. Her decision to place the many asides and soliloquies of the play straight downstage with no defining movement may also be a problem caused by the space, but it reduces the characters' humanity somewhat—a humanity that Ms. Hunnewell will certainly explore with her cast this week. James Ewing's set is basically usable—two red couches, a suspended Kandinsky that revolves to show its two aspects, and two door frames. Sebastian Paczynski's lighting design is a marvel, now isolating, now emphasizing, now gathering the action and the people, now heightening the individual happenings of this intriguing play. Teresa Lebrun's costumes are, as always, absolutely right. The Hampton Theatre company's courage and vision in bringing one of the masterpieces of modern American theater to us should be vigorously applauded. If its production has some flaws, they're subsumed in the vigorous, spirit-expanding experience of witnessing an honest presentation of a truly great play.