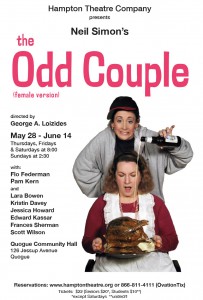 by Neil Simon directed by George Loizides
May 28 – June 14, 2009
Simon's classic comedy about the carefree slob and the neurotic neat freak with the gender roles reversed.

CAST: Sylvie – KRISTIN DAVEY Mickey – FRANCES SHERMAN Renée – LARA BOWEN Vera – JESSICA HOWARD Olive Madison – FLO FEDERMAN Florence Unger – PAM KERN Manolo Costazuela – EDWARD KASSAR Jesus Costazuela – SCOTT WILSON
LARA BOWEN (Renée) is excited to participate in her first Hampton Theatre Company production. Recent acting credits include Playcrafters productions of THE NERD, PLAZA SUITE, and THE MAN WHO CAME TO DINNER. Lara returns to acting after many years behind the scenes. She directed at risk youth's in educational theater presentations for their peers when she coordinated Pride for Youth's Peer Ed program, and then the Nassau County HIV Bureau STOMP program. Lara attended the B.F.A. program at the SUNY Purchase acting conservatory, and then received her M.S.W. from SUNY Stony Brook. KRISTIN DAVEY (Sylvie) is so happy to be making her debut with the Hampton Theatre Company and is honored to be a part of such a talented cast. Kristin is a graduate of the Musical Theater Program at the American Musical and Dramatic Academy in New York City. Some past roles include: Miss Marmelstein in I CAN GET IT FOR YOU WHOLESALE, Ellie in LEADER OF THE PACK, Viola in TWELFTH NIGHT, and Sally in LIPS TOGETHER, TEETH APART. Tons of love to her ever-growing family and (of course) to Peter. FLO FEDERMAN (Olive) is having fun in this inaugural performance with the Hampton Theatre Company. She's no stranger to Neil Simon, having performed in BILOXI BLUES (Daisy Hannigan), PLAZA SUITE (Muriel Tate), LAST OF THE RED HOT LOVERS (Jeanette), and THEY'RE PLAYING OUR SONG. Other favorites include BUS STOP (Cherie), CRIMES OF THE HEART (Meg), TWELFTH NIGHT (Olivia), PRELUDE TO A KISS (Leah), THE OWL AND THE PUSSYCAT (Doris), INTO THE WOODS (Florinda), THE NERD (Tansy), BERMUDA AVENUE TRIANGLE (Rita), and WORKING (Amanda). In another life she was half of the Rick and Flo Morning Show on B-103 Radio and can sometimes be heard on WKJY-FM. Thanks to my friend George for the opportunity and, as ever, love to Boo. JESSICA HOWARD (Vera) is so happy to be returning to the stage with HTC, especially with such a wonderful cast. Previous HTC productions include: THE OLDEST LIVING GRADUATE (Martha Ann Sickenger), STEEL MAGNOLIAS (Annelle), AH, WILDERNESS (Muriel), and THE CRUCIBLE. Other favorite roles include Portia in JULIUS CAESAR, Ophelia in HAMLET and the mistress in EVITA. She has also appeared as one of the Howard Sisters, a singing trio. Love you guys! Much love to Seamus, and thanks to Mama, an inspiration. Hey Nanny Nanny! EDWARD KASSAR (Manolo Costazuela) played Mike Talman in the HTC's recent production of WAIT UNTIL DARK as well as Ricky Roma in GLENGARRY GLEN ROSS, Mike in BREAKING LEGS, Lennie in OF MICE AND MEN and Limping Man in FUDDY MEERS. Other theatrical credits include THE ZOO STORY, ART, MISERY, HURLYBURLY, GOOSE AND TOMTOM, A STREETCAR NAMED DESIRE, SAME TIME NEXT YEAR, I HATE HAMLET, BURIED CHILD, NOT ABOUT NIGHTINGALES, THE NERD, JOE TURNER'S COME AND GONE, THE BALCONY and LA RONDE. Film credits include "Unlikely Prophets," "Dying for Dollars," "Overdrive," "Mook," "Sushi Bar," "Mulligan Farm," "Down Clown," "Nine Out of Ten," "If I Only Knew" and "Scallop Pond." Thanks to Mom, Dad, Cara, family and friends for their support. PAM KERN (Florence) is delighted to make her second appearance with the Hampton Theatre Company this season (she played Kitty in SIX DEGREES OF SEPARATION), after a ten year acting hiatus. She received her B.A. in Theatre Arts and English & American Literature from Brown University and an M.F.A. in Acting from the University of Virginia. Favorite roles include Amalia in SHE LOVES ME, Lenny in CRIMES OF THE HEART, Rizzo in GREASE and the Nanny and the Principal in BABY WITH THE BATHWATER. Pam's favorite productions are her two sons Richard (7) and Matthew (4). She would like to thank her husband and best friend, John, for his understanding, encouragement and patience. FRANCES SHERMAN (Mickey) is happy to be playing with the cast and crew of THE ODD COUPLE this spring, and excited to be in uniform. She last appeared in Quogue in THE TALE OF THE ALLERGIST'S WIFE, and has professional credits that span all media over lots and lots of years. Without the active support of the folks in her world, indulging the acting bug wouldn't be possible. For Michael and Jeff-143. Special thanks to Chief, Coach, and Cmentmixer, for all you do. For the friends who have shown up, she'll see you at the usual 10-20 after the show. Over and out. SCOTT WILSON (Jesus Costazuela) happened upon a great group of people at a perfect time and couldn't be happier. He started with Lansing Community College's Theatre and Dance program. His career has spanned Shakespeare, Greek comedy, Mark Twain, original dance and theater works with more fun stuff tossed in. He last appeared as Kyle in the original Shelter Island Players production of MURDER BY MISTAKE. Scott has been a DJ on WEHM (92.9 and 96.9 FM) on Sunday afternoons for the last 10 years. All my Love to Rebecca, Leo, and JOE. "I know you're watching." NEIL SIMON (Playwright) is the author of over 30 plays, many of them Broadway comedy hits. Among them are RUMORS (presented by the HTC in both 1992 and 2002), BAREFOOT IN THE PARK, PLAZA SUITE, BROADWAY BOUND, LOST IN YONKERS (Tony Award and Pulitzer Prize), THE SUNSHINE BOYS, CALIFORNIA SUITE, BILOXI BLUES (Tony Award), CHAPTER TWO and LAUGHTER ON THE 23rd FLOOR. He has also adapted many of his plays for the screen and written numerous original screenplays including "The Out-of-Towners," "The Heartbreak Kid," "Murder by Death," and "The Goodbye Girl." GEORGE A. LOIZIDES (Director) made his Hampton Theatre Company directorial debut with last fall's production of BUS STOP and appeared with the company for the first time as George Aaronow last winter in GLENGARRY GLEN ROSS. He is a member of the HTC board of directors. George has been an actor and director for 40 years. For 27 years, he was Director of Theatre Arts for Ward Melville High School where he directed 81 productions. He attended HB Studio in NYC where he studied acting and directing. Other recent acting credits include Axel in THE NERD, the Stage Manager in OUR TOWN, Dr. Lyman in BUS STOP, and Doc in WEST SIDE STORY. Other directing credits include PRIVATE LIVES, OUR TOWN, THE LARAMIE PROJECT, and several of Shakespeare's plays. Thanks to HTC for the opportunity to work with this fine company. Special thanks to his muse, Kathy, for everything else. SEAN MARBURY (Set Design). Designing the set for THE ODD COUPLE, Sean Marbury is proud to continue in the tradition of his father, Peter J. Marbury, whose love and rhapsodic creative spirit seemed to embed in whatever he touched. Special thanks to the HTC for its heartfelt support during these challenging times for our family. MARY-ALYCE VIENNEAU (Set Decor, Properties) dressed the set for the company's productions of THE OLDEST LIVING GRADUATE and MOON OVER BUFFALO and has appeared in numerous productions including last fall's production of BUS STOP and last season's DOUBT. When not in the theater, she runs her business, Mary's Garden. SEBASTIAN PACZYNSKI (Lighting Designer) first worked with the Hampton Theatre Company when he designed the company's 2003 production of SUMMER AND SMOKE at Guild Hall and has designed all the company's productions since PROOF in 2004 as well as the new theater's lighting system. He has designed lighting for theater, dance and special events in a number of Broadway, Off Broadway, Off Off Broadway and regional venues. He has also worked in film and television as the director of photography. He has designed numerous productions for Guild Hall and for the Hamptons Shakespeare Festival. TERESA LEBRUN (Costume Designer) is the resident costumer for the Hampton Theatre Company as designed costumes for all the company's recent productions. Teresa has also costumed for Spindletop Productions at Guild Hall. Much love to her boys Josh and Noah. JOHN ZALESKI (Stage Manager). This odd play marks John's 21st production with the Hampton Theatre Company, and his 102nd production overall. John is a member of the Hampton Theatre Company board of directors, where one of his duties is to bring the guns to the meetings. He would like to extend his heartfelt love to Diana in memory of Peter Marbury. Peace. JEAN PLITT (Assistant Stage Manager). Theater is more than what you see from out front in the audience. Backstage there is a different kind of theater…the broken zipper that needs to be fixed, the missing prop, quick thinking when a line or a cue is missed that can affect a sound or light cue, making sure the show goes up on time and that set changes go smoothly, and the myriad details involved in each performance. I look forward to many more productions with HTC and the call, "PLACES!" ROB DOWLING (Lighting & Sound Technician) has done lighting and sound effects for 17 years at the North Fork Community Theater, Vail-Leavitt Music Hall, Producer's Club (NYC), the Loft Theater at Dowling College and the Southampton Cultural Center. This is Rob's third season with the Hampton Theatre Company. He is very happy to be part of the show and the company.
Director – GEORGE A. LOIZIDES Set Designer – SEAN MARBURY Technical Director – JAMES EWING Set Decor – MARY-ALYCE VIENNEAU Lighting Designer – SEBASTIAN PACZYNSKI Costume Designer – TERESA LEBRUN Production Stage Manager – JOHN ZALESKI Rehearsal/Assistant Stage Manager – JEAN PLITT
Set Construction – JAMES EWING, SEAN MARBURY, RUSSELL BABIS, BOB KAPLAN, SETH KAPLAN, GEORGE LOIZIDES, SEAMUS NAUGHTON, VINCENT RASULO Properties – JEAN PLITT, MARY-ALYCE VIENNEAU Backstage Crew – VINCENT RASULO Lighting & Sound Tech – ROB DOWLING Sound Design – BOB KAPLAN, PAM KERN, GEORGE LOIZIDES Dialect Coach – JOHN KERN Production Graphics –
JOE PALLISTER
Program, Publicity & Box Office – SARAH HUNNEWELL House Manager – JULIA MORGAN ABRAMS Advertising Sales – SARAH HUNNEWELL, CATHY SCHWARTZ Production Photographer – TOM KOCHIE Opening Night Party – STONE CREEK INN
VERBAL FISTICUFFS MORE OF A SLAP FIGHT IN FEMALE 'ODD COUPLE'
by Lee Davis Southampton Press – June 2, 2009 Well, it's intriguing. And sometimes funny. In fact, the audience at last Saturday night's performance laughed often and heartily at the Hampton Theatre Company production of Neil Simon's 1985 female version of his 1968 money mountain, "The Odd Couple." But for this reviewer, the verbal fisticuffs between the mismatched Oscar and Felix don't make the trip to Olive and Florence without losing quite a bit of their punch. The opening poker game in the male version, with its cigar smoke and whiskey, loses something in the translation into a gathering of Trivial Pursuit players with one smoker and, I think, diet soda. The confrontations between O and F become shrill rather than bombastic, and the cleaning up of one woman's apartment by another woman has somehow less comic effect than the transformation from clutter to class in men's quarters. And finally, the culminating hysteria in the plot seems to lose some of its edge (if not its high pitch) when given over to the expression of women rather than men. Well, the rewrite was the playwright's conceit when he agreed to recast the original into a suitable gender transfer, 20 years after his original and some years after he'd paid off several mortgages and bought several million dollars worth of properties from the incomes generated by the original, a movie version, a TV version, a TV series, and an animated cartoon version. And so, when the Broadway version opened in the 1980s, the producers wisely starred two bombshells, Rita Moreno and Sally Struthers, as the leads. To be fair and positive, Mr. Simon also changed the roles of the two upstairs British Pigeon sisters into two gleefully written Spanish brothers, Manolo and Jesus Costazuela—a couple of satirically comic characters who are as sure-fire hysterical as Mr. Simon probably partially wrote when he was a member of Sid Caesar's stable of comic writers for "Your Show of Shows." The two wacky brothers bolster the second act of the redone "Odd Couple" mightily. And to be equally fair, the current HTC cast is game and likable. Frances Sherman, Lara Bowen, Jessica Howard, and a very convincing and engaging Kristin Davey are the Trivial Pursuers, and carry their weight lightly. As the Costalueza brothers, Edward Kassar and Scott Wilson are belly-laugh hilarious. Given some of the best comic lines of the play, they deliver them with high-energy electricity. Costumed and acting as burlesque Spaniards, they infuse the proceedings with fire and life, and are missed when they exit. As the two fighters for their disparate lifestyles, Flo Federman and Pam Kern are interesting, carrying their roles of Olive Madison and Florence Unger, respectively, with convincing energy. It's not their fault that the plot forces them into somewhat annoying shrillness, and they convey the obligatory happy ending with real warmth. George A. Loizides's direction is brisk and bright. Sean Marbury's set has his own touch and is substantial and detailed and as right as the sets his late father, Peter Marbury, created as a trademark of the Hampton Theatre Company productions for 23 years. It is altogether fitting that there will be a memorial service for Peter Marbury at the Quogue Community Hall on Saturday, June 6, at noon. Teresa Lebrun's costumes are attractive, and Sebastian Paczynki's lighting is enhancing.