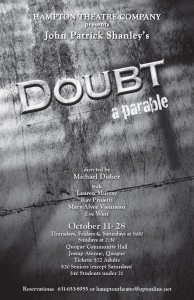 by John Patrick Shanley directed by Michael Disher
October 11 – 28, 2007
A gripping story about the dangers of moral certainty in the wake of suspicions, and subsequent allegations, regarding a priest's relationship with a young student.
CAST:
Father Brendan Flynn –
JOE PALLISTER
Sister Aloysius Beauvier – MARY-ALYCE VIENNEAU
Sister James – LAUREN MURRAY
Mrs. Muller – EVE WEST
LAUREN MURRAY (Sister James) is a native of Brookhaven who has been living and working in NYC since her graduation from The New York Conservatory for Performing Arts. She has performed in numerous theatrical, commercial, print and film productions over the past few years. Recently, Lauren studied with Alec Baldwin and Michael Disher at their Summer Intensive in East Hampton. She is an active member of The Committed Theater Company and Working Man's Clothes in NYC. Thank you to Michael Disher, Hampton Theatre Company and the amazing cast for this incredible experience. A special thanks to Thomas G. Waites, Michaela Mihut and my family for all their support.
JOE PALLISTER
(Father Brendan Flynn) recently appeared with Minerva Scelza in BRILLIANT TRACES. Other credits include Stanley in A STREET CAR NAMED DESIRE and John Buchanan Jr. in SUMMER AND SMOKE, both with the Hampton Theatre Company, as well as various comedy sketches on Late Night with Conan O'Brien. Joe extends a warm thank you to his mother Mary and to his lovely Minerva for their love and support! Visit:
joepallister.com
MARY-ALICE VIENNEAU
(Sister Aloysius Beauvier) has been acting most of her life. A graduate of The American Academy of Dramatic Arts, she struggled with an acting career in NY for 13 years and then decided to pursue her other love – gardening. She has been running her business – Mary's Garden – on the East End for 20 years but has found plenty of time to continue honing her acting skills with most of the companies out here. With HTC she has appeared in THE PRICE, THE HEIRESS, THE RAINMAKER, STEEL MAGNOLIAS, A VIEW FROM THE BRIDGE, ABSURD PERSON SINGULAR and SOCIAL SECURITY, among others.
EVE WEST
(Mrs. Muller) is originally from NYC where she pursued an acting career before moving to the East End to follow her other passion, teaching children, which she has done at Once Upon A Daycare since 1997. She has also taught in the Bay Street Theatre Young Playwrights Program and performed on the Bay Street stage in A COFFIN IN EGYPT, in SAG HARBOR FOLKS and in the 1999 Play Reading Series. Eve's most challenging role to date was that of Ariel in the Dark Horse Production of THE TEMPEST at the John Drew Theater. In addition to her stage work, Eve has appeared in commercials, on television ("Law and Order" and "All My Children") and in feature films ("The Good Shepherd" and "Across the Universe"). Eve is happy to work again with Michael Disher.
JOHN PATRICK SHANLEY
(Playwright) hails from the Bronx where he was educated by the Irish Christian Brothers and the Sisters of Charity. His personal biography states: "He was thrown out of St. Helena's kindergarten. He was banned from St. Anthony's hot lunch program for life. He was expelled from Cardinal Spellman High School. He was placed on academic probation by New York University and instructed to appear before a tribunal if he wished to return. [He did and graduated.] When asked why he had been treated in this way by all these institutions, he burst into tears and said he had no idea. Then he went in the United States Marine Corps. He did fine. He's still doing okay." Shanley's plays include DANNY AND THE DEEP BLUE SEA, SAVAGE IN LIMBO, ITALIAN AMERICAN RECONCILIATION, WOMEN OF MANHATTAN, FOUR DOGS AND A BONE, PSYCHOPATHIA SEXUALIS, DOUBT (which won the Pulitzer Prize for Drama and Tony Award for Best Play in 2005) and DEFIANCE. Shanley is also the author of a number of screenplays including that for the 1987 film, "Moonstruck," which won the Academy Award. In 2004 Shanley was inducted into the Bronx Walk of Fame.
MICHAEL DISHER
(Director) is best known on Long Island for his many years of teaching and directing at Southampton College and Avram Theater. As Avram Theater's director, he helmed no less than 40 productions and produced and staged events that included play readings by John Guare, Chris Durang, Edwin Meyer and Roger Rosenblatt with Dianne Wiest, Mercedes Ruehl, Jane Pauley, Kathleen Turner, Roy Scheider, Matt McGrath and Elaine Stritch, evenings with Alec Baldwin, Alan Alda and Mel Brooks and Anne Bancroft and six years of professional acting classes with Alec Baldwin. Mr. Disher has directed, designed and/or choreographed over 150 productions throughout his nearly 30 years in the theatre. Mr. Disher has taught and directed thousands of students and actors nationally and will continue his teaching and coaching this fall in Manhattan and on the East End of Long Island.
SARAH HUNNEWELL
(Producer) wears many hats for the HTC under the all-purpose umbrella of Executive Director. She is pleased to welcome Michael Disher to the company for the first time with this production and would like to thank Ann Marie Carr for her extraordinary generosity to the HTC, particularly for once again hosting our wonderful summer benefit.
PETER MARBURY
(Set Designer) is the resident set designer of the Hampton Theatre Company, working closely with James Ewing to provide the many varied environments that have crossed our stage over more than twenty years. Peter is a sculptor by trade. In his down time, he fashions himself a yogi, African drummer and gardener, not necessarily in that order.
SEBASTIAN PACZYNSKI
(Lighting Designer) designed SUMMER AND SMOKE, PROOF, NIGHT WATCH, PAINTING CHURCHES, THE PRICE, FUDDY MEERS, THE TALE OF THE ALLERGIST'S WIFE, EVERYTHING IN THE GARDEN, BREAKING LEGS and LÉOCADIA for the Hampton Theatre Company as well as the new theater's lighting system. He has designed lighting for theater, dance and special events in a number of Broadway, Off Broadway, Off Off Broadway and regional venues. He has also worked in film and television as the director of photography. Most recently, he designed the 75th Anniversary Season for Guild Hall where he has also designed RED HERRING, THE CHERRY ORCHARD, DRACULA, JULIUS CAESAR, MACBETH, HAMLET and MOBY DICK. Other local credits include THE COMEDY OF ERRORS, THE TAMING OF THE SHREW, A WINTER'S TALE and TWELFTH NIGHT for the Hamptons Shakespeare Festival.
TERESA LEBRUN
(Costume Designer) is happy to be back costuming for HTC. Teresa has been with the Hampton Theatre Company on and off for over twenty years. She designed costumes for the company's recent productions of LÉOCADIA, BREAKING LEGS and EVERYTHING IN THE GARDEN as well as THE HO– USE OF BLUE LEAVES, THE FOREIGNER, RUMORS, OF MICE AND MEN, SUMMER AND SMOKE, DEATH DEFYING ACTS, PROOF and THE TALE OF THE ALLERGIST'S WIFE. Teresa has also costumed THE NERD, DRACULA and RED HERRING for Spindletop Productions at Guild Hall. Much love to her boys Josh and Noah.
RACHEL LUCAS
(Stage Manager). This is Rachel's second production with the Hampton Theatre Company. She was the ASM for the company's spring production of LÉOCADIA. A sophomore at WHB High School, Rachel was also stage manager for Royal Productions Ltd.'s PROJECTS WITH CHILDREN USING SAWS and the technical director for MERLEO SCENES IN THE PARK. She was light board operator for the High School productions of LES MISÉRABLES and THE CRUCIBLE and assistant stage manager for THE SOUND OF MUSIC. Rachel also played the role of assistant director in Beckett's CATASTROPHE. Thanks to the cast and crew for helping her learn about the profession that she hopes to pursue.
BRET TUCKER
(Assistant Stage Manager). This is Bret's second show with the Hampton Theatre Company, having worked backstage last spring on LÉOCADIA. He has acted in shows with the Quogue Junior Theater Troupe such as SMOKEY JOE'S CAFE and 42ND STREET. Bret hopes one day to act or direct professionaly. He wishes to thank Rachel Lucas, Sarah Hunnewell and Michael Disher for this great opertunity.
ROB DOWLING
(Lighting & Sound Technician) has worked lighting and sound for over 15 years at North Fork Community Theater in Mattituck, Vail-Leavitt Music Hall in Riverhead, Producer's Club in Manhattan and The Loft Theater at Dowling College in Oakdale. He was set designer and ran lighting for HOMEFRONT which first showed at Southampton Historical Museum in 2004. This is Rob's fifth show with the Hampton Theatre Company and he is very happy to be part of it. Both the show and the company. "Enjoy the show!"
Director – MICHAEL DISHER
Producers – SARAH HUNNEWELL & DIANA MARBURY
Set Designer – PETER MARBURY
Lighting Designer – SEBASTIAN PACZYNSKI
Costume Designer – TERESA LEBRUN
Set Decorator – DIANA MARBURY
Stage Manager – RACHEL LUCAS
Assistant Stage Manager – BRET TUCKER

Backage Crew – ANDRW STEIN
Set Construction – JAMES EWING, PETER MARBURY, RUSSELL BABIS, MARK COELHO, TREEWOLF WEST
Sound & Lighting Tech – ROB DOWLING
Production Graphics –
JOE PALLISTER
Program, Publicity & Box Office – SARAH HUNNEWELL
Opening Night Party – STONE CREEK INN
NO 'DOUBT' ABOUT PLAY'S POWER
by Lee Davis Southampton Press

Well, the Hampton Theatre Company has done it again, chipping in marble its reputation as the most successfully adventurous community theater company in this part of the world.

I've been entertained, exhilarated, and enriched by this high quality company in the past. But never, until its current, riveting and astonishing production of John Patrick Shanley's powerful parable, "Doubt," have I been so moved that I didn't dare leave my seat for a good three or four minutes after the last curtain call. It has that much power and that much depth of emotion.

So, if you want to see local actors at the absolute peak of their powers, digging deeply into the characters they portray, if you want to see theater as it should be but rarely is, and if you aren't afraid of being shaken to your bones by the experience, I urge you to see this production now.

"Doubt" is a play that, after a deceptively leisurely beginning, grabs you by the throat and never lets you go for a second of the remainder of its brief 90-minute, intermissionless, running time. As a true parable, it examines the conflict between surmise and truth and the shattering and life altering effects this conflict can have upon not only the surmiser and the subject of the surmise, but upon the world around them. For this latter group, we've invented the glib and heartless expression collateral damage to describe civilian casualties in a war, and the term is apt here.

"Doubt" buries both the glibness and the unfeeling impersonal flavor of the phrase with heartrending insight. And that's only part of what it embraces. It shines a revealing light upon justice, faith, fairness, emotional and intellectual honesty, the rigidity of righteousness, the perniciousness of perception without responsibility, the march of time, and a few hundred more important aspects of the human psyche and soul that deserve far more attention than we often, maybe customarily, give them.

It not only accomplishes all of this, it does it in the context of a fiery, gripping stage experience that has all the excitement of a good thriller and the emotional power of a deeply human drama. And so, it's prime meat that can easily be spoiled by imperceptive directors and casual actors.

But the Hampton Theatre Company has long since proven to be a spoil-free zone. And in this case, it has outreached even the conquests it has made in the past. This is a resplendent production on all levels. Peter Marbury, with help from the company's founder and technical director James Ewing and artistic director Diana Marbury, has traded his usual impeccably realistic set designs for an impressionistic, mobile set that changes shape and mood to reflect not only the action, but the inner life of the characters.

Sebastian Paczynski's usual, encompassing lighting design is particularly sensitive. And Teresa Lebrun's costume design is as usual, more than appropriate.

Nice so far. But what really lights the stage with the lightning of humans revealing their humanity is the tight, virtuoso directing of Michael Disher and the heart-deep acting of an ensemble that knits together as if it were born on stage.

Of course, each of the four roles is written magnificently. But it takes more than ordinary sensitivity and skill to realize the words and what's beneath and beyond them. And this cast leaps full body into a seamless immersion in the characters of a searing drama whose center is an avenging angel working with unshakable conviction within a Catholic school.

Lauren Murray enters the complex character of Sister James, the neophyte teacher who resists the role of pawn in the destruction of a progressive pastor by a hell-bent school principal. She plumbs the role's tortured interior with subtle sensitivity. Her gradual taking on of strength as the play progresses is a joy to experience.

Eve West is a powerhouse as Mrs. Muller, the mother of the only black student in the school, and an unfortunate and unwitting casualty of a vengeful school principal. Her short, fiery scene with Mary-Alyce Vienneau, as Sister Aloysius, the play's avenging angel, is memorable for its ferocity, its spirit and its stirring humanity.

And then there are the two veterans of the HTC, Joe Pallister and Ms. Vienneau, who have never, in this critic's experience, reached the heights and depths of their performances in Doubt.

Joe Pallister, as Father Brendan Flynn, the object of the wrath of Sister Aloysius, delivers a nuanced and sensitive portrayal of a man with a possible past (only possible; we're left in doubt about its existence) and a determination to inject a humanizing quality of intellectual curiosity into the lives of his students and his parish. Mr. Pallister balances all of this with the skill of a high-wire artist, fusing strength and sensitivity in precise amounts. It's a wonder to see.

And so is the stellar performance of Ms. Vienneau. A strong and perceptive actress in former HTC productions, Ms. Vienneau only hinted in those roles at what she brings off with the character of Sister Aloysius. In lesser hands and sensitivity, the role could be relentlessly cruel and authoritarian. Not so with Ms. Vienneau.

Throughout the evening, as she piles unfounded accusation upon unsubstantiated rhetoric, there is a constant undercurrent running in her portrayal of a tortured soul, with doubt an underground spring bubbling within her and on the verge of emerging, but kept silent by an overriding purpose. It's a stunning, remarkable performance, a height of acting skill that, in its final moments, moved this usually placid critic to tears. Could it be that this extended level of performance, the sustaining of mood, fluidity and economy of movement and the depths to which the cast is willing to take us are also the work of director Michael Disher? Obviously so. His hand is visible everywhere, and so, bravo to the Hampton Theatre Company for bringing this stage sorcerer out of forced retirement to bring his magic back to our local theater scene. For proof of the magic, see the HTC's production of "Doubt." You'll have no doubt about its power.




JOHN PATRICK SHANLEY'S 'DOUBT' IN QUOGUE
by STEVE PARKS Newsday – October 18, 2007

Last month, a collection of letters written by Mother Teresa revealed that the "gutter saint" of Calcutta harbored doubts about the existence of God – a shocking revelation to those of faith. But to me, her doubts are as blessed as her deeds. If faith were easy, what would be the virtue in it?

In John Patrick Shanley's exquisitely ambiguous parable "Doubt," the 2005 Tony winner for Best Play making its Long Island premiere, Father Flynn both embraces and engenders uncertainty. His adversary, Sister Aloysius, on the other hand, exudes certainty and demands it as well. Caught in the middle are Sister James, a teaching novitiate who's ordered to keep an eye on Father Flynn, and Mrs. Muller, whose altar-boy son may or may not be a victim of priestly pedophilia.

But "Doubt" is much more than a play of hot-button topicality. No one dared accuse a priest of molesting children in 1964, when "Doubt" is set, during a period of national doubt following the assassination of President Kennedy. Sister Aloysius well knows the arrogance of the patriarchal church. Not even a benevolent tyrant such as herself can question a priest. She rules the parish school – St. Nicholas in the Bronx – with an iron fist. But she can't go to the monsignor with her suspicions. A mere nun, she'd be ignored, or worse, fired.

Father Flynn has shown unusual interest in 12-year-old Donald, who also happens to be the first black child admitted to the Irish and Italian parish school. Sister Aloysius prevails on the rookie nun who is the boy's teacher to spy on the priest.

Director Michael Disher, distinguished in his career at Southampton College, makes an auspicious Hampton Theatre Company debut, aided by Peter Marbury's indoor-outdoor parish set anointed by Sebastian Paczynski's ecclesiastic lighting.

As the accused, Joe Pallister cuts a charismatic figure – a cleric who's seductive in a not-necessarily sexual way. Whether or not you're swayed by the doubts he throws in the path of his accuser, you can't help but feel uneasy about the slick salesmanship of Pallister's priest.

Though I never attended Catholic school, the laughter of recognition from the opening night audience told me that Mary-Alyce Vienneau's Sister Aloysius captures the austere, domineering spirit of the Mother Superior who everyone in school was terrified to cross, except in the sign of the crucifix.

Lauren Murray as Sister James reflects the submission of those in Sister Aloysius' charge, begging not to be made a tool of her boss' purge. Eve West, as Donald's mother, dignifies the most shocking of all Shanley's characterizations: a mom who accommodates the '60s American reality that worse fates could befall a black child than a creep's groping.

But is he a creep? Is the nun a vigilante?

As Sister Aloysius says, "Innocence can only be wisdom in a world without evil." Or as Father Flynn says, "Doubt can be a bond as powerful and sustaining as certainty." You decide.