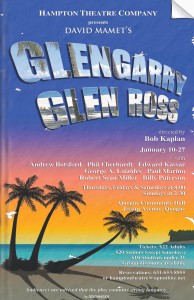 by David Mamet directed by Bob Kaplan
January 10 – 27, 2008
A scalding comedy about cutthroat competition among real estate salesmen.

CAST: Shelly Levene – PHIL EBERHARDT John Williamson – ROBERT SEAN MILLER Dave Moss – ANDREW BOTSFORD George Aaronow – GEORGE A. LOIZIDES Richard Roma – EDWARD KASSAR James Lingk – PAUL MARINO Baylen – BILLY PATERSON
ANDREW BOTSFORD (Dave Moss) is a veteran of more than 30 Hampton Theatre Company productions since 1985. He appeared last season as Ira in THE TALE OF THE ALLERGIST'S WIFE and as Jack in EVERYTHING IN THE GARDEN. Favorite shows include THE FOREIGNER, ORPHANS, NOISES OFF, THE LAST YANKEE, THE DINING ROOM, SYLVIA, SOCIAL SECURITY and RUMORS. Andrew is a member of the Hampton Theatre Company Board of Directors and the associate editor of The Press Newspaper Group, which publishes The Southampton Press Eastern and Western editions, The East Hampton Press, and The Press of Manorville and The Moriches. PHIL EBERHARDT (Shelly Levene) has been working with HTC for many years (when his impossible schedule permits) and has appeared in THE PRICE, NIGHT OF THE IGUANA, ABSURD PERSON SINGULAR, SOCIAL SECURITY, THE LAST NIGHT OF BALLYHOO, LADY WINDERMERE'S FAN, IT'S ONLY A PLAY and others. Phil holds a BFA in Acting from Boston University. EDWARD KASSAR (Richard Roma) played Mike in HTC's production last spring of BREAKING LEGS as well as Lennie in OF MICE AND MEN and Limping Man in FUDDY MEERS. Other theatrical credits include THE ZOO STORY, ART, MISERY, HURLYBURLY, GOOSE AND TOMTOM, A STREETCAR NAMED DESIRE, SAME TIME NEXT YEAR, I HATE HAMLET, BURIED CHILD, NOT ABOUT NIGHTINGALES and THE NERD. Film credits include "Mulligan Farm," "Down Clown," "Nine Out of Ten," "If I Only Knew" and "Scallop Pond." Thanks to Mom, Dad, family and friends for their support. GEORGE A. LOIZIDES (George Aaronow), a newcomer to the HTC stage, has been an actor and director for almost 40 years. For 27 years, he was Director of Theatre Arts for Ward Melville High School where he directed 81 productions. His most recent acting credits were Axel in THE NERD, the Stage Manager in OUR TOWN and Dr. Lyman in BUS STOP. Last year he directed PRIVATE LIVES for Playcrafters of Bellport. He is very happy to be in this production. Thanks to his muse, Kathy, for everything. PAUL MARINO (James Lingk) returns to the stage after a long hiatus and is glad to be back on the boards. Past performances include Captain Queeg in THE CAINE MUTINY COURT MARTIAL, Marco in A VIEW FROM THE BRIDGE and happy years as a member of the Southampton Players taking part in musicals and dramatic pieces. Paul is a speech pathologist who with his occupational therapist wife Lynn have a private practice serving children with disabilities on the East End. ROBERT SEAN MILLER (John Williamson)'s latest appearance on stage was Off Broadway in AND ONCE THERE WAS A WAR. His other stage roles, both in NYC and on Long Island, include THE WOUND AND THE BOW, MUCH ADO ABOUT NOTHING, AMADEUS, ART, WEST SIDE STORY and MISTER ROBERTS. His film credits include "School of Rock," "Some Trouble of a Serious Nature," "Donnie Brasco," "Night Falls on Manhattan," as well as stunt work in "Rounders," "Independence Day" and a Tucker Carlson promo. An award-winning filmmaker and playwright, Robert is very grateful for the opportunity to work with this great theater company in this powerful piece by David Mamet. BILLY PATERSON (Baylen) has been an actor for more than 25 years and has been on stage in Los Angeles, New York City and most of the East End theaters. Billy last worked here at HTC when he directed THE PRICE and is happy to be back with this very professional and distinguished company. DAVID MAMET (Playwright) , a native of Chicago, is an author, essayist, playwright, screenwriter, film director and teacher. His works are known for their clever, terse, sometimes vulgar dialogue, arcane stylized phrasing, and for his exploration of masculinity. A founding member of the Atlantic Theater Company, he first gained acclaim for a trio of off-Broadway plays in 1976, THE DUCK VARIATIONS, SEXUAL PERVERSITY IN CHICAGO and AMERICAN BUFFALO. Other plays include GLENGARRY GLEN ROSS (1984 Pulitzer Prize), SPEED-THE-PLOW (1988), A LIFE IN THE THEATRE, OLEANNA, THE CRYPTOGRAM and BOSTON MARRIAGE as well as a number of adaptations. Mamet's first screenplay was for the 1981 film "The Postman Always RingsTwice," followed by "The Verdict" (1982), "The Untouchables" (1987) and "Wag the Dog" (1997). In 1987, Mamet made his film directing debut with "House of Games." Other directorial credits include "The Spanish Prisoner," "The Winslow Boy" and "Heist." His recent books include "The Old Religion" (1997) and "Bambi vs. Godzilla," an acerbic commentary on the movie business. He has also written several non-fiction texts, a collection of poetry entitled "The Hero Pony" and a number of children's stories. BOB KAPLAN (Director) enjoys acting and directing. Each presents different challenges; both are invigorating and humbling. He's acted in THE PRICE (here at HTC), EARLY ONE EVENING AT THE RAINBOW BAR AND GRILL, I HATE HAMLET, LAUGHTER ON THE 23RD FLOOR and THE HEIDI CHRONICLES. He has directed SYLVIA, FOREVER PLAID, PLAZA SUITE, SOCIAL SECURITY, MAN OF LA MANCHA and WAIT UNTIL DARK. He also works with the Teeny Awards, a program that supports high school theater by presenting awards each year to deserving students. This is his first time directing at HTC. The opportunity to be part of a team of people that appreciates high production values and offers knowledgeable support, while at the same time being challenged by talented and committed actors, has made this experience extraordinary. Thanks to his wife Betsy for understanding his need to be involved in theater and to all the others who keep him going. PETER MARBURY (Set Designer) is the resident set designer of the Hampton Theatre Company, working closely with James Ewing to provide the many varied environments that have crossed our stage over more than twenty years. Peter is a sculptor by trade. In his down time, he fashions himself a yogi, African drummer and gardener, not necessarily in that order. JAMES EWING (Technical Director) founded the Hampton Theatre Company in 1984 and has, since then, directed, acted and, along with Peter Marbury and Russell Babis, built numerous sets for the company. Many thanks to Bob Kaplan for joining us for this production, to Peter for his guiding inspiration, to Russ for his impeccable craftsmanship and to Sarah Hunnewell for holding us all in line. SEBASTIAN PACZYNSKI (Lighting Designer) designed SUMMER AND SMOKE, PROOF, NIGHT WATCH, PAINTING CHURCHES, THE PRICE, FUDDY MEERS, THE TALE OF THE ALLERGIST'S WIFE, EVERYTHING IN THE GARDEN, BREAKING LEGS, LÉOCADIA and DOUBT for the Hampton Theatre Company as well as the new theater's lighting system. He has designed lighting for theater, dance and special events in a number of Broadway, Off Broadway, Off Off Broadway and regional venues. He has also worked in film and television as the director of photography. Most recently, he designed the 75th Anniversary Season for Guild Hall where he has also designed RED HERRING, THE CHERRY ORCHARD, DRACULA, JULIUS CAESAR, MACBETH, HAMLET and MOBY DICK. Other local credits include THE COMEDY OF ERRORS, THE TAMING OF THE SHREW, A WINTER'S TALE and TWELFTH NIGHT for the Hamptons Shakespeare Festival. TERESA LEBRUN (Costume Designer) is happy to be back costuming for HTC. Teresa has been with the Hampton Theatre Company on and off for over twenty years. She designed costumes for the company's recent productions of DOUBT, LÉOCADIA, BREAKING LEG, EVERYTHING IN THE GARDEN and THE TALE OF THE ALLERGIST'S WIFE as well as THE HO– USE OF BLUE LEAVES, THE FOREIGNER, RUMORS, OF MICE AND MEN, SUMMER AND SMOKE, DEATH DEFYING ACTS and PROOF. Teresa has also costumed THE NERD, DRACULA and RED HERRING for Spindletop Productions at Guild Hall. Much love to her boys Josh and Noah. JOHN ZALESKI (Stage Manager). Three years ago, John asked the Board of Directors of the Hampton Theatre Company to consider choosing GLENGARRY GLEN ROSS for their upcoming season (and he has been asking ever since!). Now it's here and he couldn't be more f—in' thrilled! Thank you HTC and the talented cast and crew. This is John's 96th production. ROB DOWLING (Lighting & Sound Technician) has worked lighting and sound for over 15 years at the North Fork Community Theater in Mattituck, Vail-Leavitt Music Hall in Riverhead, Producer's Club in Manhattan and The Loft Theater at Dowling College in Oakdale, as well as with the HTC. He was set designer and ran lighting for HOMEFRONT which first showed at the Southampton Historical Museum in 2004. This is Rob's sixth show with the Hampton Theatre Company and he is very happy to be part of it. Both the show and the company. "Enjoy the show!"
Director – BOB KAPLAN Producers – SARAH HUNNEWELL, DIANA MARBURY Set Designer – PETER MARBURY Technical Director – JAMES EWING Lighting Designer – SEBASTIAN PACZYNSKI Costume Designer – TERESA LEBRUN Set Decor – DIANA MARBURY & MARY-ALYCE VIENNEAU
Stage Manager – JOHN ZALESKI Assistant Stage Manager – MARY-ALYCE VIENNEAU Set Construction – JAMES EWING, PETER MARBURY, RUSSELL BABIS, KATHY ILACQUA, BOB KAPLAN, GEORGE LOIZIDES, SEAN MARBURY Sound & Lighting Tech – ROB DOWLING Production Graphics –
JOE PALLISTER
Program, Publicity & Box Office – SARAH HUNNEWELL House Manager – JULIA MORGAN ABRAMS Advertising Sales – SARAH HUNNEWELL, CATHY SCHWARTZ, JULIA M. ABRAMS, DIANA MARBURY, LUCINDA E. MORRISEY, BART RAFFAELE, PEGGY THORNE Production Photographer – JAMES EWING
SOME PROPERTY ON THE SAVAGE SIDE
by Lee Davis Southampton Press It's impossible not to be haunted by the reverberant echoes of "Death of a Salesman" in the opening salvos of David Mamet's pounding powerhouse of a play, "Glengarry Glen Ross," particularly in its current electric and electrifying production by the astonishing Hampton Theatre Company. Phil Eberhardt, giving the performance of his life so far, surfaces undeniably through the fractured cadences of Mamet's prose as a scatological Willy Loman, pleading for his life as a salesman of not dry goods but—guess what?—real estate. "Glengarry Glen Ross," in fact, is said to be the product of the playwright's short, observant stint in 1969 in a real estate office, and his depiction of a snakepit of desperate ambition, venomous backstabbing and rampant inhumanity is dead on, with the ravages of the business world pinned like butterflies to a mercilessly illuminated page. With an unruly explosion of epithets, Mamet, in this 1982 pioneering play, updates the death of the American Dream, and lets the language rip as it will. And if an assault of four-letter Anglo-Saxon verbs seems, at first, a little tough to take, just take a ride on the Long Island Rail Road and listen in on the cherubic 13-year-old girls chatting. Same words. Same images. Pop words and pop expressions change, as does the world. And Mamet's world is in the absolute and identifiable present. So, shock value out of the way, the play's the thing. And oh, what an exciting, stimulating, and ultimately shattering play it is. It's not the dark, brooding, and frankly boring movie version. This is the original, a far more balanced creation, leavened by humor, buoyed by its writing, and kept constantly aloft in Quogue by an ensemble cast directed by Bob Kaplan with a fine sense of forward motion and the sparks that start and sustain blazes of intensity. What is particularly rewarding about this production is the constant and unfailing definition of its characters. Given the high-speed avalanche of words and half words that Mamet hurls at his actors, it would be easiest for these actors to wrap the firecracker prose around them and submerge their characters in the smoke of the dialogue. Not so in Quogue. With the exception of the underwritten character of James Lingk, every character is a collection of complex motives and complicated manifestations. Still, as Lingk, a client caught between his wife and a salesman who employs the bulldozer, savage tribe method of selling, Paul Marino manages to stay afloat and in focus. And Billy Paterson once again proves the adage about no small parts by making of the role of Baylen, the policeman, a multi-tempered public servant. Robert Sean Miller is a strong pillar of sense as John Williamson, the office manager for the real estate firm. While his salesmen explode with fanatical desperation, his equally charged emotions remain subterranean, waiting for the proper moment to surface. It's a supremely composed and therefore effective portrayal. George Loizides, as the possible patsy in a major scheme, delivers yet another intelligent and controlled performance. A burning agony of indecision, he makes his way among the office barracudas in poignant paranoia and ultimate self survival. Mr. Loizides navigates the straits with sympathetic understanding. Edward Kassar as Richard Roma, perhaps far and away the most obnoxious example of a bullying, dedicated salesman ever put on a stage, crackles from his first entrance to his final exit. Clearly the repository of the playwright's deepest disgust with the personification of the business world so worshipped in contemporary America, Mr. Kassar nails the character in awful integrity. It's a whirlwind portrayal. As Dave Moss, the pot stirrer, the calamity causer, Andrew Botsford weasels his way into the confidences of his compatriots with the skill of a seasoned bank robber. His one big scene with George Loizides is a beautifully constructed and modulated and realized con job, done with surgical skill. It too is a virtuoso turn. As is every twist and ellipse in this tortured yet tremendously entertaining tale of the savage side of human nature, realized by a prize ensemble of terrific actors at the top of their form. The star turn is Phil Eberhardt's. If Mamet has given the character of Shelly Levene the task of bracketing and deepening the plot and the play's theme, it's up to Mr. Eberhardt to manifest it. And he does. He rocket-launches the proceedings and brings them to a conclusion with a final monologue that is both revelatory and heartrending. You won't easily forget it. Peter Marbury's two contrasting sets of an antiseptic Chinese restaurant and the detritus of an office after a breakin are absolutely on target. Teresa Lebrun's costumes capture a milieu with easy accuracy. And Sebastian Paczynski's lighting design is, as usual, enhancing. This is a production not to be missed a little under a hundred minutes of pure, true theater, presented by a company that refuses to rest on its laurels but persists in maintaining and increasing its high standard of performance. We're fortunate to have them around, particularly in January.
HAMPTON THEATRE'S "GLENGARRY GLEN ROSS"
by Steve Parks Newsday – January 17, 2008 If you knew nothing of "Glengarry Glen Ross" except its title you might suspect a tale set in verdant Ireland or Scotland. But the only green in David Mamet's masterpiece is that of hard-won cash. And the leprechauns' pot o' gold is buried in some uninhabitable Florida swamp. The real estate pitched by the Chicago hucksters in Mamet's gladiators'-pit of a play bears such lilting names as Glengarry Highlands. But the tools of the trade are monosyllabic. "Close" is one word; "sign here," two more. Most of the others, we can't print. In the first Long Island production since Broadway's 2005 revival of the 1984 Pulitzer- and Tony-winning comedy – yes, it's funny, in the way "Death of a Salesman" might've been if Willy Loman could still sell – director Bob Kaplan has assembled for the Hampton Theatre Company a taut ensemble of men who talk the talk and walk it home. Mamet's jazz riff of a script, seemingly improvised but with not one note out of place, begins its rhythmic patter in a dimly lit Chinese restaurant that serves as the real estate predators' hangout and lair. First we meet Shelly Levene, "The Machine," played with dog-eared tenacity by Phil Eberhardt as he's nipping at impervious heels for a bone with a scrap of meat on it. His soup-sipping tormenter is John, office manager for unseen downtown bosses. As played by Robert Sean Miller, John's invulnerable to begging. But a bribe might work. Shelly, onetime poster boy for the motto "Always Be Closing," has lost his edge and fallen off "the Board," which measures how well each salesman meets the company's demand: "What Have You Sold for Me Lately?" Only the top salesmen get "leads" – appointments with likely customers. Two other salesmen take their unfinished thoughts in a new direction. Dave, a middling salesman itching to break out on his own (played conspiratorially by Andrew Botsford), suggests to a meek colleague, George, that he break into the office and steal the coveted leads. Are they really "talking about" burglary or merely "speaking" about it? Before the distinction is clarified, George, played by George Loizides with the furtive glances of a lame antelope in a lion's den, has been snared. The third plot-setter comes off as a drunken rhapsody on love and life, except it's all a sales pitch by top dog Richard, played with a don't-let-'em-see-you-sweat swagger by Edward Kassar. Act II moves from designer Peter Marbury's dingy restaurant to the disarray of a burgled real estate office. The leads and contracts have been stolen, and a cop is questioning each salesman. Shelly, meanwhile, "closes" a big one. And Richard suffers a reversal, which he glibly denies in the face of his prey's demand that the check be returned. It's all in a day's work in the pit. Except for the overt crime the cop is sniffing. Someone will fall. Predator and prey. It's a fine line that's always moving. No wonder these men swear all the time in Mamet's four-letter riff. It's a seedy hoot, I swear.
"GLENGARRY GLEN ROSS"
Roy Bradbrook Dan's Paper The fact that this is a play where desperate real estate salesmen fight and claw for their very existence, and that of their families in some cases, is almost incidental. It could be transposed to so many different life settings and still succeed. David Mamet is a master storyteller and playwright whose characters, if at times slightly caricatured, are undeniably believable. Whether you want to minutely analyze the play and the words for hidden meanings and statements on the social politics of the modern world or whether you just want to sit back and let the play invade your senses so that you forget the world outside the theater is really up to you. (I prefer the latter because I still firmly believe that Shakespeare just wrote his plays to enthrall and delight the masses at the Globe Theater and not so that they could be verbally dissected by millions of schoolchildren over the centuries after his death.) "Glengarry Glen Ross" is widely regarded as one of the best plays of the modern era and one that even today, almost 25 years after its first production, can still merit a place in London's West End and entice stars such as Jonathan Pryce. Many people have seen the award-winning film made back in 1992 with one of the best casts ever for any production – Al Pacino, Jack Lemmon, Ed Harris, Kevin Spacey, Alec Baldwin and Alan Arkin. The play, though, is quite different from the film with more moments of offbeat, if still black, humor. The members of the Hampton Theatre Company are renowned for never refusing a challenge, as a look back at their production list shows. So this was a play that had to be on their "to do" list. It is also a play where casting is exceptionally important because of the strengths and weaknesses of each character and the interplay as they fight for survival. In this production, every member of the cast shone and the direction by Bob Kaplan was excellent. The actors combined verbal and body language with crisp timing that made the totality very fluid and realistic. The play opens in a nondescript Chinese restaurant as members of the sales force bemoan their lot and the inequities of the system of giving them sales leads, because they now have to really fight for survival because the two poorest performers in the next sales drive will be terminated. The product they are selling is some dubious quality land in "Glengarry Glen Ross," a development in Florida. So selling these on a cold call basis is unbelievably stressful even for some of the most hard-nosed closers you will ever meet. In the restaurant scene, three vignettes play out and introduce the characters. Shelley Levene (Phil Eberhardt), a star salesman of the past is now in the throes of a very dry spell of productivity. John Williamson, the office manager (Robert Sean Miller) is not a salesman, doesn't like them and it shows. Dave Moss (Andrew Botsford) has such deeply entrenched anger it is almost visible and he sets up a scheme with the weakest and oldest member of the team, George Aaronow (George Loizides) to break into the office and steal the prized super leads that everyone covets, for they may hold the path to success, a new car and above all, continued employment. The last is played out between an unsuspecting man, James Lingk (Paul Marino), who is simply enjoying his meal until the larger than life and twice as nasty, super smooth salesman Richard Roma (Edward Kassar) sits down next to him, emotes into an astounding monologue that seems initially to have no relevance but which adroitly segues into a sales pitch, that leaves James bemused, poorer and the owner of a piece of Florida – just like that. After some smooth set changing at the interval, the office has been robbed and a mess is left. The various protagonists work their individual evil ways to try and best each other, the inept cop (Billy Paterson) handling the burglary and James, who is now attempting to get his money back after his wife found out what he had done. The plot unfolds with some subtle twists and at the end you are left a little drained and feeling a mixture of revulsion and sympathy for these characters who are left to continue their apparently never ending purgatory of an existence. Set designer Peter Marbury, technical director James Ewing, lighting designer Sebastian Paczynski, costume designer Teresa Lebrun and stage manager John Zaleski combine their talents in a production where everything looks and sounds professional. Overall production is by Sarah Hunnewell and Diana Marbury. But now a word of warning. "Glengarry Glen Ross" probably holds the record for the number of four-letter swear words in a play. David Mamet uses the vernacular of a stressful all male environment to great effect. Currently a TV beer commercial is based on how the word "dude" can be inflected and stressed in many ways to totally alter its perceived meaning – well Mamet got there first, only he uses primarily some different four-letter words, so don't go if you are likely to find these words so offensive that it will spoil your evening. If you do go though, I believe you will leave feeling that you have experienced great theater performed by a cast of very talented actors.