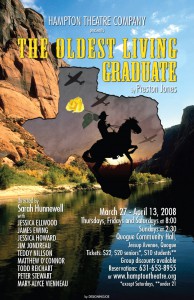 by Preston Jones directed by Sarah Hunnewell
March 27 – April 13, 2008
A feisty and romantic old Southern colonel comes to terms with his past and his family as he makes his way, kicking like a mule, into the future.

CAST: Colonel J.C. Kinkaid – JAMES EWING Maureen Kinkaid – JESSICA ELLWOOD Martha Ann Sickenger – JESSICA HOWARD Mike Tremaine – PETER STEWART Floyd Kinkaid – TODD REICHART Clarence Sickenger – MATTHEW O'CONNOR Major Leroy J. Ketchum – JIM JONDREAU Cadet Whopper Turnbull – TEDDY NILSSON Claudine Hampton – MARY-ALYCE VIENNEAU
JESSICA ELLWOOD (Maureen Kinkaid). THE OLDEST LIVING GRADUATE is Jessica's sixth production with the Hampton Theatre Company. She is thrilled to be back on stage and to be part of this outstanding cast. Recent roles include Jenny in EVERYTHING IN THE GARDEN, Elaine Wheeler in NIGHT WATCH, Claire in PROOF, Alice in YOU CAN'T TAKE IT WITH YOU and Nellie in SUMMER AND SMOKE. She has also appeared with the NFCT in productions of ELEEMOSYNARY and WAIT UNTIL DARK and in a Northeast Stage production of AS YOU LIKE IT. JAMES EWING (Colonel J.C. Kinkaid, Set Design) founded the Hampton Theatre Company in 1984 and has since appeared in over 20 productions and built numerous sets. Favorite roles include Owen Musser in THE FOREIGNER, Artie Shaughnessy in THE HO– USE OF BLUE LEAVES, Nonno in THE NIGHT OF THE IGUANA, Tobias in A DELICATE BALANCE and all the many characters of THE DINING ROOM. He is happy to be returning to the stage in this lovely play and very proud of his truly gifted director and HTC Executive Director, Sarah Hunnewell. JESSICA HOWARD (Martha Ann Sickenger) is so happy to be returning to the stage with HTC, especially with such a wonderful cast. Previous HTC productions include: STEEL MAGNOLIAS (Annelle), AH, WILDERNESS (Muriel), and THE CRUCIBLE. Other favorite roles include Portia in JULIUS CAESAR, Ophelia in HAMLET and the mistress in EVITA. She has also appeared as one of the Howard Sisters, a singing trio. Love you guys! Much love to Seamus, and thanks to Mama, an inspiration. JIM JONDREAU (Major Leroy J. Ketchum) has appeared in productions over the past several years both locally and in Los Angeles. He studied drama in London and in Hollywood, performing in both modern (Emlyn Williams' NIGHT MUST FALL and Tennessee Williams's A STREETCAR NAMED DESIRE) and classical plays (AS YOU LIKE IT, HENRY V). He last appeared with the Hampton Theatre Company in their production of OF MICE AND MEN. His background includes work in television, radio and film. He is very happy to be working once again with such a talented and professional group. TEDDY NILSSON (Cadet Whopper Turnbull). THE OLDEST LIVING GRADUATE marks Teddy's first production with the Hampton Theatre Company and he is thrilled to be working with such a great cast. His favorite roles include Brick in CAT ON A HOT TIN ROOF and Duke Orsino in Shakespeare's TWELFTH NIGHT at the State University of New York College at Oneonta. MATTHEW O'CONNOR (Clarence Sickenger). THE OLDEST LIVING GRADUATE is Matthew's first foray into acting, although he has talked about pursuing it for many years. He is honored and excited to be with the Hampton Theatre Company and hopes to continue on with them in future productions. Matthew is from the Bronx, New York and has lived in Hampton Bays for 8 years. He works for the Southampton Town Police as a Public Safety Dispatcher and, in his spare time, plays bass guitar with his cover band StoneHouse. TODD REICHART (Floyd Kinkaid) used this show as an excuse to buy a nice pair of boots. Recent NYC productions include: A MARRIAGE OF CONVENIENCE (Turtle's Shell), THE MEMORY OF WATER (Cherry Lane Studio), THE HOMECOMING and BEDROOM FARCE (T. Schreiber Studio). Regionally he's worked with Princeton Rep Company (BLUE/ORANGE, BEARD OF AVON), Luna Stage (THE PARENT'S EVENING) and ActorsNET of Bucks County (GLASS MENAGERIE, JEFFERSON & ADAMS). He's done a lot of commercials, some TV and not enough film. This is his first show with the Hampton Theatre Company and he's by-God happy to be doin' it. Todd calls Princeton, NJ home where he writes and co-hosts a weekly events webcast at PrincetonNews.com. Want more? www.toddreichart.com. PETER STEWART (Mike Tremaine). THE OLDEST LIVING GRADUATE is Peter's first production with the Hampton Theatre Company. He is happy to be working with such a talented group of people. He would like to thank Sarah and Jimmy and everyone else involved for their hard work and dedication. MARY-ALYCE VIENNEAU (Claudine Hampton, Set Decor) appeared most recently as Sister Aloysius Beauvier in the HTC's fall production of DOUBT. A graduate of The American Academy of Dramatic Arts, she struggled with an acting career in NY for 13 years and then decided to pursue her other love—gardening. She has been running her business—Mary's Garden—on the East End for 20 years but has found plenty of time to continue honing her acting skills with most of the companies out here. In addition to DOUBT, HTC appearances include THE PRICE, THE HEIRESS, THE RAINMAKER, STEEL MAGNOLIAS, A VIEW FROM THE BRIDGE, ABSURD PERSON SINGULAR and SOCIAL SECURITY. PRESTON JONES (Playwright) joined the Dallas Theater Center (often called the birthplace of regional theater) in 1962, working as an actor, a director and finally a playwright. It was there that he wrote his critically acclaimed work, A TEXAS TRILOGY, of which THE OLDEST LIVING GRADUATE is a part. A TEXAS TRILOGY moved from Dallas to the Kennedy Center in Washington and finally to Broadway in 1976. Jones' other works include A PLACE ON THE MAGDALENA FLATS and SANTA FE SUNSHINE. SARAH HUNNEWELL (Director, Producer) wears many hats for the HTC under the all-purpose umbrella of Executive Director. Her favorite of those hats, though, is that of director and she is happy to be at it again. Previous directorial credits include last season's EVERYTHING IN THE GARDEN, BREAKING LEGS and LÉOCADIA as well as SUMMER AND SMOKE, A VIEW FROM THE BRIDGE, THE RAINMAKER, ORPHANS and PROOF. Many thanks to Jimmy for playing the indomitable colonel with such panache and to all her excellent cast and crew for their hard work in bringing this delightful play to life. SEBASTIAN PACZYNSKI (Lighting Designer) first worked with the Hampton Theatre Company when he designed the company's 2003 production of SUMMER AND SMOKE at Guild Hall and has designed all the company's productions since PROOF in 2004 as well as the new theater's lighting system. He has designed lighting for theater, dance and special events in a number of Broadway, Off Broadway, Off Off Broadway and regional venues. He has also worked in film and television as the director of photography. He designed the 75th Anniversary Season for Guild Hall where he has also designed RED HERRING, THE CHERRY ORCHARD, DRACULA, JULIUS CAESAR, MACBETH, HAMLET and MOBY DICK. Other local credits include THE COMEDY OF ERRORS, THE TAMING OF THE SHREW, A WINTER'S TALE and TWELFTH NIGHT for the Hamptons Shakespeare Festival. TERESA LEBRUN (Costume Designer) has been with the Hampton Theatre Company on and off for over twenty years. She designed costumes for the company's recent productions of GLENGARRY GLEN ROSS, DOUBT, LÉOCADIA, BREAKING LEG, EVERYTHING IN THE GARDEN and THE TALE OF THE ALLERGIST'S WIFE as well as THE HO– USE OF BLUE LEAVES, THE FOREIGNER, RUMORS, OF MICE AND MEN, SUMMER AND SMOKE, DEATH DEFYING ACTS and PROOF. Teresa has also costumed THE NERD, DRACULA and RED HERRING for Spindletop Productions at Guild Hall. Much love to her boys Josh and Noah. JOHN ZALESKI (Stage Manager). This is John's 16th production with the HTC — the 12th of their last 16. It's a pleasure to be around such talented people — casts and crew. ROB DOWLING (Lighting & Sound Technician) has done lighting and sound effects for almost 17 years at the North Fork Community Theater in Mattituck, Vail-Leavitt Music Hall in Riverhead, Producer's Club in Manhattan, the Loft Theater at Dowling College in Oakdale and the Southampton Cultural Center in Southampton. This is Rob's second season and the eighth show with the Hampton Theater Company. He is very happy to be part of the show and the company. "Enjoy the show!"
Director & Producer – SARAH HUNNEWELL Set Designer – JAMES EWING Lighting Designer – SEBASTIAN PACZYNSKI Set Decor – MARY-ALYCE VIENNEAU Costume Designer – TERESA LEBRUN Stage Manager – JOHN ZALESKI
Assistant Stage Manager – MARY-ALYCE VIENNEAU Set Construction – JAMES EWING, RUSSELL BABIS, PHIL EBERHARDT, KATHY ILACQUA, BOB KAPLAN, GEORGE LOIZIDES, SEAN MARBURY, SEAMUS NAUGHTON Sound & Lighting Tech – ROB DOWLING Production Graphics –
JOE PALLISTER
Program, Publicity & Box Office – SARAH HUNNEWELL House Manager – JULIA MORGAN ABRAMS Advertising Sales – SARAH HUNNEWELL, CATHY SCHWARTZ, JULIA M. ABRAMS, DIANA MARBURY, LUCINDA E. MORRISEY, BART RAFFAELE, PEGGY THORNE
PRODUCTION OF 'GRADUATE' EARNS HIGH MARKS
by Barbara Goldowsky Southampton Press A cranky old man owns a piece of waterfront real estate and is loath to part with it. His son wants to develop the land in order to build luxury summer homes. The son's business partner hatches a scheme that is supposed to lure potential buyers while sweet-talking the old man into compliance. Sound familiar? The themes are, but the location of Preston Jones's play, "The Oldest Living Graduate," is a small, dead West Texas town, in the middle of a big, dead West Texas prairie, a town so far out of the mainstream that if the end of the world came, Bradleyville would be the last to hear about it, as one of the characters puts it. The Hampton Theatre Company's splendid production of this not very well-known play that ran on Broadway in 1976, opened last Thursday evening at the Quogue Community Hall, to the audible delight of a sizeable audience. Directed and produced by Sarah Hunnewell, it stars James Ewing in the role of Colonel Jefferson C. Kinkaid, a wheelchair-bound World War I veteran subject to horrifying flashbacks, successful retired rancher, owner of the land in question, and a man who fiercely clutches his last shreds of independence. That he is a grouch is understandable, if hard to live with. Throughout the performance, Mr. Ewing never rises from the wheelchair. Yet, the character he masterfully portrays is never static, and far from depressing. With minimal gesture but immense force of personality, he conveys humor, honesty, and the gritty will to live that has helped him survive. The Colonel's frustrated son, Floyd, is played by Todd Reichart, a New York based actor making his first appearance with the HTC. Jessica Ellwood, in her sixth HTC production, plays Floyd's wife Maureen, who hides a loving heart under a sarcastic, impatient exterior. Floyd's slick business partner, Clarence Sickenger, is portrayed by a newcomer not only to the company, but to acting, Hampton Bays resident Matthew O'Connor; his ditzy young trophy wife, Martha Ann Sickenger, is played by HTC veteran Jessica Howard. The action of the play spans five days in the summer of 1962, and all of the scenes take place in the den of Floyd Kinkaid's ranch style home on the outskirts of Bradleyville. 1960s Texas is cleverly evoked by the set's adobe colored walls, overstuffed furniture, Lone Star wall decorations, and a hutch that doubles as both gun rack and bar. Daughter-in law Maureen's cigarette and bourbon glass complete the image. All the family prefer this room. It is comfortable. A living room furnished by an interior decorator is referred to but never seen. They might as well rent it out, Floyd remarks bitterly. The first act presents the central conflict between the old colonel and his son over the abandoned land, and the issue of how to explain the plan conceived by Floyd and his partner Clarence. The proposed lure is a ceremony to honor Colonel Kinkaid as the oldest living graduate class of 1905 by his military alma mater, the Mirabeau B. Lamar Military Academy. By convincing the academy to hold the celebration in Bradleyville, Floyd and Clarence hope to gain the old man's gratitude while impressing alumni who are potential investors. The problem is, their efforts meet nothing but resistance. Todd Reichart, as Floyd, gives the audience an admirably convincing picture of an adult son who needs a purpose in life but can't express his feelings. He evokes both impatience and sympathy as blandishments turn to threats. Jessica Ellwood's portrayal of Floyd's wife, Maureen Kinkaid, is both strong and subtle. Despite dutifully leaving the room while the men "discuss business," she understands both sides of the conflict better than they do. Beneath her attitude of impatient boredom, she is the willing, sympathetic caregiver. There is a beautiful shared moment when Maureen and the colonel are briefly alone. The colonel asks what she was doing out in the kitchen. "Boozing it up a little," she replies, unashamed. The old man returns a knowing, non-judgmental smirk: "Knockin' back a few, eh?" In the second act, four days later, things come to a head as representatives of the military academy confront the colonel literally in his den. Jim Jondreau gives an excellent picture of Major Leroy J. Ketchum, a pompously jovial character who cannot understand that the old colonel sees only horror, not glamour, in war. Teddy Nilsson, a newcomer to the company, plays an appropriately stiffbacked cadet who tries, unsuccessfully, not to react to the sad memories being aired. At this stalemate, the play turns from humorous to poignant, on its way to a powerful ending. The HTC production is outstanding throughout. The excellent direction by Sarah Hunnewell and the remarkable tour de force by Mr. Ewing are enhanced by Ms. Ellwood and the adorable Jessica Howard, the comic talent of Matthew O'Connor, and by the rest of the cast. In supporting roles, Peter Stewart as the earnest young ranch hand Mike, and Mary-Alyce Vienneau as a nurse, do a fine job. One of the wonderful things about this company is that cast members also serve as production staff, and work on whatever needs doing. No pampered prima donnas here! For "The Oldest Living Graduate," Mr. Ewing designed the set and helped construct it. Set decor was by Ms. Vienneau. Teresa Lebrun's costumes the boots and western shirts, the wedgies, the frou-frou peasant blouse are delightful. The effective lighting was designed by Sebastian Paczynski; the sound and lighting tech is Rob Dowling. (The slightly militaristic rendition of "Yellow Rose of Texas" is guaranteed to march around in the head forever.) Bravo to all! The play runs through April 13. It deserves a full house for every performance.
A RARE REDISCOVERY FROM THE ONCE KING OF AMERICAN REGIONAL THEATER
by Steve Parks Newsday Nearly 20 years after his death following surgery at age 43, the hotshot career of Preston Jones is largely forgotten outside his native Texas. Once hailed as king of American regional theater and the next Tennessee Williams (whose agent brought Jones' acclaimed "Texas Trilogy" to Broadway), Jones enjoyed literary celebrity, his face adorning national magazine covers. But New York critics were not kind, and today few works from his high-riding six-year run as a playwright are revived outside his home region. Which makes Hampton Theatre Company's resurrection of the last in Jones' trilogy, "The Oldest Living Graduate," a rare rediscovery. James Ewing, cofounder of the Hamptons' leading off-season theater company, brings back to irascible life Col. J.C. Kincaid, who is the last survivor of the class of 1905 from Mirabeau B. Lamar Military Academy in Galveston, Texas. His son Floyd wants to cash in on the colonel's distinguished longevity by inviting the academy brass – and some of its brassiest alumni – to a ceremony honoring his father. Floyd's ulterior motive is measured by the acre – two-acre plots on the colonel's lakeside property the son hopes to turn into summer estates and a marina. The invitees, retired generals and governors among them, would be his first buyers. Not that Floyd needs the money. The colonel's ranch on the desolate outskirts of Bradleyville, a nowhere town the interstate bypassed, has every Kincaid set for life. But Floyd needs, no, he craves a purpose. As directed by Sarah Hunnewell, "The Oldest Living Graduate" crackles with the entitlement of age. From his wheelchair, Ewing's colonel can say anything and get away with it. Todd Reichart's swaggering Floyd bolsters our sympathy for the old man with his selfish pleading and underappreciation of his wife, Maureen (Jessica Ellwood), who cares for the men in her life with the acerbic patience of a woman who knows she's smarter than anyone in the room – especially Floyd's business partner and his bimbo bride (Matthew O'Connor and Jessica Howard). Besides his spot-on portrayal of the colonel – who has us buying into his outrageous insults – Ewing re-creates a Dallas-style ranch-house set, accented by a liquor cabinet that doubles as a gun rack. It's enough to make you hanker for the other two-thirds of the Jones trilogy.