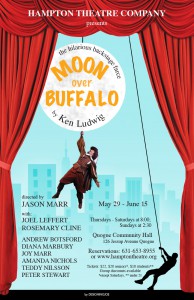 by Ken Ludwig directed by Jason Marr
May 29 – June 15, 2008
A hilarious backstage farce about an aging leading couple on tour in the provinces.

CAST: George Hay – JOEL LEFFERT Charlotte Hay – ROSEMARY CLINE Ethel – DIANA MARBURY Rosalind – JOY MARR Howard – TEDDY NILSSON Eileen – AMANDA NICHOLS Paul – PETER STEWART Richard – ANDREW BOTSFORD
ANDREW BOTSFORD (Richard) is a veteran of more than 30 Hampton Theatre Company productions since 1985. He appeared this winter as Dave Moss in GLENGARRY GLEN ROSS. Favorite shows include EVERYTHING IN THE GARDEN, THE FOREIGNER, ORPHANS, NOISES OFF, THE LAST YANKEE, THE DINING ROOM, SYLVIA, SOCIAL SECURITY and RUMORS. Andrew is a member of the Hampton Theatre Company Board of Directors and the associate editor of The Press Newspaper Group, which publishes The Southampton Press Eastern and Western editions, The East Hampton Press, and The Press of Manorville and The Moriches. ROSEMARY CLINE (Charlotte Hay) is delighted to return to the HTC in this merry production. After several years in NYC with various successes on the stage and small screen it is good to be home again where I began. Thanks to my fellow cast members, to Jason, the awesome crew and a special nod to Joel and his mighty rapier. My love to Christopher, Cashew and Carter….with a wink to Mom and Dad. JOEL LEFFERT (George Hay) grew up in Plainview, Long Island but has worked with many wonderful theaters across the country including Yale Rep, Trinity Rep, the Wilma and the Alley. Recent credits include Otto Frank in THE DIARY OF ANNE FRANK at the Delaware Theatre Company and Johnnypatteenmike in THE CRIPPLE OF INISHMAAN at Shadowlands Theatre in the Catskills. On tour in Europe he played Salieri in AMADEUS and Scrooge in A CHRISTMAS CAROL. On Broadway, and at the National Theatre in London, he was in the world premiere of Tennessee Williams' NOT ABOUT NIGHTINGALES directed by Trevor Nunn. Off-Broadway, he was in HARD TIMES at The Pearl Theatre, THE GARDENS OF FRAU HESS for the Jewish Rep and played the title role in RICHARD III for Salamander Rep. TV and Film: "Law & Order," "Six Degrees," Woody Allen's "Deconstructing Harry" and the Indie films "Green Lights," "The Killing Floor" and "Goyband". DIANA MARBURY (Ethel) is happy to return to the boards after a long absence. It is particularly enjoyable to tread the boards in this madcap farce at a time when life has so many serious implications. We all need to put aside the weight of the world on occasion and have a good laugh. She would like to dedicate this performance in memory of her brother Stephen and sends laughter his way. JOY MARR (Rosalind) made her debut with the Hampton Theatre Company as Amanda in last spring's production of LÉOCADIA and is delighted to return to the Quogue stage. In NYC, Joy has worked with Hip to Hip Theatre Company, Lynx Theatre, Blue Heron Arts, Theatreworks and the New Ensemble. Regional credits include CAT ON A HOT TIN ROOF, THREE TALL WOMEN, COLLECTED STORIES, OUR TOWN, BUS STOP, THE BLUE ROOM and HYSTERIA. Shakespearean roles include Rosalind, Viola, Katherine the Shrew, Miranda, Juliet, Titania, Perdita, and Diana. MFA: Alabama Shakespeare Festival. AMANDA NICHOLS (Eileen) is thrilled to be doing her first show with the Hampton Theatre Company! Born and raised in New York City, she is a graduate of LaGuardia High School of Music & Art and Performing Arts and the Neighborhood Playhouse School of the Theatre. Most recently, she's been in productions at the Richmond Shepard Theatre, the Algonquin Theater and Theater Row in NYC. She sends lots of love to her family and friends for their constant support. TEDDY NILSSON (Howard) made his HTC debut as Cadet Whopper Turnbull in THE OLDEST LIVING GRADUATE, and he is thrilled to be back and working with such a great cast. His favorite roles include Brick in CAT ON A HOT TIN ROOF and Duke Orsino in Shakespeare's TWELFTH NIGHT at the State University of New York College at Oneonta. PETER STEWART (Paul) returns to the HTC stage after playing Mike Tremaine in THE OLDEST LIVING GRADUATE. He is happy to be working with such a talented group of people. He would like to thank everyone involved for their hard work and dedication. KEN LUDWIG (Playwright)'s best known play is LEND ME A TENOR, produced by the Hampton Theatre Company in 1993, which won two Tony Awards and the Olivier Award nomination for Best Play. Other works include the musical CRAZY FOR YOU (Tony and Olivier Awards for Best Musical), MOON OVER BUFFALO, TWENTIETH CENTURY, THE ADVENTURES OF TOM SAWYER, SHAKESPEARE IN HOLLYWOOD (winner of the Helen Hayes Award as Best New Play of the Year), LEADING LADIES, BE MY BABY and adaptations of THE THREE MUSKETEERS, TREASURE ISLAND and THE BEAUX' STRATAGEM. His newest musical, AN AMERICAN IN PARIS, opens in May at the Alley Theatre in Houston, Texas, and he is currently writing a movie for The Walt Disney Studio. JASON MARR (Director) is an actor/director/teacher based in NYC. He is a founding company member of the Ohio Shakespeare Festival where he played leading roles and mentored young actors for five seasons. Jason is the founding Artistic Director of Hip to Hip Theatre Company, a Queens based troupe dedicated to producing classic and modern classic plays. Favorite directing credits include THE HOLY GHOSTLY, MOURNING BECOMES ELECTRA and AS YOU LIKE IT. As an actor, Jason has worked extensively on stage and television and was recently nominated for an IRNE (Boston critic's choice award) for his portrayal of infamous theater critic Ken Tynan in ORSON'S SHADOW. JAMES EWING (Set Design) co-founded the Hampton Theatre Company in 1984 and has since appeared in over 20 productions, most recently playing Colonel Jefferson C. Kinkaid in THE OLDEST LIVING GRADUATE, and built numerous sets. MARY-ALYCE VIENNEAU (Set Decor, Properties) dressed the set for the company's recent production of THE OLDEST LIVING GRADUATE and has appeared in numerous productions including last fall's production of DOUBT. When not in the theater, she runs her business, Mary's Garden. SEBASTIAN PACZYNSKI (Lighting Designer) first worked with the Hampton Theatre Company when he designed the company's 2003 production of SUMMER AND SMOKE at Guild Hall and has designed all the company's productions since PROOF in 2004 as well as the new theater's lighting system. He has designed lighting for theater, dance and special events in a number of Broadway, Off Broadway, Off Off Broadway and regional venues. He has also worked in film and television as the director of photography. He designed the 75th Anniversary Season for Guild Hall where he has also designed RED HERRING, THE CHERRY ORCHARD, DRACULA, JULIUS CAESAR, MACBETH, HAMLET and MOBY DICK. Other local credits include THE COMEDY OF ERRORS, THE TAMING OF THE SHREW, A WINTER'S TALE and TWELFTH NIGHT for the Hamptons Shakespeare Festival. TERESA LEBRUN (Costume Designer) has been with the Hampton Theatre Company on and off for over twenty years. She designed costumes for the company's recent productions of THE OLDEST LIVING GRADUATE, GLENGARRY GLEN ROSS, DOUBT, LÉOCADIA, BREAKING LEGS and EVERYTHING IN THE GARDEN. Teresa has also costumed for Spindletop Productions at Guild Hall. Much love to her boys Josh and Noah. JOHN ZALESKI (Stage Manager) would like to thank the cast and crew of MOON OVER BUFFALO. It's quite a pleasure to be around such talented and some truly gifted people. This is John's 98th production. ROB DOWLING (Lighting & Sound Technician) has done lighting and sound effects for 17 years at the North Fork Community Theater in Mattituck, Vail-Leavitt Music Hall in Riverhead, Producer's Club in Manhattan, the Loft Theater at Dowling College in Oakdale and the Southampton Cultural Center in Southampton. He has helped set up lighting at theaters in East Hampton and Bridgehampton as well. This is Rob's second season with the Hampton Theatre Company. He is very happy to be part of the show and the company. "Enjoy the show!"
Director – JASON MARR Producer – SARAH HUNNEWELL Set Designer – JAMES EWING Set Decor and Properties – MARY-ALYCE VIENNEAU Lighting Designer – SEBASTIAN PACZYNSKI Costume Designer – TERESA LEBRUN Costume Assistants – KATHY & GEORGE LOIZIDES Stage Manager – JOHN ZALESKI
Assistant Stage Managers / Backstage Crew – RACHEL LUCAS, MARY VIENNEAU Set Construction – RUSSELL BABIS, PHIL EBERHARDT, JAMES EWING, KATHY ILACQUA, BOB KAPLAN, GEORGE LOIZIDES, PETER MARBURY, SEAN MARBURY, JASON MARR, PETER STEWART, MARY-ALYCE VIENNEAU Sound Design – BOB KAPLAN Sound & Lighting Tech – ROB DOWLING Fight Choreographer – JOEL LEFFERT Production Graphics –
JOE PALLISTER
Program, Publicity & Box Office – SARAH HUNNEWELL House Manager – JULIA MORGAN ABRAMS Advertising Sales – SARAH HUNNEWELL, CATHY SCHWARTZ, JULIA M. ABRAMS, DIANA MARBURY, LUCINDA E. MORRISEY, BART RAFFAELE, PEGGY THORNE Production Photographer – TOM KOCHIE Opening Night Party – THE PATIO
MADCAP ROMP IN "MOON OVER BUFFALO"
by Lee Davis Southampton Press In 1953, a few years before TV became the most popular (and sometimes only) form of entertainment for families in America, theaters like the Erlanger in Buffalo, New York, could still attract matinée crowds with alternating rep productions of, say, "Cyrano de Bergerac" and "Private Lives." Enter, after the opening curtain of "Moon Over Buffalo," the Hampton Theatre Company's production, actors George and Charlotte Hay, dueling and emoting with fiery energy. And for the next two hours, this long-married, long-battling couple plunge into a rip-roaring farce—a theatrical form that had just about as much life left as the Erlanger in 1953. Except, that is, in the works of playwright Ken Ludwig, who has managed to not only preserve farce but win Tonys for "Lend Me a Tenor" and the book for "Crazy for You." "Moon Over Buffalo" came before these two award-winners, and it's not as sustained in its slapstick, slamming doors, and rapid-fire deliveries. Still, it's fairly uninterrupted fun, and the current HTC mounting of it is a suitably madcap capper to its highly ambitious 2007-08 season. Successful farce depends strongly upon its actors and director. And in both departments, the HTC has supplied its production with a plenitude of talent. Jason Marr has directed with a sure hand for making the most of every bit of visual humor in a script bursting with it. And he's kept his actors constantly and dizzily in motion for almost every minute of the two-hour running time of the play. In casting this mounting of "Moon Over Buffalo," the HTC has mixed professional actors with non-professional actors in a rewarding comic stew of tasty acting skills, split-second comic timing, and a double (at least) portion of slapstick. Though the set by James Ewing and Mary-Alyce Vienneau suffers somewhat from obvious budget constraints, it retains, for the play's entire course, its most necessary characteristic: the solidity to accommodate an evening of non-stop slamming doors, high-speed entrances and exits, and various other doorway comic bits. Theresa Lebrun's costumes are letter perfect—over the top in every way. And Sebastian Paczynski's lighting design bathes, with knowing skill, the evening in the pinks and ambers of a 1950s stage and backstage. In the large cast, Teddy Nilsson struggles a bit in his opening sequences as to-be-announced fiancé of the Hays' daughter, Rosalind, but once he's mistaken for famed movie director Frank Capra, his performance catches the fire already blazing around him. Andrew Botsford, as usual this season, makes the very most of what could be a very small part, and delivers the most hilarious take of the evening a gem that stays well beyond the running time of the play. Amanda Nichols as the pregnant ingenue that causes a great deal of the play's abundant turmoil is suitably ripe for seduction and does a great deal with her role as the wide-eyed victim of George Hay's overactive libido. Diana Marbury is a hoot as Ethel, the nearly deaf mother of Charlotte Hay. Ms. Marbury is blessed with some of the surest comic lines of the play, and she delivers them with a fine-tuned sense of comic timing that's always solidly on target. Peter Stewart is a strong, convincing actor whose presence with the HTC should go long beyond this season. In "Moon Over Buffalo," he's Paul, a charismatic matinee idol of a stage manager and actor, the former boyfriend of Rosalind, who, through a series of life-saving occurrences, turns into her present fiancé. Mr. Stewart's penultimate scenes with the drunken, pratfalling George Hay are gems of timing and slapstick delivery. As the daughter, Rosalind, Joy Marr adds a pretty and sophisticated shine to the crazy goings-on. Her transitions between real life and the onstage life of Noel Coward's heroine in "Private Lives" are done with devoted dexterity, and her romantic scenes with Mr. Stewart are welcome pauses in the almost non-stop roaring goings-on of the rest of the play. Sooner or later, the two star turns of "Moon Over Buffalo" rest on the shoulders of the actor and actress playing George and Charlotte Hay. And in Quogue, the stars are shining brightly. Rosemary Cline's joyous return to her beginnings onstage is a long and overdue treat. Whether playing off the rambunctious rowdiness of Joel Leffert's George Hay, or trying to bring some common sense to a nonsensical series of insane situations, she sustains a comic portrayal that never for an instant departs from the complex comedienne that is Charlotte Hay. Finally, the dynamic energy at the heart of "Moon Over Buffalo" belongs to the actor portraying the aging over-the-top actor George Hay. And the HTC and its audiences benefit mightily from the sheer power and variety of Joel Leffert's exhausting and wildly farcical portrayal of George Hay. From a romantically over-inflated Cyrano, through a string of wildly out-of-context Shakespearian quotes, to a repository of the sorely wounded ego of an actor past his prime, to a termagant battle with his wife, Charlotte, to pratfalls that he executes with the agility of an acrobat, to mad slapstick bits that rattle the rafters, to a sustained drunk scene thrown in for good measure by the playwright—Mr. Leffert's performance is a carefully delivered portrait of a mad and ultimately lovable old actor. In sum, this "Moon Over Buffalo" is an evening of mindless fun, and one not to be missed. Considering the way of the world today, we could all use some hearty laughter. And Quogue is the place to find it these days and nights.