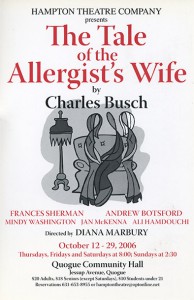 by Charles Busch directed by Diana Marbury
October 12 – 29, 2006
An award-winning hit at the Manhattan Theatre Club and on Broadway, THE TALE OF THE ALLERGIST'S WIFE is a radical departure for the well known author of extravagant spoofs like VAMPIRE LESBIANS OF SODOM and PSYCHO BEACH PARTY.

CAST: Marjorie – FRANCES SHERMAN Mohammed – ALI HAMDOUCHI Ira – ANDREW BOTSFORD Frieda – MINDY WASHINGTON Lee – JAN McKENNA
ANDREW BOTSFORD
(Ira) is a veteran of more than 25 Hampton Theatre Company productions since 1985. He appeared most recently in NIGHT WATCH in April 2005 and in last season's readings of ANOTHER ANTIGONE and THE HO– USEKEEPER. Favorite shows include THE FOREIGNER, ORPHANS, NOISES OFF, THE LAST YANKEE, THE DINING ROOM, SYLVIA, SOCIAL SECURITY and RUMORS. Andrew is a member of the Hampton Theatre Company Board of Directors and the Associate Editor of The Southampton Press.
ALI HAMDOUCHI
(Mohammed) was born in Morocco in 1978. He began studying English, his third language after Arabic and French, in high school and studied English literature and acting in college. In 2000, while working at a resort, he met a lovely American lady, Marie Esposito. The two were married in 2001 and he migrated to the United States in 2003. Ali is thrilled to make his American acting debut in the role of Mohammed in this production.
JAN MCKENNA
(Lee) lives in Calverton with her two daughters Erin and Tara. All three sing, dance, act and choreograph. Together with brother Jim, who is currently on Broadway in THE PRODUCERS, they have a very theatrical family. Jan has worked with the Riverhead Faculty and Community Theater for 15 years and is currently choreographing their next production, HOW TO SUCCEED IN BUSINESS… She worked for Theater Three for nine years and recently did GODSPELL at North Fork Community Theater. Favorite roles include Ella in BELLS ARE RINGING, Gloria in DAMN YANKEES, Charlotte in A LITTLE NIGHT MUSIC, Bonnie in ANYTHING GOES, Patty Simcox in GREASE and Ellie in NIGHT WATCH. She is a board member of the Vail-Leavitt Music Hall in Riverhead where she schedules their events and ran a youth group called "The Stars of Tomorrow." She met Charles Busch when her brother was in his production of TIMES SQUARE ANGEL and is thrilled to be performing his play.
FRANCES SHERMAN
(Marjorie). From stage to screen to television, this shiksa has gone where they pay her these last 20 years, and sometimes where they have not…a lot like the character Joey on "Friends." Examples of this trip go from "Another World" to various commercials, to music videos, to Off Broadway with LADIES AT THE ALAMO, to the film "A Shock To The System" (with Michael Caine). It's been an interesting acting journey among some extraordinary people. Other creative endeavors include a fragrance company—Chantilly, anyone?—the raising of her awesome son Jeff and collaborating with novelists as they adapt their work into screenplays. It's an unusual joy to be found old enough to explore her latent Jewishness with the Hampton Theatre Company. Much thanks to Angie and Bebot for their constant help…love to Michael and Jeff who are my heart and breath always. Mazel Tov! Rep. contact:
[email protected]
.
MINDY WASHINGTON
(Frieda), a.k.a. Reba Bienstock-Flagelstein, was born in 1926 and at the age of five was discovered by the great Fanny Brice. Reba became a child star that same year in the Yiddish Theatre's hit production of MRS. HENDEL'S CHIK'N FLICKER. Reba remained a mainstay of the Yiddish theatre world until the last Yiddish theatre closed its doors in NYC—a tragic end to an era. However, Reba/Mindy remained in the professional theatre and with her best friend, Felicia Sackler-Connors, starred in their hit two-woman travelling show THE SCARSDALE SISTERS. Mindy last starred on the East End as Eleanor of Aquitaine in THE LION IN WINTER. She is a member of Actors' Equity Association (AEA). She is delighted to be working once again with the Hampton Theatre Company. Her performance tonight is dedicated to fellow thespian Kristin Sinkel, called Home too soon.
CHARLES BUSCH
(Playwright) first came to prominence as both author and performer (as the leading lady, in drag) in plays that simultaneously sent up and celebrated classic film genres including VAMPIRE LESBIANS OF SODOM (1984), PSYCHO BEACH PARTY (1987), THE LADY IN QUESTION (1989) and RED SCARE ON SUNSET (1991). Busch's success in his own works led to numerous performances in other plays and movies. THE TALE OF THE ALLERGIST'S WIFE, which opened on Broadway in 2001, was quite a departure from his earlier work and the first in which he did not star. It received a Tony Award nomination for Best Play and ran for 777 performances. His only other Broadway work to date has been the rewritten book for Boy George's autobiographical musical TABOO. OUR LEADING LADY, Busch's play about Laura Keene, the nineteenth-century actress who starred in the production of OUR AMERICAN COUSIN that Abraham Lincoln attended the night he was assassinated in Ford's Theatre, is scheduled to premiere in New York during the 2006-2007 season of the Manhattan Theater Club.
DIANA MARBURY
(Director, Producer, Set Decor) has worked in many capacities with the HTC over the years and is delighted to be a part of a wonderful, dedicated group of theater people who work hard and steadily to provide live theater to our local community year round. She would like to take this opportunity to acknowledge a devoted member of the HTC team, Kristin Sinkel, who will be sorely missed among us. Kristin, this one's for you!
SARAH HUNNEWELL
(Producer) wears many hats for the HTC under the all purpose umbrella of Executive Director. She is happy to be working behind the scenes on this one but looks forward to her next challenge, directing Edward Albee's EVERYTHING IN THE GARDEN which opens in January. Sarah would like to extend her thanks to Ann Marie Carr for our wonderful benefit at her home this past August. Thanks as well to Hamptons Online for our beautiful new website which I hope you will visit at www.hamptontheatre.org. And, to dear Kristin, we miss you!
PETER MARBURY
(Set Designer) is the resident set designer of the Hampton Theatre Company, working closely with James Ewing to provide the many varied environments that have crossed our stage over twenty years. Peter is a sculptor by trade. In his down time, he fashions himself a yogi, African drummer and gardener, not necessarily in that order.
SEBASTIAN PACZYNSKI
(Lighting Designer) designed SUMMER AND SMOKE, PROOF, NIGHT WATCH, PAINTING CHURCHES, THE PRICE and FUDDY MEERS for the Hampton Theatre Company as well as the new theater's lighting system. He has designed lighting for theater, dance and special events in a number of Broadway, Off Broadway, Off OffBroadway and regional venues. He has also worked in film and television as the director of photography. Most recently, he designed the 75th Anniversary Season for Guild Hall where he has also designed RED HERRING, THE CHERRY ORCHARD, DRACULA, JULIUS CAESAR, MACBETH, HAMLET and MOBY DICK. Other local credits include THE COMEDY OF ERRORS, THE TAMING OF THE SHREW, A WINTER'S TALE and TWELFTH NIGHT for the Hamptons Shakespeare Festival.
TERESA LEBRUN
(Costume Designer) is happy to be back costuming for HTC. Teresa has been with the Hampton Theatre Company on and off for over twenty years. She has designed for such shows as THE HO– USE OF BLUE LEAVES, THE FOREIGNER, RUMORS, OF MICE AND MEN, SUMMER AND SMOKE, DEATH DEFYING ACTS and PROOF. Teresa has also costumed THE NERD, DRACULA and RED HERRING for Spindletop Productions at Guild Hall. Much love to her boys Josh and Noah. Also a special thanks and farewell to Kristin. You were everyone's right and left hand and you are greatly missed.
JOHN ZALESKI
(Stage Manager) is happy to return once again to the HTC for whom, most recently, he stage managed FUDDY MEERS. At the John Drew Theater of Guild Hall last March he was the production stage manager for ART. Last April, in a return to his roots in community theater, John oversaw stage left for the SCTC presentation of SOUTH PACIFIC, his second foray into Bali Ha'i and his 90th production overall. Thank you, Catherine, for your quiet support, encouragement and kicks in the ass as needed.
GAIL GIUNTA
(Stage Manager) received her BFA in Theatre from Adelphi University. She gained experience as a Stage Manager for Arena Players and enjoyed being an Assistant Director for the Phoenix Players. For a short time she worked with the Queens Players as an administrator. Gail received her MA in Education and has taught in the NYC and Arizona public schools. She designed and taught a Visual Art program for grades K-5 and assisted with set design in the NYC schools. Gail recently received her Reiki Practitioner Certificate and is a Professional Organizer helping small businesses and individuals relieve stress from and organize their homes and offices.
Director – DIANA MARBURY Producers – SARAH HUNNEWELL, DIANA MARBURY Set Designer – PETER MARBURY Lighting Designer – SEBASTIAN PACZYNSKI Costume Designer – TERESA LEBRUN Stage Managers – JOHN ZALESKI, GAIL GIUNTA
Backstage Crew – SUSAN BAILEY, EMMA ROCHER Set Construction – RUSSELL BABIS, JAMES EWING, SCOTT KIELT, PETER MARBURY, SEAN MARBURY Set Decor – DIANA MARBURY Sound & Lighting Tech – ROB DOWLING Production Graphics – MICHAEL GERIEN Program & Publicity – SARAH HUNNEWELL
FROM BANAL TO BIZARRE, BOLDLY
by Lee Davis Southampton Press So what happens when a downtown, hard-edge playwright and drag queen writes for uptown? Can he just clean up "Vampire Lesbians of Sodom" a little and hope the matinee ladies don't riot? Or might he be able to write a whole new, quite intellectual but nevertheless hysterically funny parlor comedy titled "The Tale of the Allergist's Wife"? Not that his uptown, calmed down play is all discreet and bourgeois: there's a kvetching Jewish mother whose favorite subject, especially when her daughter and son-in-law are eating, is the various and colorful problems with her bowels. And there's a pretty kinky sex scene that, at a Sunday afternoon performance of the current, bright and sassy production by the Hampton Theatre Company in Quogue, had the matinee ladies roaring with delighted laughter. Go figure. Anyway, Charles Busch's 2000 Broadway hit, "The Tale of the Allergist's Wife" is a pretty well-made play even if his contemporary habit of structuring it as a series of cinematic scenes ending in well delivered punch lines does, at least for historians, violate the wellmade play rule. And though it's a bangup clever comedy, it, alas, ends not with a bang but a whimper. Still, there are enough laughs, wild situations and delightfully drawn characters to make the trip from exposition to ending a consistently happy one. Set once again with breathtaking detail and luxurious appointments by Peter Marbury, and lit with a pretty palette indeed by Sebastian Paczynski, in a posh uptown west side Manhattan apartment, this production of "The Allergist's Wife" is blessed also with a first-rate cast, gracefully and intelligently directed by Diana Marbury. The inhabitants of the upscale apartment? Retired but still highly active allergist Dr. V. Ira Taub (Andrew Botsford) and his wife Marjorie (Frances Sherman), at the opening curtain a nervous, quivering wreck because her therapist has died and she is undergoing a sickness of the soul. Well, better that it's her soul that's sick, in contrast to her mother Frieda's (Mindy Washington) detailed and oft repeated descriptions of her irregular bowel movements. There's rampant intellectualism in the inhabitants of this posh apartment. Marjorie has read all the right books, is no stranger to the Hunter College adult education program, is an expert in German literature, favors above all Herman Hesse and "Siddhartha", and the novel she once began to write but never finished had Helen Keller and Plato as its main characters. Her failure to become a great writer isn't helped much by Ira, who's loving and caring but also preoccupied with impressing his students and the world by his achievements, altruism and elocution. Partway through the play, the doorbell rings, and in comes Lee Green (Jan McKenna), actually Lillian Greenblatt, a long-ago neighbor who's become a world traveler and celebrity collector. She bonded with Baldwin and Kerouac and Andy Warhol in the village; she slept with Gunter Grass; she worked for Chanel in Paris; she acted in a Fassbinder movie; she sat at dinner between Kissinger and Princess Di, and—you guessed it—she's read ALL of Herman Hesse. And so the transformation of Marjorie takes place, and that's all of the plot I'm going to reveal. I'll just say that it rockets from the banal to the bizarre to the bold with lots of complications in between. And the smartly, sometimes arrestingly costumed (by Teresa Lebrun) cast members make it all seem possible, or as possible as wackiness will allow. Ali Hamdouchi, as the doorman Mohammed, is convincingly like no other doorman on the planet. I mean, how many doormen do you know who are able to discuss Nadine Gordimer with you while repairing your chandelier? Andrew Botsford does a fine balancing act as an adorably befuddled Ira, sweetly and forever forgivable, blithely chronicling his many ego trips while simultaneously trying to referee the gladiator duels between Marjorie and her mother. And oh, the mother, explored and exploded by Mindy Washington, too long absent from our local stages, and who, outfitted with one of the most grotesque wigs this side of the Gateway Playhouse, delivers, with gesture, body language and firmly controlled vocal inflections, one of the lowest and funniest comic characters imaginable on or off any stage. Jan McKenna, as Lee/Lillian (and maybe a golem) is beautifully bouncy, sexy, and ultimately a little terrifying, and she makes the trip through the personalities with well-timed ease. The star turn in the play, originally written for and played on Broadway by Linda Lavin, belongs in Quogue to Frances Sherman, as Marjorie. Ms. Sherman is an imposing actress, with many strings on her violin and a charisma that's as bright and encompassing as a many-carat jewel. Her performance is a virtuoso banquet, and well worth the price of admission all in itself. But this production is ultimately most satisfying because of the uniformly high quality of every facet of it. It's fine to see the Hampton Theatre Company again in top form, picking plays that others would fear to pick, and presenting them with resplendent skill and rewarding talent. More we could not wish for, particularly in what is normally termed the off season.
'ALLERGIST'S WIFE' HAS THE SNIFFLES
by Steve Parks October 18, 2006 Charles Busch, who cut his theatrical teeth on such off Off-Broadway titles as "Vampire Lesbians of Sodom" and "Psycho Beach Party" in which he invariably cast himself as a woman, wrote "The Tale of the Allergist's Wife" as his entree into the mainstream. It was nominated for a Tony Award as best play in 2001, and ran for 777 performances on Broadway. But that doesn't make it an entirely appealing play, though, to be sure, it has its moments. The author supplies his usual quota of funny lines. But as I watched director Diana Marbury's cast wrestle with Busch's intellectual and scatological comedy of ill manners, I couldn't help but wonder: What if Busch had reverted to form and called for the title role to be played by a man? Marjorie's problem is that the empty nest, which left her without the succor of her successful and grateful adult children, points to the pointlessness of her life. She has attempted to breach her self-image gap with highfalutin pursuits in arts and letters. But the recent death of her therapist has stranded her in depression on the Upper West Side. Frances Sherman as Marjorie nearly puts us at wit's end, sniveling about her emptiness. Her self-satisfied husband, a retired allergist (deftly played by Andrew Botsford with an ineffectual sympathy for Marjorie's plight), is forced to listen ad nauseam as she declares herself unworthy of Nietzsche. And that she never understood "Waiting for Godot," either. Boo-hoo. Enter Lee (née Lillian), Marjorie's girlhood buddy from the Bronx, who has led the life Marge wished for. A Zelig-like character, Lee has seen it all. And she is not too shy to remind us every minute that she gave Andy Warhol the inspiration for his Campbell's soup cans, and President Nixon the gastronomical courage to go to China. Lee is an unbelievable character. Mohammed, the Iraqi doorman (Ali Hamdouchi), doesn't believe her. As played by Jan McKenna—rather uncertainly—we don't buy her, either. Lee's appetites span geographic and gender borders; she's up for three courses and a three-way. But playing opposite Mindy Washington as Marge's earthy mom, who likes to describe her bowel movements whenever her daughter is about to eat, Lee doesn't register as part of the same species. So why not cast her as a cross-dressing Forrest Gump? That could easily have been the author's subconscious intent. And a way funnier time we might have had, ogling Peter Marbury's postmodern condo set, with Buddha standing guard over the Ella Fitzgerald CDs. Someday, a revival of Busch's biggest mainstream hit to date may take this brave step backward into the author's past—unless he forbids it—and we'll see what might have been.