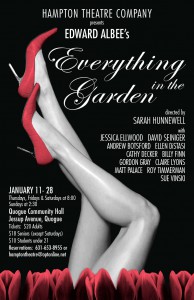 by Edward Albee directed by Sarah Hunnewell
January 11 – 28, 2007
A Broadway success in 1967, this brilliant, biting play blends humor, irony and suspense in its scathing examinations of contemporary suburban mores.

CAST: Jenny – JESSICA ELLWOOD Richard – DAVID SEINIGER Jack – ANDREW BOTSFORD Mrs. Toothe – ELLEN DiSTASI Roger – BILLY FINN Beryl – SUE VINSKI Chuck – ROY TIMMERMAN Louise – CLAIRE LYONS Gilbert – GORDON GRAY Cynthia – CATHY DECKER Perry – MATT PALACE
ANDREW BOTSFORD (Jack) is a veteran of more than 25 Hampton Theatre Company productions since 1985. He appeared most recently last fall in THE TALE OF THE ALLERGIST'S WIFE. Favorite shows include THE FOREIGNER, ORPHANS, NOISES OFF, THE LAST YANKEE, THE DINING ROOM, SYLVIA, SOCIAL SECURITY and RUMORS. Andrew is a member of the Hampton Theatre Company Board of Directors and the Associate Editor of The Southampton Press. CATHY DECKER (Cynthia) is making her debut with the Hampton Theatre Company and is thrilled to be working on this wonderful play with such a talented cast. She graduated from William Esper Studio in NYC, and has performed such roles as Fairy Mae in THE CURIOUS SAVAGE with the Attic Ensemble, Ariel in THE TEMPEST, Player Queen in HAMLET, and Lady Macduff in MACBETH with Piper Theater Company in Westchester, NY. Cathy has also appeared on the television show "Law and Order" and in the film "Uptown Girls." She would like to thank her family in Sayville for being so supportive and her two Springer Spaniels, Ringo and Mickey, for keeping life spontaneous. ELLEN DISTASI (Mrs. Toothe) is delighted to be making her debut with the Hampton Theatre Company. Ellen is the founder and artistic director of the Theater of Light, a nonprofit Cultural Arts Institute currently working on a theatrical workshop series focusing cancer patients on their inner strength. Ellen played Jenny in her alma mater Carnegie Mellon University Drama Department's production of EVERYTHING IN THE GARDEN and enjoys the irony of her evolution to Mrs. Toothe. Ellen's diverse career has included Shakespeare to musical comedy. She credits her success to her wonderful support group of family and friends. BILLY FINN (Roger). This is Billy's first appearance with the Hampton Theatre Company. He was most recently seen in the Westhampton Beach High School production of THE CRUCIBLE as Reverend John Hale. Billy, a high school freshman, has also appeared in middle school productions of KRAZY KAMP and HOW TO EAT LIKE A CHILD and enjoyed the title role in OLIVER atthe Westhampton Yacht Squadron. An accomplished vocalist, Billy performs in chamber and jazz choirs and competes county wide. He would like to thank his parents, his friends, his church family and Mrs. Linda Howard for believing in him. JESSICA ELLWOOD (Jenny). EVERYTHING IN THE GARDEN is Jessica's fifth production with the Hampton Theatre Company, and her first since giving birth to her beautiful daughter, Jamie Lyn, last June. She is thrilled to be back on stage and to be part of this outstanding cast. Recent roles include Elaine Wheeler in NIGHT WATCH, Claire in PROOF, Alice in YOU CAN'T TAKE IT WITH YOU and Nellie in SUMMER AND SMOKE. She has also appeared with the NFCT in productions of ELEEMOSYNARY and WAIT UNTIL DARK and in a Northeast Stage production of AS YOU LIKE IT. Jessica would like to thank Sarah and Jimmy for encouraging her to get back on stage, her husband for supporting her and her mother-in-law and sisters-in-law for all the babysitting! GORDON GRAY (Gilbert) is proud to be a part of this fantastic group of artists in his first production with the Hampton Theatre Company. Regional: BORN YESTERDAY (Paul) at the Cape Rep Theatre, CABARET (Cliff), OF MICE AND MEN (Slim) and LITTLE SHOP OF HORRORS (Audrey II) at Northern Stage and EMMA (Ben) at the Thetford Playhouse. NY Theater: DELICATE BUSINESS OF BOY AND MISS GIRL in the NY Fringe and THREE SISTERS at Columbia. Gordon is a recent graduate of Dartmouth College were he was a Warner Bentley and Henry B. Williams Theater Fellow. CLAIRE LYONS (Louise). EVERYTHING IN THE GARDEN is Claire's first production with the Hampton Theatre Company and she is delighted to be part of such a great cast. Claire graduated from the American Academy of Dramatic Arts in NY in May 2006. Her roles there included Esther in DOLLY WEST'S KITCHEN and Hesione in HEARTBREAK HO– USE. Claire is currently working at Plum TV as a part-time presenter and is excited about beginning her career as an actor. She'd like to thank her boyfriend Jonathan and her family for their constant support. MATT PALACE (Perry). This is Matt's first performance with the Hampton Theatre Company. He has worked most recently with the Clare Rose Playhouse and Bellport Playcrafters, at one time serving on the board of directors with the latter. Among his favorite shows are LEND ME A TENOR, THE FOREIGNER and WHAT THE RABBI SAW. Matt has also performed in AS YOU LIKE IT, BUS STOP and SOCIAL SECURITY as well as in dinner theater around Long Island. DAVID SEINIGER (Richard) This is David's first production with the Hampton Theatre Company. David is a graduate of the University of Southern California's BFA acting program and has also studied acting at the American Academy of Dramatic Arts in New York. His theatre credits include ORPHANS, TRUE WEST and A MIDSUMMER NIGHT'S DREAM. David is a life-long Westhampton Beach resident, and is proud and honored to appear in EVERYTHING IN THE GARDEN with the talented cast and crew at the Hampton Theatre Company. His personal thanks, appreciation and love go out to his friends and family. ROY TIMMERMAN (Chuck) is happy to be treading the boards once again. He thoroughly enjoys performing on the East End and is excited about this one. Previous roles include Owen Musser in THE FOREIGNER with CTC and Renfield in DRACULA with Spindletop Productions. This is his first appearance with the Hampton Theatre Company. SUE VINSKI (Beryl) is pleased to be making her debut performance with the Hampton Theater Company as Beryl. Previous credits include COMPANY as Jenny, FOLLIES as Phyllis Rogers Stone, A CHORUS LINE as Bebe, ONCE UPON A MATTRESS as Lady Larken and SOUTH PACIFIC as Bloody Mary. Sue has performed as a soloist in numerous cabaret shows in Manhattan, New Haven and throughout the eastern end of Long Island. She has also sung professionally with several local jazz bands and in St. Ann's Episcopal Church. EVERYTHING IN THE GARDEN is her first non-musical performance. EDWARD ALBEE (Playwright). Plays: THE ZOO STORY (1958), THE DEATH OF BESSIE SMITH (1959), THE SANDBOX (l959), FAM AND YAM (1959), THE AMERICAN DREAM (1960), WHO'S AFRAID OF VIRGINIA WOOLF? (1961-62, Tony Award), TINY ALICE (1964), A DELICATE BALANCE (1966, Pulitzer Prize), BOX and QUOTATIONS FROM CHAIRMAN MAO TSE-TUNG (1968), ALL OVER (1971), SEASCAPE (1974, Pulitzer Prize), LISTENING (1975), COUNTING THE WAYS (l976), THE LADY FROM DUBUQUE (1977-78), ANOTHER PART OF THE ZOO (1981), THE MAN WHO HAD THREE ARMS (1981-82), FINDING THE SUN (1982-83), MARRIAGE PLAY (1987), THREE TALL WOMEN (1991, Pulitzer Prize), FRAGMENTS (1993), THE LORCA PLAY (1995), THE PLAY ABOUT THE BABY (2001), THE GOAT OR, WHO IS SYLVIA? (2002), OCCUPANT (2002), PETER AND JERRY (2004), ME , MYSELF AND I. SARAH HUNNEWELL (Director, Producer) wears many hats for the HTC under the all purpose umbrella of Executive Director. Her favorite of those hats, though, is that of director and she is thrilled to be at it again with this wonderful play and terrific cast. Previous favorites include SUMMER AND SMOKE, A VIEW FROM THE BRIDGE, THE RAINMAKER, ORPHANS and PROOF. Many thanks to Jessica for agreeing to take time away from her baby girl to play Jenny and to all the supporting players without whom our work would not be possible. But, once again, to the best supporting player of all, dear Kristin, I miss you. PETER MARBURY (Set Designer) is the resident set designer of the Hampton Theatre Company, working closely with James Ewing to provide the many varied environments that have crossed our stage over twenty years. Peter is a sculptor by trade. In his down time, he fashions himself a yogi, African drummer and gardener, not necessarily in that order. SEBASTIAN PACZYNSKI (Lighting Designer) designed SUMMER AND SMOKE, PROOF, NIGHT WATCH, PAINTING CHURCHES, THE PRICE, FUDDY MEERS and THE TALE OF THE ALLERGIST'S WIFE for the Hampton Theatre Company as well as the new theater's lighting system. He has designed lighting for theater, dance and special events in a number of Broadway, Off Broadway, Off Off Broadway and regional venues. He has also worked in film and television as the director of photography. Most recently, he designed the 75th Anniversary Season for Guild Hall where he has also designed RED HERRING, THE CHERRY ORCHARD, DRACULA, JULIUS CAESAR, MACBETH, HAMLET and MOBY DICK. Other local credits include THE COMEDY OF ERRORS, THE TAMING OF THE SHREW, A WINTER'S TALE and TWELFTH NIGHT for the Hamptons Shakespeare Festival. DIANA MARBURY (Producer, Set Decor) has worked in many capacities with the HTC over the years and is delighted to be a part of a wonderful, dedicated group of theater people who work hard and steadily to provide live theater to our local community year round. TERESA LEBRUN (Costume Designer) is happy to be back costuming for HTC. Teresa has been with the Hampton Theatre Company on and off for over twenty years. She has designed for such shows as THE HO– USE OF BLUE LEAVES, THE FOREIGNER, RUMORS, OF MICE AND MEN, SUMMER AND SMOKE, DEATH DEFYING ACTS, PROOF and, most recently, THE TALE OF THE ALLERGIST'S WIFE. Teresa has also costumed THE NERD, DRACULA and RED HERRING for Spindletop Productions at Guild Hall. Much love to her boys Josh and Noah. JOHN ZALESKI (Stage Manager) is happy to be back for a 13th production with HTC. At the John Drew Theater of Guild Hall last March he was the production stage manager for ART. In April,in a return to his roots in community theater, John oversaw stage left for the SCTC presentation of SOUTH PACIFIC, his second foray into Bali Ha'i and his 90th production overall. Thank you to the cast and crew for everything . . . in the garden.
Director – DIANA MARBURY Producers – SARAH HUNNEWELL, DIANA MARBURY Set Designer – PETER MARBURY Lighting Designer – SEBASTIAN PACZYNSKI Costume Designer – TERESA LEBRUN Stage Managers – JOHN ZALESKI, GAIL GIUNTA
Backstage Crew – SUSAN BAILEY, EMMA ROCHER Set Construction – RUSSELL BABIS, JAMES EWING, SCOTT KIELT, PETER MARBURY, SEAN MARBURY Set Decor – DIANA MARBURY Sound & Lighting Tech – ROB DOWLING Production Graphics – MICHAEL GERIEN Program & Publicity – SARAH HUNNEWELL
DARK, SARDONIC AND ENTERTAINING
by Lee Davis Southampton Press There it is, in Quogue yet another Peter Marbury masterwork of a set. A fine, flawless, interior of a fine, flawless suburban home, giving onto a fine, green garden. Just right for a comedy of manners. But wait a minute: Isn't this room just a little too perfect? And isn't the light from Sebastian Paczynski's flawless lighting design just a little too good to be true? And isn't the greenery just a tad beyond real green? Yes, and yes again. It's all a purposefully conceived statement of verisimilitude, as if all of this and what's to come are just a little too good to be true which is exactly the message that Edward Albee is about to deliver in his dark and sardonic comedy "Everything in the Garden," currently being given a mightily entertaining and cutting-edge production by the Hampton Theatre Company. The play may be set in the 1960s, when it was written, with the prices of its homes and cigarette packs several floors below present prices, but make no mistake about it: Albee's observations are timeless and eerily local. Premiered on Broadway in 1967, the year after he won the Pulitzer Prize for "A Delicate Balance," and based upon Giles Cooper's 1962 play of the same name, "Everything in the Garden" is another of Albee's skewerings of the suburban psyche. This time out, the skewering highlights that psyche's relentless focus upon surface seemliness and money, with its power to provide along with membership in the best clubs conspicuous consumption as a measurement of success and the worth of a human being. Oh, and not to forget: laced through it is enough hypocrisy and bigotry to start a war. All of this begins with a labored, even lumbering exposition, which is Albee's sinister purpose: he raises the curtain on a young suburban couple, complaining in concert about how little money they have, and how they wish they had more, and about how they have to scrimp, even collecting the coupons from cigarettes to trade for certain essentials, and on and on. Jenny (Jessica Ellwood), the wife, chirps away, trying to be cheerful in desperate circumstances, and her husband, Richard (Davis Seiniger), mutters stoically. But then Jack (Andrew Botsford), a slightly tipsy, debonair, and filthy rich next-door neighbor, enters from the garden and simultaneously breaks through the fourth wall of the theater. A wisecracking Greek chorus, he not only flirts with Jenny and annoys Richard, but confides to the audience that all isn't really what it seems. And this becomes obvious almost instantly, with the unbidden entrance of a sort of reverse Fairy Godmother, in the person of a mysterious Mrs. Toothe (Ellen DiStasi). Apparently a millionairess, she soon reveals herself as a millionairess madam. And we're abruptly in "Belle de Jour" territory: Jenny wants money, and wants to challenge Richard's macho implication that she isn't fit to make her own money. Mrs. Toothe offers her plenty, all right in return for her services in Mrs. Toothe's elegant brothel. Jenny is shocked, outraged, insulted. But not for long. And her acquiescence sends the play spinning into very dark territory indeed, a country in which the hypocrisies of suburbia bubble in a merry caldron of boiling, sardonic humor. And here, the action takes off like a supercharged German luxury car the kind that gives a certain identity to our local Main Streets every summer and the very thin layers of suburban respectability begin to peel away with the speed and agility of, well, a prostitute divesting herself of her clothing. In Quogue, director Sarah Hunnewell harnesses this forward motion gracefully and skillfully. The air fairly crackles with tension and comic fireworks. And a first-rate cast digs into a coven of not altogether admirable characters with wise gusto. The final scene of the play takes place in a celebratory, revelatory party held in the smart living room of Jenny and Richard, and their remarkably perceptive and articulate son, Roger, played with easy naturalness and effect by Westhampton Beach High School freshman Billy Finn, a young actor to be watched and reckoned with. The guests at the party, a cross section of the denizens of every restricted club of reality or imagination, are played with delicious individuality by Sue Vinski, Roy Timmerman, Claire Lyons, Gordon Gray, Cathy Decker and Matt Palace. There isn't a weak link in the entire party. They're all dashingly delightful. As Mrs. Toothe, Ellen DiStasi manages to mix a witch's brew of seductive evil with dashes of worldly sophistication. Her puzzling and episodic mid-Atlantic accent is a detraction, but no matter. Her otherworldly role in the scheme of the play is aptly and archly fulfilled. David Seiniger's portrayal of the at-first complacent and then outraged husband Richard is comfortable, comforting, and refreshingly controlled. There's a plenitude of power in his performance, which Mr. Seiniger utilizes with intelligent skill. Jessica Ellwood's rendering of Jenny, the wife in question, is an endearing marvel. Giving off an abundance of adorableness, she passes from passivity to power with the ease of an ascending bird, directed by the sure compass of a thoroughly and articulately inhabited character. It's her most finely nuanced performance yet. And matching her, in possibly the best, most realized portrayal he's given yet, Andrew Botsford makes of Jack, the rogue Greek chorus and deus ex machina, a splendid delight. The role fits him like a finely tailored glove, and he runs, dances and soars with it. In fact, you're not likely to see two better performances than those of Jessica Ellwood or Andrew Botsford on any stage this season. That they're at the top of a top-notch cast in a play you'll not likely forget is a rewarding plus.
WHERE WORDS MATTER
by Steve Parks January 18, 2007 Money may not be the root of all evil, but it is in this 1967 suburban morality play. On Peter Marbury's airy-bright living room set, underfurnished to reflect the host couple's financial straits, Hampton Theatre Company's "Garden" grows bouquets of absurdist social commentary. When David Seiniger enters as hubby Richard, all sweaty from mowing his own lawn, we're reminded of the TV commercial with the guy who cheerily confesses, "I'm in debt up to my eyeballs!" Richard's wife, Jenny, adorably unconscionable as played by Jessica Ellwood, scrimps on cigarettes she buys with coupons. Their drop-in neighbor, Jack, genially tipsy on the wobbly legs of Andrew Botsford, narrates with slurring asides to the audience. Jack intends to leave his $3 million to them, perhaps because he's lecherous for the lovely Jenny. Unaware of Jack's intended bequest, Jenny is recruited by a madam (Ellen DiStasi) to turn tricks for 100 bucks an hour. An Act II cocktail party, laced with champagne, caviar and anti-Semitic country-club jokes, reveals a comically dark underside to the garden that director Sarah Hunnewell digs just deep enough to bring into the fading sunshine (lighting by Sebastian Paczynski). It's quite a view.