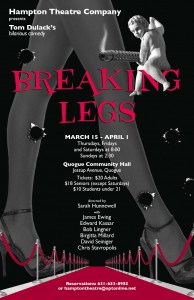 by Tom Dulack directed by Sarah Hunnewell
March 15 – April 1, 2007
The worlds of the Mafia and the theatre clash hilariously when a professorial playwright seeks funding for his new play from the family of a former student. The "family" turn out to be minor Mafia godfathers who are willing to underwrite the play provided they never have to read it. The fact that the lusty, unwed daughter of the house falls in love with the playwright only furthers his involvement with the Mob.

CAST: Lou Graziano – CHRIS STAVROPOLIS Angie Graziano – BIRGITTA MILLARD-LINGNER Terence O'Keefe – BOB LINGNER Mike Francisco – EDWARD KASSAR Tino De Felice – DAVID SEINIGER Frankie Salvucci – JAMES EWING
JAMES EWING (Frankie Salvucci, Set Designer/Builder) founded the Hampton Theatre Company in 1984 and has since appeared in over 20 productions and built numerous sets. Favorite roles include Owen Musser in THE FOREIGNER, Artie Shaughnessy in THE HO– USE OF BLUE LEAVES, Nonno in THE NIGHT OF THE IGUANA, Tobias in A DELICATE BALANCE and all the many characters of THE DINING ROOM. He is happy to be returning to the stage in this very funny play and very proud of his truly gifted director and HTC Executive Director, Sarah Hunnewell. EDWARD KASSAR (Mike Francisco) played Lennie in the Hampton Theatre Company's production of OF MICE AND MEN at Guild Hall and Limping Man in last spring's production of FUDDY MEERS. Other theatrical credits include THE ZOO STORY, ART, MISERY, HURLYBURLY, GOOSE AND TOMTOM, A STREETCAR NAMED DESIRE, SAME TIME NEXT YEAR, I HATE HAMLET, BURIED CHILD, NOT ABOUT NIGHTINGALES and THE NERD. Film credits include "Mulligan Farm," "Down Clown," "Nine Out of Ten," "If I Only Knew" and "Scallop Pond." Thanks to Mom, Dad, family and friends for their support. BOB LINGNER (Terence O'Keefe) is delighted to be making his debut with the Hampton Theatre Company. He has been performing in regional theater for many years including roles in: JERRY FINNEGAN'S SISTER, THE NERD, FIRST NIGHT, FOOLS, OTHER PEOPLE'S MONEY, NOISES OFF, THE COMPLEAT WORKS OF WILLIAM SHAKESPEARE ABRIDGED, THE ODD COUPLE, THE FOREIGNER, LAUGHTER ON THE 23RD FLOOR, IT'S ONLY A PLAY, RUN FOR YOUR WIFE, THE SISTERS ROSENSWEIG and LOST IN YONKERS. Bob has also performed improv at the Upright Citizens Brigade. He is delighted to once again be on stage with his lovely and talented wife Birgitta. BIRGITTA MILLARD-LINGNER (Angie Graziano) is tickled to make her Hampton Theatre Company debut with her dashing and incredibly talented husband in this hilarious play. Some favorite theater credits include A STREETCAR NAMED DESIRE (Blanche), THE VAGINA MONOLOGUES, BURN THIS (Anna), CAT ON A HOT TIN ROOF (Margaret), NOISES OFF (Belinda), LEND ME A TENOR (Diana), BAREFOOT IN THE PARK (Corey), THE GOD OF ISAAC (Shelly), THE ODD COUPLE (Female Version) (Florence), TWELFTH NIGHT (Olivia) and SEE HOW THEY RUN (Ida). Special thanks to Sarah for casting against type with a blonde Swede! I know it's a stretch; I hope I've made you proud! DAVID SEINIGER (Tino De Felice). This is David's second production with the Hampton Theatre Company, following his recent appearance as Richard in EVERYTHING IN THE GARDEN. David is a graduate of the University of Southern California's BFA acting program and has also studied acting at the American Academy of Dramatic Arts in NYC. His theatre credits include ORPHANS, TRUE WEST and A MIDSUMMER NIGHT'S DREAM. David is a life-long Westhampton Beach resident. His personal thanks, appreciation and love go out to his friends and family. CHRIS STAVROPOLIS (Lou Graziano) made his debut with the Hampton Theatre Company in last winter's production of THE PRICE. He has also appeared with the Long Island Baroque Ensemble performing scenes from RICHARD III and TARTUFFE between the sublime music selections of the Ensemble. For some comic relief he played Launce in TWO GENTLEMEN OF VERONA outdoors at Mitchell Park. Beyond the walls of the theater he works as an artist whose works are currently showing at galleries throughout Long Island. TOM DULACK (Playwright) is the author of more than a dozen plays, including INCOMMUNICADO, SOLOMON'S CHILD, DIMINISHED CAPACITY, CAPITAL CRIMES, BRIGHT WINGS, NEAR THE END OF THE CENTURY, FRIENDS LIKE THESE, CATHERINE and BREAKING LEGS which ran for more than a year at New York's Promenade Theatre starring Vincent Gardenia and Phillip Bosco, toured nationally and has received numerous regional productions. Dulack is also the author of four books and a screenplay for HBO. In addition to his playwriting, Dulack teaches courses in dramatic literature at the Waterbury Campus of the University of Connecticut, where he is a Professor of English. SARAH HUNNEWELL (Director, Producer, Set and Sound Designer) wears many hats for the HTC under the all-purpose umbrella of Executive Director. Her favorite of those hats, though, is that of director and she is happy to be at it again. Previous favorites include the company's recent production of EVERYTHING IN THE GARDEN as well as SUMMER AND SMOKE, A VIEW FROM THE BRIDGE, THE RAINMAKER, ORPHANS and PROOF. Many thanks to her excellent cast and crew and to Jimmy for his never-ending support, talent and hard work. SEBASTIAN PACZYNSKI (Lighting Designer) designed SUMMER AND SMOKE, PROOF, NIGHT WATCH, PAINTING CHURCHES, THE PRICE, FUDDY MEERS, THE TALE OF THE ALLERGIST'S WIFE and EVERYTHING IN THE GARDEN for the Hampton Theatre Company as well as the new theater's lighting system. He has designed lighting for theater, dance and special events in a number of Broadway, Off Broadway, Off Off Broadway and regional venues. He has also worked in film and television as the director of photography. Most recently, he designed the 75th Anniversary Season for Guild Hall where he has also designed RED HERRING, THE CHERRY ORCHARD, DRACULA, JULIUS CAESAR, MACBETH, HAMLET and MOBY DICK. Other local credits include THE COMEDY OF ERRORS, THE TAMING OF THE SHREW, A WINTER'S TALE and TWELFTH NIGHT for the Hamptons Shakespeare Festival. TERESA LEBRUN (Costume Designer) is happy to be back costuming for HTC. Teresa has been with the Hampton Theatre Company on and off for over twenty years. She designed costumes for the company's recent production of EVERYTHING INTHE GARDEN as well as THE HO– USE OF BLUE LEAVES, THE FOREIGNER, RUMORS, OF MICE AND MEN, SUMMER AND SMOKE, DEATH DEFYING ACTS, PROOF and, last fall, THE TALE OF THE ALLERGIST'S WIFE. Teresa has also costumed THE NERD, DRACULA and RED HERRING for Spindletop Productions at Guild Hall. Much love to her boys Josh and Noah. JOHN ZALESKI (Stage Manager) would like to thank the cast of BREAKING LEGS and the entire production team for the magic of turning these pages into passion. Q 94 go! GAIL GIUNTA (Assistant Stage Manager) joins the HTC for the third time with this production. She received her BFA in Theatre from Adelphi University. She gained experience as a Stage Manager for Arena Players and enjoyed being an Assistant Director for the Phoenix Players. For a short time she worked with the Queens Players as an administrator. Gail received her MA in Education and has taught in the NYC and Arizona public schools. She currently teaches on the North Shore. Gail recently received her Reiki Practitioner Certificate and lives in Westhampton. BETTY ROBERTS (Assistant Stage Manager and Prop Artist), professional volunteer, took a month off to Play in the theater. It is a pleasure to work with young, wonderful people. Not to mention, I don't have to sell any raffle tickets!!! Theater people are the greatest. Easy going, hard working, happy people, it is a pleasure to be here. ROB DOWLING (Lighting & Sound Technician) has worked lighting and sound for over 15 years at North Fork Community Theater in Mattituck, Vail-Leavitt Music Hall in Riverhead, Producer's Club in Manhattan and The Loft Theater at Dowling College in Oakdale. He was set designer and ran lighting for HOMEFRONT which first showed at Southampton Historical Museum in 2004. This is Rob's third show with the Hampton Theater Company and he is very happy to be part of it. Both the show and the company. "Enjoy the show!"
Director & Producer – SARAH HUNNEWELL Set Designers – JAMES EWING & SARAH HUNNEWELL Lighting Designer – SEBASTIAN PACZYNSKI Costume Designer – TERESA LEBRUN Stage Manager – JOHN ZALESKI Assistant Stage Managers – GAIL GIUNTA, BETTY ROBERTS
Master Carpenter – SEAN MARBURY Set Construction/Painting – JAMES EWING, SEAN MARBURY, RUSSELL BABIS, RORY CONWAY, SEAMUS NAUGHTON, DAVID SEINIGER, JOHN ZALESKI Prop Artist – BETTY ROBERTS Sound Design – SARAH HUNNEWELL Sound & Lighting Tech – ROB DOWLING Production Graphics –
JOE PALLISTER
Program, Publicity & Box Office – SARAH HUNNEWELL Opening Night Party – STONE CREEK INN
SUCCESS NOT JUST LUCK FOR "LEGS"
by Lee Davis Southampton Press If the end of winter breeds, among the scheduling committees of local community theater companies, mindless comedies with shadow characters, so be it, I say if the company can cast the play with actors who have an unerring sense of comic timing, can maintain the energy of the play at mach speed, and can make their barely written roles at least minimally human. And, oh yes: If there's a director in charge who can knit one of these often one-joke plays into a somewhat cohesive anecdote, I say, let 'em rip. Happily, all of the above prerequisites are present in rewarding abundance in the Hampton Theatre Company's current, almost entirely hilarious mounting of Tom Dulack's "Breaking Legs," a kind of melding of "The Sopranos" and "The Honeymooners," set in the back room of an Italian restaurant in Brooklyn. Taking his cue from the theatrical good wish, "break a leg," and expanding it to gangland, where more than legs are broken on more occasions than opening nights, Mr. Dulack populates his play with a stage full of Italian stereotypes and plops them down in an absurd plot that defies belief. And yet, in a sweet and surprising way, it works. You won't exit the theater in Quogue pondering the meaning of the show, but you will leave mightily entertained, as were, apparently, the audiences who kept the 1990 production of "Breaking Legs"—featuring Vincent Gardenia, Philip Bosco and Larry Storch—alive at the uptown Off-Broadway Promenade Theatre for 401 performances. Okay, here's the story in a nutshell, or maybe a little less: A college professor (suspiciously modeled upon Mr. Dulack) has written a play, but he can't find enough backers to move it to an Off-Broadway venue. But, apparently because he once had, in one of his classes, the gum-snapping, endlessly curvaceous and sexually overstimulated daughter of a Brooklyn gangster, he brings the play to the father and his mob for backing. The girl, whose biological alarm clock is clanging, is attracted to her teacher; the teacher is on his way to a divorce from not only his wife but his senses; and the assembled goodfellas decide what the hell, they'll invest a million or so in the play and be interviewed by Connie Chung on opening night. Director Sarah Hunnewell cheerfully plunges into this nonsense and makes it make comic sense by bridging the comedy routines with high speed action and high velocity situations. Even when the play flies off into a million pieces at the beginning of the second act, she nevertheless keeps her actors spinning and the action gyrating, and by the final curtain all is not only forgiven but applauded. Of course, none of this would come off at all if it weren't for a cast of truly skillful actors who are able to make sometimes through sheer energy, and more times by milking their roles for every drop of comic possibility the evening a romp that not only suspends disbelief but sends it packing. Refreshingly back on stage after an absence that made him much missed, James Ewing, in the role of an unfortunate guy in debt to the mob, Frankie Salvucci, proves the adage about no small roles, and fills his moment on stage with a quick shot of mirth. David Seiniger continues his strong presence as a recent addition to the rep cast of the HTC by sustaining, every second, Tino De Felice, a quietly brooding and therefore menacing gangster. As Lou Graziano, the restaurant owner and father of the ever lubricious Angie, Chris Stavropolis, possessed of a honk of a voice, is delightful and funny as a hoodlum who knows nothing about the theater except the celebrity interviews on opening night. Of all the mobsters, the gem is Edward Kassar, as a hulk who, despite protests that his stomach is upset, manages to down huge quantities of various Italian dishes (there's a plenitude of eating throughout the play), and who, for some wacky plot reason, has spent some summers in the audiences of stock companies performing classic musicals. What if he gets the casts confused, placing, for instance, Ethel Merman in a starring role in "The Desert Song?" Mr. Kassar's comic shtick is classic, too, and he makes every moment of his considerable time on stage a rollicking one. This leaves the professor and the resourceful harlot with a heart. Husband and wife offstage, Bob Lingner (Terence O'Keefe) and Birgitta Millard-Lingner (Angie Graziano) let the sparks fly like Fourth of July fireworks. Their climactic moment at the end of act one is the hilarious high point of the evening. There are times when Mr. Lingner locks into the timing and the spirit of the play precisely, and makes, of the out-of-his-element professor a sympathetic and lovable character. But there are unfortunately more times when he loses control of his delivery and ascends way over the top, even in this high powered production. As a result of these sometimes painful moments, he periodically loses his attractiveness and descends into obnoxiousness. Some directorial attention, combined with a little more concentration and rehearsal, and this competent actor should have the opportunity to find and lock into his character. Birgitta Millard-Lingner had better start looking for ways to compress her name so it fits on a marquee. She's priceless, adorable, sexy, and possessed of an overflow of subtle comic takes, postures and deliveries. In other words, she's pure magic on stage, and her every utterance, gesture, and flick of the eye is a joy to behold. She's an actress to seek out in her next appearance on any stage. The set, designed by James Ewing and director Sarah Hunnewell, continues the HTC's reputation for meticulously marvelous environments. Sebastian Paczynski's lighting design is as merry as the play and Teresa Lebrun's costuming is droll and, as always, absolutely on target. The HTC's winning and wacky, light as a spring breeze production of "Breaking Legs" will do nothing to educate you. But it's guaranteed to make you laugh, probably longer and more heartily than you have since September.
"BREAKING LEGS" AT QUOGUE COMMUNITY HALL
by Renée Donlon Dan's Paper While most were reveling in an Irish stereotype this past St. Patrick's Day, the audience at the Quogue Community Hall was enjoying an Italian one. The Hampton Theatre Company's current production of Tom Dulack's "Breaking Legs," directed by Sarah Hunnewell, centers around a highly characterized family of Italians who are in the two businesses that all Italians in film, television, and theater are in—restaurants and the Mob. The out-of-place, awkward, Irish playwright/professor, O'Keefe (Bob Lingner), stumbles into this world in a desperate attempt to find financing for his play. Angie, O'Keefe's former-student-turned-waitress, urges O'Keefe to ask her father and his associates—a collection of non-blood-related "uncles"—to back the play. This is where the play ("Breaking Legs," not O'Keefe's) really picks up some laughs. Halfway through the second act, O'Keefe is torn between agreeing to the revisions the uncles' demand in exchange for their investing a million dollars into the production and preserving its artistic integrity. Here the humor is derived from the absurdity of mobsters arguing over literary structure and box office marketing strategy. O'Keefe listens in horror and disbelief as the uncles propose the addition of musical numbers by their accordion-playing overweight nieces. They even want to change the title to something flashier—"Oklahoma!" "Now that's a title," argues Uncle Mikey. Although this smacks across the face of O'Keefe's ivory towered sense of playwriting, he must struggle to keep from calling the uncles on their absurdity outright. They are his backers, after all, and he does not want to lose the investment. They are also mobsters, and he does not want to lose his life. Lingner handles the absurd chaos of this scene with skill. He elicits laughs by balancing extreme nervousness with occasional outbursts that arise when the uncles' revisions become too much for his college-cultivated notions of playwriting. The timid O'Keefe turns red with rage, unable to refrain from shouting, when the uncles cross the line and suggest that O'Keefe's characters be dressed as singing cats. Lingner himself is probably spared any nervousness or apprehension when it comes to the romantic scenes with Angie, the waitress, as Lingner's real-life wife, Birgitta Millard-Lingner, plays the role. This familiarity between the actors allows them to create a funny discomfort between the characters. At least O'Keefe is uncomfortable. Angie seems oblivious to or undisturbed by all this, as she bullies him with her affections. The bearded, tweed-wearing professor is no match for the big haired, tight-skirted determined Angie. Ms. Lingner demonstrates her character's fortitude with the ongoing gag of pushing up her chest before going after O'Keefe, the way a solider would pump his gun before charging into battle. The play is scattered with similar physical gags. The mention of any deceased friend or family member (of which there are quite a few) warrants an immediate stop in conversation, during which all Italian characters in the scene cross themselves in unison. Edward Kassar gets his own laughs by endowing his character, Uncle Mikey, with a bizarre, hissing laugh. In the role of Uncle Frankie, James Ewing uses his physicality not to get laughs but to flesh out his character a hesitant walk, jumpy arms, and twitching shoulders give Ewing's character a developed sense of being and suit Uncle Frankie's apprehension over his delinquent payments nicely. The actors have room to unleash these highly physical characters in the smart-looking set designed by Ewing and Hunnewell. From the burgundy vinyl booths and the small square paintings of bridges in Venice, right down to the tiny exit sign and dim sconces on the walls, the set captures the feel of the Brooklyn restaurant in which the play is set. The music played over the darkness during the scene changes and the curtain call could easily be the soundtrack playing in such a restaurant. The audience organically and happily bobbed its collective heads and clapped along to Louis Prima's "Che la Luna" during one scene change. This modifies the theory that everyone is Irish on St. Patrick's Day—this year, everyone was Irish, unless they attended a production of "Breaking Legs" on that night, in which case, everyone in the audience was also Italian.