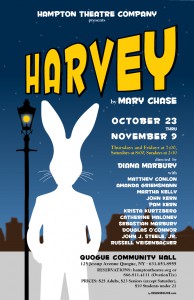 by Mary Chase directed by Diana Marbury
October 23 – November 9, 2014
The classic comedy about the pandemonium caused by the friendship between Elwood P. Dowd and a 6' tall invisible rabbit.
CAST:
Myrtle Mae Simmons – AMANDA GRIEMSMANN Veta Louise Simmons – PAMELA KERN Elwood P. Dowd – MATTHEW CONLON Mrs. Ethel Chauvenet – MARTHA KELLY Ruth Kelly, R.N. –
KRISTA KURTZBERG
Duane Wilson – RUSSELL WEISENBACHER Lyman Sanderson, M.D. – SEBASTIAN MARBURY William R. Chumley, M.D. – JOHN KERN Betty Chumley – CATHERINE MALONEY Judge Omar Gaffney – JOHN J. STEELE, JR. E.J. Lofgren – DOUG O'CONNOR
MATTHEW CONLON
(Ellwood P. Dowd) is grateful to return to the HTC, where he appeared last season as the title character in
The Foreigner
as well as in
The Heiress
,
The Real Thing
and
The Crucible
some time back. NYC: HB Playwrights:
The Game of Love and Death
(with Herbert Berghof),
Lady With a Lapdog
,
Freud's Last Session
(with Fritz Weaver),
The Play's the Thing
and
The Chase
; Beckett:
Judgement
; Sonnet Rep:
The Tempest
; EST:
The Traveling Lady
; La Mama:
A Human Equation
; Tribeca Lab:
The Swan
; Lark:
Bromius Beaujolais
and
God, Sex and Blue Water
. Regional: Penobscot:
To Kill a Mockingbird
; Bay Street:
Men's Lives
; Cleveland Play House:
The Importance of Being Earnest
; O'Neill:
Fuddy Meers
. Stage West:
Suddenly Last Summer
(with Kim Hunter); Ivoryton:
Prelude to a Kiss
,
Bell, Book and Candle
and
On Golden Pond
; Mendelssohn:
Oedipus Rex
,
The Daughter-in-Law
; Power Center:
Waiting for Godot
; Bearsville:
The Lisbon Traviata
. Recent Film:
Sweet Lorraine
;
The Crimson Mask
;
Man From The City
. TV:
Law and Order
(s). During the final year of ABC's
One Life to Live
, Matthew played M. Claude Calmar.
AMANDA GRIEMSMANN
(Myrtle Mae Simmons) is thrilled to be making her Hampton Theatre Company debut! A Long Island native, she received a BFA in theatre from Adelphi University. She has performed for several seasons in Manhattan with The Inwood Shakespeare Festival. Her other favorite credits include:
Steel Magnolias
,
Arsenic and Old Lace
,
Don't Dress For Dinner
,
Hamlet Q1
and
The Crucible
. She was most recently seen in several episodes of
Deadly Sins
on Investigation Discovery. A special thanks to Diana for this opportunity! Love to friends and family, physically and spiritually, for their constant support and encouragement. This one's for you, Dad!
MARTHA KELLY
(Mrs. Ethel Chauvenet) is a newcomer to HTC, but a familiar face to Vero Beach, Florida theater-goers. Most recently, she has performed with the Vero Beach Theatre Guild, where she has survived the sinking in
Titanic
as Charlotte Cardoza and played everything from a mistress of a bordello (Liz in
Tenderloin
) to a singing nun (Berthe in
The Sound of Music
) to the vile Miss Hannigan in
Annie
. Favorite non-singing roles include Mrs. Graves in
Enchanted April
, Lady Bracknell in
The Importance of Being Earnest
, and Veta Simmons in
Harvey
. (Is that rabbit following me?!) She is a graduate of Elmira College and the American Academy of Dramatic Arts. Martha wishes to thank husband, Tim, for enduring all the drama.
JOHN KERN
(William R. Chumley, M.D.) is happy to be returning to the stage after a fifteen year hiatus from acting. Previous roles include Sir Toby Belch in
Twelfth Night
, John in
Stand Up Sit Down
, Lee in
True West
and Dr. Lyman Sanderson in
Harvey
. He would like to express his gratitude and thanks to HTC for giving him this opportunity and, yes, his finest supporting role is that of husband to Pamela Kern and father to Richard and Matthew.
PAMELA KERN
(Veta Louise Simmons) is delighted to make her fifth appearance with the Hampton Theatre Company (she played Ginger in
Becky's New Car
, Flo Owens in
Picnic
, Florence "Flo" Unger in the female version of
The Odd Couple
, and Kitty in
Six Degrees of Separation
). She received her B.A. in Theatre Arts and English & American Literature from Brown University and an M.F.A. in Acting from the University of Virginia. Favorite roles include Amalia in
She Loves Me
, Lenny in
Crimes of the Heart
, Rizzo in
Grease
and the Nanny and the Principal in
Baby with the Bathwater
at such theaters as the Mountain Playhouse (PA), New London Barn Playhouse (NH), and Wayside Theatre (VA). Pamela's favorite productions are her two sons Richard (13) and Matthew (10). During the run of
Harvey
, she can finally tell her retired physician father that she is married to a doctor. Break a leg, Sweetie, and welcome to HTC!
KRISTA KURTZBERG
(Ruth Kelly, R.N.) made her debut with the Hampton Theatre Company as Catherine Simms in last spring's production of
The Foreigner
and is thrilled to be back! Originally from Atlanta, she received her BFA in theater from Wright State in Ohio. Favorite credits include: Penny in
Hairspray
in Northport, Cat in the Hat in
Seussical
at the Lucille Lortel, originating the role of Jenny for Theaterworks'
Click, Clack, Moo
, the first national tour of
How the Grinch Stole Christmas
, Kate in
Kiss Me, Kate!
at Westchester Broadway Theatre,
Li'l Abner
at Goodspeed, Ruby in
Dames at Sea
, Kathy in
Singin' in the Rain
, and
42nd Street
in Russia. Thank you to our director, Diana, and the rest of the staff and crew at HTC. Love to God, Jonathan, family, and friends. Krista is a proud member of Actors' Equity.
www.kristakurtzberg.com
CATHERINE MALONEY
(Betty Chumley) is thrilled to return to the Hampton Theatre Company stage after making her company debut as Emilie Ducotel in
My Three Angels
! Recent credits include Truvy in
Steel Magnolias
at North Fork Community Theatre, diverse roles in
Love, Loss, and What I Wore
at Center Stage at Southampton Cultural Center, and Masha in
The Three Sisters
at NFCT. She is delighted to be working with Diana and Sarah again, and thankful for this talented cast, all the hard working behind-the-scenes staff, crew members and wonderful volunteers. Her greatest joy is her beautiful and wise Allegra. Mom learns from you everyday. Love to her Renaissance man JP. And to all the pookas out there, "We couldn't make it through without you!"
SEBASTIAN MARBURY
(Lyman Sanderson, M.D.) is excited to again join the ranks of the HTC after a long absence. He last appeared in
Lobby Hero
under the direction of his mother. Other credits with the company include
The Skin of Our Teeth
,
The Sisters Rosensweig
,
The Rainmaker
,
The Young Man From Atlanta
,
The Last Night of Ballyhoo
and
It's Only A Play
. His most beloved productions are Eliah and Juniper Marbury.
DOUGLAS O'CONNOR
(E.J. Lofgren) is delighted to be part of the Hampton Theatre Company's production of
Harvey
. Initially, Doug appeared with HTC in its production of
Hot L Baltimore
in 1986. Doug has been associated with several playhouses where he has had roles in
The Man Who Came to Dinner
,
Gypsy
,
Mr. Roberts
,
Mame
,
Go Back For Murder
and
She Loves Me
. By day, Doug teaches Economics and Government at Midwood High School and is glad to have this time to be on stage once again.
JOHN J. STEELE, JR.
(Judge Omar Gaffney) made his Hampton Theatre Company debut as Porter Milgrim in
Deathtrap
. Favorite past roles include Arthur in
Camelot
, John Merrick in
The Elephant Man
, seven men, two women and a dog in
Greater Tuna
, and Danny in
Xanadu
. John is also an award-winning director. He would like to thank everyone at HTC for this opportunity and all of you who fill the seats and support live theater here on Long Island.
RUSSELL WEISENBACHER
(Duane Wilson) is delighted and honored to make his HTC debut with
Harvey
. Russell was "bit" by the "acting bug" back in 1978 as a freshman at Westhampton Beach High School. After college, he appeared with the Community Theatre Company (CTC) in East Hampton in
Guys and Dolls
,
Kiss Me, Kate
and
Wonderful Town
. Other local productions include
Show Boat
,
Our Town
and
Death of a Salesman
. When not "treading the boards," Russell works as the I.T. Coordinator at the Quogue Library, runs his own computer consulting business, Russ The Computer Guy, and, for the past 36 years, has worked with the Quogue Junior Theater Troupe (QJTT), first as an actor and then as Technical Director. Russell says that he has always been "around the HTC" because the QJTT and the HTC share the same space in this lovely hall, but he has never taken part…until now. Russell is looking forward to working with all the great people both in front of and behind the scenes at HTC.
MARY CHASE
(Playwright) is principally known as the author of
Harvey
which opened on Broadway in November of 1944, won the Pulitzer Prize and ran for 1,775 performances. The film version in 1952 and "Hallmark Hall of Fame" television play in 1972 starred James Stewart. Mrs. Chase wrote the screenplays for
Harvey
as well as for a later work,
Bernardine
. An earlier television version of
Harvey
, in 1958, starred Art Carney and Marion Lorne. In a popular revival in 1970, Helen Hayes and Mr. Stewart recreated the roles on Broadway. Harvey was translated into many languages and played on the world's stages. "Fabulous Rabbit Going to Foxholes" said a 1945 headline as the play went to the fronts. Another Broadway hit by Ms. Chase was the 1952 fantasy
Mrs. McThing
, starring Helen Hayes who went on to star in the 1958 television version,
Omnibus
. In addition to plays and films, she wrote children's books, including
Loretta Mason Potts
, which also had fantastic characters. The author attributed her interest in fantasy to tales of Irish folklore told to her by an uncle who introduced her to Celtic pookas, or spirits in animal form. Other less successful plays include
Now You've Done It
(1937),
The Next Half Hour
with Fay Bainter (1945),
Bernardine
(1952) and
Midgie Purvis
with Tallulah Bankhead (1961).
DIANA MARBURY
(Director, Set Decor), whose most recent directing credits include last spring's production of
God of Carnage
as well as
How the Other Half Loves
,
Black Tie
and
'Art'
, is delighted to be bringing this charming classic onto the boards to begin our 30th season. Diana has appeared in 50 HTC productions, most recently
The Foreigner
(Betty Meeks) and
Other Desert Cities
(Polly Wyeth). She would like to thank her dedicated cast and crew as well as all the people and businesses that provide the furniture, decorations, and props for each show. She would like to thank her son, Sean, for bringing his many gifts to the HTC with the same expertise that his father, Peter, shared for so many years. Also, a big hand to our wonderful patrons, who continue to give their support, in spite of these tough financial times. We hope you enjoy our 30th Anniversary season!
SEAN MARBURY
(Set Designer) lived in NYC from 1989 to 1996, where he worked in textile design as an artist and sales rep for several prominent European design houses. He found inspiration first in the diverse art and culture of Manhattan, and later in his travels throughout Europe. After a motorcycle accident in 1996, he ventured west to California where he built numerous sets for TV's Nash Bridges series, commercials, and films such as Sphere with Samuel L. Jackson and Sharon Stone and Disney's Flubber with Robin Williams. He has worked extensively in design, engineering and fabrication of race car components, as well as high-end residential construction. His set designs for HTC include
Deathtrap
,
Other People's Money
,
Other Desert Cities
and
The Foreigner
. In his spare time, Sean enjoys his first creative love, the guitar.
SEBASTIAN PACZYNSKI
(Lighting Designer) first worked with the Hampton Theatre Company when he designed the company's 2003 production of
Summer and Smoke
at Guild Hall and has designed all the company's productions since
Proof
in 2004 as well as the theater's new lighting system. He has designed lighting for theater, dance and special events in a number of Broadway, Off Broadway, Off Off Broadway and regional venues. He has also worked in film and television as the director of photography. He has designed numerous productions for Guild Hall and for the Hamptons Shakespeare Festival.
TERESA LEBRUN
(Costume Designer) is the resident costumer for the Hampton Theatre Company and has designed costumes for all the company's recent productions. Teresa has also costumed for Spindletop Productions at Guild Hall. Much love to her boys Josh and Noah.
JOHN ZALESKI
(Stage Manager). This is John's 31st Production with HTC. Thank you, Catherine, for your love, patience, and support on this, the 117th Opening Night. Always in my Wings…
CHRISSIE DEPIERRO
(Assistant Stage Manager) is excited to return for her second season as the Hampton Theater Company celebrates its 30th Anniversary. She is thrilled to be a part of such a wonderful and talented group of people who make the productions come alive. Many thanks to John who has shared his years of knowledge teaching me just how to keep it all running smoothly. To Mickey, always grateful for believing in me.
ROBERT ARCHER
(Backstage Crew). "I enjoy not only the theater, but also the community spirit!"
ROB DOWLING
(Lighting & Sound Technician) has done lighting and sound for 22 years at the North Fork Community Theater, Vail-Leavitt Music Hall, Producer's Club (NYC), the Loft Theater at Dowling College and the Southampton Cultural Center. He has also helped Sebastian with lighting set up at Guild Hall, the Ross School, and other local venues. This is Rob's seventh season with the Hampton Theatre Company. He is very happy to be part of the show and the company.
Director – DIANA MARBURY Set Design & Properties – DIANA MARBURY Scenic Painting – SEBASTIAN MARBURY Lighting Design – SEBASTIAN PACZYNSKI Costume Design – TERESA LEBRUN Stage Manager – JOHN ZALESKI Assistant Stage Manager – CHRISSIE DEPIERRO Backstage Crew – EMILY BROSNAN Set Construction – TONY CINQUE, JAMES EWING, SEAN MARBURY, SEAMUS NAUGHTON, VINCENT RASULO
Lighting/Sound Tech – ROB DOWLING, SEAMUS NAUGHTON Sound Design – ANDREW BOTSFORD, DIANA MARBURY Production Graphics –
JOE PALLISTER
Program, Publicity & Box Office – SARAH HUNNEWELL House Manager – JULIA MORGAN ABRAMS Advertising Sales – SARAH HUNNEWELL, LUCINDA MORRISEY, PIA TAGUE Production Photographer – TOM KOCHIE
A WHITE RABBIT TO THE RESCUE IN HTC'S "HARVEY"
by Beth Young East End Beacon Even if you have never seen "Harvey," it won't be spoiling the kick-off production of Hampton Theatre Company's 30th season to tell you that Harvey is a six-foot, one-and-a-half-inch tall white rabbit whom few can see. This Pulitzer Prize-winning classic comedy by Mary Chase ran on Broadway between 1944 and 1949, before it was made into a movie iconically starring Jimmy Stewart in 1950. It's a perfect choice for a company that excels at plays that probe the human psyche. The play follows a family that aspires to high society in the "Far West" of the United States in the 1940s. While Elwood P. Dowd, a drunkard with excellent manners followed by a cloud of good will, takes his invisible rabbit buddy with him everywhere, his sister and niece, Veta Louise Simmons and Myrtle Mae Simmons, believe Harvey is ruining their social standing. They try to have Elwood committed, but Veta, near hysterical over the rabbit, ends up inadvertently convincing a young psychiatrist that she is the one who is mad, setting off a harrowing sequence of events that has even some of the asylum's staff convinced that Harvey is real. This production, directed by Diana Marbury, who directed HTC's spring production of "God of Carnage," does this excellent material justice. Matthew Conlon, who appeared as the lead in the spring production of "The Foreigner," takes on a similar role as the naifish Elwood, who, despite his drinking and his rabbit, provides everyone from the director of the asylum to his plotting sister with spot-on insights into human nature. His indifference to the insanity that surrounds him has an innocence that matches his alcohol-induced glow. He knows Harvey is a "pooka," a mythical creature in Irish folklore who can bring good or bad fortune, but he accepts his pooka companion just as well as any other drinking companion. Pamela Kern is wonderful as Veta Louise, whose obnoxious phony tittering and highfalutin society accent is brought down to earth when she is manhandled and bathed during her brief, unwilling stay in the asylum. Women bear the brunt of some bad male behavior in this play, and none more so than nurse Ruth Kelly, played by Krista Kurtzberg, who suffers (and sometimes enjoys) the crude advances of nearly every man in the play. Only Elwood treats her right. The theme of chauvinism just skirts heavy-handedness, but it's saved, peculiarly, by the fact that the women in the play aren't really behaving all that well. In fact, no one is behaving well but Elwood, despite the fact that he spends much of the production downtown wandering from bar to bar while his family and the psychiatrists try to track him down. Sebastian Marbury does a fine job with the role of the creepy Dr. Lyman Sanderson, who has Ms. Simmons committed instead of her brother and pretends he can't stand Nurse Kelly while he leers at her backside every time she turns around. The orderly, Duane Wilson, played with perfect lunkishness by Russell Weisenbacher, also has his eye on Nurse Kelly, but he prefers the young Myrtle Mae Simmons, played by Amanda Griemsmann. Their boss, Dr. William Chumley, played with gusto by John Kern, is more concerned with the landscapers' treatment of his prized dahlias than with the care of his patients — until he hears that Ms. Simmons plans to sue him for having her falsely committed. But when Dr. Chumley sees Harvey, well, things just get a little interesting. The audience at Saturday's performance seemed well aware of the storyline — laughing in anticipation of Harvey's entrances and delighting in this classic theatrical work. Even the scene changes — which involve two elaborate wall-moving exercises, earned applause from the devoted crowd. This production is well worth a trip to the theater. "Harvey" will run through Nov. 9, with shows on Thursdays and Fridays at 7 p.m., Saturdays at 8 p.m. and Sundays at 2:30 p.m. Tickets are available here. home
A NIGHT OF GOOFY CHARM WITH 'HARVEY' IN QUOGUE
by Lorraine Dusky The East Hampton Press & The Southampton Press "Harvey," that old chestnut of a comedy, is like a big, sloppy, wet smooch on your kisser from a friendly pooch. You're not sure that you really like it, but you know that it's affectionate and well-meant. As performed by the first-rate cast of the Hampton Theatre Company at Quogue Community Hall, it provides a night of goofy charm. The play, if by some chance you don't know, is about an imaginary 6-foot-3-inch-tall rabbit named Harvey, whom only a polite and pleasant tippler named Elwood P. Dowd can see and talk to. He likes to introduce people to Harvey, and this causes all sorts of distress for his sister, Veta, and niece, Myrtle Mae, both of whom live with him in Des Moines, Iowa—convinced Elwood's daffiness is ruining Myrtle Mae's chance at marriage. But who's to be institutionalized—gentle, harmless Elwood, or his addled, hysterical sister—makes up a merry mess that takes up most of the drama. It plays sometimes like classic French bedroom farce, as doors open and close, and people pop out and in with well-timed exits and entrances, albeit here without the sex. But the play, first performed on Broadway in 1944, definitely feels dated, harking back to a much more innocent time. Instead of edge, there's nostalgia. Instead of wit, there's a mere nudge in that direction. Since "Harvey" was made into a very popular 1950 movie starring James Stewart, in a role that fit him like a bespoke suit, and because the play has been fodder for theater groups of all stripes countless times, the antics are well-known to almost everyone of a certain age. Most would not fit the prime-time TV target audience of 18- to 49-year-olds, but that's not who makes up the bulk of the loyal group of fans of the Hampton Theatre Company. Every mention of "Harvey" is a reminder that Mary Chase's play won the Pulitzer Prize for Best Drama in 1945, beating out Tennessee Williams's "The Glass Menagerie." What were they thinking? The New York Times theater critic at the time noted that there was a lot of "simmering" over the choice. No wonder. "The Glass Menagerie" is great theater. "Harvey" is mild fun, and seemed an odd choice for such a sophisticated theater company that easily handles new and biting theater, as they did last season with "God of Carnage." Enough about "Harvey" as written. This current incarnation, under the deft direction of Diana Marbury, frolics through the mayhem effortlessly. Matthew Conlon, whom local theatergoers saw last season in "The Foreigner," is really as good as Jimmy Stewart in the film, which this critic watched just before writing. Mr. Conlon's ability to seem bemused, lucid but somewhat dopey, and all the while almost normal—even while escorting around an unseen, giant rabbit that may be a harmless fairy called a pooka—is pitch perfect in the role of Elwood P. Dowd. Pamela Kern portrays his voluble sister, and while she has the physical humor down-pat, the constant frenetic inflection in her voice makes her sometimes difficult to understand in the hall. Filling out the cast are Amanda Griemsmann as Myrtle Mae; John Kern as William R. Chumley, M.D., the director of Chumley's Rest, where half the action takes place; Sebastian Marbury as Lyman Sanderson, M.D., the admitting psychiatrist who confuses the patient with those who are not; and Krista Kurtzberg as the attractive, flirtatious nurse at Chumley's Rest. Others in the cast include Martha Kelly, Catherine Maloney, Douglas O'Connor, John J. Steele and Russell Weisenbacher. "Harvey" may indeed be an old chestnut, but this staging by the cast and crew treats it with amiable affection. Hampton Theatre Company will stage "Harvey" on Thursdays and Fridays at 7 p.m., Saturdays at 8 p.m. and Sundays at 2:30 p.m., through November 9, at Quogue Community Hall. Tickets are $25, $23 for seniors, except Saturdays, and $10 for students under age 21. For more information, call (631) 653-8955. Tickets are available here.
'HARVEY' IN QUOGUE: 6-FOOT-TALL RABBIT WILL MAKE YOU LAUGH, EVEN IF YOU CAN'T SEE HIM
By BRENDAN J. O'REILLY Dan's Papers Hampton Theatre Company began its 30th season last Thursday in Quogue with Harvey, Mary Chase's Pulitzer Prize for Drama-winning 1944 play about an eccentric man with a 6-foot-3-and-one-half-inch-tall invisible rabbit for a best friend. This comic story not only provides laughs, but forces the audience to question why everyone, themselves included, is not friendlier and happier. Elwood P. Dowd (Matthew Conlon) always has a smile on his face and his impeccable manners are unwavering, especially when it comes to formally introducing his friend Harvey. Though no one can see or hear Harvey but him, it never fazes Elwood. He is quick to explain that Harvey is a pooka—a mischievous creature from Celtic mythology. Elwood's behavior is an embarrassment for his social climbing sister, Veta (Pamela Kern), who wants Elwood out of the mansion they share along with Veta's daughter, Myrtle Mae (Amanda Griemsmann). When she's had enough of Elwood's strange behavior and frequent drinking, Veta brings Elwood to a sanitarium to have him committed, and that's when a comedy of errors begins. In any encounter, up until Elwood introduces Harvey, he seems perfectly normal, albeit incredibly friendly and forward. Though he has no occupation, he wants everyone to take his card, and if he's not inviting people he just met for a drink, he's itching for a social occasion he can crash with Harvey. Conlon's Elwood is wide-eyed, sincere, and never agitated, even when the occasion calls for it. He can often deliver a laugh with just a look or gesture. Kern's Veta is often worked up, and Griemsmann exudes both the innocence and the curiosity of a young woman coming of age. At the sanitarium, Sebastian Marbury and Krista Kurtzberg play off each other as doctor and infatuated nurse, and Russell Weisenbacher delivers the oafish orderly Duane. John Kern as Dr. Chumley, a renowned psychiatrist and head of the sanitarium, is a standout as he plays the good doctor both pre meeting Harvey, and post. Harvey's effect on some people can be quite the sea change. The takeaway from this play is that a stranger is just a friend you haven't met. Elwood—and Harvey— might just rub off on you. Hampton Theatre Company artistic director Diana Marbury directs. Sean Marbury designed the set, which was a technical feat for the modest stage. In order to quickly change back and forth between the sanitarium and the Dowd mansion, the set folds open and closed. Teresa LeBrun was in charge of the spot-on 1940s outfits. Harvey will be staged Thursdays and Fridays at 7 p.m., Saturdays at 8 p.m. and Sundays at 2:30 p.m. through November 9 at Quogue Community Hall, 125 Jessup Avenue, Quogue. General admission is $25. Tickets for seniors are $23, except for Saturday performances. Students under 21 will be admitted for $10, with ID. The season will continue with Time Stands Still by Donald Margulles, January 8–25, and Clybourne Park by Bruce Norris, March 12–29, and conclude with Hay Fever by Noel Coward, May 21–June 7. A season subscription is $80 and includes one ticket to each of the four shows. Reservations for certain dates and seats will be available on a first-come, first-served basis for subscribers. Tickets are available here, or call 866-811-4111 for tickets and subscriptions. home
'HARVEY' SIGHTING IN QUOGUE
By Bridget LeRoy East Hampton Star The Hampton Theatre Company in Quogue has chosen to open its 30th season with a laudable production of the 1945 Pulitzer Prize-winning play, "Harvey," by Mary Chase, directed by Diana Marbury. Featuring a cast of seasoned H.T.C. veterans and some delightful new faces, the play's ensemble includes at the forefront Matthew Conlon as Elwood P. Dowd, the man befriended by a Celtic sprite in the guise of a large lagomorph that only he can see, Pamela Kern as Veta Louise Simmons, Elwood's socially conscious sister, and Amanda Griemsmann as Myrtle Mae, Veta's daughter, who is as embarrassed as her mother by Uncle Elwood. The two women live under Elwood's roof but are mortified by their relative, who spends most of his time drinking in bars, speaking to Harvey in public, and being kind to everyone. Veta, for Myrtle Mae's sake and place in society, plans to get rid of her brother by having him committed to a sanitarium, a situation which backfires and leads to a comedy of errors and misunderstandings. As with most productions by the Hampton Theatre Company, the sets, lighting, and costumes (by Sean Marbury, Sebastian Paczynski, and Teresa LeBrun) are impressive, and the music features standards of the 1940s, setting the time period. Mr. Conlon must walk a fine line in the role made legendary by James Stewart, although originated by Frank Fay in the 1944 smash hit Broadway production (Joe E. Brown had a turn as Elwood in the original as well). The character of Elwood must be sometimes drunk but eternally lovable, insane but sweet, and the oblivious hub in the midst of mayhem caused by his open nature and amiability. Mr. Conlon manages to convey this in a most agreeable manner. Pamela Kern plays Veta Louise with all the pumped-up hysteria of Margaret Dumont, Groucho's favorite foil, and elicited many laughs from the full house at the show's opening last Thursday. The cast also features John Kern as William Chumley, the head of the sanitarium, a scene-stealing scenery-chewer if ever there was one, and a welcome addition to H.T.C.'s roster. Rounding out the able ensemble are Sebastian Marbury, Russell Weisenbacher, John J. Steele Jr., Catherine Maloney, and Krista Kurtzberg in smaller but important roles. Martha Kelly and Douglas O'Connor also appear. Some scenes need minor tightening to run smoothly, but since this reviewer did attend the first performance chances are that by this time that has already happened. Ask just about anyone who "Harvey" is, and they will instantly answer that Harvey is an invisible 6-foot-tall white rabbit (or pooka, as Mr. Dowd explains). Ask just about anyone what "Harvey" means, and you may end up with a difference of opinion. Opening on Broadway only five months after D-Day, and in the midst of mind-numbing grief and loss, one can imagine that Elwood chose to be in his own world rather than the world as it existed. Mental illness as escapism has been explored in drama since "Harvey" first appeared, most notably perhaps in "King of Hearts," "One Flew Over The Cuckoo's Nest," and even "Lars and the Real Girl," but never has it been more adorably portrayed than by the perdurable Mr. Dowd. Is he touched by insanity or touched by grace? And of course, does it even matter, when his effect on everyone is to bring them happiness? "Harvey and I sit in the bars," Mr. Dowd offers in one of the play's most significant moments. "And soon the faces of all the other people turn toward mine and they smile . . . Harvey and I warm ourselves in all these golden moments. We've entered as strangers; soon we have friends." Mrs. Chase, before her death in 1981, explained that she wrote the play after a widowed neighbor lost her only son in the war. "Would I ever possibly write anything that might make this woman laugh again?" she said to a biographer. Throughout her life, her most gratifying moments were when audience members would let her know that "Harvey" had given them and their loved ones a good chuckle. So perhaps "Harvey" was simply intended to be what it is, and how it is portrayed: just a lovely little piece of rabbit fluff. A season subscription is $80 and includes one ticket to each of the four shows. Reservations for certain dates and seats will be available on a first-come, first-served basis for subscribers. Tickets are available here, or call 866-811-4111 for tickets and subscriptions.
'HARVEY' AT HAMPTON THEATRE
By STEVE PARKS Newsday The Hampton Theatre Company celebrates the opening of its 30th anniversary season with a Pulitzer-winning comedy — a rarity for that prize. Not to quarrel with the choice by co-founders of this fine Quogue-based troupe, but "Harvey" represents what is likely the most egregious choice for a theatrical Pulitzer in the history of the award. The 1944 Mary Chase comedy dealing with psychosis, alcoholism and the human condition — little lies we tell each other — was selected over "The Glass Menagerie" by Tennessee Williams, an authentic alcoholic whose inspired drama dealt with his sister's mental instability. That doesn't make "Harvey" a bad choice for a season opener. Just an odd one, though it was revived on Broadway in 2012 with Emmy-winning Jim Parsons of "The Big Bang Theory" playing Elwood P. Dowd. As directed by Diana Marbury, Matthew Conlon takes on the challenge of claiming a role previously owned by a Jimmy more famous even than Parsons — a fella named Stewart. Conlon presents an affable Elwood quite oblivious to the shock he elicits when introducing his imaginary friend to strangers. Harvey's an invisible 6-foot-plus rabbit and drinking companion. Elwood stashes bottles and flasks all over the house he inherited and he frequents bars all over town. Elwood is delusional, but also harmless, as Conlon's portrayal makes clear. We feel assured he's not the sort who might snap at any moment. Otherwise the comic aspect of "Harvey," questionable as it is today, would be untenable. Elwood self-medicates with booze. But he doesn't drive. He's well-off enough to take taxis. The problem is social, as far as his sister Veta is concerned. He's an embarrassment as she tries to make a debutante of her daughter (willowy Amanda Griemsmann). Veta, high-pitched and high-strung as played by Pamela Kern, seeks to have her brother committed with the help of a judge (sober John Steele, Jr.). But the admitting doctor (Sebastian Marbury, the director's son, as is set designer Sean), understandably commits the shrill sister instead. Dr. Chumley, played by Kern's husband, John, as if he'd make a more likely inmate than Elwood or Veta, intervenes and is "introduced" to Harvey over drinks. There's a distracting side plot about a man-hungry nurse (brash Krista Kurtzberg) and at times, "Harvey," the play, wanders about like a lost rabbit. But there are rewards for those not offended by jokes about alcohol and, yes, madness.