In a hotel suite in 1930s Paris, four tenors, two wives, and three girlfriends struggle hilariously with mistaken identities, bedroom hijinks and madcap antics as a soccer stadium filled with screaming fans awaits.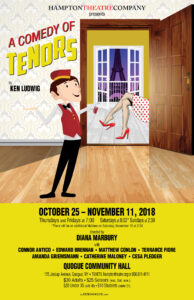 October 25 – November 11, 2018
by Ken Ludwig
directed by Diana Marbury
CONNOR ANTICO (Carlo) (SAG-AFTRA) is a Pace University Musical Theater graduate (BFA 2018). Theatre: A Comedy of Tenors (The Arrow Rock Lycieum), Evangeline: A Curious Journey; Tunny in American Idiot, Trigorin in The Seagull (Pace University). TV/Film: Greater: The Brandon Burlsworth Story; Shades of Blue (NBC); Amy Schumer's Girl You Need No Makeup, boyband video (Comedy Central). I am so happy to be able to explore the role of Carlo Nucca once again in A Comedy of Tenors here with you all. Big thanks to my family, friends, and everyone who has made this day possible. Salute! EDWARD A. BRENNAN (Tito) has appeared with the Hampton Theatre Company as Billy in Clever Little Lies, Inspector Goole in An Inspector Calls, Angus in The Drawer Boy, Joe Foster in Becky's New Car, Arbuthnot/Arundel in The Enchanted April, Chief Bromden in One Flew Over The Cuckoo's Nest and Ralph in Frozen. His favorite professional acting credits include the title roles in Phantom and Jekyll & Hyde, Javert in Les Miserables, Beast in Beauty And The Beast, Albin (ZaZa) in La Cage Aux Folles, Professor Callahan in Legally Blonde, and Archibald in The Secret Garden. Ed also directed the HTC's productions of The Boys Next Door, An Act of the Imagination, Deathtrap and I Hate Hamlet. He holds a Master's degree in Theater and has directed over 60 productions on Long Island. Proud member of Actors Equity Association. MATTHEW CONLON (Max) was seen at HTC in last season's The Boys Next Door and Don't Dress for Dinner. Selected NYC: HB Playwrights: The Game of Love and Death (with Herbert Berghof); Freud's Last Session (with Fritz Weaver) and The Chase; Sonnet Rep: The Tempest; EST: The Traveling Lady; La Mama: A Human Equation. Partial Regional: Penobscot: To Kill a Mockingbird; Bay Street: Men's Lives; Cleveland Play House: The Importance of Being Earnest; O'Neill: Fuddy Meers; Stage West: Suddenly Last Summer (with Kim Hunter); Mendelssohn: Oedipus Rex. Recent Film: Sweet Lorraine; The Crimson Mask; The Man from the City. TV: Law and Order(s); One Life to Live. TERRANCE FIORE (Saunders) is delighted to be returning to the HTC stage in this production of A Comedy of Tenors. Terry appeared with HTC last year in Clever Little Lies (Bill Sr.), and earlier HTC performances include Other Peoples' Money (Jorgenson), The Enchanted April, One Flew Over the Cuckoo's Nest, and Six Degrees of Separation. Other favorite performances include The Summit, at Guild Hall, Love Letters (with Pia Lindstrom and Tony Walton, dir.), Galapagos, the stage adaptation of the Kurt Vonnegut novel, The Diary of Anne Frankat Bay Street Theatre, Tennessee Williams's In the Bar of a Tokyo Hotel, 110 In The Shade, The Foreigner, and Moonlight and Magnolias. Terry has appeared in a range of dramatic readings and radio plays. Film credits include Dark Was the Night, which premiered at the Lincoln Center Scary Movie Festival. Video: Grey Advertising's award winning The 401K Project, which advocated for a reduction in gun violence. Thanks to his wife Blair for her love and encouragement, and good-spirited tolerance of dinners alone during our rehearsal schedule. AMANDA GRIEMSMANN (Mimi) Amanda is thrilled to return to the HTC stage following her appearance as Suzette in Don't Dress for Dinner. She also was seen as Nina in Vanya & Sonia & Masha & Spike and Sheila Birling in An Inspector Calls. She has performed for several seasons in Manhattan with The Inwood Shakespeare Festival. She has also performed with The Lafayette Salon Series, a monthly reading series that meets at The Players Club. A special thanks to Diana for this opportunity! Lots of love to friends and family! CATHERINE MALONEY (Maria) is having a blast performing in this comedic romp! Previous HTC credits: Mrs. Fremus, Mrs. Warren, Clara in The Boys Next Door, Gert in Lost in Yonkers, Betty Chumley in Harvey, and Emilie Ducatel in My Three Angels. Other theatrical credits include Southampton Cultural Center's Center Stage as Berthe in Boeing Boeing, Veronica Novak in God of Carnage, and diverse roles in Love, Loss and What I Wore, and Mom it's My Wedding! Other credits: Kate Keller in All My Sons with Playcrafters Theatre Company, Becky in Becky's New Car at North Fork Community Theatre, Truvy in Steel Mangnolias and Masha in The Three Sisters. Thank you to her director Diana for her guidance with this fun character. Molte grazie to the audience for coming out and supporting live theatre, & tanto amore to her Allegra, JP, family, and to her amazing friends! (Racon) is thrilled to be back at the HTC with this production. Other stage credits include An Act of the Imagination (HTC), Myopia (Neighborhood Playhouse), It's Called a Sugarplum (The Kraine Theater), and Different Animals (Cherry Lane Theater). TV and film credits include Farewell (2019), Spot: A True Period Piece (2019) Bruce!!! (2017), Secret (2017), I Love You… But I Lied, Accidents and I'd Kill For You. A native of Manchester, New Hampshire, Cesa graduated from the University of Florida before moving to NYC where she graduated from the Maggie Flanigan Studio's Meisner program. KEN LUDWIG (Playwright) is a two-time Olivier Award-winning playwright whose work is performed throughout the world in more than 30 countries in at least 20 languages. He has written 25 plays and musicals, with six Broadway productions and seven in London's West End. His first Broadway play, Lend Me A Tenor, won two Tony Awards and was called "one of the classic comedies of the 20th century" by The Washington Post. His plays and musicals include: Crazy For You (5 years on Broadway, Tony and Olivier Awards for Best Musical), Moon Over Buffalo (Broadway and West End, starring Carol Burnett), The Adventures of Tom Sawyer (Broadway, starring Kristen Bell), Treasure Island (West End), Twentieth Century (Broadway, starring Alec Baldwin), Leading Ladies, The Game's Afoot, A Fox on the Fairway, The Beaux' Stratagem and Baskerville. www.kenludwig.com DIANA MARBURY (Director/Set Decor) is happy to kick off the Hampton Theatre Company's 34th season with this delightful romp in Paris. Diana has been involved in all aspects of productions with this company since 1986. She has an attachment to this play, having played Maria in the HTC's Lend Me A Tenor 25 years ago. She would like to thank her gifted cast, the creative technical team, and dedicated production staff for all their support. Last but not least, she would give a big hand to our audience, and a shout out to all the community businesses who continue to help keep theater alive and well here in Quogue with their participation. JANE LOWE (Asst. Director) is happy to continue to work with The Hampton Theater Company in any capacity. She steadfastly believes in HTC's mission and cherishes the strong friendships she's made over the years. She has performed in 18 productions with HTC. Jane is a graduate of The Juilliard School. She began her career as a dancer and performed in major theaters around the world and on Broadway. It has been a great pleasure for her to sit alongside the strong, guiding hand of Diana Marbury and watch her orchestrate this cast of very talented actors. SEAN MARBURY (Set Designer) has worked in textile design, built sets for TV series, commercials, and films and worked with the design, engineering and fabrication of race car components. He currently works on high end residential construction. His set designs for HTC include Deathtrap, Other People's Money, Other Desert Cities, The Foreigner, Harvey, Time Stands Still, November, An Act of the Imagination, Alarms and Excursions, and Clever Little Lies. TERESA LEBRUN (Costume Designer) is the resident costumer for HTC. She started helping with costumes in 1986 and has designed the costumes for all the company's productions since 2005. Teresa has also costumed for Center Moriches and Westhampton Beach High Schools. She is happy to be working with Diana and this amazing cast. Much love to her boys, Josh and Noah, family and great friends. WALLY MARZANO-LESNEVICH (Rehearsal Stage Manager) served as rehearsal stage manager for last season's Clever Little Lies. His debut feature as a screenwriter/producer/actor, Almost Paris, which premiered at the Tribeca Film Festival, is available on Amazon and iTunes from Freestyle Digital Media. He may also be seen in Annabelle Hooper and the Ghosts of Nantucket (Netflix). His theatre work includes Blithe Spirit (Dragonfly), Black Tie and Hay Fever (Theatre Workshop of Nantucket), and The Big Funk (The Drove). Thanks to Diana, Andrew, this operatic cast and crew, H.T.C., Carol Thompson and, of course, his wife Lindsay. More at: www.wallyml.com. PATRICK MCGLONE (Production Stage Manager) began his career with HTC by building sets for Alarms And Excursions during the 2016 season. He continued as a stagehand then proceeded to do double duty as stagehand and set builder for Clever Little Lies in 2017. He moved up to assistant stage manager for Venus In Fur, and is now very excited to be the production stage manager for A Comedy of Tenors. AARON LEVINE (Lighting/Sound Tech) is a senior at WHB HS. He is happy to work for the Hampton Theater Co, helping with set construction and working backstage. Aaron also studies sound engineering in high school and has a passion for music. This is the first production he has worked on for the HTC and looks foward to many more. He thanks Sean Marbury and Diana Marbury for the opportunity and involvement. JULIA MORGAN ABRAMS (House Manager). After retiring from the legal department of Bristol Myers Squibb, Julia began a second career as a volunteer, initially for Literacy Suffolk, HTC and the Southampton Animal Shelter, where she wrote grants and worked in fundraising. She continues to write grants and help with marketing for several local nonprofits. Julia would like to thank all of her dedicated House Assistants for their continued support.
Director – DIANA MARBURY Assistant Director – JANE LOWE Set Design – SEAN MARBURY Lighting Design – SEBASTIAN PACZYNSKI Set Decor – DIANA MARBURY Costume Design – TERESA LEBRUN Rehearsal Stage Manager – WALLY MARZANO-LESNEVICH
Production Stage Manager – PATRICK MCGLONE Set Construction – SEAN MARBURY, CARLOS BUENO, NICK FITZGERALD,AARON LEVINE, SEAMUS NAUGHTON Sound Design – SEAMUS NAUGHTON Lighting/Sound Tech – AARON LEVINE Backstage Crew – NICK FITZGERALD, SANDY ROTH SCHOENBART Box Office – LISA CARR Production Graphics –
JOE PALLISTER
House Manager – JULIA MORGAN ABRAMS
Hampton Theater Company's "A Comedy Of Tenors"
By T.J. Clemente
Hamptons.com I totally loved the Hampton Theatre Company's production of A Comedy of Tenors at the Quogue Community Hall because it had me in stitches for most of the evening. The play, which was written by Ken Ludwig and is directed by Diana Marbury, has continued into its second week packing in the crowds and having them leave completely entertained. No need to worry about falling asleep or yawning through this action packed production with punch lines every couple of seconds because it has a razzle dazzle quality that will keep your total attention on the stage. Normally I pick one or two actors who drive the show but with A Comedy of Tenors I just can't do that because there are stellar performances by the whole cast along with what I will call a magical theater event that will blow you away as it did me unexpectedly. I am not reveling the reason so as to not spoil the surprise. Terrence Fiore as "Saunders," the promoter, is great. He has a forceful dignified comedic presence throughout the show. A favorite of mine, Matthew Conlon plays "Max" with his usual fire, amazing energy and great physical acting skills. Catherine Maloney is playfully effective as "Maria," with her movements and accent adding to the quality of this "farce production." Edward A. Brennan plays Maria's husband and Grand Tenor, Tito. Mr. Brennan has a magical gravitas on stage and this role seems to bring it out. He is a huge engine in the success of this show. Amanda Griemsmann plays "Mimi," the daughter of Tito and Marie. Amanda adds some youth perspective along with some very thought provoking lines. She too has great comedic acting skills. The golden boy "Carlo" is masterly handled by Connor Antico, who surprised me with his myriad of talent. Lastly, Cesa Pledger portrays "Racon," a Russian opera star. She has a flair for scene stealing physical acting and quite frankly is a joy to watch act! The magic of a great show is the flow of energy on the stage. A Comedy of Tenors has that flow along with real authentic punch line comedic prowess. Again, both the Hampton Theatre Company and Diana Marbury has brought a quality show to the Quogue Community Hall and has given its audiences something to really applaud for. I truly loved this production.
---
You Will Exit 'A Comedy Of Tenors' Laughing
By Lorraine Dusky
The East Hampton Press and The Southampton Press "We all need some comedy in our lives right now," was overheard as the audience exited Quogue Community Hall the other night. Indeed. That's exactly what we got the other night at the Hampton Theatre Company's lively and buoyant production of "A Comedy of Tenors." It's a farce in two acts, a story of unimpeded egos, mistaken identities—don't all farces turn on that plot point?—and of course, sex, that add up to an overturned barrel of frenetic fun. Ken Ludwig's smart, zany script is brought to life there with first-rate acting. This is community theater? Well, yes, if we are talking about the semi-professional group in Quogue that combines local well-oiled talent with a sprinkling of folks with their Actors' Equity membership. We've come to expect the troupe in Quogue to have Sean Marbury's splendid sets; this one is a 1930s French hotel suite with, of course, several doors for exits and entrances, true to farce form. We have come to count on Diana Marbury's excellent direction at least once (or twice) a season; Theresa LeBrun's swell costumes, Sebastian Paczynski's spot-on lighting, and a crowd of the troupe's loyalists always in attendance, even on rainy nights. But what we didn't expect was the three tenors of the title would burst full-throated into operatic song and be, well, damn good to a man. And that includes regulars here who are known for their acting, not their musical ability. At the end of the first act, their performance was beautiful but all too brief. Quite simply, they blew me away. Edward A. Brennan, whom I fondly remember as the upstanding moralist of J.B. Priestley's "An Inspector Calls" a few seasons back, has the big, beefy frame of an aging tenor (Tito) whose best days are behind him. Mr. Brennan here is a ham par excellence, but when it's time to sing, wow, he turns it on. If I'd known that he is a professional for hire, and is a regular at St. Lawrence the Martyr in Sayville, I might not have not have been so surprised when the vocals began. But alas, poor Tito is being upstaged and out sung on the Paris radio by newcomer Carlo Nucco—handsome, suave, and unbeknown to Tito, in love with Tito's presumably virginal daughter. Connor Antico from Rye, New York, was imported for the role after recently closing the same show at the well-known Arrow Rock Lyceum Theater in Missouri. In real life, Mr. Antico is a 2018 graduate of Pace University in musical theater. Perhaps the real surprise was the musical gift of one the Hampton Theatre Company's regulars, Matthew Conlon, who plays Max. He's a tenor who's looking for his first break, but in the meantime, is the lap dog and son-in-law of Saunders (Terrance Fiore), the demanding impresario of the upcoming concert this trio will perform in just two-and-a-half hours, and the clock is ticking fast. Mr. Conlon's voice is rich and resonant and—dare I say it?—the best of the lot. Let's hear more of him. But what are egotistical, sexy tenors without the women in their lives? In this case, a busty, lusty wife for Tito, Maria (Catherine Maloney), along with a former lover, Russian diva Racon (Cesa Pledger), who also sings, and Tito and Maria's daughter, Mimi (Amanda Griemsmann). None of the actors leave unfilled a single opportunity for hamming it up, thank goodness. To explain the plot that embroils these characters (Mr. Brennan also appears as a signing bellhop) would be to waste space and the reader's time. "A Comedy of Tenors" is the follow-up farce to Mr. Ludwig's "Lend Me a Tenor"—I see a theme developing here—which was nominated for nine Tonys and snagged two. A musical theme may be developing in Quogue, for Hampton Theatre Company will be putting on its first musical ever, "Man of La Mancha," in the spring. With all the gloom and tension surrounding the country right now as we seemingly move inch by inch towards the midterms, it was fortuitous that the Hampton Theatre Company opened its 34th season with "A Comedy of Tenors." It's a much-needed antidote to all politics all the time. This is rich and frothy production, an all-around delight, with voices to match. You will exit in good spirits.
---
A Comedy Of Tenors Opens Season At HTC
By Bridget Leroy
The Independent The Hampton Theatre Company in Quogue fulfills an important role — it provides high-quality community theater, mainly in the offseason for year-rounders, and it has a loyal following. Ken Ludwig's A Comedy of Tenors, the sequel to Ludwig's smash 1989 hit Lend Me A Tenor, is just the kind of work that fits in with HTC's choices; not exactly a deep cut, but not a famous and well-known work either. HTC tends to focus on the B sides, if you will, and with an able cast and crew, it rarely disappoints. Lend Me A Tenor punned its title after what a scrounger might say, and A Comedy of Tenors, a nod to Shakespeare, features all the fast and furious action of its prequel, but with the addition, as in A Comedy of Errors, of a doppelganger and cases of mistaken identity. First and foremost, you don't need to know the first play to enjoy the second. The setting is a fancy Parisian hotel in the 1930s, hours before an enormous concert is about to begin, featuring the renowned and arrogant tenor Tito Merelli, wonderfully portrayed here by Edward Brennan. The play also continues the story of the grouchy mayor-turned-impresario Henry Saunders (Terrence Fiore) and his long-suffering assistant turned tenor, and also now his son-in-law, Max (Matthew Conlon). Saunders's daughter and Max's wife, Maggie, is stateside, about to give birth, but the concert is a priority; even more so as Saunders and Max need to scramble to find a replacement when one of the three tenors who was going to perform bows out, and the new addition is Tito's sworn enemy Carlo (who is also secretly dating Tito's daughter, Mimi). Throw in Tito's passionate, spirited wife, Maria (Catherine Maloney), and a bellhop with the voice of an angel (also portrayed by Brennan), and you have an inkling of the hijinks that follows. When Tito quits in a fit of pique, thinking that it is his wife who is having an affair with Carlo, and Beppo the bellhop is tapped to perform, chaos naturally ensues, with Maria in a romantic mood, and Tito's former lover, Racon, a spicy number played by Cesa Pledger, paying a visit as well. If all of this sounds confusing, it isn't. The plot twists are plentiful, the farce elaborate, but there is laughter at every turn, and the audience was in stitches for most of the evening. As always, Diana Marbury directs with an able hand, and the sets, costumes, and lighting provided by Sean Marbury, Teresa LeBrun, and Sebastian Paczynski are consistently top quality. Seamus Naughton designed the sound. Connor Antico as Carlo and Amanda Griemsmann as Mimi are a lovely ingenue couple, Conlon is always a pleasure to see on stage, Fiore, Maloney, and Pledger are all in fine form. But it's Brennan's show, as he races between the characters of Tito and Beppo. His high-energy performance deserves a special hand
---
Laughter About Song: Just What The Doctor Ordered
By Beth Young
East End Beacon You don't need to have seen playwright Ken Ludwig's "Lend Me A Tenor" in order to thoroughly enjoy his recent "A Comedy of Tenors," which is now up for a three-week run at the Hampton Theatre Company in Quogue. "A Comedy of Tenors," which premiered at the Cleveland Playhouse in 2015, brings back many of the same characters from "Lend Me A Tenor," called "one of the two great farces by a living writer" by the New York Times at its Broadway debut in 1989. "A Comedy of Tenors" is quick-witted, fast-paced and quite funny, and it was clear on opening night in Quogue that the veteran actors were having a great time with their roles, under the masterful direction of Diana Marbury. It was also a sneak peak into the surprisingly good singing chops of some HTC regulars, as the theater company prepares to embark on its first-ever full scale musical production, "Man of La Mancha," next spring. Henry Saunders (Terrance Fiore), a bumbling producer whose credentials include formerly serving as the mayor of Cleveland, is organizing a "three tenors"-style concert in a Paris football stadium; with the help of his former assistant-turned-singer Max (Matthew Conlon), who is slated to perform even as his wife (who is also Saunders' daughter) is about to give birth back in the States. Edward Brennan stars as Italian tenor Tito Merelli, who is to be joined by Max on stage along with a hastily arranged appearance by a young tenor named Carlo, played by HTC newcomer Connor Antico, who is secretly in love with Tito's daughter, Mimi (Amanda Griemsmann). Many problems arise, not the least of which is that Tito actually believes Carlo is in love with his own wife, Maria (Catherine Maloney), not with his daughter, after Tito catches Maria helping Carlo get dressed after catching him engaged in shenanigans with her daughter. Yes, that's confusing. It gets more outlandish from there. Buckle up. Mr. Brennan has his work cut out for him in this play, which requires him to play both the ego-driven aging tenor and a bumbling Venetian bellhop named Beppo, who just happens to share Tito's vocal ability and likeness, with none of his pretensions. He dives wholeheartedly into both roles. Ms. Maloney portrays Maria as a tough-talking romantic, a classic Italian woman with classic Italian desires, most importantly for the cohesiveness of her family. The chemistry of the three tenors (or four if you count Beppo) is palpable, and one of the most memorable moments of this evening is their rousing rendition of "Brindisi," the drinking song from Verdi's La Traviata. I've seen both Mr. Conlon and Mr. Brennan in numerous shows at HTC, and never knew they possessed such nice vocal chops. That's not to say that they would bring down the house at The Met, but that's part of the charm. This play is a comedy about opera, not an opera about comedy. They pour their hearts into the singing. Why not? A tempestuous Russian singer and former lover of Tito's, Tatiana Racon, played with panache by Cesa Pledger, barges into the mix midway into the second act, just to stir up this pot of delicious hijinks and bring it to a boil. It all just works. Kudos to HTC for a delightful night of new theater.
---
A COMEDY OF TENORS presented by the Hampton Theatre Company
By Melissa Giordano
Broadwayworld.com Kicking off their incredible 34th season, The Hampton Theatre Company (HTC) offers Ken Ludwig's hysterical play A Comedy Of Tenors. This comedy farce is actually a sequel to Mr. Ludwig's Tony nominated play Lend Me A Tenor and the wonderful cast at HTC certainly delivers. And we indeed need some laughter in these wearisome times. Currently playing through November 11th at the charming Quogue Community Hall, Artistic Director Diana Marbury excellently directs the outstanding ensemble cast of HTC vets. The uproarious tale is set in 1936 in Paris; take a few opera singers with an ego, mistaken identity, miscommunication, and a lot of top-notch physical comedy… and you have this delightfully raucous production. Terrance Fiore strongly portrays Saunders, an impresario who simply wants to bring opera to the people. In coordinating a concert, Saunders enlists Carlo, a young, up-and-coming opera star portrayed by Connor Antico, Tito, a well-established opera giant portrayed by Edward A. Brennan, and Max, a protégée of Saunders portrayed by Matthew Conlon. Each of these men are absolutely sidesplitting in their respective roles with a special kudos to Mr. Brennan for technically, and flawlessly, taking on two roles. And naturally the women of this production are absolutely brilliant. Amanda Griemsmann adorably portrays Mimi, the aspiring actress daughter of Tito and the fiery Maria, portrayed by Catherine Maloney. Oh yes, Mimi is also in a relationship with the aforementioned Carlo, who is additionally Tito's arch rival. And Cesa Pledger rounds out the cast in the – if perhaps underused – role of Racon who is also an opera singer and a former lover of Tito. Hilarity abounds with great chemistry among the cast. Everyone is the cast is really superb in their respective roles and you truly need a strong comedic cast to pull this show off. On Ms. Marbury's creative team, the lovely posh hotel room set is designed by Sean Marbury. We, the audience, view the living room section with "French Doors" that are open observing the "Eifel Tower". This is enhanced beautifully by Sebastian Paczynski and Teresa LeBrun spot-on costumes. And so, A Comedy Of Tenors is a great way to kick off a sure to be dazzling season at the Hampton Theatre Company. A brilliant cast and entertaining story make for a fun night of theatre. A Comedy Of Tenors is presented by the Hampton Theatre Company at Quogue Community Hall through November 11th. For more information and to purchase tickets, please call (631) 653-8955 or visit www.hamptontheatre.org By Ken Ludwig, Direction and Set Décor by Diana Marbury, Assistant Director is Jane Lowe, Set Design by Sean Marbury, Lighting Design by Sebastian Paczynski, Sound Design by Seamus Naughton, Costume Design by Teresa LeBrun, Stage Management by Patrick McGlone Starring Connor Antico, Edward A. Brennan, Matthew Conlon, Terrance Fiore, Amanda Griemsmann, Catherine Maloney, and Cesa Pledger