In what may be their final season at their summer home on Golden Pond, Norman and Ethel Thayer contend with their present circumstances while reflecting on their relationships: to each other, to family, to aging, and to a life and a place defined by love.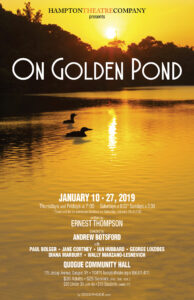 January 10 – 27, 2019
by Ernest Thompson
directed by Andrew Botsford
PAUL BOLGER (Charlie) HTC: Bedroom Farce, Picnic, Summer and Smoke. Manhattan Ensemble Timon of Athens, The Wood Demon. With his brother John Bolger and The Willow Cabin Theatre, The Sea Plays. 27 Wagons Full of Cotton, directed by his acting teacher Zina Jasper, who originated the role of Chelsea in On Golden Pond at The Hudson Guild Theatre. Paul is the voice of Bob Crachit in A Christmas Carol WPPB, 88.3 and has been performing his one man A Christmas Carol at schools, libraries and for special needs groups for 25 years. Film: The Kitchen Irish dump truck driver…L.A. Film Festival September 2019. Paul is thrilled to be part of such a wonderful cast and crew and would like to thank his family and friends for their love and support.
JANE CORTNEY (Chelsea) was last seen at HTC as Myra Arundel in Hay Fever. NYC roles include Nikki in The Woodsman, Irina in Three Sisters and Alma in Summer and Smoke. Regional work includes Beth in Little Women at Northern Stage and Franzl in The Comfort of Darkness at Caldwell Theatre. Jane wrote, acted in and produced the short film Reunion as well as the forthcoming First Seating. She is a co-founder of the Lafayette Salon Series, a monthly reading series that meets at the Players Club. BA: Vassar College. MFA: New School for Drama. AEA member. www.janecortney.com.
IAN HUBBARD (Billy Ray) is a Junior at Hampton Bays High School. He is thrilled and grateful to make his debut with the Hampton Theatre Company. Ian began acting at age 7, and this is his 16th show. Some of his favorite past roles include Evan Goldman (13: The Musical – Stages, 2018); Doody (Grease – Stages, 2017); and Perchik (Fiddler on the Roof – Madison Avenue Performing Arts, 2014). Ian's next role will be as Nathan Detroit in Hampton Bays High School's upcoming production of Guys and Dolls, March 29-31. Ian's favorite classes are Creative Writing, AP History, and AP Literature. He thanks Andrew Botsford for this fabulous opportunity to act with HTC; sends break-a-leg wishes to George, Diana, Wally, Jane, and Paul; and thanks his family and friends for coming to see the show!
GEORGE A. LOIZIDES (Norman) has appeared on the HTC stage several times, most recently in Michael Frayn's Alarms and Excursions. As a director for HTC he has directed several plays including last season's hit comedy Don't Dress for Dinner. As an actor/director for 50 years he has also worked extensively with Playcrafters Theatre Company in Bellport where he has appeared in many productions including this Fall's production of The RainMaker where he played H.C. For 27 years he was Theatre Arts Director for Ward Melville High School where he taught acting and directing and directed 81 productions. He studied acting and directing at the HB Studio in NYC. He is most thankful to Andrew for this opportunity to play Norman and to be on stage again with Diana and this talented group of actors. To his real wife of 48 years, he gives his thanks for her love and support.
DIANA MARBURY (Ethel/Set Decor) Diana Marbury is grateful for the opportunity to share the stage with such a talented group of thespians under the watchful eye of a gifted director. Diana has worked in many capacities with the HTC over the years and particularly enjoys wearing the acting "cap." The last cap she wore was as the director of the opening show of our 34th season, A Comedy of Tenors. She would like to thank the creative team and production staff that make participation in these shows not only possible but pleasurable. Last but not least, she tips her cap to the audience for their continued support, and of course, the businesses that provide the furniture and props that set the stage for each production.
WALLY MARZANO-LESNEVICH (Bill Ray) After serving as rehearsal stage manager for two productions, Wally is excited to tread the boards with HTC. Theatre: Blithe Spirit (Dragonfly); Black Tie, Hay Fever (Theatre Workshop Nantucket); Yes, Virginia… (Threadbare/WHUD 100.7); King Lear (Shrunken Shakespeare); The Big Funk, Two of Pentacles (The Drove/NYC); The King Stag (Edinburgh Fringe); Fall Planting (Nantucket Short Play Festival); and numerous credits as director. Film: Almost Paris (also screenwriter/Amazon); Annabelle Hooper and the Ghosts of Nantucket (Netflix); The Depths (iTunes); and numerous shorts. Much thanks to Andrew; this amazing company on the pond; everyone at HTC; his manager, Lisa; his family; and his lovely wife, Lindsay. B.F.A., Mason Gross, Rutgers.
ERNEST THOMPSON (Playwright) A writer, actor and director, as a playwright Thompson is best known as the author of On Golden Pond, which he wrote at the age of 28. The play opened Off Off Broadway in 1978, starring Tom Aldredge and Frances Sternhagen. A great success at the Kennedy Center, it opened at the New Apollo Theater on Broadway February 28, 1979 and ran for more than 400 performances when it was revived the following season at the Century Theatre. On Golden Pond went on to become a hit 1981 film, starring Katharine Hepburn and Henry Fonda. Thompson won the Academy Award for Best Adapted Screenplay in 1981, as well as awards from the Golden Globes and the Writers Guild of America. A second popular play, The West Side Waltz starring Katharine Hepburn, opened on Broadway on November 19, 1981. Thompson wrote and directed a television version based on the play, premiering on CBS Thanksgiving night 1995, starring Shirley MacLaine, Liza Minnelli, Kathy Bates, and Jennifer Grey. He wrote the screenplay for the feature film Sweet Hearts Dance, directed by Robert Greenwald and starring Susan Sarandon and Don Johnson. He then went on to direct 1969, starring Kiefer Sutherland, Robert Downey Jr., and Winona Ryder. Thompson lives most of the year in New Hampton, New Hampshire, near to where On Golden Pond was filmed.
ANDREW BOTSFORD (Director) Most recent directorial assignment was the HTC production of Joe DiPietro's Clever Little Lies in October 2017. He has appeared on stage in more than 45 Hampton Theatre Company productions since 1985, most recently as Bernard in Marc Camoletti's Don't Dress for Dinner. He is the host of a summer film commentary program at the Westhampton Beach Performing Arts Center and the host of the annual Hamptons Doc Fest in Sag Harbor. The author of a weekly community newsletter (AtQuaquanantuck.com), Andrew is a visiting professor in the Graduate Arts program at Stony Brook Southampton, where he has also pursued further studies in playwriting, acting and directing.
SEAN MARBURY (Set Designer) has worked in textile design, built sets for TV series, commercials, and films and worked with the design, engineering and fabrication of race car components. He currently works on high end residential construction. His set designs for HTC include Deathtrap, Other People's Money, Other Desert Cities, The Foreigner, Harvey, Time Stands Still, November, An Act of the Imagination, Alarms and Excursions, and Clever Little Lies.
TERESA LEBRUN (Costume Designer) is the resident costumer for HTC. She started helping with costumes in 1986 and has designed the costumes for all the company's productions since 2005. Teresa also costumes for Center Moriches and Westhampton Beach High Schools. She is happy to be working with Andrew and this amazing cast. Much love to her boys, Josh and Noah, family and great friends.
CARLENE DESCALO (Rehearsal Stage Manager) This is Carlene's first production at HTC. Carlene has worked around the country in a variety of capacities on film, television, and theatre and is excited to be back in her home state. Most recently, she has costume designed You Can't Take It With You at Westhampton Beach High School and works at the Staller Center as a stagehand. She would like to thank everyone at the company for this wonderful opportunity. Break legs everyone!
PATRICK MCGLONE (Production Stage Manager) began his career with HTC by building sets for Alarms And Excursions during the 2016 season. He continued as a stagehand then proceeded to do double duty as stagehand and set builder for Clever Little Lies in 2017. He moved up to assistant stage manager for Venus In Fur and production stage manger for A Comedy of Tenors. He is now very excited to be the production stage manager for On Golden Pond.
AARON LEVINE (Lighting/Sound Tech) is a senior at WHB HS. He is happy to work for the Hampton Theatre Company, helping with set construction and working backstage. Aaron also studies sound engineering in high school and has a passion for music. This is the second production he has worked on for the HTC and he looks foward to many more. He thanks Sean Marbury and Diana Marbury for the opportunity and involvement.
JULIA MORGAN ABRAMS (House Manager). After retiring from the legal department of Bristol Myers Squibb, Julia began a second career as a volunteer, initially for Literacy Suffolk, HTC and the Southampton Animal Shelter, where she wrote grants and worked in fundraising. She continues to write grants and help with marketing for several local nonprofits. Julia would like to thank all of her dedicated House Assistants for their continued support.
Production: Director ANDREW BOTSFORD
Set Design SEAN MARBURY
Lighting Design SEBASTIAN PACZYNSKI
Set Decor DIANA MARBURY
Costume Design TERESA LEBRUN
Rehearsal Stage Manager CARLENE DESCALO
Production Stage Manager PATRICK MCGLONE
Set Construction SEAN MARBURY, CARLOS BUENO, NICK FITZGERALD,AARON LEVINE, SEAMUS NAUGHTON
Sound Design SEAMUS NAUGHTON
Lighting/Sound Tech AARON LEVINE
Backstage Crew NICK FITZGERALD
Box Office LISA CARR
Production Graphics
JOE PALLISTER
House Manager JULIA MORGAN ABRAMS
Production Photographer TOM KOCHIE
The Hampton Theatre Company, in conjunction with our local libraries, offers special Dinner (& Lunch) and Theater Packages, which offer wonderful events at terrific prices. There are four packages available for ON GOLDEN POND. The Rogers Memorial Library in Southampton and the Westhampton Free Library in Westhampton Beach are offering a dinner package on Friday, January 25. Dinner is at Stone Creek Inn in East Quogue at 5 pm, followed by the show at 7 pm. The cost for dinner (including tax and tip) and show is $60. To reserve, please send your check, for $60 per person, to Hampton Theatre Company, PO Box 400, Quogue, NY 11959. Please include your name, address, phone number and email address so that we may email you your tickets. Please reference "January 25 dinner/theater event." Reservations and payment required by January 18. The Hampton Bays Public Library is offering a dinner package on Friday, January 17. Dinner is at 1 North Steakhouse in Hampton Bays at 5 pm, followed by the show at 7 pm. The cost for the dinner (including tax and tip) and show is $60. To register, please call the Hampton Bays Library at 631-728-6241. The Quogue Library is offering a dinner package on Thursday, January 24. Dinner is at The Quogue Club at 5 pm, followed by the show at 7 pm. The cost for dinner (including tax and tip) and show is $70. To register, please call the Quogue Library at 631-653-4224 ext. 101. The Quogue Library package is available first to library members. If space is available, others may participate as well. The Hampton Theatre Company is offering a lunch and theater package in conjunction with the Saturday matinee on Saturday, January 26. Lunch is at The Quogue Club at the Hallock House in Quogue at 12:30 pm, followed by the show at 2:30 pm. The cost for lunch (including tax and tip) and show is $65. To reserve, please send your check, for $65 per person, to Hampton Theatre Company, PO Box 400, Quogue, NY 11959. Please include your name, address, phone number and email address so that we may email you your tickets. Please reference "January 26 lunch/theater event." Reservations and payment required by January 18.
The production was the best of what local theater can be; a combination of great acting with really good material, presented at a Broadway level – all at a very affordable price. – T.J. Clemente (Hamptons.com) As always, the production values in Quogue were stellar, due to their able crew of set design (Sean and Ms. Marbury); costumes by Teresa LeBrun, and lighting (Sebastian Paczynski). – Lorraine Dusky (Southampton Press and East Hampton Press) On Golden Pond …  offers up something closer to real life — how to love, how to accept, and how to go on, no matter what. As always, Hampton Theatre Company gives its audience a snappy and professional production sure to please the patrons. – Bridget Leroy (The Independent)
FROM SUNRISE HIGHWAY (ROUTE-27):
Sunrise Highway (Route 27) to exit 64S (Rte. 104 to Quogue). Rte. 104 South (approx. 3 miles) to Montauk Highway (Rte. 80). Right onto Montauk Highway to light at Otis Ford (1 mile). Left onto Jessup Avenue. 1/2 mile to theater (on right). FROM MONTAUK HIGHWAY (ROUTE-80):
Montauk Highway to light at Otis Ford in Quogue. South onto Jessup Avenue. 1/2 mile to theater (on right).

PARKING: There is limited street parking around the theater as well as a parking lot that can be entered just north of the Quogue Community Hall. WHEELCHAIR ACCESS: The theater is wheelchair accessible through the side entrance. If a member of your party needs wheelchair access, please come to front entrance and ask the person taking tickets to open the side door. If a member of your party requires a wheelchair in the theater, please reserve one seat at the end of a row. ASSISTED LISTENING DEVICES: The theater does not have assisted listening devices at this time.