Using a theatre classic as a springboard, Hnath's inspired writing balances ingrained and conflicting ideas about freedom, love and responsibility. In the final scene of Ibsen's 1879 groundbreaking masterwork, Nora Helmer makes the shocking decision to leave her husband and children, and begin a life on her own. In "A Doll's House, Part 2," many years have passed since Nora's exit and now she has returned. But why? What does she want and what will it mean for those she left behind?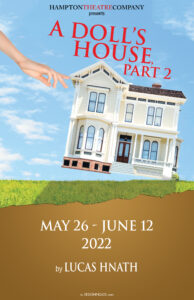 May 26 – June 12, 2022
by Lucas Hnath
---
ANDREW BOTSFORD
(Torvald) has appeared in more than 45 Hampton Theatre Company productions since 1985, most recently in multiple roles in Ken Ludwig's Baskeville: A Sherlock Holmes Mystery. Also a director, his most recent productions were Admissions by Joshua Harmon in 2020 and this season's Ripcord by David Lindsay Abaire. Other regional stage work includes Round Table Theatre Company's production of Shakespeare's Scottish play and Noël Coward's Tonight at 8:30 at Guild Hall's John Drew Theater. The host of a summer film commentary program at the Westhampton Beach Performing Arts Center, he is also the host of the annual Hamptons Doc Fest (formerly the Hamptons Take 2 Documentary Film Festival) in December in Sag Harbor. His occasional columns on life in Quogue can be found at
AtQuaquanantuck.com
.
MOLLY BRENNAN
(Emmy) is thrilled to be making her debut with HTC! Currently, Molly is a BFA acting student attending Marymount Manhattan College. Growing up, Molly had been in numerous productions at the Westhampton Beach Performing Arts Center and would love to thank Julienne Penza-Boone for being an amazing mentor. She has also been in several productions at Westhampton Beach High School, directed by Rosemary Cline. Additionally, you could have seen her in The Vagina Monologues or Eco Readings at Southampton Arts Center. Backstage, Molly has worked with director Jenna Mate as an assistant director on several shows at Guild Hall. Molly has much admiration for the entire cast and crew of this production. She would like to thank George, Andrew and Rosemary for their unmatched advice and encouragement. Molly would especially like to send her gratitude to Rosemary— thank you for believing in me for this project—I'm so lucky to play your onstage daughter. Lastly, she wants to send her appreciation to her friends and family for their unwavering support.
ROSEMARY CLINE
(Nora) last appeared at the HTC as Amanda in Private Lives by Noel Coward. A founding member of the company, she has had leading roles in 30+ productions. She spent 15 years in NYC performing in theater, film and TV as well as 7 years in summer stock at Ivoryton, CT and Bristol Valley Theatre, Naples NY. More recently she h studied directing and acting at Stony Brook Southampton with our playwright Lucas Hnath, Mercedes Ruehl, Joanna Merlin, Tony Walton and Rinde Eckert, among others, and is currently pursuing an MFA in Creative Writing at the Southampton campus. She is currently in her 14th year directing the plays and musicals at the WHB HS. Heaps of thanks to our amazing director, George, our beautiful cast and crew, and all of those in our company who make the magic happen on our stage season after season. All love to Christopher, Cashew, Carter, her mother and father, with a wink to Poonie and Jane.
MARIANNE SCHMIDT
(Anne Marie) is excited to be making her debut at Hampton Theatre Company. Last seen as Miss Lynch in Grease at Theatre Three, her previous roles included a trio of radio plays and a staged reading of Love, Loss and What I Wore (both for Playcrafters) and Clara in Memphis at Gateway. During the pandemic she also performed in two online plays for Theatre Three. Marianne truly appreciates working with this talented cast, and wants to thank George Loizides for this opportunity to work under his direction. And always, love and gratitude to her wonderful husband, family and friends for all their support.
GEORGE A. LOIZIDES
(Director/Set Design) has directed seven other productions for HTC including Native Gardens, Private Lives, Don't Dress For Dinner, Lost In Yonkers, Picnic, The Odd Couple (Female Version) and Bus Stop. He has appeared on the HTC stage many times, most recently playing three different roles in last Spring's production of Sylvia. Before that he played Norman in On Golden Pond and was in Alarms and Excursions, Heroes, Bedroom Farce, One Flew Over the Cuckoo's Nest and Glengarry Glen Ross. As an actor and director for more than 50 years, he has also acted and directed for Playcrafters Theatre Company in Bellport. For 27 years he was Director of Theatre Arts for Ward Melville High School where he taught acting and directing, as well as directing 81 productions. He studied acting and directing at the HB Studio in NYC. He is on the Board of Directors for HTC. To his cast whose hard work and talent have brought this play to life, "Thanks, thanks and many thanks." He is grateful to Ricky and Meg for building the set. He thanks HTC for this opportunity and for their support. Love to Kathy.
LUCAS HNATH
(Playwright) is an award-winning American playwright and Associate Professor of Dramatic Writing and Head of Performance at NYU's Tisch School of the Arts. His work as a playwright includes: Dana H; A Doll's House, Part 2; Hillary and Clinton; Red Speedo; The Christians; A Public Reading of an Unproduced Screenplay About the Death of Walt Disney; Isaac's Eye; and Death Tax. His work has been produced nationally and internationally, including at Playwrights Horizons, New York Theatre Workshop, Soho Rep, Actors Theatre of Louisville/Humana Festival of New Plays, Ensemble Studio Theatre, Mark Taper Forum, Steppenwolf Theatre, South Coast Repertory, Royal Court Theatre, and on Broadway. A member of Ensemble Studio Theatre and a resident of New Dramatists, he is the recipient of an Obie Award, Guggenheim Fellowship, Outer Critics Circle Award for Best New Play, Whiting Award, Kesselring Prize, and two Steinberg citations from the American Theatre Critics Association. The Broadway production of A Doll's House, Part 2 was nominated for a 2017 Tony Award for Best Play, and Laurie Metcalf won the 2017 Tony for Best Actress for her portrayal of Nora. Additionally, he has taught at Rutgers, the University of Rochester, and at the Southampton Writers Conference.
TERESA LEBRUN
(Costume Designer) is the resident costumer for HTC. She started helping with costumes in 1986 and has designed the costumes for all the company's productions since 2005. Teresa also costumes for Westhampton Beach High School. Much love to her boys, Josh and Noah, family and great friends.
AMANDA GRIEMSMANN
(Production Stage Manager) is a veteran of The Hampton Theatre Company and the newest member of the board! She was most recently seen as the title role in Sylvia. She was also seen in their productions of Comedy of Tenors as Mimi and Don't Dress for Dinner as Suzette. She has performed for several seasons in Manhattan with The Inwood Shakespeare Festival. A special thanks to George for this opportunity! Lots of love to friends, family and Ryan.
IAN HUBBARD
(Production Stage Manager) is a rising Junior at Sarah Lawrence College where he is studying theatre. He previously appeared on the HTC stage as Billy Ray, Jr. in On Golden Pond and as Charlie Luther Mason in Admissions. Ian would like to thank George for this opportunity to work with the HTC family once again!
ROGER MOLEY
(Rehearsal Stage Manager). Having cut his theatrical teeth on four recent HTC plays, Roger is grateful to be working once again with the dynamic duo of George Loizides and Andrew Botsford on this exciting production. Respect to both for their continuing mentorship and patience, as well as to Terry Brennan, the HTC Board (congrats, Amanda!), and our team of hard-working volunteers. All my love to Susie and our far-flung girls and grandkids. Welcome to the world, Ronan Stoler!
JULIA MORGAN ABRAMS
(House Manager). After retiring from the legal department of Bristol Myers Squibb, Julia began a second career as a volunteer, initially for Literacy Suffolk, HTC, the Southampton Animal Shelter and Early Girl Farm, where she wrote grants and worked in fundraising. She continues to write grants and help with marketing for several local nonprofits. Julia would like to thank all of her dedicated House Assistants for their continued support.
Director – GEORGE A. LOIZIDES
Set Design – GEORGE A. LOIZIDES
Lighting Design – SEBASTIAN PACZYNSKI
Costume Design – TERESA LEBRUN
Rehearsal Stage Manager – ROGER MOLEY
Production Stage Managers – AMANDA GRIEMSMANN, IAN HUBBARD
Set Construction – RICKY BOTTENUS, MEG SEXTON
Set Distressing – MATTHEW CONLON
Sound Design – SEAMUS NAUGHTON
Box Office – SONYA HUBBARD
Production Graphics – JOE PALLISTER
(DESIGNINGJOE)
House Manager – JULIA MORGAN ABRAMS
Production Photographer – TOM KOCHIE
Nora, Out of Time
By Kurt Wenzel
June 9, 2022 When Henrik Ibsen's "A Doll's House" was first performed in 1879, it arrived with a thundercrack. Its heroine, Nora Helmer, frustrated by a lack of self-fulfillment, flees the "doll's house" of her marriage, leaving behind a husband and three children. So controversial was the drama then that Europe's most famous actress at the time, Hedwig Niemann-Raabe, refused to play Nora, and "A Doll's House" was sometimes performed with an alternate ending.

Ibsen himself maintained that he did not set out to write a feminist play, but it hardly matters. "A Doll's House" is now considered a paragon of feminist literature, and was a special inspiration to women in the 1960s and '70s who began to reconsider the institution of marriage.

"A Doll's House, Part 2," running until Sunday at the Hampton Theatre Company in Quogue, picks up the story in 1894, as Nora returns 15 years after leaving the Helmer house. Her homecoming, however, is not to reconcile with her husband, Torvald (who has never remarried). Instead she wants a legal divorce, which her husband has never sought after all these years, and for which, according to 19th-century law, she has no legal avenue to pursue.

Although Lucas Hnath's 2017 play is set at the turn of the last century (the costumes and staging — a spare and fading Victorian home — are in keeping with the period), we are by no means in 19th-century Europe. This is a play slightly out of time, as both the dialogue and the characters' sensibilities are thoroughly modern. (Including, as temperatures rise, the slinging of a number of four-letter words.)

As with Ibsen's play, the drama's centerpiece is Nora Helmer, and the actress Rosemary Cline is up to the task. Though "A Doll's House, Part 2" is disguised as a period piece, the subtext of the drama is the exploration of the modern feminist era through Nora, one of its earliest practitioners. Both the playwright and Ms. Cline dare to portray Nora as essentially unlikable. Yes, she is brave, but also imperious; highly intelligent but self-satisfied. And Ms. Cline's subtle performance nails these dichotomies beautifully.

Upon her return, her first encounter is with the family nanny, Anne Marie (played by Marianne Schmidt), who has raised Nora's three children herself. Nora has become a famous, and prosperous, feminist writer, and Ms. Cline carries herself with her chin high and a patronizing tone that is both irritating and utterly perfect. Her gait is a kind of fluid strut, and she speaks to Anne Marie as if she were a child rather than the woman who has raised three children who would have been otherwise motherless.

If it sounds like the playwright is somewhat suspicious of Nora's self-actualization, you may well be right. Soon Torvald arrives home, stunned to see Nora sitting in his living room. Andrew Botsford, so adept at playing the cad in previous HTC productions, stretches here to deliver a highly empathetic character. With great pathos, Mr. Botsford portrays Torvald as a man genuinely confounded by his headstrong wife, and his barely hidden feelings of continuing love for her are movingly conveyed.

As they discuss divorce, Nora and Torvald begin to rehash their marriage, trading barbs and recriminations. Ultimately, however, Torvald is no match for his wife, who is clearly his intellectual superior. It is not until the arrival of their daughter, Emmy, that Nora finally meets her match.

Emmy (played by a calmly fierce Molly Brennan) is about to be married, which of course disappoints her mother. As their debate heats up, Ms. Brennan does well showing us Emmy's own moxie, and Nora finds herself literally backed up against a wall as Emmy summons a spirited defense of institutional marriage.

Who's right? This is of course a question for the viewer to decide, though we feel the playwright's sensibilities leaning toward Emmy's more balanced vision of a flawed but perhaps indelible institution. As she walks out the door for a second time at the end of "A Doll's House, Part 2," Nora confidently asserts that marriage will soon end forever, hopefully in her lifetime. With the advantage of foresight, it seems to the audience yet one more miscalculation of this potent but often myopic character.

There are some genuine laughs in "A Doll's House, Part 2," but they are mostly of the uneasy sort. This is a drama that sets out to take a hard look at what the feminist era has wrought, both good and bad. Taking notice of the audience during this performance, dominated by older couples, I could imagine that there were some interesting conversations on the car rides home. One hopes so. It's a play that deserves to be seen and then debated, and this satisfying, rigorously acted production does it justice.

FROM SUNRISE HIGHWAY (ROUTE-27):
Sunrise Highway (Route 27) to exit 64S (Rte. 104 to Quogue). Rte. 104 South (approx. 3 miles) to Montauk Highway (Rte. 80). Right onto Montauk Highway to light at Otis Ford (1 mile). Left onto Jessup Avenue. 1/2 mile to theater (on right). FROM MONTAUK HIGHWAY (ROUTE-80):
Montauk Highway to light at Otis Ford in Quogue. South onto Jessup Avenue. 1/2 mile to theater (on right).


PARKING: There is limited street parking around the theater as well as a parking lot that can be entered just north of the Quogue Community Hall. WHEELCHAIR ACCESS: A handicapped accessible entrance is located on the right (north) side of the building. Please use the driveway on the north side of the theater and ring the bell marked HTC Handicapped at the ramp entrance to the building and a volunteer will assist you; or have a member of your party notify us on arrival at the box office if you'd like to use this entrance. If a member of your party requires a wheelchair in the theater, please reserve one seat at the end of a row. ASSISTED LISTENING DEVICES: The theater does not have assisted listening devices at this time.