Rising attorney Pablo and doctoral candidate Tania, his very pregnant wife, have just purchased a home next to Frank and Virginia, a D.C. couple with a prize-worthy English garden. But an impending barbecue for Pablo's colleagues and a disagreement over a long-standing fence line soon spiral into an all-out border dispute, exposing both couples' notions of race, taste, class and privilege.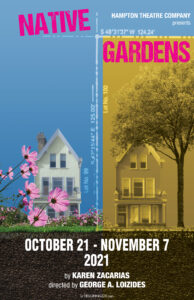 October 21 – November 7, 2021
by KAREN ZACARIAS
directed by George A. Loizides
>
---
PREVIEW
Hamptons Theatre Company Offers a Comedy With 'Teeth'
By Mark Segal
The East Hampton Star

Next week's opening of the 2021-2022 season at the Hampton Theatre Company in Quogue will mark the first time the theater will be at full capacity in more than 18 months. Thinking back to March 2020, Andrew Botsford, the company's president as well as a frequent actor and director, said, "Nobody knew anything."

By that, he meant that when they had to shut down a week before the opening of A.R. Gurney's play "Sylvia," they thought, "Okay, this is a little bump," and it was penciled in for May. When that didn't pan out, they thought the summer would bring warm weather and a lull in the pandemic, allowing for a September opening. And so it went until this past May, when they were finally able to open "Sylvia" — at 30 percent capacity. Fortunately, the set had remained in place for 15 months.

As with theaters and cultural organizations everywhere, there was concern about the theater's future, especially as the company's general manager, some bookkeeping staff, and others were on salary, with no other source of income.

Mr. Botsford emphasized, however, that H.T.C. was very fortunate, especially considering the toll the pandemic took on so many. "People were wonderful, they stepped up and continued to donate money, and that kept us going so we could move forward."

The company is indeed going forward with "Native Gardens," a play by Karen Zacarias that will open a three-week run at 7 p.m. next Thursday. The play was praised by The Minneapolis Star Tribune during its 2017 run there as a "brilliant new comedy [in which] cultures and gardens clash."

"Native Gardens" follows two couples who live next door to each other in an historic Washington, D.C., neighborhood. Frank and Virginia are a couple of older empty-nesters, and Frank spends most of his free time perfecting his manicured garden, which he hopes will win him an award from a local horticultural society.

Tania and Pablo Del Valle are a Latinx couple in their 30s whose plans for their fixer-upper include a "native garden" consisting of indigenous plants. Problems arise when Tania and Pablo offer to replace the chain-link fence that separates the two yards, only to discover that the old fence has deprived them of two feet of their property. A battle over those two feet ensues.

The idea for the play was planted at a dinner party where a friend of Ms. Zacarias told her she was in a fight with her neighbors. "All of those fights are so primal and poetic and absurd in some ways," the playwright told American Theatre Magazine. "I kept thinking, it's almost like every single battle between nations or tribes . . . it boils down to this fight about property and culture, in a sense." The play also gave Ms. Zacarias, who was born in Mexico, a platform for creating Latinx characters.

Mr. Botsford remarked on his own predilection for "shows that have a lot of humor in them, but have teeth." While "Native Gardens" is light-hearted, "there's a little bit of racism, a little bit of privilege, a little bit of age difference, generational conflict, and Anglo-Hispanic conflict."

As for the idea of the pollinator pathway and the use of native plants, which is sweeping Long Island and much of the Northeast "to save the butterflies and the bees and the birds," it's "right in the wheelhouse of this play," he said.

The cast includes Terrance Fiore as Frank, Martha Kelly as Virginia, Samantha Herrera as Tania, and Edwin A. Cruz as Pablo. Direction is by George Loizides, set design by Gary Hygom, lighting design by Sebastian Paczynski, sound by Seamus Naughton, and costumes by Teresa Lebrun.

Performances will take place Thursdays and Fridays at 7 p.m., Saturdays at 8, and Sundays at 2:30 p.m., with an additional matinee set for Nov. 6. A conversation with the cast will follow the Oct. 29 performance. Tickets are $36, $31 for senior citizens, and $20 for students 25 and under. Proof of vaccination or documentation of a negative Covid-19 test within 72 hours of the day of the performance will be required, as will face covering while inside the theater.



---
REVIEW
NATIVE GARDENS at Hampton Theatre Company The cast is excellent, and the story has heart, even with some intense moments.
by Melissa Giordano
Broadwayworld.com

The Hampton Theatre Company's doors reopened last weekend kicking off their spectacular 37th season. Running until November 7th, the charming Quogue venue has mounted a spirited incarnation of Karen Zacarias' play Native Gardens directed wonderfully by George A, Loizides. The cast is excellent, and the story has heart, even with some intense moments.

The tale centers on two couples; the Del Velle's and the Butley's. The Del Valle's, Tania and Pablo strongly portrayed by Samantha Herrera and Edwin Alexander Cruz, are a millennial couple who just moved into the neighborhood. Virginia and Frank Butley, hilariously portrayed by Martha Kelly and Terrance Fiore, have been in the neighborhood for some time. Initially we find them quite pleasant to each other. However, new – and rather unexpected – information about Tania and Pablo's property causes a stir. We have all had those neighbors, I'm sure, that can get uppity when talking about their property. And that is what makes this play relatable. Everyone in the ensemble cast is brilliant and have a great rapport with each other. Even though there are some points where they are downright mean to one another, all of them remain likeable. In the breezy 90-minute show, I was perhaps expecting a few more belly laughs, but you'll leave the theatre feeling optimistic. Additional kudos to set designer Gary Hygom on the visually stunning production. Making optimal use of the stage, the backyards of the two houses flows well. The house of the younger couple is a beautifully rustic fixer upper while the other has a grand and spacious patio. This is enhanced by Sebastian Paczynski's atmospheric lighting and the décor by Mr. Loizides and Mr. Hygom.

The Hampton Theatre Company indeed sets itself apart and this superb production of Native Gardens is no exception. Presenting mostly plays, I love that you never know what will be on the docket at HTC. In its thirty-seven years, it knows its audience well and the quality of their productions is striking. Their shows, especially like this one, leave an impression. Indeed, a thought-provoking story and a great cast make for a thrilling night of theatre. Native Gardens is presented by the Hampton Theatre Company at the Quogue Community Hall in Quogue, Long Island, through November 7th. For more information and to purchase tickets, please call 631-653-8966 or visit www.hamptontheatre.com, Please note that heavy road construction is currently underway near the theatre and detailed instructions are available for parking and theatre entrance.

By Karen Zacarias, directed by George A. Loizides, Set Design by Gary Hygom, Lighting Design by Sabastian Paczynski, Sound Design by Seamus Naughton, Set Décor by George A. Loizides & Gary Hygom


---
REVIEW
Not-So-Common Ground
By Kurt Wenzel
East Hampton Star

"Good fences make good neighbors," states a character in Robert Frost's "Mending Wall," which laments the seemingly universal xenophobia that people harbor toward one another. It is no coincidence that this line is quoted in Karen Zacarias's comedy-drama "Native Gardens," a production of which is now running at the Hampton Theatre Company in Quogue. Sly and perceptive, "Native Gardens" explores the differences — racial, socio-economic, and political — that have befallen contemporary America. It is also a work that falls directly in the wheelhouse of this theater company, which thrives on satire and social comedy.

The setup is ingenious. An ambitious, self-consciously liberal young couple, Tania and Pablo Del Valle, move into a "fixer-upper" in an upscale Washington, D.C., neighborhood. Next door to them are Virginia and Frank Butley, who welcome the couple with open arms — at first. Chocolate and wine are exchanged, and there are friendly chats in the Butleys' backyard, which directly adjoins the Del Valles' property. Despite the political and age differences — the Butleys are Republican, the Del Valles liberal Democrats — there seems some tenuous common ground. The Butleys listen to NPR, after all, "almost voted for Obama" in the first election, and "love" Mexico — no matter that Pablo is Chilean and Tania from New Mexico. Both love gardening, though Tania favors low-impact, eco-friendly plants to Frank's environmentally taxing flowers. (It is part of Ms. Zacarias's talent that these small differences already begin to manifest the troubles to come.)

Soon, however, Pablo, a budding lawyer, takes a look at the survey and realizes the Butleys' property encroaches two feet onto the Del Valles' — the very two feet that inhabit Frank's beloved flower garden. Tania is ready to forget the whole thing — it's only two feet, after all. She changes her tune when Pablo points out the square footage holds a value of nearly $40,000. When preliminary discussions with the Butleys devolve into name-calling, the gloves come off and the comedy kicks into overdrive.

The production's casting is nearly perfect. Martha Kelly and Terrance Fiore are outstanding as the well-meaning but slightly selfish middle-aged couple. Equally good are Samantha Herrera and Edwin Alexander Cruz as the good-natured, if slightly sanctimonious, millennials.

The kick of "Native Gardens" is watching how quickly the facades of these two couples crumble once money and property rights are at stake. The good liberal Del Valles begin to show a sudden but inordinate interest in money, for example, and the "compassionate Republican" Butleys resort to racially tinged attacks when things turn ugly. Cross words turn into stone-throwing, and eventually a chain saw comes out. The actors handle all this deftly, and no matter how petty and selfish each side becomes it's a tribute to these players that the audience still likes each couple no matter how low they stoop. (The director George Loizides, incidentally, has an uncredited but very funny turn as a silent, Chaplinesque landscaper.)

Gary Hygom's set is the most ambitious for HTC in recent memory, displaying the facades of the two adjoining homes and their economic disparities. This includes a very real-looking oak tree in the Del Valles' yard, and a general feeling of claustrophobia in the proximity of the two properties.

"Native Gardens" was written just before the time of Trump's victory in 2016, and credit must be given to Ms. Zacarias's prescience at how divided the nation would become. The "good fence" of the play is, after all, as in the Frost poem, a mere metaphor — this time for the socio and political extremes that plague contemporary America.

It is also a sly aside to the Trump wall that was being pitched during the 2016 campaign, though here the tables are turned. "I'm going to build a fence to keep you out!" exclaims Tania to Virginia and Frank. "And you're going to pay for it!" adds Pablo.

The production, running through Sunday, couldn't be a more timely or well-executed comedy.

EDWIN ALEXANDER CRUZ (Pablo Del Valle) is delighted to debut at the Hampton Theatre Company as Pablo in Native Gardens! When not playing a neurotic, know-it-all, loud Hispanic guy, Edwin can be found in his pjs eating frozen pizza from the local supermarket. During pre and post frozen pizza eating, Edwin is probably locked away in a sound-booth recording English, Spanish, and Italian voice over TV commercials … probably about pizza! Or recording some movie out in the middle of Timbuktu, Burbank in California. He trained with some of the best acting coaches in New York City at The Neighborhood Playhouse, Sanford Meisner's School of Theatre and graduated Summa Cum Nothing 2016. He has guest starred in some ABC and Discovery series that no one has heard of, like A Crime to Remember and I, Witness. If none of the above applies, you might find him at some Los Angeles cafe writing his own projects, or at home deciding which plaid shirt accurately reflects his mood today.

TERRANCE FIORE (Frank Butley) is delighted to be returning to the HTC stage in Native Gardens. Terry last appeared with HTC in Comedy of Tenors, (Saunders), and earlier HTC performances include Clever Little Lies, (Bill, Sr.), Other People's Money (Jorgenson), Enchanted April, One Flew Over the Cuckoo's Nest, and Six Degrees of Separation. Other favorite performances include The Summit, at Guild Hall, Love Letters"(with Pia Lindstrom and Tony Walton, dir.), Galapagos, the stage adaptation of the Kurt Vonnegut novel, The Diary of Anne Frank at Bay Street Theatre, Tennessee Williams's In the Bar of a Tokyo Hotel, 110 In The Shade, The Foreigner, and Moonlight and Magnolias. Terry has appeared in a range of dramatic readings and radio plays. Film credits include Dark Was the Night, which premiered at the Lincoln Center Scary Movie Festival. Video: Grey Advertising's award winning The 401K Project, which advocated for a reduction in gun violence. Thanks to his wife Blair for her love and encouragement, and good-spirited tolerance of dinners alone during our rehearsal schedule.

SAMANTHA HERRERA (Tania Del Valle) Born and raised in New York City, Samantha's theater roots began at LaGuardia High School of Music & Art and Performing Arts. She attended Hunter College working extensively both on and off stage. A proud graduate of the Neighborhood Playhouse '16, she continued her training at London Academy of Music & Dramatic Art for their summer Shakespeare program. Her tv work includes a recurring role on Season 1 of Marvel's Iron Fist and she is preparing for her debut feature film, Where Have All the Flowers Gone, slated to shoot in January 2022. Aside from acting, she has directed both in film & theater and is most excited to be bringing her first screenplay to life.

MARTHA KELLY (Virginia Butley) is so pleased to be back at the Hampton Theatre Company, where she was last seen as Ethel Chauvenet in the 2015 production of Harvey. Meantime, she has been very active in community theater in Florida. Last season, she played Cookie in Neil Simons' Rumors at the Barn Theatre in Stuart, Fl. Previously, she was a familiar onstage figure at the Vero Beach Theatre Guild. In Vero, she played a variety of roles, from madame of a brothel to a singing nun, earning multiple acting awards. Favorites include Miss Hannigan in Annie; Mrs. Graves in Enchanted April; Lady Bracknell in The Importance of Being Earnest; Inspector Goring in The Game's Afoot, and Ruth in Making God Laugh.

GEORGE A. LOIZIDES (Director) has directed six other productions for HTC including Private Lives, Don't Dress For Dinner, Lost In Yonkers, Picnic, The Odd Couple (Female Version) and Bus Stop. He has appeared on the HTC stage many times, most recently playing three different roles in the Spring production of Sylvia. Before that he played Norman in On Golden Pond and was in Alarms and Excursions, Heroes, Bedroom Farce, One Flew Over the Cuckoo's Nest and Glengarry Glen Ross. As an actor and director for more than 50 years, he has also acted and directed for Playcrafters Theatre Company in Bellport. For 27 years he was Director of Theatre Arts for Ward Melville High School where he taught acting and directing, as well as directing 81 productions. He studied acting and directing at the HB Studio in NYC. He is on the Board of Directors for HTC. To his cast who have come from far and wide to bring this play to life, "Thanks, thanks and ever thanks." He thanks Gary for a wonderful set. He thanks HTC for this opportunity and for the support. Love to Kathy.

KAREN ZACARÍAS (Playwright) is one of the most produced playwrights in the U.S. Her plays have been produced at the John F. Kennedy Center, Arena Stage, Goodman Theater, Round House Theater, Denver Center, Alliance Theater, Imagination Stage, GALA Hispanic Theater, Berkshire Theater Festival, South Coast Rep, La Jolla Playhouse, Cleveland Playhouse, San Jose Repertory Theater, GEVA Theater, Horizon's Theater, People's Light and Theater, Walnut Street Theater, Arden Theater, Milagro Theater, Teatro Vista, Aurora Theater, and many more. One of the inaugural Resident Playwrights at Arena Stage in Washington, DC, she is a core founder of the Latinx Theatre Commons and the founder of Young Playwrights' Theater, an award-winning theater company that teaches playwriting in local public schools in Washington, DC.

GARY HYGOM (Set Designer) Gary is excited to be working again with the Hampton Theatre Co. He was one of the founding members of the company designing the first production of Anne Frank in 1985, the first of six for the HTC. It was on the set of Hot L Baltimore (in a tent) with HTC that he met his wife of 26 years Mary Powers.
Since then he has designed 50 plus shows at various theaters and Off Broadway. He was the producing director at Bay Street Theatre for 20 years, founder of Oak Hill Theatre Company, executive director of the Patchogue Theatre for three years, is the producer of The Rock Project, and just announced as the executive director of the Suffolk Theater.

TERESA LEBRUN (Costume Designer) is the resident costumer for Hampton Theatre Company. She started helping with costumes in 1986 and has designed the costumes for all the company's productions since 2005. Teresa also costumes for Center Moriches and Westhampton Beach High Schools. Much love to her boys, Josh and Noah, family and great friends.

JULIA MORGAN ABRAMS (House Manager). After retiring from the legal department of Bristol Myers Squibb, Julia began a second career as a volunteer, initially for Literacy Suffolk, HTC, the Southampton Animal Shelter and Early Girl Farm, where she wrote grants and worked in fundraising. She continues to write grants and help with marketing for several local nonprofits. Julia would like to thank all of her dedicated House Assistants for their continued support.



Director – GEORGE A. LOIZIDES

Set Design – GARY HYGOM

Lighting Design – SEBASTIAN PACZYNSKI

Set Decor – GEORGE A. LOIZIDES, GARY HYGOM

Costume Design – TERESA LEBRUN

Set Construction – RICKY BOTTENUS, GARY HYGOM, MEG SEXTON

Sound Design – SEAMUS NAUGHTON

Box Office – SONYA HUBBARD

Production Graphics –

DESIGNINGJOE

House Manager – JULIA MORGAN ABRAMS

Production Photographer – TOM KOCHIE
IMPORTANT! Jessup Avenue Detour
Because of ongoing construction on Jessup Avenue, traffic to the theater is being rerouted, and parking will now be located behind the Quogue Firehouse. Details are available in the "DIRECTIONS" section of the "ABOUT" tab above. In addition, the entrance to the theater will be through the Village Courthouse on the west side of the Community Center. NOTE: Because of these changes, and to respect safety protocols at the theater, please plan to arrive at least 20 minutes before the show starts. LATECOMERS WILL NOT BE ADMITTED.

PARKING: There is limited street parking around the theater as well as a parking lot that can be entered just north of the Quogue Community Hall. WHEELCHAIR ACCESS: A handicapped accessible entrance is located on the right (north) side of the building. Please use the driveway on the north side of the theater and ring the bell marked HTC Handicapped at the ramp entrance to the building and a volunteer will assist you; or have a member of your party notify us on arrival at the box office if you'd like to use this entrance. If a member of your party requires a wheelchair in the theater, please reserve one seat at the end of a row. ASSISTED LISTENING DEVICES: The theater does not have assisted listening devices at this time.