A sunny room on an upper floor is prime real estate in the Bristol Place Senior Living Facility. So when the cantankerous Abby is forced to share her quarters with new-arrival Marilyn, she has no choice but to get rid of the infuriatingly chipper woman by any means necessary. A seemingly harmless bet between the women escalates into a dangerous game of one-upmanship that reveals not just the tenacity of these worthy opponents, but also deeper truths that each would rather remain hidden.
"Solidly crafted, the play is larded with moments of surprise, both wacky and more substantial. When the play gets serious, it's genuinely moving." —Time Out (New York)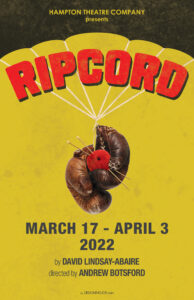 March 17 – April 3, 2022
written by
DAVID LINDSAY-ABAIRE
directed by
ANDREW BOTSFORD
Running Time: Approx 2 hours with a 15 minute intermission
CAST:
---
By Kurt Wenzel
East Hampton Star
Coming off the excellent comedy-drama "Native Gardens," which began the 2021-22 season for the Hamptons Theatre Company, HTC scores another bull's-eye with "Ripcord," which runs now through April 3 in Quogue. The story begins with two elderly women, Abby Binder (played by Laurie Atlas) and Marilyn Dunne (played by Claire Parrella-Curran), who are to become roommates at an assisted living facility. To say it's a match made in hell would be both true and not entirely accurate. Abby — cynical and irascible — can't stand living with anyone and has been through countless candidates. No one visits her, no one likes her, and the idea that someone new is moving in sets her aggressive personality into overdrive.
Marilyn, on the other hand — fun-loving and optimistic — is determined to make a go with Abby, even as she is met with scorn. She actually wants this arrangement, for reasons that are at first hard to fathom. Yes, David Lindsay-Abaire, the playwright (who won a Pulitzer Prize for his 2006 play "Rabbit Hole"), is playing off Neil Simon's "Odd Couple," with maybe a little dash of "The Sunshine Boys" for good measure. But Abby and Marilyn have a dynamic all their own.
I'll guess that the two leads won't mind if I say they don't seem old enough for assisted living. Other than this, however, they are perfectly cast. With her surly, sandpaper voice, Ms. Atlas tears into the character of Abby, dragging out the bitterness and misanthropy that come from personal disappointment. She seems to genuinely enjoy chewing on Abby's four-letter words, but soon moves her character from what begins as an affable truculence into something quite wicked and meanspirited; she shows a daring willingness to take Abby to a place where she is genuinely unlikable.
This helped propel a scene in which Abby tries to get Marilyn to falsely believe she will get a visit from her children. When they actually show up, the audience let out a small cheer at Abby's comeuppance.
No less skilled is Ms. Parrella-Curran as she captures Marilyn's boundlessly positive, seize-the-day attitude. Her late husband, she declares, had a choleric personality similar to Abby's, and she seems almost determined to make a project out of her roommate. (Is she trying to fix what she could not with her husband, we wonder?) The actress keeps up an indefatigable energy in portraying an aging person who has decided to dance through the last act of her life, as opposed to the frumpy Abby, who is content to sit in a perennial slouch spewing invectives.
There is some very nifty stage design in this adaptation of "Ripcord," which introduces us to a suitably sterile assisted living apartment, then seamlessly turns the stage into a local funhouse, to which Marilyn has enticed Abby to accompany her. Somehow, with the help of a scary clown and an electric chair, they pull it off.
In another, hilarious scene, a drugged and groggy Abby suddenly finds herself on a plane wearing a parachute as she unwittingly prepares go skydiving with Marilyn. A drop-back screen cleverly simulates the pair floating down to earth and allows the play to deliver its ripcord metaphor.
"Ripcord," when it first appeared around 2015, was criticized for having the elements of a sitcom. This may have been partly because the playwright's prize-winning "Rabbit Hole" was so heart-wrenching, and thus the breezier "Ripcord" felt slight by comparison. (Also, with so many playwrights working in television, can we really say if the sitcom has influenced stage comedy, or whether it's the other way around, or both?)
As the play moves toward its conclusion, we learn more about the two women's pasts. And if there is not a wrenching Eugene O'Neill-esque epiphany, there is genuine poignancy.
A note of social observation. Introducing the play, the director, Andrew Botsford, specifically asked audience members to please, please double check their phones. Nevertheless, not 10 minutes into the performance, the symphony began — muffled ringtones, one after the other, chiming around the theater (one person actually answered, "Hello? Who?"). Before Covid, theatergoers had almost come to expect the occasional cellphone incident. You'd roll your eyes and accept it. But when there are five separate disruptions before intermission (as during the performance I saw), you begin to worry that post-pandemic social norms have permanently warped from spending too much time alone.
It would take more than a little noise, however, to spoil the fun of this adaptation of "Ripcord." The lead performances and clever stage design make for a thoroughly enjoyable evening of theater and solidify HTC's command of social comedy.
By Melissa Giordano
Broadwayworld.com
Celebrating their 37th season, The Hampton Theatre Company (HTC) offers a hilarious showing of David Lindsay-Abaire's Ripcord. The entertaining two-act play seems to be the female version of/answer to The Odd Couple. We follow two very different people who try to make it work when they are assigned as roommates in assisted living. Well, one of them is trying to make it work, anyway. Laugher ensues when they start placing bets on certain things and both are, shall we say, competitive.
Running through April 3rd at the adorable Quogue venue, the production, the third of their current season, is excellently directed by HTC vet and Board President Andrew Botsford.
Leading the superb cast are Laurie Atlas as Abby and Claire Parrella-Curran as Marilyn, both in their HTC debuts. Ms. Atlas brings roars of laugher as Abby. Rough, sassy, and sarcastic are just a few of the terms to describe Abby. But also, she brings heart. Ms. Parrella-Curran as Marilyn is sunny and positive with a quiet confidence, especially to deal with Abby. Both women are incredibly brilliant and make a fantastic team. The rest of the cast are also outstanding with most taking on multiple roles. A highlight is Matthew Schiavoni, from Sag Harbor, who portrays Scotty, a nurse at the residence. Mr. Schiavoni is charming in the role and clearly has a great rapport with everyone in the cast.
On the clever creative team, Mr. Botsford also designs the set with Meg Sexton and Ricky Bottenus. The intimate stage pretty much stays the room where Abby and Marilyn live, but rolling pieces are seamlessly moved around for certain scenes including a haunted house. You really get to use your imagination here, folks. Indeed, this is heightened with Sebastian Paczynski's atmospheric lighting. Additional kudos to John Gromada and Seamus Naughton for the top-notch sound design.
And so, Ripcord at the Hampton Theatre Company is certainly a must see as we close out this long Winter season. A pillar of the Long Island theatre community, HTC is always putting on quality shows that aren't done too often. And this one doesn't disappoint.
LAURIE ATLAS
(Abby) Laurie is thrilled to be making her debut at Hampton Theatre Company in this role. She holds a BA in Theater from SUNY Oswego and has been a member of SAG-AFTRA for more than 40 years. In addition to performing in live theatre, television, film, and on the radio, she has worked as a voiceover actress, singer, and computer graphics engineer at NBC and ABC. Her stage credits include Berthe in Boeing Boeing, Silda in Other Desert Cities, Aida in Over the River and Through the Woods, Ethel in Moon Over Buffalo, Mrs. Barrymore in Hound of the Baskervilles, and The Nurse in The Tin Woman. She would like to express her thanks and gratitude to Andrew along with the entire Hampton Theatre Company team. She feels honored to be working alongside this talented cast and crew. Love always to her husband Fred and daughter Jamie, as well as to her extended family and friends for their unwavering encouragement and support.
VINCENT CINQUE (Benjamin/Lewis/Clown) Brooklyn, NY/NYU Tisch Drama 2015. Known as a featured player and frequent collaborator with Cynthia von Buhler's immersive theatre company Speakeasy Dollhouse, credits include Jack Pickford in Ziegfeld's Midnight Frolic on Broadway 2015, Harry Houdini in The Girl Who Handcuffed Houdini (Director and Producer Credit), Pig King in The Illuminati Ball (Director Credit), and John Guerreri in The Bloody Beginning.
Vincent has an extensive history in the downtown NY theatre scene and spent 4 years in an original folk band. Maybe you've also seen him through the years at Hampton Theatre Company, Guild Hall, or the Parrish Art Museum in Southampton. As a WHBHS Grad and one of the first recipients of the HTC Peter Marbury Scholarship (2011), he is thrilled to be back in his hometown performing with this stellar cast and crew. IG: @vincentcinque | vincentcinque.com
CLAIRE PARRELLA-CURRAN (Marilyn) is honored to make her debut with the Hampton Theatre Company. She has performed at numerous theaters on Long Island. Some of her favorite roles include: The Miracle Worker (Annie Sullivan), Private Lives (Amanda), Steel Magnolias (M'Lynn), The Glass Menagerie (Amanda), Night of the Iguana (Hannah), Bus Stop (Elma), How The Other Half Loves (Mary), and most recently, The Wild Women of Winedale (Johnnie Faye). Claire garnered the Harold Award for her performance in Bus Stop. She wishes to thank Andrew for his fine direction and insight; George, Roger, Amanda and Teresa for their dedication and attention to detail; and to the entire production team for their hard work and expertise. Claire is so grateful to Laurie and the rest of the talented cast for a wonderful experience. Blessings to Jay, family and friends for all their love and support.
LINDSEY SANCHEZ (Colleen/Woman in White) is thrilled to join the Hampton Theatre Company for its production of Ripcord. Locally, Lindsey has performed with Springs Community Theatre (A Night of Vaudeville, Cinderella, 9 to 5) and Our Fabulous Variety Show (Tap: an Evening of Rhythm, Tap: The Rhythm Awakens.) She maintains an active singing schedule at venues in the Tri-State area including, most recently, Carnegie Hall. Her international tour credits include the Festival Pro Musica E Arte Sacra (Ireland, Italy) and the Annual Festival of the Aegean (Athens & Syros, Greece). Lindsey received her Bachelor of Science in Music Merchandising from Hofstra University andher Master of Music Education from The Boston Conservatory. Lindsey is the Choral and Musical Theatre Director for the Bridgehampton School District.
GIOVANNI SANDOVAL (Derek/Zombie Butler/Masked Man) is a Brooklyn-based actor and this is his first production with HTC. He is very excited to be back on stage with such a great ensemble and crew. Giovanni would also like to thank everyone at About Artist, his friends and family for all their love and continued support.
MATTHEW SCHIAVONI (Scotty) is an actor from Sag Harbor. This is his first production with HTC and he is so thrilled to be working with such a talented team. Matthew graduated from SUNY Fredonia with a BFA in Acting last spring. His past roles include Lysander in A Midsummer Night's Dream, Con in Stupid F***ing Bird, and The Stage Manager in Our Town. He would like to thank everybody involved in the making of this show as well as his friends and family for their invaluable support.
ANDREW BOTSFORD (Director) Most recent directorial assignment was the HTC production of Joshua Harmon's Admissions in January of 2020. He has appeared on stage in more than 45 Hampton Theatre Company productions since 1985, most recently as Actor Two in Ken Ludwig's Baskerville: A Sherlock Holmes Mystery. He is the host of a summer film commentary program at the Westhampton Beach Performing Arts Center and the host of the annual Hamptons Doc Fest in Sag Harbor. The author of a monthly community newsletter (AtQuaquanantuck.com), Andrew is a former visiting professor in the Graduate Arts program at Stony Brook Southampton, where he pursued further studies in playwriting, acting and directing.
DAVID LINDSAY-ABAIRE (Playwright) (born November 14, 1969) is an American playwright, lyricist and screenwriter. He received the Pulitzer Prize for Drama in 2007 for his play Rabbit Hole, which also earned several Tony Award nominations. He concentrated in theatre at Sarah Lawrence College, and was accepted into the Lila Acheson Wallace American Playwrights Program at the Juilliard School, where he wrote under the tutelage of playwrights Marsha Norman and Christopher Durang. He had his first theatrical success with Fuddy Meers, which premiered at the Manhattan Theatre Club in 1999. Other early works include A Devil Inside, Wonder of the World and Kimberly Akimbo. Rabbit Hole premiered in 2006 on Broadway with Cynthia Nixon, Tyne Daly, and John Slattery, and his play Good People opened on Broadway in 2011 with Frances McDormand and Tate Donovan in the lead roles. He wrote the book for the musical High Fidelity, and the book and lyrics for Shrek the Musical, which ran on Broadway from November 8, 2008 to January 3, 2010. Ripcord opened Off-Broadway on October 20, 2015 at the Manhattan Theatre Club in a limited engagement. Directed by David Hyde Pierce, the cast featured Marylouise Burke, Rachel Dratch, Glenn Fitzgerald, and Holland Taylor.
RICKY BOTTENUS (Set Design/Construction) is happy to be working with Hampton Theatre Company on his second production in set construction (Native Gardens) and first production collaborating on set design. Previously, Ricky has been the Technical Director at Patchogue Theatre for the Performing Arts as well as the Assistant Technical Director of Meguire Theater at SUNY Old Westbury. He is currently teaching theater production at Shoreham-Wading River school district.
MEG SEXTON (Projections, Set Design) is thrilled to be working with Hampton Theatre Company on another production. This will be the second time she has assisted in set construction (Native Gardens) and the first time she has designed projections for HTC and collaborated on set design. Meg has previously worked as the Education Manager at Bay Street Theater as well as the Grants Manager & Marketing Coordinator at Patchogue Theatre; currently, she is the Marketing Director at Suffolk Theater and Associate Producer of The Rock Project production company.
TERESA LEBRUN (Costume Designer) is the resident costumer for HTC. She started helping with costumes in 1986 and has designed the costumes for all the company's productions since 2005. Teresa also costumes for Westhampton Beach High School. Much love to her boys, Josh and Noah, family and great friends.
AMANDA GRIEMSMANN (Production Stage Manager) is excited to get back into stage managing! A veteran of the Hampton Theatre Company, she was most recently seen in the title role in A.R. Gurney's Sylvia. Other HTC productions include: A Comedy of Tenors (Mimi) and Don't Dress for Dinner (Suzette). This past fall she made her debut at Playcrafters in Bellport in their production of The Tin Woman. She has performed for several seasons in Manhattan with The Inwood Shakespeare Festival. A special thanks to Andrew for this opportunity! Lots of love to friends, family and Ryan.
GEORGE A. LOIZIDES (Rehearsal Stage Manager, Set Construction) recently directed the fall production of Native Gardens for HTC. Before that he directed Private Lives, Don't Dress For Dinner, Lost in Yonkers, Picnic, The Odd Couple (Female Version) and Bus Stop for the company. He has appeared on the HTC stage many times, most recently playing three different roles in Sylvia. Before that he played Norman in On Golden Pond and was in Alarms and Excursions, Heroes, Bedroom Farce, One Flew Over the Cuckoo's Nest and Glengarry Glen Ross. An actor/director for more than 50 years, he has also directed for Playcrafters Theatre Company in Bellport. For 27 years he was Director of Theatre Arts for Ward Melville High School, where he taught acting and directing and directed 81 productions. He studied acting and directing at HB Studio in NYC. He is on the Board of Directors and the Artistic Committee for HTC. Love to Kathy.
ROGER MOLEY (Rehearsal Stage Manager) Having assisted the producers on three recent Hampton Theatre Company shows, most recently as key grip and (uncredited) horticultural consultant on Native Gardens, Roger is delighted to step into his new role under the mentorship of Andrew Botsford and George A. Loizides. Many thanks to both as well as to Terry Brennan, the HTC Board, and especially wife Susie for so many years of love and forbearance.
JULIA MORGAN ABRAMS (House Manager). After retiring from the legal department of Bristol Myers Squibb, Julia began a second career as a volunteer, initially for Literacy Suffolk, HTC, the Southampton Animal Shelter and Early Girl Farm, where she wrote grants and worked in fundraising. She continues to write grants and help with marketing for several local nonprofits. Julia would like to thank all of her dedicated House Assistants for their continued support.
Director – GEORGE A. LOIZIDES
Director – ANDREW BOTSFORD
Set Design – ANDREW BOTSFORD, RICKY BOTTENUS, MEG SEXTON
Lighting Design – SEBASTIAN PACZYNSKI
Lighting Tech – GRACE HYGOM
Sound Tech – ARIEL GARDINER
Costume Design – TERESA LEBRUN
Rehearsal Stage Managers – GEORGE A. LOIZIDES, ROGER MOLEY
Production Stage Manager – AMANDA GRIEMSMANN
Set Construction – RICKY BOTTENUS, GEORGE A. LOIZIDES, SEAMUS NAUGHTON, MEG SEXTON
Sound Design – JOHN GROMADA
Additional Sound – SEAMUS NAUGHTON
Box Office – SONYA HUBBARD
Production Graphics – JOE PALLISTER – DESIGNINGJOE
House Manager – JULIA MORGAN ABRAMS
Production Photographer – TOM KOCHIE
FROM SUNRISE HIGHWAY (ROUTE-27):
Sunrise Highway (Route 27) to exit 64S (Rte. 104 to Quogue). Rte. 104 South (approx. 3 miles) to Montauk Highway (Rte. 80). Right onto Montauk Highway to light at Otis Ford (1 mile). Left onto Jessup Avenue. 1/2 mile to theater (on right). FROM MONTAUK HIGHWAY (ROUTE-80):
Montauk Highway to light at Otis Ford in Quogue. South onto Jessup Avenue. 1/2 mile to theater (on right).

PARKING: There is limited street parking around the theater as well as a parking lot that can be entered just north of the Quogue Community Hall. WHEELCHAIR ACCESS: A handicapped accessible entrance is located on the right (north) side of the building. Please use the driveway on the north side of the theater and ring the bell marked HTC Handicapped at the ramp entrance to the building and a volunteer will assist you; or have a member of your party notify us on arrival at the box office if you'd like to use this entrance. If a member of your party requires a wheelchair in the theater, please reserve one seat at the end of a row. ASSISTED LISTENING DEVICES: The theater does not have assisted listening devices at this time.