Nick Cristano may be living the life of a modern young professional in New York City, but his loving grandparents never let him forget where he belongs: in New Jersey with them, in the bosom of his tenacious, tender-hearted, loud and well-fed Italian-American family. A warm-hearted, boisterously funny and touching story about intergenerational relationships, deep familial love, and the inevitable little heartbreaks that occur as time passes and children grow.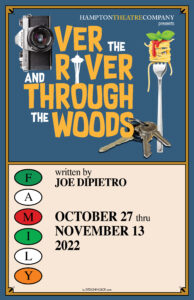 October 27 –
November 13, 2022

Thursdays 7:00
Fridays 7:00
Saturdays 8:00
Sundays 2:30
Saturday Matinee 2:30 November 5
by Joe Dipietro
CAST:
---
AMELIA CHIARAMONTE (Aida) is very thankful to George for this opportunity to debut at Hampton Theatre Company in the role of Aida and to work under his skillful direction with the support of such a fine production team.  Amelia has performed regionally for over 50 years in 80+ productions. Some of her favorite roles include Polly in Other Desert Cities, Fiona in How the Other Half Loves, Chick in Crimes of the Heart, and Grace in Bus Stop for Playcrafters Theatre Company; Ethyl in On Golden Pond, Edna in A Delicate Balance and Fastrada in Pippin at Clare Rose Playhouse; and Mrs. Fremus/Mrs. Warren/Clara in The Boys Next Door, The Woman in Death of a Salesman, Mrs. Dilber in A Christmas Carol, and Marina in Zorba at Theatre Three. It is a pleasure to be performing with such a talented cast and production crew. Thank you, Mark, for your continued support. 

  CARL DIMODUGNO (Frank) is making his first appearance with the Hampton Theater Company. He has appeared in several productions across Long Island over the past 30 years, and has even had a one-man show produced in Manhattan's East Village. Some of his most memorable roles have been Burt in A Bench in the Sun, Ebenezer Scrooge in A Christmas Carol, Sol in Voices of Christmas and, of course, the Storyteller in his one-man show Tales of Woe. Carl is overjoyed to be playing Frank with such a wonderful production company and their talented cast and crew!

  GEORGE A. LOIZIDES (Nunzio/Co-Director/Set Designer) is a veteran member of the Hampton Theatre Company. His most recent acting credit for HTC was playing three different roles in Sylvia. Before that he played Norman in On Golden Pond, and was in Alarms and Excursions, Heroes, Bedroom Farce, One Flew Over The Cuckoo's Nest and Glengarry Glen Ross. As a director for HTC his most recent credits were last season's A Doll's House Part 2 and Native Gardens. Also for HTC he has directed Private Lives, Don't Dress For Dinner, Lost In Yonkers, Picnic, The Odd Couple (Female Version) and Bus Stop. As an actor and director for more that 50 years, he has also directed and acted for Playcrafters Theatre Company in Bellport. For 27 years he was Director of Theater Arts for Ward Melville High School, where he taught acting and directing, as well as directing 81 productions. He studied acting and directing at the HB Studio in NYC. He is on the Board of Directors, the Artistic Committee and Administrator of the Peter Marbury Scholarship for HTC. To Nicky, Frank, Aida, Emma and Caitlin, "Tengo Famiglia." He thanks HTC for the opportunity and support. He is grateful to Ricky, Meg and their crew for building the Gianelli home. Thanks to Teresa for the lovely costumes. Thanks to Seamus for his sound work. Thanks to Sebastian for his constant masterful lighting. Thanks to Grace  and Ariel. Special thanks to Roger, his Tonto, for having his back. Love to Kathy.

  CATHERINE MALONEY (Emma) is so pleased to be back on the boards at HTC!  She was last seen here playing the role of Kate in Sylvia.  Previous HTC credits:  Maria in A Comedy of Tenors, Mrs. Fremus/Mrs. Warren/Clara  in The Boys ext Door, Gert in  Lost in Yonkers, Betty Chumley in  Harvey, and Emilie Ducatel  in  My Three Angels. Other favorite theatrical credits include Big Momma in Cat on a Hot Tin Roof, Rosemary Muldoon in Outside Mullingar, Becky  in Becky's NewCar, Truvy  in Steel Magnolias, Masha in Three Sisters, Kate Keller in All My Sons, Melissa in Love Letters, Mildred/Murphy/Katie in Meet Me in St. Louis, Bertha in Boeing Boeing, Veronica in God of Carnage, and diverse roles in Love, Loss and What I Wore. Catherine would like to thank George and Roger for their keen direction. She feels blessed to be surrounded by such a fun-loving cast, and HTC's wonderfully supportive audiences!  Many thanks to her amazing friends & familia, and to JP for always feeding her with love. Mangiamo!

  PATRICK C. OSBORNE (Nick). Primarily a musical theatre actor, he has starred in multiple Quogue Theatre Troupe productions such as Les Misérables as Javert, Bye Bye Birdie as Conrad, and Fiddler On The Roof as Lazar Wolfe.  Patrick started his acting career with The Foreigner at HTC, then appeared at Westhampton Beach High School in And Then There Were None and The 39 Steps. Whether behind the scenes as tech crew, a stage hand, or an audio engineer, he has always tried to stay involved with the theater industry. To his fellow cast mates and crew, "Thank you all for inviting me back into this amazing family, and thank you to Andrew, George, and Roger for giving me this amazing opportunity." 

  MEG HRINKEVICH (Caitlin) is excited to join the Over the River and Through the Woods cast in her Hampton Theatre Company debut. Meg is a recent graduate of NYU Tisch ('20) where she trained at the Stella Adler Studio of Acting. She has appeared in shows such as Nothing Is the End of the World (except for the end of the world) and Measure for Measure at NYU. Meg would like to thank her parents for supporting her very ambitious dream of making acting her career, and any of her friends who made the trek from NYC to see her. She would also like to tell her fellow cast mates – BREAK A LEG!

  ROGER MOLEY (Co-Director) cut his teeth on five recent HTC plays, and was rehearsal stage manager for the last two: Ripcord and A Doll's House, Part 2.  He's thrilled to take this next step, playing a (mostly) taciturn Tonto to George Loizides' visionary Lone Ranger in this new production. Thanks to George, Andrew and the entire HTC board for their support of and faith in me. My love and appreciation to Susie, our amazing (if far-flung) girls, and our growing brood of grandkids. And to Rory, Beckett and all the dogs who have taught us what unconditional love means. 

  JOE DI PIETRO (Playwright) won Tony Awards for Best Book and Best Score for Memphis, which was also awarded the 2010 Tony Award, Drama Desk Award and Outer Critics Circle Award for Best Musical. An American playwright, lyricist and author, DiPietro's many other shows include I Love You, You're Perfect, Now Change (the longest-running musical revue in off-Broadway history), The Toxic Avenger and The Thing About Men (both winners of the Outer Critics Circle Award for Best Off-Broadway Musical), The Art of Murder (Edgar Award for Best Mystery Play), Creating Claire, All Shook Up, The Last Romance, Clever Little Lies (produced by the Hampton Theatre Company in 2017), Ernest Shackleton Loves Me, Nice Work If You Can Get It, and Diana. Originally published in 1998, DiPietro's Over the River and Through the Woods played 800 performances over two years at the John Houseman Theatre in New York. His plays have been produced thousands of times across the country and around the world. TERESA LEBRUN (Costume Designer)is the resident costumer for HTC. She started helping with costumes in 1986 and has designed the costumes for all the company's productions since 2005. Teresa has also costumed for Westhampton Beach High School.  Much love to her boys, Josh and Noah, family and great friends. Also, congratulations to our new company president, Roger Moley. 

  GRACE  HYGOM (Production Stage Manager) is thrilled to be stage managing Hampton Theatre Company's Over the River and Through the Woods. This will be her first time managing a show here. Previously, Grace has done tech for three shows and been the stage manager for one show at Mattituck High school. Here at the Hampton Theatre Company she has worked on lighting for Native Gardens (2021) and Ripcord (2021).

  JULIA MORGAN ABRAMS (House Manager). After retiring from the legal department of Bristol Myers Squibb, Julia began a second career as a  volunteer, initially for Literacy Suffolk, HTC, the Southampton Animal Shelter  and Early Girl Farm, where she wrote grants and worked in fundraising.  She continues to write grants and help with marketing for several local nonprofits. Julia would like to thank all of her dedicated House Assistants for their continued support.
Directors – GEORGE A. LOIZIDES, ROGER MOLEY
Set Design – GEORGE A. LOIZIDES 
Lighting Design – SEBASTIAN PACZYNSKI
Costume Design – TERESA LEBRUN
Production Stage Manager – GRACE HYGOM
Set Construction – RICKY BOTTENUS, MEG SEXTON
  Sound Design – SEAMUS NAUGHTON
Sound and Lighting Tech – ARIEL GARDINER
  Box Office – SONYA HUBBARD
Production Graphics –
JOE PALLISTER (DESIGNINGJOE)
House Manager – JULIA MORGAN ABRAMS
Production Photographer – TOM KOCHIE 
Family Matters
East Hampton Star
By Kurt Wenzel, November 03, 2022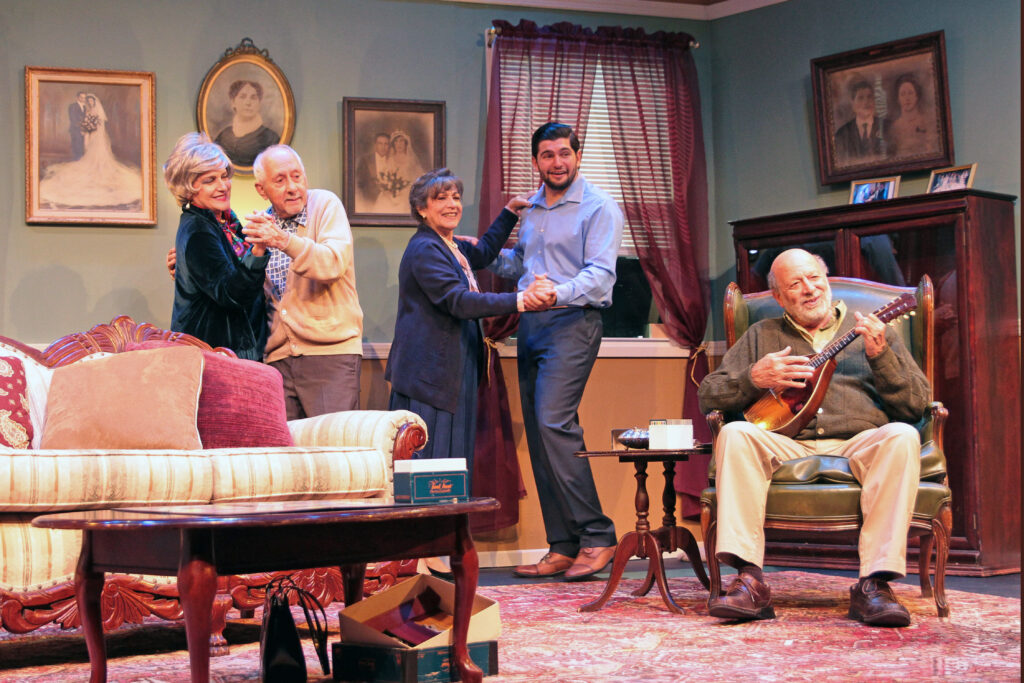 Beginning its 2022-23 season, the Hampton Theatre Company in Quogue turns to "Over the River and Through the Woods," a 1998 comedy-drama by Joe DiPietro. It is a deeply satisfying production, by turns unremittingly funny and genuinely moving. Local theatergoers are unlikely to find as successful an experience this year.
Set in Hoboken, N.J., "Over the River" concerns Nick, an ambitious young Italian-American enjoying success at an unnamed corporation in Manhattan. He also has a strong sense of family, spending Sundays at his grandparents' house, the four of whom — Emma, Nunzio, Aida, and Frank — gather for a traditional weekend dinner. They dote over their bachelor grandson, playing board games and plying him with a mother lode of home cooking (as with many Italian-American families, food here is a symbol of comfort and love).
One day Nick comes over with an announcement. He has gotten an offer of promotion. At first the four grandparents are thrilled — until Nick tells them that he will have to move to Seattle. The charmingly provincial grandparents at first struggle with the name of the city. Seattle? Where is that? "In Washington," Nunzio reminds them, "and not the close one." The four are bereft at the thought of losing Nick. They make appeals to him, mostly concerning the pre-eminence of family. But Nick is resolute. The offer is too good. He needs to take this next step in his life and career. The grandparents are in a state of despair.
But Emma has a plan.
The grandparents could not be more perfectly cast. George A. Loizides (who co-directed the play with Roger Moley) as Nunzio, Catherine Maloney as Emma, Carl DiModugno as Frank, and Amelia Chiaramonte as Aida seem like a real lived-in family, playing off one another effortlessly. Ms. Maloney especially, with a sassy silver wig, gets the lion's share of the snappy lines and delivers them with a dead-on Italian-American accent and expert timing. And Patrick C. Osborne is very good as Nick, nicely straddling the line between deep love for his grandparents and exasperation — especially when Aida invites a young woman named Caitlin to come over to one of the Sunday dinners. The ploy is obvious — have their grandson fall in love with an attractive young woman, thus keeping him in Hoboken.
Mr. DiPietro keeps the dialogue crackling and almost ceaselessly funny; barely a minute goes by without a new zinger. "People?" Frank says in response to Nick during a disagreement. "We're not people. We're a family." At a certain point Nick will suffer a panic attack from the weight of his decision, and hearing that the doctor recommends staying away from anything stressful, Frank says that, naturally, "We decided he should come stay with us." It's during this convalescence that they try to amuse Nick with a round of Trivial Pursuit, and it's during this game that the play hits its comic apex in a hilarious 15-minute burst. After this, however, a pathos takes over the second half, and it is genuinely moving. Nunzio is withholding a secret that would most certainly keep Nick from taking his promotion, and Emma urges him to tell Nick, setting up a lovely scene between him and his grandson. It's here we begin to see a kind of wisdom in Mr. DiPietro's play, concerning letting go and the need for independence — and it's this that keeps the play, funny as it is, from slinking into sitcom territory. By the end, only the most stony-hearted viewer won't be thoroughly moved.
In a production in which everything works, so too with Mr. Lozides's set design (apparently he did triple duty), perfectly capturing the warm, slightly tacky Italian-American living room of a certain generation. Exiting the theater, one audience member cornered one of the directors to heap praise on the production — but she had, she said, just one issue. The actors should speak louder. It was, I think, a fair criticism. At times, the actors' projection was a touch low, and for an audience that skews above middle age, it could be potentially problematic.
Everything else in "Over the River and Through the Woods," however, is just about perfect, and for those on the East End who love good theater, it qualifies as a must-see.
Photo Credit: Tom Kochie
The play runs through Nov. 13. More information is on the Hampton Theatre Company website.Tickets are $36 ($31 seniors, $20 for students) at
hamptontheatre.org
or 631-653-8955. Hampton Theatre Company is at 125 Jessup Avenue, Quogue.
---
Review: OVER THE RIVER AND THROUGH THE WOODS at Hampton Theatre Company
Broadway World
by Melissa Giordano November 03, 2022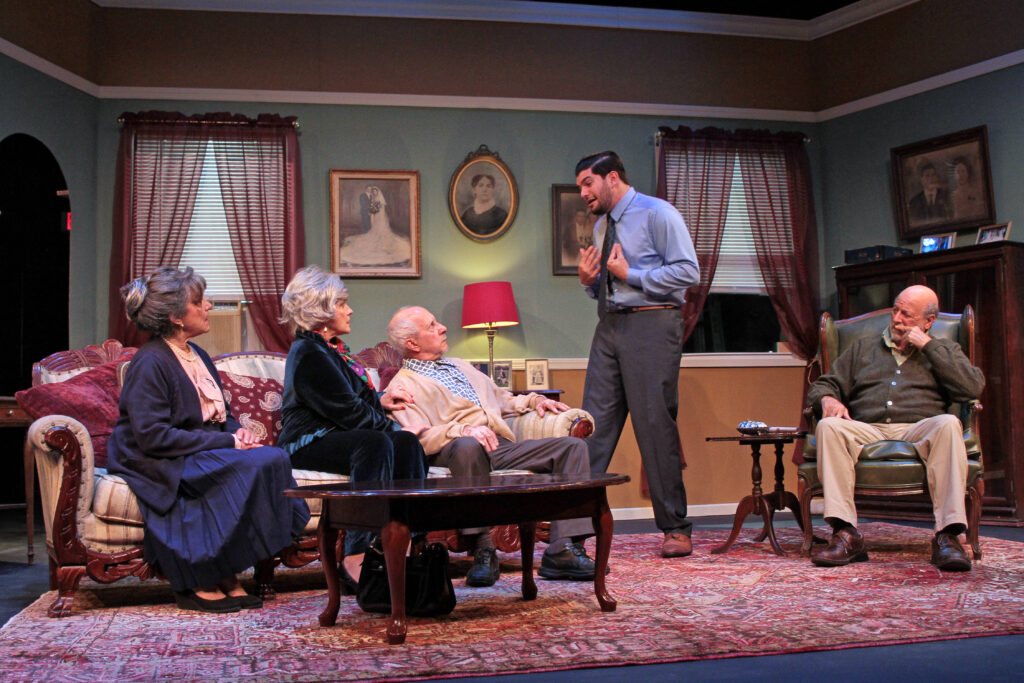 The Hampton Theater Company (HTC) does it again with their wonderful showing of Joe DiPietro's Over the River and Through the Woods now running through November 13th. Mostly done regionally, this show has been done Off-Broadway. In other words, it hasn't hit the Great White Way and this is why this fantastic theater company is so incredibly wonderful. The Quogue, Long Island, venue does plays that are (mostly) not often done and the devoted, enthusiastic audience absolutely loves it.

In this heart rendering tale, the first of HTC's amazing 37th season, we follow Nick, strongly portrayed Patrick C. Osbourne, a young bachelor businessman who lives in the New York metro area. Nick spends each Sunday with both sets of his grandparents who live near each other as his parents recently retired to Florida. When a promotion at work presents itself, Nick's ethnic Italian grandparents have a hard time accepting that Nick will be moving across the country. Hilarity ensues as the – shall we say – well-meaning grandparents scheme to keep him here.

Joining Mr. Osbourne, the six person cast is top-notch.

Among the Grandparents, Carl DiModugno portrays Frank and Amelia Chiaramonte portrays Aida. The story takes place entirely in their beautiful house. Excellently designed by George A. Loizides, the intimate stage is mostly the living room with a dining room to the side. Insidently, Frank built the house and this is a major focal point in the story: Family. Mr. Loizides also portrays Nunzio and serves as co-director with new HTC president Roger Moley. Catherine Maloney superbly portrays his wife, Emma. Everyone makes a great team and the audience roars with laughter as they portray your typical Italian grandparents. Aida says "Who's hungry" several times throughout the two act show. In fact, a scheme to entice Nick to stay is inviting Caitlin, excellently portrayed by Meg Hrinkevich, over to their Sunday dinner. Of course, this is where the grandparents lovingly embarrass Nick. They all truly make a brilliant company.

Indeed, everyone in the cast is truly exceptional as is the clever creative team.

Along with Mr. Loizides, HTC regulars Sebastian Paczynski, Seamus Naughton, and Teresa LeBrun return as the designers of the lighting, sound, and costumes, respectively. You will see how well all of these facets heighten each other. The visually stunning production also certainly shows the great talent of each of these artists as each complement each other well. Indeed, this is not a period piece as we are in the "recent past" as evidenced by Ms. LeBruns costumes.

And so, The Hampton Theatre Company's Over the River and Through the Woods is a great offering for this Winter season. This superb company serves quality productions time and time again and that is emphasized with this production. The beautiful East End in the Fall, a great story, and an exceptional cast make for a wonderful night of theatre.

Photo Credit: Tom Kochie