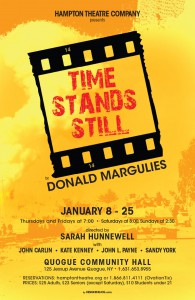 by Donald Margulies directed by Sarah Hunnewell
January 8 – 25, 2015
A drama by Pulitzer Prize-winner Donald Margulies about a photojournalist trying to find peace but wrestling with the effects of her experiences on the front lines of the world's conflicts.
CAST:
Sarah Goodwin –
SANDY YORK
James Dodd – JOHN CARLIN Richard Ehrlich – JOHN L. PAYNE Mandy Bloom –
KATE KENNEY
JOHN CARLIN
(James Dodd) is excited to be a part of The Hampton Theatre Company's 30th year! He has recently returned to acting after an extended hiatus as a professional musician, songwriter, educator, and single parent. A former RCA recording artist and independent solo artist ("one of NYC's better-kept secrets" – TimeOut NY), he also founded The Kids' Music Underground, a popular early childhood music program in NYC. Recent work:
Hadestown
(New York Theatre Workshop),
Uncle Vanya
(u/s) (Pearl Theatre Company),
Turn Me Loose
with Joe Morton (NY Shakespeare Festival, New York Theatre Workshop), Short-a-Month/funnyordie.com short film
See You Around
.
KATE KENNEY
(Mandy) is thrilled to be making her Hampton Theatre Company debut! New York:
You Never Can Tell
(u/s) (The Pearl),
HACK! An I.T. Spaghetti Western
(Impetuous Theater Co.),
Love's Labours Lost
(Shakespeare Forum),
The Real Thing
(Boomerang),
The Mary Celeste
(Drove),
The Illusion of Kindness
(NativeAliens),
Spector
(Gravity & Glass). Regional:
Evie's Waltz
(NJ Rep),
Peter Pan
(Penobscot Theatre),
Fiction
(Bickford Theater),
Much Ado About Nothing
(Allentown Shakespeare in the Park),
A Muse in Love
(Summer Theater of New Canaan). Kate has toured as an actress, a puppeteer and a magician's assistant. She is a volunteer at Sing Sing Correctional Facility with Rehabilitation Through the Arts (www.rta-arts.org). Next up: Playing the title role in Sarah Ruhl's
Eurydice
at Lost Nation Theater. 
www.LadyKenney.com
JOHN L. PAYNE
(Richard Ehrlich) has been active in theater for the past 30 years, having studied with Austin Pendleton and Michael Beckett at HB Studios. He recently completed his third season at the Harlem Summer Shakespeare Festival appearing in
Romeo and Juliet
. His 2013 feature film,
The Girl on The Train
, is now available on Netflix. Favorite roles include Eddie Carbone in
A View From the Bridge
, Heisenberg in
Copenhagen
and Edward in
Retreat from Moscow
. John is grateful to appear with the Hampton Theatre Company for the first time.
SANDY YORK
(Sarah Goodwin). NYC theater: Vaclav
Havel's Hunt for a Pig
(3LD, UTC61);
Things as They Are
(NY Musical Theatre Festival); Marlene Dietrich in
China Doll
(Pan Asian Rep);
Happy End
(Theater 1010);
Cat's Cradle
,
Hiroshima
(UTC61);
The House of Bernarda Alba
(Prospect Theater);
The Tempest
,
The Seagull
(Pulse Ensemble Theatre). Regional:
Time Stands Still
(Cape May Stage);
A Christmas Story
(Alabama Shakespeare Festival);
A Murder is Announced
(Forestburgh Playhouse);
The Rainmaker
(American Heartland Theatre);
A Christmas Carol
(Trinity Rep);
The House of Bernarda Alba
(McCarter Theatre);
The Norman Conquests
,
Boeing, Boeing
(Depot Theatre),
Unnecessary Farce
,
Black Comedy
(Shadowland);
My Fair Lady
(STONC),
Play Date
(Oldcastle Theatre Co.). Film/TV:
Pink Moon
;
411
;
Sorry, Wrong Number
;
One Life to Live
;
As the World Turns
;
Rescue Me
. Graduate of Princeton, NYSF Lab, Trinity Rep Conservatory (MFA).
www.SandyYork.biz
.
DONALD MARGULIES
(Playwright) is a Brooklyn native whose playwriting first gained recognition in 1983 when Joseph Papp produced his play
Found a Peanut
at the Public Theatre. His career began to take off in 1992 when
Sight Unseen
won an Obie for Best New American Play. Margulies was nominated for a Pulitzer Prize for Drama in 1997 for
Collected Stories
and won the prize in 2000 for
Dinner With Friends
. Other plays include
The Loman Family Picnic
;
Pitching to the Star
;
Luna Park
;
What's Wrong With This Picture?
;
The Model Apartment
;
Shipwrecked! An Entertainment
;
The God of Vengeance
;
Brooklyn Boy
and, most recently,
The Country House
. He teaches playwriting at the Yale School of Drama.
SARAH HUNNEWELL
(Director) has directed many shows for the Hampton Theatre Company, favorites among which include
The Drawer Boy
,
Rabbit Hole
,
The Enchanted April
,
One Flew Over The Cuckoo's Nest
,
The Oldest Living Graduate
,
Fuddy Meers
,
Summer and Smoke
,
The Rainmaker
and
The Foreigner
. She is also the Jill-of-all-trades otherwise known as the Executive Director of the HTC. Many thanks to her excellent cast and crew for their hard work on this production and to our audience members, patrons and all the people who help make our work possible.
SEAN MARBURY
(Set Designer) worked in NYC in textile design as an artist and sales rep for several prominent European design houses. He found inspiration first in the diverse art and culture of Manhattan, and later in his travels throughout Europe. He then moved to California where he built sets for TV series, commercials, and films. He has also worked extensively in design, engineering and fabrication of race car components, as well as high-end residential construction. His set designs for HTC include
Deathtrap
,
Other People's Money
,
Other Desert Cities
,
The Foreigner
and
Harvey
. In his spare time, Sean enjoys his first creative love, the guitar.
SEBASTIAN PACZYNSKI
(Lighting Designer) first worked with the Hampton Theatre Company when he designed the company's 2003 production of
Summer and Smoke
at Guild Hall and has designed all the company's productions since
Proof
in 2004 as well as the theater's new lighting system. He has designed lighting for theater, dance and special events in a number of Broadway, Off Broadway, Off Off Broadway and regional venues. He has also worked in film and television as the director of photography. He has designed numerous productions for Guild Hall and for the Hamptons Shakespeare Festival.
DIANA MARBURY
(Set Decor & Properties) has dressed and "propped" many a set over the company's 30-year history working hand in hand with the HTC's talented set designers, for many years her husband Peter and James Ewing, now with her gifted son Sean. She and all the company members are incredibly grateful to all the local businesses and individuals who lend furniture and props for our productions. Also, a big hand to our wonderful patrons, who continue to give their support, in spite of these tough financial times. We hope you are enjoying our 30th Anniversary season!
TERESA LEBRUN
(Costume Designer) is the resident costumer for the Hampton Theatre Company and has designed costumes for all the company's recent productions. Teresa has also costumed for Spindletop Productions at Guild Hall. Much love to her boys Josh and Noah.
JOHN ZALESKI
(Stage Manager). This is John's 31st Production with HTC. Thank you, Catherine, for your love, patience, and support on this, the 117th Opening Night. Always in my Wings…
CHRISSIE DEPIERRO
(Assistant Stage Manager) is excited to return for her second season as the Hampton Theatre Company celebrates its 30th Anniversary. She is thrilled to be a part of such a wonderful and talented group of people who make the productions come alive. Many thanks to John who has shared his years of knowledge teaching me just how to keep it all running smoothly. To Mickey, always grateful for believing in me.
ROB (MARYAM) DOWLING
(Lighting & Sound Technician) has done lighting and sound for 22 years with various theater groups on the East End. Rob has also helped Sebastian with lighting setup at Guild Hall, the Ross School, and other local venues. This is Rob's seventh season with the Hampton Theatre Company and he is very happy to be part of the show and the company.
Director – SARAH HUNNEWELL Assistant Director – JAMES EWING Set Design – SEAN MARBURY Set Decor & Properties – DIANA MARBURY Lighting Design – SEBASTIAN PACZYNSKI Costume Design – TERESA LEBRUN Stage Manager – JOHN ZALESKI Assistant Stage Manager – CHRISSIE DEPIERRO Intern/Backstage Crew – COURTNEY KING
Set Construction – SEAN MARBURY, TONY CINQUE, TOM KAEDING, MICHAEL MORONEY, SEAMUS NAUGHTON, VINCENT RASULO Lighting/Sound Tech – ROB DOWLING, SEAMUS NAUGHTON Production Graphics –
JOE PALLISTER
Program, Publicity & Box Office – SARAH HUNNEWELL House Manager – JULIA MORGAN ABRAMS Advertising Sales – SARAH HUNNEWELL, LUCINDA MORRISEY Production Photographer – TOM KOCHIE
'TIME STANDS STILL' REVIEW
By STEVE PARKS Newsday "When I look through that rectangle," Sarah says, peering into her camera's viewfinder with one heavily braced leg propped up on a chair, "time stops." Portraying a photojournalist nearly blown to bits by a roadside bomb in Iraq, Sandy York spells out the title metaphor in the Long Island premiere of "Time Stands Still," Donald Margulies' 2010 drama that's as intimately domestic as it is topically global. Tragically, its relevance feels acute in the wake of last week's savagery in Paris. Sarah risks her life to bring dreadfully pertinent still images to comfortably removed readers of a newsmagazine where her mentor, Richard, is photo editor. James, her longtime colleague and life partner, has retrieved Sarah from a German hospital where months of convalescence healed her broken body to the point that she can get about on crutches. We meet Sarah and James, played with heroically restrained emotional range by John Carlin, as they enter the Williamsburg loft they share during breaks between assignments abroad (meticulously detailed Hampton Theatre Company set by Sean Marbury). James feels guilty, we sense through nuanced performances coaxed by director Sarah Hunnewell. While in Iraq, chronicling atrocities his girlfriend captures in graphic images, James grew so stressed that he retreated to Brooklyn just before Sarah was injured. Neither of them is up for a visit by Richard, played by John Payne with the tentative familiarity of an old friend walking on eggshells. While they're appalled by his new girlfriend, Mandy, her guileless sweetness briefly lifts the cloud that is Sarah's aura. York lets us feel Sarah's burden — she assumes personal responsibility for all the world's suffering — without imposing it on us. A junkie for mayhem, York's Sarah is not a pusher. She enables only herself. Kate Kenney deftly balances Mandy between a running joke and an innocent's saving grace. "She's young," Richard concedes as they talk about Mandy while she's in the bathroom. "There's young," Sarah declares, "and there's embryonic." Yet Mandy brings to the surface a quandary that haunts Sarah and other journalists covering disasters. Is it indecent to expose such suffering? Does it change anything? With our knowledge or without it, wouldn't the carnage continue? The answer depends on who's asking. If Sarah finds herself unable to live the out-of-harm's-way life James craves, is love just another casualty? WHAT "Time Stands Still" WHEN | WHERE 7 p.m. Thursdays and Fridays; 8 p.m. Saturdays, and 2:30 p.m. Sundays through Jan. 25, Hampton Theatre Company at Quogue Community Hall, 25 Jessup Ave. TICKETS $25, $23 seniors (exc. Sat.), $10 students under 21; 866-811-4111
'TIME STANDS STILL': A MODERN CONFLICT IN QUOGUE
By Lorraine Dusky The East Hampton Press & The Southampton Press "Time Stands Still" is a modern love story and an age-old parable about women's choices today—love and babies, or career. "You can't have it all" could be read as the sneaky message of the compelling drama currently staging at Quogue Community Hall, courtesy of the Hampton Theatre Company. Certainly Sarah Goodwin, the banged-up photojournalist at the heart of the story portrayed by Sandy York, isn't going to have it "all" in the conditions playwright Donald Margulies lays out for her. The drama is set during war in Iraq, where Sarah narrowly misses being killed by a roadside bomb, and opens as her longtime live-in companion, journalist James Dodd—acted by John Carlin—brings her home from a hospital in Germany, where she had been in a coma for weeks. Now, she's hobbling around on crutches, her face left scarred. James had left the war zone earlier, following a meltdown after witnessing the bloodshed there, and feels somewhat guilty about having done so. He is caring and worried. Sarah is diffident, but physically needy. Their relationship is that of many modern ones where each of the two halves have satisfying careers, but the demands and rewards of those careers get in the way of an uncomplicated life—that of man, woman and babies. In walks Sarah's boss and old friend, Richard Ehrlich, acted by John L. Payne, the photo editor of the news magazine she works for, with his guileless girlfriend, Mandy Bloom, portrayed by Kate Kenney, who's decades younger. Life is simple for the pair. They are giddily in love and headed toward marriage—can a baby be far behind? The juxtaposition poses a bigger question: can these four be friends, with Mandy arriving with silly balloons at the Brooklyn apartment of older—but perhaps not wiser—Sarah and James? Mr. Margulies's intelligent, crackling dialogue between the four is spiked with both pathos and wit, while never losing sight of the emotional putty at the heart of the drama. Under the smart direction of Sarah Hunnewell, the cast does a superb job carrying the audience from deep emotional pitch to quick laughter. All four actors are new to Hampton Theatre Company and, not surprisingly, arrived with multiple credits on the Manhattan stage and beyond. Play and cast have produced a sharp and absorbing drama. Ms. York, as the conflicted photojournalist, gives a finely nuanced performance. Her character is at turns troubled, strong, confused, sarcastic, amenable and driven. Mr. Carlin, as her lover, transforms from supportive helpmate to a man who wants his own, much simpler career and relationship. He does not want to cover the next new war. In three taut acts, traversing January to September in a single year, the play hones in on the various types of relationships people today build, together and apart. Like a camera lens coming into focus, the drama pinpoints the high contrast between people who choose demanding careers, and those who opt for domestic life and babies. Mr. Margulies does it so well I found myself thinking, admiringly, "This could have been written by a woman." Along the way, the play poses questions about the role of journalists who get up-close to human tragedy, and their job to simply record, not participate. Would it be better to put down the camera and help? Does telling the world about the latest tragedy in Darfur, or the Sudan, or name any war-torn part of the world, actually do any good? How many stories that make us feel bad should be in any single issue of a magazine read by people halfway around the world who can do nothing but feel bad? As a former newspaper reporter and magazine editor myself, I have dealt with some of the same kinds of decisions, and the play touched close to home. Though I never covered a war zone, I did stories about the lives of men and women changed forever by Vietnam, and know many of the reporters and photographers who came back different from the people they were before they went. Journalists are often thrown into situations of the kind "Time Stands Still" so deftly demonstrates that I found it triggering memories of stories and situations from decades ago. The only question I had when leaving the hall was, where did the title come from? It seemed not to suit the movement of the drama. Later, I found the lines from when Sarah is talking about what it is like to photograph carnage: "When I look through that little rectangle … time stops. It just … all the noise around me … it just cuts out. And all I see is the picture." And when you only see the picture in the frame, you can't be aware of the meaning of what is actually happening, or the rest of your life. "Time Stands Still" was first produced in Los Angeles and staged on Broadway in 2010. It lasted less than a year there, but did garner two Tony awards for the Pulitzer Prize-winning dramatist, one for the play, the other for acting. It's a boon that Hampton Theatre Company has brought it to life for us.
THEATER REVIEW: 'TIME STANDS STILL' MOVES IN QUOGUE
BY BRENDAN J. O'REILLY Dan's Papers Six weeks after being injured in a roadside bomb attack in Iraq, photojournalist Sarah returns to the Brooklyn loft she shares with her longtime boyfriend, James. She's on crutches, her arm is in a sling, months of physical therapy lay ahead—and all she's concerned about is how soon she can get back to working in a dangerous, war-torn region.She's on crutches, her arm is in a sling, months of physical therapy lay ahead—and all she's concerned about is how soon she can get back to working in a dangerous, war-torn region. What drives Sarah to put her life on the line for photographs? It is journalistic drive? Thrill seeking? Survivor's guilt? All these motivations are explored in Pulitzer-prize winning playwright Donald Margulies's Time Stands Still. Hampton Theatre Company presents the Tony-nominated play this month at Quogue Community Hall, directed by Sarah Hunnewell. All four cast members are seasoned actors, but newcomers to HTC.Time Stands Still premiered in 2009 in Los Angeles, and a 2010 production on Broadway earned itself a Tony nod for Best New Play and Laura Linney a nomination for Best Performance by a Leading Actress. This production's lead, Sandy York, has previous experience in the challenging role of Sarah, back in 2012 with Cape May Stage in New Jersey. Her familiarity with the character shines through in her performance, as Sarah's emotional walls break down. Sarah feels deeply, but far be it from her to admit any vulnerability, or ask for any help as she limps around the apartment. While Sarah is eager to get back in the game, James, a freelance journalist who often accompanied Sarah to document famine and conflict, is content to take fluff assignments and work on his book. He pleas with Sarah to enjoy domestic tranquility for once in her life. Played by John Carlin, James is the doting boyfriend. He waits diligently on his injured partner primarily because he loves her, but also because of his guilt that he was no longer in Iraq when the bombing happened—he left the country after an earlier traumatic incident. Carlin excels in the role, delivering laughs, as well as eliciting the audience's sympathy when rocked by revelations. The relationship between these two characters would be enough to carry an entire play, but another couple is introduced, heightening the conflict. Photo editor Richard [John L. Payne] visits Sarah upon her return to Brooklyn, and brings his new, much younger new flame, Mandy [Kate Kenney]. The naive Mandy, an event planner, is a foil to Sarah. While Mandy is not bright or self aware enough to know when she is making insensitive remarks, Sarah know exactly what she is saying, and says it anyway. Richard finds Mandy refreshingly uncomplicated. Sarah finds her vapid. Mandy, who lacks the cynicism of the middle-aged journalists around her, presents the opportunity for the others to make the argument for the importance of what they do and for why documenting suffering can be more effective at stopping it than intervening. Picking on Mandy delivers plenty of laughs, and there is more humor to be found in Time Stands Still. But it is the drama that is enrapturing. Richard often tries to quell conflict or uncomfortable discussions. Sarah, James and Mandy are predisposed to speak their minds and defend what they believe in—leading to butting heads. The story unfolds in two acts, with scenes set months apart, but all in the same Williamsburg apartment—an impressive set designed by Sean Marbury. The setting may be small, but the characters will take you to the front lines.
WHEN A WOMAN BECOMES A CAMERA, HOW CAN SHE LEARN TO FEEL?
by Beth Young East End Beacon A skilled photojournalist who covers war is a master of capturing moments, freezing them in time, and packaging them to send them out so the rest of the world can see the horrors of war. But a photojournalist wounded in action cannot be so neatly packaged and sent back to the world she's known. The wonderful play "Time Stands Still," written by Pulitzer Prize-winning playwright Donald Margulies, follows one such photojournalist, a woman named Sarah Goodwin, as she tries to reintegrate back into her life at home in Brooklyn. The problem is, a home life was never what she was looking for. Hampton Theatre Company's new production of "Time Stands Still," which opened Thursday and runs through Jan. 25, is cinematic in its ability to get under the skin of four characters as they attempt to put Sarah back together. By the time it was over, we stared at the stage as the fine actors took their bows, realizing we were waiting for the credits to roll, as our brains processed the negatives of the characters' intertwined lives. The play won a much-deserved standing ovation Friday night. Sarah and her longtime boyfriend, reporter Jamie Dodd (who wishes everyone would call him James), had been covering the war in Iraq when Jamie had a nervous breakdown after witnessing one too many bloody scenes. After he left Sarah alone on assignment in Iraq, she was injured by a roadside bomb, ripping apart her leg and scarring her face. Jamie brings Sarah home to Brooklyn, but before she can begin to process what has happened, her photo editor and former lover, Richard Ehrlich, drops in with his new girlfriend, Mandy Bloom, a barely post-pubescent event planner who cries and pouts, wants to eat ice cream on a whim, demands that nature photographers help dying elephants and loves beauty. She's a simple girl, but simple girls, after all that the other characters have been through, are a palliative idea. All four of the actors in this production are new to the HTC stage, but they are veteran performers who bring great chops to their roles. They all shine under the direction of HTC's executive director, Sarah Hunnewell. Sandy York, appearing courtesy of Actors' Equity Association, plays Sarah Goodwin like one would play a human who thinks she is a camera. She sees everything clearly and emotionlessly, with a surgical precision. Every twitch of her lip says volumes about her disdain for a world that has seen so little, first-hand, of what she has seen. She's as much of a hard case as her Leica. She could lose a world's worth of love and not care. Kate Kenney is delightful as Mandy Bloom. Even Sarah Goodwin says Mandy is delightful (while rolling her eyes and sneering). Ms. Kenney plays Mandy as a gushing ball of emotion, crying one moment, giggling the next, hugging and spreading her uninvited love throughout the cast. She hits them the way one would be hit by a Smurf who has the energy of a Tasmanian Devil. She's playing a shallow kid, but there seems nothing shallow about her resumé. Ms. Kenney, whose biography includes numerous New York productions ranging from Shakespeare to an I.T. Spaghetti Western, is also a puppeteer, a magician's assistant and an arts rehabilitation volunteer at the Sing Sing Correctional Facility. When she finishes wreaking havoc on the HTC stage, she's bound for the Lost Nation Theatre in Vermont to play the title role in Sarah Ruhl's Eurydice, telling the myth of Orpheus from his wife's perspective, while she's stuck in Hades with her father. The two female roles in this play are given the most meat to work with by Mr. Margulies — defying the expectations of an audience that might assume men have more to say about war than women. The role of Jamie Dodd calls for a man willing to play backup to Sarah Goodwin's drama. John Carlin, who recently returned to acting after a career as a musician, educator, songwriter and single parent, does an adept job at this house-husband role. Whether washing dishes, undercooking the chicken, fetching the whiskey, attempting to help his girlfriend navigate around their small loft, or proposing to Sarah because he wants to be able to make medical decisions when he's at her bedside, he plays a man who feels real feelings, who understands moral ambiguity, who understands war. He's also a man who understands love, something, it seems, that is beyond Sarah's abilities. He's so good at understanding love that he knows the day that Sarah began to have an affair with their fixer (an interpreter who helps introduce reporters to locals abroad) after he leaves Iraq. Every day, he said, she'd sent him updates on her travels, using the word "we" when talking about where she and her fixer, Tariq, had gone. Then, one day, she changed the "we" in her emails to an "I." By writing Tariq out of her narrative, he confronted Sarah, she gave herself away. She confessed to her liaison on the spot. John L. Payne, also appearing courtesy of Actors' Equity, does a swell job playing a swell character, a photo-pusher at a magazine that squeezes his photos of conflict in between celebrity interviews and fashion tips, an old flame who still loves Sarah and wishes she could at least keep herself from being blown up again. But he's happy with Mandy's promise of a simple life and he's given up on Sarah ever becoming a warm woman. So does this play. But that's the life that she chose. When Mandy and Richard open up Sarah's laptop to look at the photographs of her last trip to Iraq, Mandy unselfconsciously blurts out that one is beautiful, then realizes the absurdity of calling a war photo beautiful. Sarah doesn't mind. "I think they're beautiful," she agrees, "but then again, I'm their mother." This production is beautiful in much the same way.
CAREER, MORALS, AND LOVE
"Time Stands Still," another powerful work by the Pulitzer Prize-winner Donald Margulies, is a commentary on war, relationships, and the tragically intellectual. by Bridget LeRoy East Hampton Star The second production in the Hampton Theatre Company's seasonal lineup proves to be as different as can be from the first. "Harvey" was a classic comedy, a tale of fuzzy humanity and warmth. "Time Stands Still," another powerful work by the Pulitzer Prize-winner Donald Margulies, is a commentary on war, relationships, and the tragically intellectual. The play has just four characters. At the forefront is Sarah Goodwin, a conflicted war photojournalist who has just returned from a hospital in Europe after nearly being killed in Iraq. With her is her longtime partner, Jamie Dodd, a reporter who was with her on the front lines at first, but had to leave the Middle East before her accident, which is explained as the play progresses. Richard Ehrlich, the couple's editor and confidant, arrives on the scene with his new girlfriend in tow. Mandy, noticeably younger than the other three, is guileless and kind, but also defies ditziness in a formidable way. It's interesting that Mr. Margulies chose to leave Mandy without a last name -— she is simply Mandy. From the beginning, the relationship between Jamie and Sarah is tenuous. The pair are skating on thin ice, with visible cracks of P.T.S.D., guilt, and remorse running through it, while they try to settle into the vagaries of daily existence as Sarah heals, at least physically. Richard and Mandy, so touchy, so feely, so obviously in love in spite of the differences in their ages and backgrounds, set up a stark contrast to the lead characters. Halfway through the first act, the issue comes forth: Is a photographer chronicling atrocities actually making a difference? Mandy recalls a TV show depicting a baby elephant dying while trying to get to his mother through a sandstorm, and displays her grief and anger at the film crew for not helping when they could easily have done so. And later, the foursome discuss a play they have just seen about the Middle East; Jamie disdains the audience for its fake concern and real guilt over the horrors taking place in Baghdad, Kabul, and beyond. But this is not a play about the horrors of war. It's about relationships, particularly one that has been forged on the battlefields, part social-consciousness, part adrenalin. After decades of swallowing the most unimaginable of events, how simple is it to switch gears and start to talk about TV shows, weddings, and babies? As Sarah, Sandy York brings a necessary immutable strength to the stage. It is clear that her heart is still by the side of the road, and that she must maintain her illusion of control at all costs. Similarly, John Carlin portrays Jamie with a mix of appreciation for the experiences he's had, guilt over his own shortcomings, and a genuine desire to move forward. Writing about horror movies, although not as exciting as bombs bursting overhead, is as close as he wants to get to another dose of gore. John L. Payne as Richard Ehrlich offers his two star employees a father figure: best friend, boss, and adviser all rolled into one. He has chosen to keep it simple, at the expense of intellectualism. "Fuck brilliant," Richard says, alluding to a former flame. "Choosing where to go out to eat was like arbitration." He is done with debate. Mr. Payne plays Richard as a man who has been given another chance at midlife to create something lasting and of value, and is truly happy. And then there's Mandy-with-no-last-name. Although the audience may expect an archetypal idiot, that is not who she is. Kate Kenney treads a careful line; Mandy knows she is in the presence of greatness, but is not afraid to offer her own opinion. Her bounciness knows no bounds, and it is contagious. Much of the comedic moments of the evening come from Ms. Kenney's portrayal. As always, the production at Quogue is professionally staged. Sean Marbury's vision of a bricked loft in Williamsburg is perfect, Teresa LeBrun's costumes reflect the characters they cloak, Sebastian Paczynski's lighting helps set the tone for each scene. Sarah Hunnewell uses the space to its best and highest advantage. Like a photograph, "Time Stands Still" captures a fleeting moment in the lives of four people at an intersection of career, morals, and love. Who will move on and who will not? See for yourself at the Hampton Theatre Company in Quogue.
THE HAMPTON THEATRE COMPANY'S TIME STANDS STILL
by Melissa Giordano Broadway World "Time Stands Still," a Tony nominee by Pulitzer Prize winner Donald Margulies, is one of the more powerful plays that you will see. Now running through January 25th at the Quogue Community Hall, the Hampton Theatre Company (HTC) produces this gripping production superbly directed by Sarah Hunnewell. To note, this is HTC's second show of their 30th season and marks the HTC debut of each cast member. The story revolves around Sarah Goodwin, a photographer, and James Dodd, a freelance journalist, as they are trying to move forward in life after experiencing very troubling times due to experiences from covering the war. For the record, this is not a play about the war; its focus is Sarah and James and their difficulty moving on. Sandy York wonderfully portrays Sarah who gets terribly injured in an enemy attack. Before Sarah got hurt, though, her live-in boyfriend, James, strongly portrayed by John Carlin, had a break down and left the area while Sarah stayed behind. Though she survived, he feels terrible not being there right away and leaving her in the territory. It is this that makes it difficult for them to progress. They are not on the same page anymore as they are both wrecked with guilt and James longs now for a more settled life with Sarah, but Sarah is still career oriented. You will see that Ms. York and Mr. Carlin truly make a great team. Also part of the stellar cast is John L. Payne and Kate Kenney as Richard and Mandy. Richard, a little older, is Sarah's long time mentor and friend and Mandy is his new girlfriend who is on the younger side. Incidentally, seeing Richard and Mandy together – and actually happy – seems to be another one of the triggers that sets Mike decide to have a more "normal life" with Sarah. Everyone simply works well together and they all seem to become these characters. Additional highlights are Sean Marbury's set and the fluid teamwork of the creative team. Set in present day – t-shirts and sneakers abound in Teresa Lebrun's costumes – the tale solely takes place in a Brooklyn loft over the course on several months. A homey feel on the stage is enhanced by Sebastian Paczynski's fantastic lighting and Diana Marbury's set décor. The intimate Long Island theatre is also cozy with maroon walls, high stage, and framed show posters all around. Everything seemed flawless, really. And so, "Time Stands Still" is certainly another hit for the Hampton Theatre Company. It is relatable exemplifying how difficult it can be to build a life with someone. A deep, substantial story and an extraordinary cast make for a thrilling night of theatre.