REGULAR PRICES
ADULTS
(Ages 35-64) –
$30
SENIORS
(65+, exc. Saturday evenings) –
$25
UNDER 35
–
$20
STUDENTS
(under 21) –
$10
THEATER INDUSTRY MEMBERS, VETERANS AND NATIVE AMERICANS
–
$20
Please call the theater at 631-653-8955 to receive the discount code if you think you qualify. Discount applicable to Thursday 7:00, Friday 7:00 and Saturday Matinee performances only.
GROUP & SPECIAL DISCOUNTS
GROUPS OF 10+
–
$24/ticket
Enter the code GROUP10 when purchasing tickets. (All tickets must be purchased at the same time)
GROUPS OF 20+
–
$22/ticket
Enter the code GROUP20 when purchasing tickets. (all tickets must be purchased at the same time)
UPCOMING SHOW:
---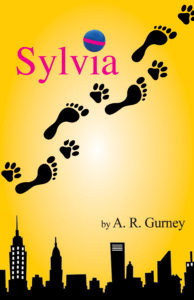 Mar. 19 – Apr. 5, 2020
A sassy stray dog brought home from Central Park becomes a major bone of contention for empty-nesters Greg and Kate in this romantic comedy about a marriage and a dog. "Sylvia," a street-smart mixture of Lab and poodle, offers Greg an escape from the frustrations of his job and the unknowns of middle age. Kate considers Sylvia a rival for Greg's affection; Sylvia thinks Kate is clueless about the bond between man and dog. After a series of hilarious and touching complications, all three learn lessons about the importance of compromise and the power of love.
"I can only call it one of the most involving, beautiful, funny, touching and profound plays I have ever seen." – NY Daily News
or purchase tickets at OvationTix: 866.811.4111
DAYS & TIMES
Performances are Thursdays and Fridays at 7:00, Saturdays at 8:00 (and 2:30 pm on final Saturday), Sundays at 2:30.