Theresa Rebeck's new comedy takes on greed and skewed ideas about morality when a quirky financier who has done a little too well in New York returns to surprise his family in the heartland.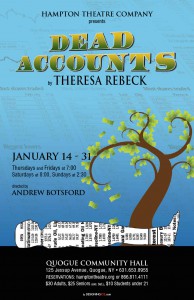 January 14 – 31, 2016
by Theresa Rebeck directed by Andrew Botsford
CAST:
Jack – JOHN CARLIN Phil – PETER CONNOLLY Jenny – REBECCA EDANA Barbara – DIANA MARBURY Lorna – MARY McGLOIN all show photos by Tom Kochie
'Dead Accounts' Stages A Comeback At HTC
by Michelle Trauring (Southampton Press and East Hampton Press) Andrew Botsford did not read one word about Theresa Rebeck's "Dead Accounts" before deciding to direct it. He wanted it to stage untainted by previous reviews. He wanted it to reflect his unbiased vision for the Hampton Theatre Company's production, opening Thursday at Quogue Community Hall. In retrospect, that was a good move, he said. The comedy that Ms. Rebeck, creator of NBC's "Smash," penned in 2012 premiered at the Cincinnati Playhouse in the Park before heading to Broadway, where it drew a star-studded cast, including Norbert Leo Butz and Katie Holmes, and powerhouse director Jack O'Brien. "Eventually, I had to look at the reviews, and I said, 'This didn't go over very well, did it?'" Mr. Botsford recalled. "They said it was funny, but that it couldn't make up its mind on what kind of play it was. It didn't resolve. I think that's a fair comment. I didn't see that production, so I didn't see what they were reviewing, but as far as the play is concerned, I think they may have missed the point." This month, Mr. Botsford is working to rectify the initial flop, and caught up with The Southampton Press to discuss all things "Dead Accounts," not to mention his shift from actor to director. The Press: When did you first come across "Dead Accounts"? Did you see it on Broadway? Andrew Botsford: I didn't. I was at the Drama Book Shop in New York and I was looking at plays, and I always liked Theresa Rebeck. So, I went to the Theresa Rebeck section and picked up "Dead Accounts." I read it and thought it was good, and I promoted it to the play selection committee. And I also said I would like to direct it. Why was that? Botsford: I liked the play a lot and there's no part in it for me [he laughs]. And I knew I could do the play justice by directing it. I think there's a lot of fun in it. It's very funny, but there's also some good truths about it. Can you elaborate? Botsford: Theresa Rebeck says in a forward to the play, "America doesn't know how to talk to itself anymore," and the thesis that follows is that people on the coast—the East Coast and the West Coast—and the people in the heartland can't talk to each other because they don't share the same values. They don't look at money the same way, they don't look at religion or spirituality the same way. They don't look at family bonds the same way. They have different points of view to her—she grew up in Cincinnati. She went to Catholic school in Cincinnati. How does her background play into the story line? Botsford: Jack, the protagonist, is from Cincinnati, his mother is a very devout Catholic and he comes home to visit from New York, very disillusioned. His wife isn't with him and he's got a lot of money. That's how the play starts. And his family is wondering why his wife isn't with him and how did he come up with all this money. Then, his wife shows up and we start to understand what's going on. How have you approached the play as a director? Botsford: I don't want to do any spoilers here. There are places it could go a lot darker and where I chose to play more of the humor of that and not make it so hard. And there's places that need some wrenching reality involved. Finding that balance is a critical part of what I was looking at, and also where I was envisioning it and coming up with a concept. At the end of the play is a critical juncture and there are no clear instructions from the playwright how that's supposed to happen. It's left to the director, and I had a pretty clear idea with what I wanted to do. I worked it out with the set designer, Peter , the lighting designer, Sebastian, the costume designer, Teresa, and Diana Marbury, who dresses our sets … They responded with their own creative input. In the end, it's all of our vision. It's not just my vision. What do you hope audiences take away from it? Botsford: I like them to be entertained. I like them to laugh, I like them to go along with it, I like them to be moved. Any theater experience, you want it to resonate on some level. I want them to be thinking about it when they walk out. I want them to care about the characters. The characters in this play—maybe it's a reason the reviews weren't as solid as they might have been—are very true to life, which means they're not always likable. You're not necessarily always cheering for them. There's ambiguities in people. There's different things going on. There's no one who's all one thing. There's no complete heroes and villains. I like that about the play. I would like them to come away with, "Wow, that was a great evening of theater, and it was interesting." It's true that there is a piece of it that is from the Bible: You can't serve two masters. You can't serve God and money. It's not overtly laid out, but it's part of the subtext. There are all these questions on the table—Can you ever go home again? If not in church, where do we find God? Is there any kind of morality attached to making and keeping money? These are issues that are beyond the Midwest versus The Coast. These are issues that are pretty real for the whole country and I think are on the table for a lot of us. So maybe it resonates with people. That's what I'm hoping.
Virtue & Greed Collide in HTC's "Dead Accounts"
by Dawn Watson (Sag Harbor Express) Even as Dorothy Gale clicked her ruby red slippers and uttered the words, "there's no place like home" in the classic movie version of "The Wizard of Oz," novelist Thomas Wolfe had already written that it was one place most likely best left unrevisited. Expanding on these two seemingly contradictory ideas (famously penned by L. Frank Baum in 1900 and then by Mr. Wolfe a few short decades later), modern-day playwright Theresa Rebeck explores the theme of homecoming in her 2012 drama "Dead Accounts." In her play, which the Hampton Theatre Company will stage at the Quogue Community Hall from Thursday, January 14, through Sunday, January 31, lead character Jack Leonard wrestles with his own tough realities when he escapes to his parents' house in Cincinnati after fleeing a life in the fast line in Manhattan. But even with unlimited resources and a desire to start with a fresh slate, the former financier, played in this production by John Carlin, is dissatisfied with where his life has taken him. Displaced by his own actions, he finds that he is a man without a place to call home. And even worse, his skeptical sister, Lorna, and pious mother, Barbra, are far too suspicious of his unexpected return to Ohio, and of his newfound wealth. "Ultimately 'Dead Accounts' is about finding your true home," says director Andrew Botsford. "It's about a disillusioned young man who is searching for his identity, who realizes that you can't serve two masters." In effect, Mr. Botsford says, Jack's journey leads him to a scriptural-type realization; it's impossible to serve both God and money. In this instance, virtue is represented by an innocent life in small-town Ohio while Manhattan's mammoth financial industry stands for excess and greed. The darkly comic tale, which staged on Broadway in 2012 and 2013 with a cast that included Norbert Leo Butz, Katie Holmes, Josh Hamilton, Judy Greer and Jayne Houdyshell, has been called a "dead-serious comedy about what happens to people who, like Jack and Lorna, wake up one morning and realize that their lives haven't lived up to their dreams" by Terry Teachout in The Wall Street Journal. Darkly drawn and deeply written, the characters in Ms. Rebeck's play should give the East End audience plenty of food for thought. Using her hometown as the backdrop for the action, Ms. Rebeck—the now Brooklynbased creator of the television drama "Smash" and author of the new book "I'm Glad About You"—deftly, and oftentimes humorously, explores the themes of homecoming in this well written play, says Mr. Botsford. And the accomplished five-person cast in this particular production plays the action quite well, he adds. Mr. Carlin, who made his debut on the Quogue stage in "Time Stands Still" last winter, was the director's first pick for the role of Jack. "He's everything I thought he'd be and more," says Mr. Botsford. The show's lead actor comes to the role with the blessing of the playwright as well, according to information provided by the director. "I love that play, it's really both wrenching and funny," Ms. Rebeck replied to the actor's post on Facebook after he announced that he had earned the role of Jack. "I hope you have a good time with it." Veteran actor HTC Artistic Director Diana Marbury was also pre-selected for her role as Jack's mother. "She's exceptional," says Mr. Botsford, who adds that HTC newcomer Mary McGloin plays Lorna, Jack's sister. "It's in her DNA to play this part," he continues. Rounding out the roles are Peter Connolly, who starred in HTC's "Bedroom Farce," as Phil, a high school friend of Jack's and a possible love interest of Lorna's—"He's the moral fulcrum and grounding force of the play," says Mr. Botsford—and Rebecca Edana, last seen in "Clybourne Park," who shines as Jack's wife, Jenny. Citing the "wonderful … work by one of America's finest younger American (and female) playwrights," Hampton Theatre Company's Executive Director Sarah Hunnewell reports that "Dead Accounts" is a true theatrical gem. Mr. Botsford agrees. "It's about very real human beings who work out their problems like the way real people do in life," he says of the comedy-filled drama. "It's a wonderful play that reflects life back at us and it's sure to resonate."
Probing 'Dead Accounts' in Quogue
by Jennifer Landes (East Hampton Star) At a time when Iowa is dominating the headlines because of its imminent caucuses to help select the next president, the sobering differences between the mores and beliefs of middle America and those of the coastal elites could not be clearer. It is no surprise that our country is divided geographically, but in the past decade, as the gulf between the have-nots and the have-everythings at the very top of the wealth pyramid has expanded, these divisions have become more complex. The Hampton Theatre Company's impeccably timed production of "Dead Accounts," beginning next Thursday at the Quogue Community Hall, could serve as a primer for those flummoxed by the cult of Donald Trump and/or Bernie Sanders. Yet, it will also tap into that complexity in ways that audiences may find challenging. Theresa Rebeck's dark comedy focuses on Jack Leonard, a Cincinnati native who briefly dipped his feet in the world of New York finance. He suddenly returns home sans wife, but with millions in new assets. His sister, Lorna, has stayed home in Ohio to help their mother take care of their father, who is ill. Andrew Botsford, the director of the play, sees "Dead Accounts" as the issues of American political and economic divides writ large, but also as the interpersonal workings of a family that, as Ms. Rebeck says in a forward she wrote for the play, "doesn't know how to talk to each other anymore." The play was not warmly received by critics when it was performed in New York in 2012, with Katie Holmes and Jack Butz in starring roles. Mr. Botsford said he didn't read the original reviews until rehearsals started so they wouldn't shape his interpretation, but he thinks the critics got it wrong. "It's hard to say what this play is. They seemed to want it to fit into either a comedy or tragedy category, but it seems to be both." Still, The Wall Street Journal's critic was able to determine that the play was "a deadserious comedy about what happens to people who, like Jack and Lorna, wake up one morning and realize that their lives haven't lived up to their dreams." After he participated in a summer workshop with Halley Feiffer at Stony Brook Southampton, where the actress and playwright asked participants to find either the tragic in the comic or the comic in the tragic, Mr. Botsford said this play appealed to him. "Shakespeare's tragedies have comic relief at times, but life is both at all times. You tend to laugh, because things can get so dark." He said that Ms. Rebeck "writes characters who are not that likable but are very human." When he asked John Carlin to read for the role of Jack, Mr. Carlin replied that he would need to find a way to make the character likable. Mr. Botsford did not see it that way, but he said Mr. Carlin, who reached out to Ms. Rebeck, "responded to the character in his own way," and he found his interpretation very effective. "At the end of the play it's up to the audience and actors to decide where do we leave these characters in their journey." God and money (or mammon from the Bible) become huge themes in the play. How the characters reconcile their relationships to both has a lot to do with the play's drama and humor. "The spiritual lesson from the Bible is that you can't serve both God and mammon, you have to take your pick. But in reality, you need some of each." In addition to Mr. Carlin, Peter Connolly, Rebecca Edana, Diana Marbury, and Mary McGloin star in the play. The sets were designed by Peter-Tolin Baker, with lighting design by Sebastian Paczynski and costumes by Teresa Lebrun. Ms. McGloin, a newcomer to the company, plays Lorna, portrayed in New York by Ms. Holmes. Their mother is played by Ms. Marbury, who is the company's artistic director. Ms. Rebeck has written many well-received plays including "Omnium Gatherum," a finalist for the Pulitzer Prize in drama that she co-wrote with Alexandra Gertstein- Vassilaros. She is also known for creating the television series "Smash," about the making of a Broadway musical. She was born in Ohio and went to high school in Cincinnati. The play is not a comic romp, nor is it "A Long Day's Journey Into Night," Mr. Botsford said. Yet, "there are soliloquies that are Shakespearean" in their tone and content. "I think the reason why it was savaged was that it wasn't done right. I believe we are doing it beautifully, and I hope audiences agree."
HTC Takes On Theresa Rebeck's "Dead Accounts"
by Nicole Barylski Theresa Rebeck's dark comedy, "Dead Accounts," will be the second production of the Hampton Theatre Company's 2015-2016 season. The play centers on the profound differences that separate those that reside in the Midwest from those that call New York home. "What I think audiences will like about this play is that Theresa Rebeck looks at some very real sore spots in contemporary culture – Does America know how to talk to itself anymore? Can one ever go home again? If not in the church, where can we find God? Does any kind of morality apply when it comes to making and keeping money? – in a way that is in line with our experience: filled with humor as well as wrenching truths," said Andrew Botsford, Director. "Dead Accounts" follows Jack Leonard, a Cincinnati native who surprises his family by returning to Ohio, following a stint in high finance in New York. His sister Lorna, currently lives at their parents' home and assists their mother, Barbara, care for their ill father. Jack's unexpected return brings up several questions about what occurred while out of town, like what's become of Jack's wife and how did he manage to become a millionaire seemingly overnight. The play takes a look at the different values of the heartland and the East Coast, as well as the growing gap between the middle class and the 1 percent. Terry Teachout of The Wall Street Journal described the 2012 Broadway production, which starred Norbert Leo Butz, Katie Holmes, and Judy Greer, as "an exceedingly interesting night at the theater" where "the laughs don't stop," but it's also "a deadserious comedy about what happens to people who, like Jack and Lorna, wake up one morning and realize that their lives haven't lived up to their dreams." HTC's adaptation will feature John Carlin, Mary McGloin, Diana Marbury, Rebecca Edana, and Peter Connolly. Andrew Botsford will direct the production, which showcases set design by Peter-Tolin Baker, lighting design by Sebastian Paczynski and costumes by Teresa Lebrun.

JOHN CARLIN

(Jack) made his HTC debut last season in Time Stands Still. Recent work includes the acclaimed production of Oklahoma!, directed by Daniel Fish (Bard Summerscape); summer workshop of Hadestown, directed by Rachel Chavkin (NY Theatre Workshop); the short film See You Around (

funnyordie.com

). In spring '16 he will appear opposite Joe Morton in Turn Me Loose, about the comedian/activist Dick Gregory. A former RCA recording artist and independent solo artist ("one of NYC's better-kept secrets" – TimeOutNY), John is also a proud member of Reverend Billy & The Stop Shopping Choir, an activist choir that has performed in the last year with Joan Baez and Neil Young.

PETER CONNOLLY

(Phil) made his HTC debut several seasons ago as Trevor in Bedroom Farce. Other theater credits: Off-Broadway: A Taste of Honey (Cherry Lane Theatre) Off-Off-Broadway: Suicide, The Musical (Joe's Pub/P.S. 122) Regional: Hamlet (Round Table Theatre Company); The Crucible (Bay Street Theatre); A Christmas Carol (Trinity Rep); The Miracle Worker (Bay Street Theatre); Cabaret (Center Stage Southampton). TV/Film: The Normal Heart and Muhammad Ali's Greatest Fight. He can also be seen/heard in various voice-overs and commercial work. Peter currently resides in Sag Harbor with his Brussels Griffon, Oskar. He enjoys lengthy soundtrack scores and dirty martinis.

REBECCA EDANA

(Jenny) appeared most recently with the Hampton Theatre Company as Betsy/Lindsey in Clybourne Park. She also played Jan in Bedroom Farce and Maddie in Desperate Affection with HTC and Fraulein Kost in Center Stage's Cabaret. She has been in numerous independent films including Greetings From Bushwick, as well as theater productions and improv troupes. Her favorite shows include Talk Radio, Happy Hour and Sweet Charity. She would like to thank her family for their tireless support and endless encouragement.

DIANA MARBURY

(Barbara, Set Decor) is delighted to be a part of this production,and working with this talented group.She has appeared in more than 50 HTC productions, most recently as Clara in Hay Fever (which she also directed), and Betty Meeks in The Foreigner. Diana wears many hats for the company, and looks forward to putting on the director's cap for this season's production of Vanya and Sonia and Masha and Spike. She would like to take this opportunity to thank June Ewing and Carol Miller for deciding to bring live theater into our communities, and of course, James Ewing for being June's inspiration for the endeavor.

MARY McGLOIN

(Lorna) is originally from the San Francisco Bay Area but now lives in Brooklyn. She is thrilled to be making her HTC debut. In the Bay Area, Mary performed and/or understudied at many theaters, including ACT, Berkeley Rep, Theatreworks, CalShakes and, most recently, Custom Made Theatre Company, where she played Susan in How the World Began. Mary holds her MFA from The Shakespeare Theatre's Academy for Classical Acting at George Washington University. In NY theater, Mary played Leonore in Family Dinner by Michele Willens, directed by Jamibeth Margolis, and Megan in The Water Children by Wendy MacLeod, the latter to critical acclaim in The New York Times and Backstage. She is currently co-developing a web series titled "Tech Bettys" that she intends to shoot this year.

www.marymcgloin.com THERESA REBECK

(Playwright). Plays include The Scene, The Water's Edge, Loose Knit, The Family of Mann, Spike Heels, Bad Dates, The Butterfly Collection, The View of the Dome, Omnium Gatherum, The Understudy, Our House and Mauritius, produced in 2010 by the HTC. Ms. Rebeck has also written and produced for television (Smash, which she created, Dream On, Brooklyn Bridge, L.A. Law, American Dreamer, Maximum Bob, First Wave, Third Watch, Canterbury's Law, Smith, Law and Order: Criminal Intent, and NYPD Blue). Other writing includes Fire Free Zone, a book of comedic essays about writing and show business, and a novel, Three Girls and Their Brother. Ms. Rebeck has won numerous awards including the 2007 IRNE Award for Best New Play and the Eliot Norton Award for Mauritius.

ANDREW BOTSFORD

(Director) last directed the HTC production of Heroes in January 2014 and has appeared on stage in 42 Hampton Theatre Company productions since 1985, most recently as David Bliss in Hay Fever. He is the host of a summer film commentary program at the Westhampton Beach Performing Arts Center and co-hosts the annual Hamptons Take 2 Documentary Film Festival in Sag Harbor. Andrew also serves as a communications consultant and teaches in the Graduate Arts program at Stony Brook Southampton, where he continues to pursue studies in playwriting, acting and directing.

PETER-TOLIN BAKER

(Set Designer). As founder and principal designer for PTB Design Services, Peter-Tolin Baker provides creative visual design solutions for a range of retail brands, exhibitions and promotional events. Previously, Baker oversaw all product presentations and in-store promotions worldwide for Tiffany & Co. He launched his retail career as the visual manager for the legendary luxury emporium Henri Bendel New York. Additional commercial design experience includes clothing design and display prop construction. Earlier on in his career, he was both production designer and performer with the groundbreaking band Voice Farm, which played frequently to sold-out crowds in venues such as the Roxy Theater in Los Angeles and The Fillmore in San Francisco. Throughout his career Baker has continued to work as scenic designer on dozens of productions, including HTC's Clybourne Park, Hay Fever and An Inspector Calls.

SEBASTIAN PACZYNSKI

(Lighting Designer) first worked with the Hampton Theatre Company when he designed the company's 2003 production of Summer and Smoke at Guild Hall and has designed all the company's productions since Proof in 2004 as well as the theater's new lighting system. He has designed lighting for theater, dance and special events in a number of Broadway, Off Broadway, Off Off Broadway and regional venues. He has also worked in film and television as the director of photography. He has designed numerous productions for Guild Hall and for the Hamptons Shakespeare Festival.

TERESA LEBRUN

(Costume Designer) is the resident costumer for the Hampton Theatre Company and has designed costumes for all the company's recent productions. Teresa has also costumed for Spindletop Productions at Guild Hall. Much love to her boys Josh and Noah.

CHRISSIE DEPIERRO

(Stage Manager). It is such a pleasure to be working with Andrew as director once again. His dedication turns each show into one of passion, striving for us all to do our very best. With Assistant Stage Manager Amanda (SheShe) Griemsmann making her backstage debut by my side, I'm confident that "These girls got this." To our cast, Maryam, designers, techs and construction crew, thank you for making it all come to life. With love to her Matthew, Kristopher, and Theresa: you are the brightest stars.

AMANDA GRIEMSMANN

(Assistant Stage Manager) appeared on stage with the HTC as Sheila Birling in An Inspector Calls, Jackie Coryton in Hay Fever and Myrtle Mae Simmons in Harvey. She is thrilled to make her HTC backstage debut assisting her wonderful friend Chrissie. She wants to wish the cast and production crew an amazing run. A wise man once told her: "Give 'em hell!!" … which is advice she lives by every day, on and off stage!

MARYAM (Rob) DOWLING

(Lighting & Sound Technician) has done lighting and sound for 22 years with various theater groups on the East End. Maryam has also helped Sebastian with lighting setup at Guild Hall, the Ross School, and other local venues. This is Maryam's seventh season with the Hampton Theatre Company and she is very happy to be part of the show and the company.

HAMPTON THEATRE COMPANY

(Producer) is in its 31st season of bringing wonderful plays to Long Island's East End. Thanks to the generosity and unstinting support of the Village of Quogue, 23 of those years have been spent at the beautiful Quogue Community Hall. The company has presented more than 100 plays by the world's greatest playwrights, all listed in these pages, and is immensely grateful to our generous patrons, friends and audience members who have made these years such a success.

MORE ABOUT THE PLAY/PLAYWRIGHT

Prodigal son Jack O'Brien returns unexpectedly to his Cincinnati roots, adrift after a brief career on Wall Street. Jack's reappearance is shrouded in mystery: he has quit his job, has wads of cash, and his marital status is unclear–all of which has his family and friends both curious and on edge. Following Jack to Cincinnati, his wife Jenny levels accusations that seem to yield a clearer picture … until Jack gives his side of the story. Drawing on her unerring eye for topicality and whip-smart dialogue, in Dead Accounts Theresa Rebeck tackles such disparate subjects as the questionable ethics of Wall Street and the existence of God. Written after the 2008 financial crash, this evergreen comedy/drama examines the corrosive effects of greed as well as the tension and dissonance between big-city superiority and cozy Midwestern insularity. ……….. Theresa Rebeck is a widely produced playwright both in the United States and abroad. New York productions of her work include Dead Accounts, Seminar, Mauritius (produced by the Hampton Theatre Company in 2010), Spike Heels, Bad Dates, A View of the Dome and Poor Behavior. Ms. Rebeck also co-wrote Omnium Gatherum, a finalist for the Pulitzer Prize in 2003. For television, Ms. Rebeck has written for Dream On, Brooklyn Bridge, L.A. Law and Third Watch and created the NBC drama Smash. She is often referred to as the female David Mamet. A lot of bad manners are on display in Ms. Rebeck's dramatic universe. A New York Times article quoted her as saying that her plays were about "betrayal and treason and poor behavior. A lot of poor behavior." Like the O'Brien family in Dead Accounts, Ms. Rebeck grew up in Cincinnati, Ohio. She now lives in Brooklyn, New York.
Hampton Theatre Company Breathes Life Into 'Dead Accounts'
by Lorraine Dusky Southampton Press and East Hampton Press When my editor pronounced I was about to review a play that was a flop on Broadway, I grimaced. Even the title sounded foreboding: "Dead Accounts." But 10 minutes into the first act, I relaxed. It was obvious this production was going to be, at the very least, engaging. By intermission, I was thoroughly charmed. Under the deft direction of Andrew Botsford, the Hampton Theatre Company is putting on a good show at the Quogue Community Hall—New York critics be damned. Theresa Rebeck's "Dead Accounts" knits together money, marriage and Middle America "values" versus the perception that the East merely worships at the god of mammon. This jarring intersection of East versus Midwest is infused with a generous dollop of comedy: a serious story with a vivid sense of humor. Here, you don't even hate the bad guy, a nervous New York banker who's surprisingly shown up at home in the Midwest, supposedly the epicenter of bedrock American values. What he's doing there makes up the story—and other than note it has to do with "dead accounts" in banking, I will say no more. John Carlin as the hyperactive refugee from the East makes the character not only understandable, but even sympathetic and likeable. A lesser talent might have chewed the scenery and made him merely the cutout character of a thieving Manhattan banker, but Mr. Carlin's standout performance turns him into someone you end up rooting for. Here he ably conveys the character's frailty as he gropes his way through what his life is yet to be. You want him to find his way. Besides, how much love do we have for the banking industry—as his country mouse sister point outs—that connive and fiddle with our savings while no one goes to jail and the foreclosure signs go up? Not much. Mary McGloin is Lorna, the dutiful sister left behind as she sees her life slipping by while she cares for her aging parents. As written, Lorna is less than an exciting person, but Ms. McGloin breathes life into her, making you hope something good happens for her, too. The other Midwestern tropes who inhabit the stage are Jack and Lorna's mother, Roman Catholic down to her slippers and robe, and Jack's friend from high school, Phil, who stayed home and got a job at Procter & Gamble in Cincinnati, where the story unfolds. Diana Marbury, who's a HTC mainstay as both a director and actor, amiably portrays the mother, exuding those vaulted Midwestern values. Peter Connolly as Phil is a good guy who toes the straight road, and doesn't think of himself as stuck in Cincinnati. Rebecca Edana appears as the unvarnished New Yorker who is Jack's wife, Jenny. In her stark black dress and heels, Ms. Edana is the epitome of a Manhattan career woman with little to redeem her. But she too will make you laugh as she inspects the set's kitchen, designed by Peter-Tolin Baker. It is the flawless depiction of many I've been in—with painted plates, hand-stitched samplers, overgrown plants and a crucifix on the wall. And the last set—which I won't describe—is arresting, particularly enhanced by Sebastian Paczynski's lighting as it comes into view. Ms. Rebeck, a native Ohioan who went to high school in Cincinnati, wrote the play for a theater there, and previously dealt with the theme of someone making it big as the creator of the two-season television drama, "Smash." Here she has created a well-written dramedy that has the feel of reality, shot through and through with humorous lines. The cast's timing is perfect, and the jokes all fly. I'm from the Midwest myself, with that same Catholic upbringing as the playwright. I've gone home to Michigan and deflected that same criticism of East Coast values that are lampooned here. Surely the local audience lapped up this good-natured interpretation of their upstanding "values" brushing up against those evil Eastern ways that center around money, where you went to school and what you do, and that family heirloom that came across on the Mayflower. Ms. Rebeck has fun with both perceptions, yet condescends to neither. Mr. Botsford is better known for his comedic acting in a number of productions of HTC. He's moved smoothly into the role of director, and readily won my vote with "Dead Accounts." As the play wound down, I could see that while this dramedy doesn't have the razzle-dazzle of hot Manhattan offerings—people here are generally nice rather than nasty, they act like normal human beings rather than crazed maniacs, which Broadway favors—its New York stage drubbing was perhaps the result of set expectations. Or maybe it was the acting—or over-acting, to judge from reviews, which I did read. I don't know, didn't see it. Plus, "Dead Accounts" doesn't come to a definitive conclusion, but then neither do a lot of plays that stand tall in our reckoning. Whatever happened in New York City, stays in New York City. This is a fine production of a good play that will have legs—out of the Big Apple.
Standstill-gotten gains
by Steve Parks Newsday Is it a crime to take money that's gone unclaimed for years? Ostensibly, that's the raison d'être behind "Dead Accounts," Theresa Rebeck's 2012 morality comedy starring Norbert Leo Butz and Katie Holmes that closed even before it could complete its 16-week limited run on Broadway. Critics complained that Rebeck couldn't make up her mind what "Dead Accounts" was about. But in this meticulous Hampton Theatre Company resurrection, director Andrew Botsford has figured it out. The title refers to long-dormant bank accounts of people who've either died or simply forgotten where they left their money. Jack, a Cincinnati native and black sheep of his family, has unexpectedly returned home from Manhattan, where he was a highly remunerated bank employee. His sister, Lorna, who herself has returned home to care for her parents, suspects Jack is in trouble when he admits to paying a night floor mopper $1,000 for several pints of ice cream after business hours. As Jack, John Carlin emits the motor-mouth impression that he's high on various pharmaceuticals he carries around in his pocket. But he's lucid enough to rationalize his behavior with a torrent of semi-plausible excuses punctuated by F-bombs that aren't tolerated in this square Catholic household. Mary McGloin as Lorna exudes the self-inflicted frustration of a grown daughter living in her childhood home with her parents — dotty Mom and unseen Dad, who's sick in bed. Diana Marbury, as the matriarch, demonstrates why she drives her daughter crazy as well as why Jack escaped to the parallel universe of Wall Street. Peter Connolly, as Jack's old high school buddy who harbors a long-simmering crush on Lorna, represents Jack's hometown past, while Rebecca Edana as Jenny, Jack's soon-to-be ex-wife, epitomizes the material comfort for which he's sold his soul. Jenny's sudden appearance in the Ohio hinterland she despises leads to the revelation of Jack's secret: He's "stolen" $27 million from dead accounts. Peter-Tolin Baker's domestic set — complete with window panes frosted with age and a jump-rope phone cord that stretches across the stage (where can you find such an artifact today?) — is a character unto itself. So what has director Botsford figured out in "Dead Accounts"? That life is more than accounting — "New York values," to quote a current presidential candidate? Midwestern orthodoxy suggests life may be more about planting trees — or anything organic.
'Dead Accounts' A True Credit to Local Theater
by Dawn Watson Hamptons Party Girl I can count on one hand the number of times I've seen an actor truly inhabit a character. Last night was one of those times. John Carlin was absolutely masterful as Jack in Hampton Theatre Company's production of "Dead Accounts." He was so good, so natural and so incredibly in the moment that it did not appear as if he was acting at all. This is truly an impressive feat. Even if an actor very closely resembles the character he or she is playing, there's usually a "tell" in their language or movement, or when they are trying to remember a line. Not John Carlin last night. My hat's off to you sir. On the strength of this performance alone, I'd go out of my way to see you work anywhere and everywhere again. Bravo! Of course Mr. Carlin couldn't be that fantastic without other impressive actors, directors, writers, producers, stage managers, etc. in his company. I was particularly moved by Diana Marbury's portrayal of Barbara in this show. I've seen this talented and dedicated lady in a lot of roles and I think this one was my favorite. Understated and spare, there was a beautiful simplicity and realness in her performance last night. I've never seen Mary McGloin before this show, as I believe this is her first East End role, but I thoroughly enjoyed her as Lorna. Peter Connolly was Zen master perfect as Phil. And Rebecca Edana, who looks like such a sweet lass in real life, was so good as a brittle New York sophisticate. Well done. Now I don't usually give much ink to direction, but here I must. Exceedingly well done to you Andrew Botsford. For everything, from your (and your technical team's) attention to detail—right down to getting real Skyline Chili takeout bags and Graeter's Ice Cream, which are Cincinnati favorites—to your empathy and understanding of what the actors needed here, I sincerely applaud you. You absolutely wowed me. Another compliment goes to playwright Theresa Rebeck, whose brilliance in creating this play was stunning. This story about moral relativism needs to be staged and seen a lot. Seriously. A LOT. Absolutely captivating, I'm still turning the themes over in my head. Of course the stage, set, costumes, lighting and sound were spot on. They always are from this group. I wouldn't expect any less from this talented technical team of Peter-Tolin Baker, Sebastian Paczynski, Teresa Lebrun and Chrissie DePierro. In my opinion, last night the Hampton Theatre Company reset its high bar. I'd go buy tickets and see this show again and again. It's that good. A+++++
HTC's "Dead Accounts" Brings Tender Moral Tale to Life
by Beth Young East End Beacon It's rare to see a play that flows as easily as an evening in front of the television set, and while that may be a strange thing to say when reviewing a local theater production, it's the first thing that comes to mind after seeing "Dead Accounts" at the Hampton Theatre Company this weekend. By the second night, this production was humming like a finely tuned refrigerator filled with leftover pizza, Graeter's ice cream and Skyline Chili. I left hungry for comfort food but comforted by the simple beauty of this moral tale. Playwright Theresa Rebeck knows a thing or two about pacing: as a television writer she has written for "Law & Order: Criminal Intent," "NYPD Blue" and "LA Law." Her writing is sharp and never plodding, her humor is laugh-out-loud funny, and her characters are far more multifaceted than you would expect from a play whose heart is tied to the simple clash of cultures between the midwest and New York. But, after all, the playwright is from Cincinnati, and this script puts her solidly on home turf. This isn't HTC's first go-around with Ms. Rebeck's work. In 2009, they put up her "Mauritius," the equally intriguing story of two heirs who find a valuable stamp from the Pacific island of Mauritius in their mother's stamp collection. "Dead Accounts" follows a man named Jack (John Carlin) as he returns home to Cincinnati from his job at a bank in New York, under mysterious circumstances and carrying pockets full of cash. It turns out, he's stolen $27 million from the bank accounts of people who've died or forgotten they had the accounts to begin with, and his soon-to-be-ex-wife Jenny (Rebecca Edana) is hot on his trail in pursuit of the cash. The five-person cast of this play is pitch perfect. I was completely enamored with HTC newcomer Mary McGloin's portrayal of Jack's sister Lorna, a vivacious girl with a sharp mind, a big heart, and a penchant for telling the truth at high volume for everyone to hear. While Ms. McGloin lives in Brooklyn and is appearing courtesy of Actors' Equity Association, I hope to see her again here. John Carlin made his HTC debut last winter as James in "Time Stands Still." He plays Jack as a rip-roaring loudmouth in a rumpled Armani suit, who walks around with a bottle filled with prescription pills in his pocket and believes he will never get caught stealing because that sort of thing doesn't happen in New York. He just nails this role. HTC veteran actor and director Diana Marbury does a wonderful job as his mother, Barbara, whose Catholic faith is what really drives this play. She mutters and clucks and prays and scolds as her character shuffles around in a purple velour tracksuit waiting for her husband to pass another kidney stone, but she's a smartie too. She knows a thing or two about what her children need, and she gives it to them, whether they like it or not. Peter Connolly is a sweetheart as Jack and Lorna's high school friend Phil, and his character becomes warmer and gentler as he courts Lorna throughout the course of the play. He's a great counterpoint to Jack's wife, Jenny, played by Rebecca Edana, who struts into the house in her high heels and her black dress, her nose held high and her hair pulled back tight, demanding answers (and money) from the man from Cincinnati whom she's come to scorn. Congratulations are in order to director Andrew Botsford for coaxing the best out of this fine cast. While "Dead Accounts," first staged in 2012 at New York's Music Box Theatre, takes place after the economic meltdown of 2008, you wouldn't know it was the 21st Century from the kitchen in Cincinnati where this entire play takes place. And that's the point. With a kitchen phone cord that stretches from one end of the stage to the next, cabinets filled with Corelle Ware, a crucifix over the kitchen door and a red plastic spaghetti strainer on a hook by the stove, this could easily have been the scene of a 1990s sitcom if it weren't for the sad post-millennial outlook of its cast. There's one great special effect in this play, and I can't quite reveal it to you, except to say that it revolves around a sycamore tree and redemption. I thought this play ended in church, but it must have been a trick of the light. Kudos to set designer Peter-Tolin Baker, lighting designer Sebastian Paczynski, costume designer Teresa LeBrun and stage manager Chrissie DePierro for pulling it off.
'Dead Accounts' Livens HTC Stage
by Brendan J. O'Reilly Dan's Papers For a witty, dialogue-driven comedy, "Dead Accounts" has a considerable amount of intrigue. Showing up in the middle of the night at his childhood home in Cincinnati—where his parents and one of his sisters reside—Jack (John Carlin) is flush with cash. Why is he so fast and loose with his money—an affront to Midwestern values—and why is his wife conspicuously absent during this unannounced visit? After he hightailed it out of the Ohio for the glamour and opportunity of the Big Apple, Jack now sings Cincinnati's praises. Why the change of heart? And though his father is bed-ridden with kidney stones again, the father's malady apparently had nothing to do with Jack's visit. Jack's sister Lorna (Mary McGloin) is his foil. She never strayed far from home and—though she lost religion just like her brother did—she did not lose her sense of morality. While Jack won't even go upstairs to see his father, Lorna has been helping their mother care for him. Lorna is out to get the answers that the audience is craving. She puts the thumbscrews to Jack, and gets their numerous siblings on the telephone. McGloin does a great job of hinting at the other, unheard side of the phone conversations. Between brother-sister and mother-daughter interactions that yield boisterous laughter, details emerge that suggest something sinister has happened. Despite Jack's insistence that everything he says is the truth, can he really be believed? It is assumed he became successful after he left Cincinnati, but spending $1,000 to get some ice cream and pig out in his parents' kitchen seems over the top. "Dead Accounts" frequently contrasts Midwestern values with East Coast sensibilities, though never in a preachy manner. It seems like it was more than a coincidence that on Thursday, the same night Hampton Theatre Company opened the play in Quogue, Donald Trump was defending New York values at the Republican presidential debate in South Carolina. Senator Ted Cruz said New York values "focus around money." Jack would agree with that assessment. Carlin, who made his debut with Hampton Theatre Company last winter in "Time Stands Still," has great command of his character, and delivers the best laughs as Jack makes observations about his hometown, and obfuscates the truth. McGloin is a standout performer as Lorna, punctuating the humor of playwright Theresa Rebeck's brilliant writing. Hampton Theatre Company veteran Diana Marbury is their mother, Barbara, who can never hide her disappointment and seems to worry too much—though maybe, considering what Jack appears to have done, she should worry more. Rounding out the cast are Peter Connolly as Phil, Jack's old friend and Lorna's love interest, and Rebecca Edana, playing Jack's wife Jenny, whose arrival is unexpected. The play is in the very capable hands of Andrew Botsford. No one would ever guess this was only Botsford's second time directing; he made his directorial debut in Quogue two seasons ago with "Heroes."
Food, Family, and a Secret or Two
A tale filled with moral dilemmas that will have audiences debating long after they leave
by Bridget LeRoy East Hampton Star For its second production of the season, the Hampton Theatre Company in Quogue has put "Dead Accounts" by Theresa Rebeck on the table — along with an outrageous assortment of foodstuffs. A tale filled with moral dilemmas that will have audiences debating long after they leave, the evening buzzes along quickly and smoothly, sort of like that "very special episode" of a well-loved sitcom, where something serious goes down even in the midst of the laughs. The play, noted during its Broadway run more for its cast (which included the Tony Award-winning Norbert Leo Butz and Katie Holmes, recently relieved of her Cruise control) than its content, was not particularly well-received and closed early due to poor ticket sales. Knowing this before entering the Quogue Community Hall made a reviewer wonder why a small local theater would choose a piece that isn't a guaranteed crowd-pleaser, or, to be blunt, a guaranteed money-maker. But the Hampton Theatre Company is no ordinary community theater. Clearly, it has cojones grandes, a fact demonstrated by the opening scene of "Dead Accounts," in which John Carlin, who gives an inspired performance as Jack, drops the F-bomb more often than three Scorsese films strung together. This is not "Hay Fever," folks. "Dead Accounts" tells the tale of Jack Leonard, who left his childhood home in Cincinnati years before for Wall Street wealth and has returned in the dead of night under mysterious circumstances, minus his wife but with a boatload of unexplained cash. The first scene, which features Mr. Carlin and Mary McGloin as Jack's stay-at-home, care-giving sister, Lorna, crackles with intensity as Jack talks nonstop while working his way through pint after pint of Graeter's ice cream, a Midwestern staple. Ms. McGloin gives a strong and heartfelt performance as the sister who has given up her own life to help their mother (played wonderfully by Diana Marbury) look after their ailing dad. In fact, the entire cast — rounded out by Peter Connolly as Phil, Jack's childhood friend and possible romantic interest for Lorna, and Rebecca Edana, Jack's blue-blooded, icy wife — turns in strong performances, switching between humor and sadness, happiness and anger, hatred and horniness, with all the ease of a real dysfunctional family. Some of the funniest moments come whenever Lorna is on an important phone call and her mom launches into a continuous, nonsensical list of questions, directed both at her and whoever is on the line. It seemed everyone in the opening-night audience could relate. And some of the most poignant moments also come from Ms. McGloin's character, especially from her astute views of Wall Street and Park Avenue millionaires. "They have so much money they're exhausted," she observes. Mr. Carlin rules the stage as Jack, whose nonstop energy may come from the pills in his pocket or the vast array of Skyline cheese and chili coneys he puts in his belly. His character disdains the over-indulgence of New Yorkers while bringing a dozen pizzas into the kitchen, to the horror of his family. Many references are made comparing that old-money sensibility to that old-time religion, a staple of the Leonard household, and who uses what to plug the gaping hole in their hearts. For the most part, though, Ms. Rebeck's script doesn't plug that hole. It doesn't offer any new insight, although it poses interesting questions, especially about how Jack became a millionaire on the run from the law and his wife's family. Andrew Botsford directs "Dead Accounts" with a sure hand, hitting all the comedy notes and allowing the actors to bloom in their moral monologues. Peter-Tolin Baker's Buttermilk Blue cabinetry and flowered wallpaper evokes a tired, Midwestern kitchen (although there was a surprising lack of religious motif, considering the staunch Catholicism of its inhabitants), and Sebastian Paczynski's dappled lighting adds to the hidden subtext while providing the countrified feel of a house in the country. It is the memories of his roots in a simpler childhood that bring Jack to his own epiphany — sort of. Presumably, Ms. Rebeck received an important phone call of her own while scripting the conclusion of "Dead Accounts," leaving the final scene up to the imagination. Still, the Quogue production offers all the color and form contained within the divergent branches in a family tree, and by presenting this play has gone out on a limb, proving that creativity has been seeded and continues to grow at the Hampton Theatre Company.